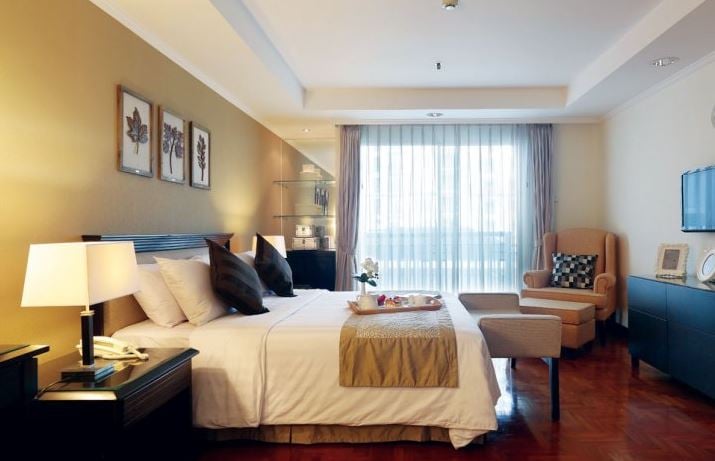 Looking for apartments is sometimes as hard as finding the right TV series to watch, it's a matter of preference. Sometimes you already know what you like, but you just feel like it's difficult to pick where to start. Without further ado, to help those of you who are looking for apartments in Kebayoran Lama, here are some of our best picks! (Click on each header for a more detailed profile!)
Located in Pondok Indah, Kebayoran Lama, one of the most prestigious areas in Jakarta, the access to the city alone is worth every money spent on the apartment. The building itself is luxurious but not too overwhelming which would make it not cozy enough to live in. This apartment gives you easy access to various international or national schools and quality malls such as Pondok Indah Mall and Puri Indah Mall. For residents who are frequent shoppers, that last part would come in handy when wanting to check for the latest sneakers or to shop generally.
Options for eating are various, from close-by cuisines in malls near Amala Apartment to other restaurants spread in the area. For those wanting to get some evening fun going, establishments in the Radio Dalam area near the apartment should suffice. As the area is quite popular, transportation, whether it's public or from ride-hailing apps, should be easy.
Address: Jl. Kartika Utama No.85, Pd. Pinang, Kec. Kby. Lama, Kota Jakarta Selatan, Daerah Khusus Ibukota Jakarta 12310
Price: Starts from 3BR Rp 30,000,000.00/month
Facilities:
Gym
Jacuzzi
Playground
Double tennis court
Swimming pool
Aside from its strategic location, potential residents of Botanica Apartments should have it easier to pick Botanica as their new home from its design. By combining modern elements and lush greenish design, you'll feel the tropical resort atmosphere of apartment right in the center of Kebayoran Lama, South Jakarta. Residents of Botanica Apartments shouldn't ever have to worry about losing too much time in traffic since. The residence is already near many offices and essential areas such as Senopati, Kemang, and Senayan.
For potential residents who are still unsure, another benefit from Botanica Apartments is that it's close to many popular malls in Jakarta. Among them are Senayan City, Gandaria City, and Plaza Senayan. And never worry about food selection here, you can pick between Indonesian, western, or other eastern cuisines easily. Want to let off some steam with friends after work? Go to Camden or Beer Garden to drink down some beer!
Address: Jl. Sultan Iskandar Muda No. 8, Kebayoran Lama, Jakarta Selatan. Jakarta, 12220
Price: Starting from Rp 32,200,000.00/month
Facilities:
Swimming pool
Garden
Heated semi-indoor pool
Jogging track
Gym
Sauna
Jacuzzi
Courts for tennis, volleyball, tennis, and basketball
ATM centers
Laundry
Minimarket
Cafe
Cable TV
Wifi
This is one of the elite apartments in Kebayoran Lama in the Senayan area, Four Winds will please your eyes as well as your overall experience. With spacious room and granite tiles, you can bet that your stay here will almost certainly feel luxurious and high-quality. The location makes residents only minutes away from office buildings, shopping destinations, and entertainment centers of the city.
Residents who feel the urge to explore Jakarta can easily do so since the apartment is near other famous Jakarta areas. The apartment is close to places such as SCBD, Sudirman, Kuningan, and Thamrin. For food that's not of the local cuisine, you can head to Casa Mexico for some Mexican dish or to Plan B for some Spanish delights. As for malls, you can choose between various options such as fX Sudirman, Pacific Place, Gandaria City, and many more.
Address: Jl. Permata Hijau Raya No.1 RT.7/RW.9, Grogol Utara, Kebayoran Lama, Kota Jakarta Selatan, DKI Jakarta – 12210
Price: Starting from Rp 20,800,000.00/month
Facilities:
Top floor pool
Indoor gym
Garden
Function room
Jogging track
Tennis court
Sky lounge
BBQ area
Playground
4. Permata Hijau Residence
Another option for apartment in Kebayoran Lama is Permata Hijau Residence! As one of the creations of Agung Podomoro Group, residents can be assured that the quality of this apartment would not be the issue. Its location in South Jakarta will surely be a plus for many Jakartans since it's close to Senayan and many other interesting places. For people that have their daily routine in Sudirman or Senayan area, Permata Hijau Residence will be a perfect pick.
For daily necessities, residents can walk to the nearby The Belleza Shopping arcade and for branded items, visit Senayan City. Those two places are also ridden with various cuisines to delight your belly without needing to go out too far. To spice up your evening, residents of Permata Hijau Residence can go to CJ's Bar inside The Hotel Mulia in Senayan.
Address: Jl. Kalimaya No.48, RT.6/RW.9, Grogol Utara, Kec. Kby. Lama, Kota Jakarta Selatan, Daerah Khusus Ibukota Jakarta 12210
Website: https://www.agungpodomoro.com/
Price: Starting from 3BR Rp 16,250,000.00/month
Facilities:
Swimming pool
Playground
Jogging track
ATM center
Function room
Fitness center
BBQ area
Sauna
24-hour security
People also read Best Apartments in Senayan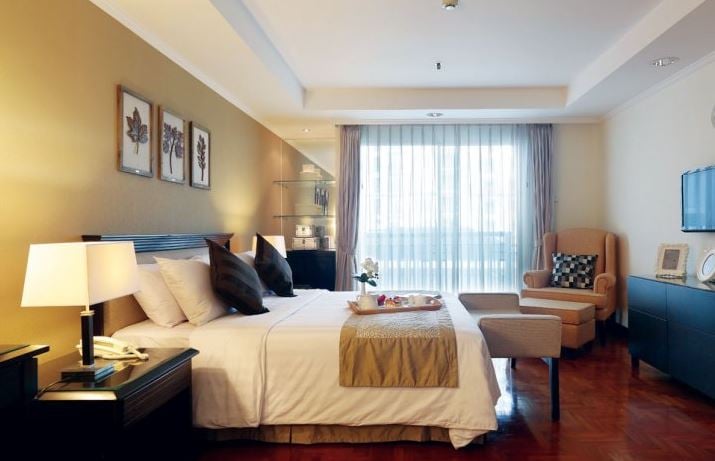 Last but not least, this particular apartment in Kebayoran Lama has its prestige from its location which is in the elite Pondok Indah area. Of course, from its name alone, potential residents can guess that a nice view of a golf course will be hard to miss from the apartment. The apartment itself is part of an integrated system of facilities such as Pondok Indah Mall, Pondok Indah Water Park, and Pondok Indah Office Tower. The mall is only four minutes away on foot. For emergencies, Pondok Indah Hospital is also near the apartment, approximately four minutes away.
In other words, restaurants outside of the integrated area will be relatively easy to reach, and Pondok Indah Mall is always ridden with various cuisine options. For evening fun, the nearest establishment is JENJA Jakarta, which is just ten minutes away. Transportation-wise, the TransJakarta bus line, MRT Line, and TB Simatupang Outer Ring Road is easily accessible to get to other areas of Jakarta.
Address: Jl. Metro Kencana IV No.9, RT.1/RW.16, Pd. Pinang, Kec. Kby. Lama, Kota Jakarta Selatan, Daerah Khusus Ibukota Jakarta 12310
Website: http://www.piga.co.id/en/
Price: Starting from 3BR Rp 35,500,000.00/month
Facilities:
ATM center
Business center
Playground
BBQ area
Fitness center
Swimming pool
Aerobic class
Jogging track
Sprint running track
Basketball court
Tennis court
So, that's all! Five of the finest apartments we can recommend for you in Kebayoran Lama to start your search and nitpicking. Remember to keep a list of your preferences to not miss any deal-breaking details in your search. Don't forget to bookmark this page to make it easier for you to look it up as a reference!
If you want to discover some of the best co-living options in Jakarta, click here!