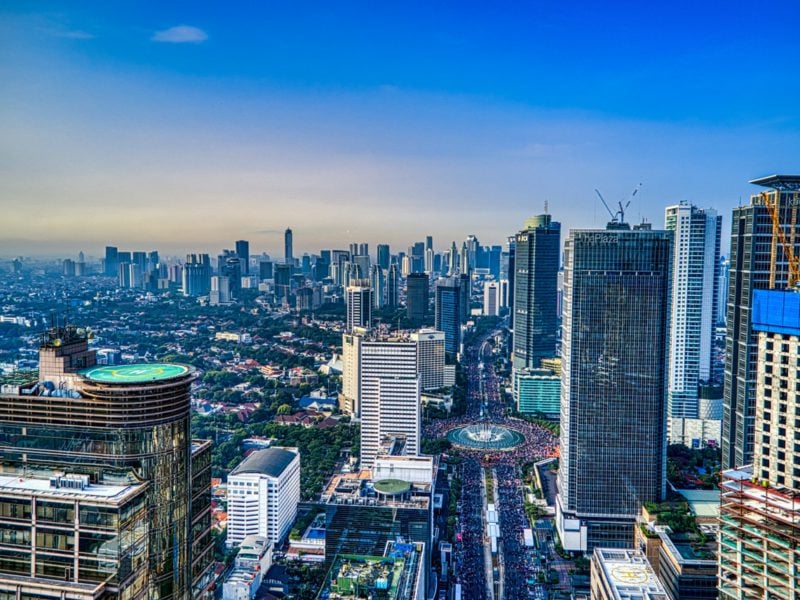 Settling Down
Apartments Near Plaza Atrium, Staying in The Heart of Jakarta
Located in Senen, Plaza Atrium offers a lot of things to do. Other than the mall itself, there are many interesting places you can visit nearby. National Monument, National Gallery, and National Library, to name a few, are within reach. Living in the neighborhood will give you access to many interesting places. Besides, the transportation hubs are everywhere. If you are looking for apartments near Plaza atrium, read along as Flokq has prepared for you a list of apartments near Plaza Atrium
Capitol Suites is located in Tugu Tani, Menteng, Central Jakarta. In less than 3 minutes you can reach Plaza Atrium by driving. Capitol Suites is a 19-story tower apartment where each floor consists of 17 residential units. There are 327 residential units in total with three options of units available: studio, 2BR, and 3BR. The apartment is located nearby the Bundaran HI and Thamrin business area. Malls such as Grand Indonesia and Plaza Indonesia are also very close. Capitol Suites provides a variety of 5-star services for its residents. Housekeeping services are available to tidy up your residence. Even more, lobby service, concierge service, and valet service are also ready to serve you. Facilities like a pool, jacuzzi, fitness center, library lounge, and children's daycare are surely available.
Address: Jalan Prajurit KKO Usman & Harun No.22, Menteng, RT.8/RW.1, Senen, RT.8/RW.1, Senen, Central Jakarta City, Jakarta 10410
In addition to the list of apartments near the plaza atrium which are also located near Plaza Indonesia, there is Mitra Oasis Residence. Mitra Oasis Residence is popular among expats, notable because of its location and facilities. If you want a spacious apartment paired with a strategic location, consider this one. Mitra Oasis Residence Apartment is a 23-story tower apartment. There are 150 exclusive units offered with three options: 1BR, 2BR, and 3BR. This apartment is equipped with facilities such as a swimming pool, fitness center, tennis court, parking area, laundry, VIP room, Wi-Fi internet. For security, there is 24-hour security system equipped with CCTV.
Address: Jl. Senen Raya No.135, RT.2/RW.2, Senen, Kec. Senen, Kota Jakarta Pusat, Daerah Khusus Ibukota Jakarta 10410
This apartment is perfect for university students and young professionals. Nearby are universities like University of Indonesia, Gunadarma, Bina Sarana Informatika, and UKI. They offer great facilities swimming pool, fitness center, kids playground, grocery store, and 24 hours security. Also, it is located near to to many shopping centers like Plaza Arion, Atrium Senen Mall, Carrefour Cempaka Mas, Pasaraya Manggarai, and Pasar Pramuka.
Address: Jl. Salemba Tengah II No.10, RT.5/RW.8, Paseban, Kec. Senen, Kota Jakarta Pusat, Daerah Khusus Ibukota Jakarta 10440
The building was finished in 2011, and consists of three towers (A, B, C) with decent facilities that are guaranteed to meet your needs. The Menteng Square Apartment is perfect if you are looking for practicality at a reasonable price. Besides, it is located near located in Menteng, very close to Thamrin, Sudirman, Kuningan, Cikini KRL Station. Hence, it is great for you who need to work around the business area.
Address: Jl. Matraman Raya No.30E, RT.5/RW.6, Kenari, Senen, Kota Jakarta Pusat, Daerah Khusus Ibukota Jakarta
Capitol Park Residence is located in Menteng. It has easy access to public facilities like hospitals: Ciptomangunkusumo, and St. Carolus. Also universities like the University of Indonesia, Ukrida, and Gunadarma. In addition, it is also close to Metropole XXI, Plaza Kenari Mas, Taman Ismail Marzuki, and many restaurants in Menteng. It is a perfect place for young executive and businessman with high mobility.'
Address: Jl. Salemba Raya No.16, RT.3/RW.6, Kenari, Kec. Senen, Kota Jakarta Pusat, Daerah Khusus Ibukota Jakarta 10430
Menteng Park is a high-rise residence that offers upscale facilities in the heart of Cikini where you can experience the authentic spirit of Jakarta. In addition, Menteng Park Apartment is located in a flood-free area, making it a comfortable place to stay. Menteng Park has 3 main towers: Diamond, Sapphire, and Emerald. There are a total of 37 floors and 728 units. Menteng Park has three types of units: studios, 1 bedroom, and 2 bedrooms with each different area. The unit area offered by Menteng Park starts from 25 m2 to 72 m2. This apartment is sure will ensure comfort and safety for its residence.
Address: Jl. Cikini Raya No.79, RT.2/RW.2, Cikini, Kec. Menteng, Kota Jakarta Pusat, Daerah Khusus Ibukota Jakarta 10330
So, which one is your favorite? There are options for every budget and considerations. Living in Jakarta offers you many choices and opportunities. Staying at an apartment near Plaza Atrium offers practicality and easy access. For university students and professionals especially, it is convenient. Do visit our blog for more recommendations and guides!