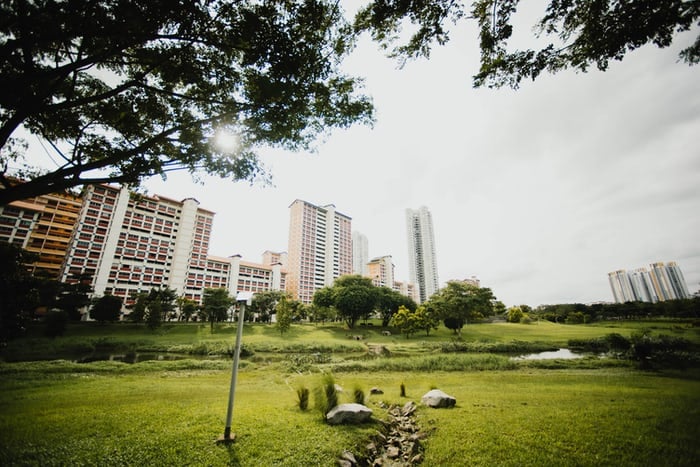 The open garden is one of the facilities for the residents of the booked apartment. In addition to getting comfortable facilities in the room, residents can also enjoy the fresh air and find a new atmosphere. Therefore, many people are also looking for apartments with open garden facilities to relax. The following are recommendations for apartments with open garden facilities in Jakarta!
The best environment to live in Jakarta with a green and leafy environment, various hangout places, easy access to the downtown area of ​​Jakarta. A neo-classical feel combined with traditional Indonesian designs offered by the interior of the apartment. This apartment offers premium facilities such as a lagoon-style swimming pool surrounded by gardens, trees, and luxurious luxury places. Perfect for those of you who are looking for an apartment with open garden facilities. In addition, there are also clean sidewalks and jogging paths. There are also two fully equipped gyms with professional equipment. Not only that, there is a sauna, tennis court, basketball court, and children's playground.
Located on Jalan RS Fatmawati, it gives its residents easy access to go anywhere. But other than that, this apartment is also close to One Belpark Mall. This apartment also has a variety of additional facilities that are quite complete. Such as a spacious fitness center and jogging track that help you to live a healthy life. You can also enjoy the comfortable atmosphere at the spa and reflection pool to relax. Fatmawati MRT Station is the closest you can reach in less than 10 minutes. To get to the MRT station, you can use an online motorcycle taxi that is on standby. Or you can also access many places by using an online motorcycle taxi. Aspen Residence is suitable for those of you who are looking for an apartment with open garden facilities.
The apartment in South Jakarta is located right in the heart of Kemang, an area famous for its bars, restaurants, and many aesthetic places. The Mansion is quite popular among ex-pats. Because it is also very close to the nightlife of Kemang, one of the best in the city. In addition to a comfortable environment, you can also get complete facilities, such as a swimming pool, Jacuzzi, kindergarten, gym, and a beautiful open terrace. Only 5 minutes drive or walk, you will reach Lippo Mall Kemang. Enjoy a comfortable life in an apartment with open garden facilities.
Hamptons Park, a cheap apartment in South Jakarta located in Cilandak. located in an upscale area in a premium Pondok Indah goldfield apartment complex. The location is very close to Cilandak Town Square, a mall that has a complete supermarket and various restaurants lined up. Besides being near the development center, Cilandak is also famous for its many nightlife entertainments that you can visit. You can choose the sport you like because Hamptons Park has tennis courts, basketball courts, children's playgrounds, or swimming pools. So you can enjoy the weekend by relaxing by the pool if you live in an apartment with open garden facilities.
Royale Springhill Residence, an apartment with open garden facilities in an apartment complex in Kemayoran, Central Jakarta. You can enjoy beautiful views of the lush Bandar Kemayoran Golf Course or the enchanting Java Sea. Located in a strategic area, residents of Royale Springhill have easy access to JIEXPO, Jakarta Inner Ring Road, Ancol, Kelapa Gading, and many more. Royale Springhill is the perfect place for young executives to spend most of their time in the Kemayoran area with the concept of comfort and eco-friendly living. In addition, there are several outdoor facilities for residents, such as a large outdoor swimming pool, jacuzzi, sauna, tennis court, basketball court, foosball table, and jogging track.
People also read: How to Create a Minimalist Bedroom in 10 Easy Steps
Luxurious apartment with a modern residential theme close to the large and complete Kota Kasablanka Mall. This apartment is also suitable for those of you who want to relax and stay healthy because Casa Grande is an apartment with open garden facilities. You can use the gym, swimming pool and jogging track to exercise. Then there is also a Jacuzzi that you can use to relax after exercising or a tiring day. Known for its area for expatriates, international cuisine is also widely available near this apartment. This area is also famous for several bars such as Basque or Hause Rooftop, famous bars, and restaurants.
The apartment is located in Senopati, Jakarta, precisely within the scope of District 8. You only need a few minutes to get to SCBD and Sudirman because they are only a few minutes away. Besides being located near offices, Residence 8 is also located close to many entertainment locations in Jakarta. This apartment has many facilities that support your healthy lifestyle, such as 50 m2 Olympic Swimming Pool, Fitness Center, Spa & Sauna, Multipurpose Room & Room, Audio Visual Room, Barbeque Area. Security is also very well maintained because Residence 8 is an apartment with a private lift. To fulfill your daily needs, you can visit FX Residence or Pacific Place.
People also read: 12 Recommendations of Instagrammable Cafes Near Gold Coast PIK Apartment
If you are looking for an apartment with a private lift, 1Park residence is the answer. Because each unit has a private elevator, so you will feel comfortable and safe when you enter. 1Park Residence features a fully equipped gym, swimming pool, tennis court, jogging track, and reflexology walking track. Not only that, this apartment also has a BBQ area and a children's playground where your little family can relax in an apartment with an open garden. To meet your monthly shopping needs, you can go to Gandaria City Mall which is large and complete selling all your needs.
Each unit is complete with home appliances so you don't have to bother when moving. The Pakubuwono Spring is an apartment with open garden facilities plus other health units, ranging from indoor and outdoor swimming pools, onsen, basketball court, jogging track, restaurant, BBQ area, children's playground, multipurpose building, to a gym. This apartment is located in a strategic area throughout Jakarta, especially SCBD. To fulfill your daily needs, you can go to several selected malls such as Gandaria City, Plaza Senayan, Senayan City, and Pondok Indah Mall.
Taman Rasuna Residence is located in Karet, Setiabudi, South Jakarta. The environment is quite strategic for expatriates and workers in the Kuningan business district. You only need 15 minutes to get to the office. In addition, Rasuna Park is also only 30 minutes from Jalan Sudirman, the main road from the business district. In addition, this apartment also provides convenience for its residents to complete their monthly needs. You can go to Epicentrum Walk, a comfortable and modern shopping center. In addition to its strategic location, Taman Rasuna is an apartment with an open garden and other health facilities. So you can easily manage your exercise schedule. Starting from the swimming pool, ATM, gym, basketball court, tennis court, jogging track, grocery store, restaurant, and children's playground.
That's it! 10 apartments with open garden. So, are you interested in rent one with us? Click here to rent an apartment with Flokq!