Indonesia has many flight schools throughout its territory with their respective advantages. Both from the facilities, costs, to the educational standards used. One of Indonesia's leading flight schools is the Bali International Flight Academy or BIFA. This flight school is located in the Air Strip area of ​​Sumberkima Village, Buleleng Regency, Bali. This Bali flight school uses international standard facilities that guarantee the quality of school graduates as aviation professionals
Within a period of 18 months of schooling, prospective pilots will get a total of 16 hours of flying at the Lt. Col Wisnu in Buleleng, Tjilik Ruwut Airport in Palangkaraya, and Banyuwangi Airport in Banyuwangi. Prospective students will go through a rigorous selection to qualify as BIFA students. BIFA graduates can be accepted in various well-known airlines. Those airlines include Air Asia, Sriwijaya Air, Citilink, Lion Group and Garuda Indonesia.
BIFA was founded in 2009. This Bali flight school has a vision to improve the quality of flight training to produce pilots of global standards who meet ICAO requirements on aviation safety.
Overview
BIFA's campus is located between the gentle slopes of the districts of Buleleng, Bali and Banyuwangi. All training facilities are in close proximity to each other for training efficiency. The campus has the necessary modern facilities, from classrooms, simulators, libraries and more. There are also recreational facilities for students to enjoy, such as swimming pool, gym, canteen, volleyball court, and high speed WiFi, available on campus. In addition, there's also a recreational area for the students. The Buleleng and Banyuwangi campuses can accommodate 100 students in dormitories equipped with air conditioning.
The theoretical knowledge training and flight training ensured to meet international standards. Internal tests, exams, stage checks, and ride checks are conducted during and at the end of each course to ensure the students' understanding. In other words, complete and thorough curriculum. BIFA students would also recieves supporting facilites, such as:
Classroom and Computer Room (CBT & Radiotelephony)
These modern classes are equipped with multimedia projector, audio-visual system, AC, WiFi and advanced training materials. BIFA Academy has five networked classrooms on different training bases. In addition, there's also one dedicated CBT room.
Library
BIFA's library allows students to access a wealth of aviation-related information such as books, guides and other reference materials. Therefore providing them more than enough chances to improve themselves.
Flight Training Devices
The FAA had approved BIFA's Flight Training Devices (FTD) facility and certified by the Indonesian Directorate General of Civil Aviation. These FTDs are used to simulate various scenarios with various aircraft configurations for the students. FTDs allows students to be exposed to a variety of instrument training procedures, emergency procedures, and other scenarios. Thus producing knowledgeable pilots who are competent in handling many situations with confidence.
Hangar
Our fully equipped hangar with in-flight accommodation and scheduled and unscheduled maintenance. This hangar includes spare parts inventory and maintenance control room. Therefore securing its quality.
Dormitory
BIFA student accommodation is strategically located to minimize their travel time from the dormitory to campus. The dormitories available on the Buleleng and Banyuwangi campuses have separate sections for male and female students. BIFA provides accommodation for training conducted at satellite bases. All dormitory rooms are twin sharing rooms and equipped with air conditioning, study desks and wardrobes for students.
Cafetaria
This cafeteria is a place where BIFA students can enjoy their break, hangout with friends, build networks, and recharge. The canteen provides three nutritious meals every day.
Recreation Area
After they finish the day's class or training, students can relax in the recreational area. For instance, the swimming pool, where they can eat snacks, read magazines, relax and enjoy their free time.
Religious Facilities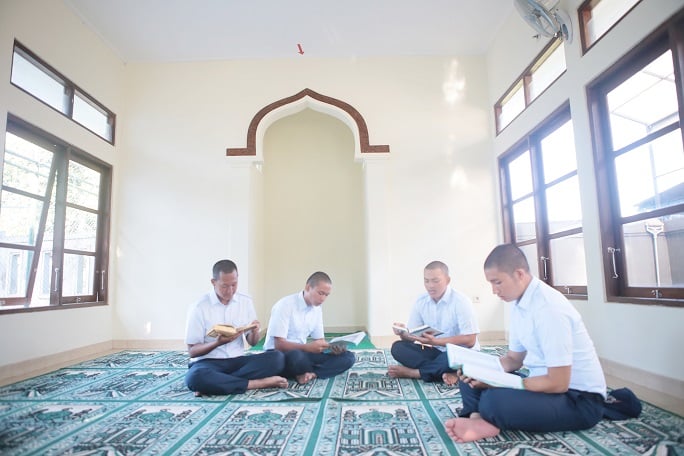 Islamic Prayer Room
Temple
Sports Facilities
Swimming pool
Volleyball/Badminton Field
Table tennis
And that's how BIFA is described as one of the best flight schools in Asia! Aside from the developing education and supporting facilities, the success or failure of a student depends on the willingness and effort of the students themselves. Enjoy your flying degree!
---
Need a nearby tourist spot for a quick trip? This article can help you!