Bali
|
Local Guide
5 Barbeque Services in Bali for Your Ideal Group Get-together
Holding a barbeque party with a barbeque service in Bali is a great idea for a quality time during vacation. Picking up your favorite meat or veggies, placing them on top of the grill, and waiting for them to be done is one of a kind. You'll get a feeling similar to a campfire session where you get to share stories or marvel at how tender and juicy the meat is.
There are more than a few choices you can try for a BBQ service at home in Bali for you and your friends or family. Here we list not only generic BBQ services, as we have also put some ideas for you to start your search by putting specific themes provided by the BBQ service companies/restaurant. Here are 5 BBQ services in Bali for your ideal group get-together! 
Read also: Top 10 Restaurants & Cafes with Live Music in Bali
1. Ausindo Bali Villas Catering and Services
To start our search for a great barbeque service in Bali, let's start with something reliable and traditional. Indonesian barbeque Grill Buffet is one of Ausindo Bali Villas Catering and Services many barbeque services that they offer. Starting at 400k per person with a minimum of 5 person per event, you can enjoy a variety of Indonesian delicacies.
For appetizers, they offer crunchy lumpia goreng and tempe tahu. They also serve delicious soto ayam with krupuk as your entree. As for the main course, they have many staple Indonesian dishes refined to their taste, including satay ayam with either peanut sauce or sweet and mildly spicy sauce based on what you like. There is also Ikan Bakar fried alongside shallots, coriander, candlenut, tamarind, galangal, and assorted traditional herb & spices.
Last but not least, their specialty desserts put the icing on the cake. Enjoy both simple and traditional desserts, with dishes like simple and reliable vanilla ice cream to exquisite green pancakes made from Pandanus with sweet sauce or Balinese black rice pudding.
There are also other barbeque service options available like seafood lovers, meat lovers, Mediterranean, and surf & turf BBQ buffets. Be sure to visit balichefhire.com or ausindobalivillas.com for a full range of their menus, packages, and services!
2. Lopodo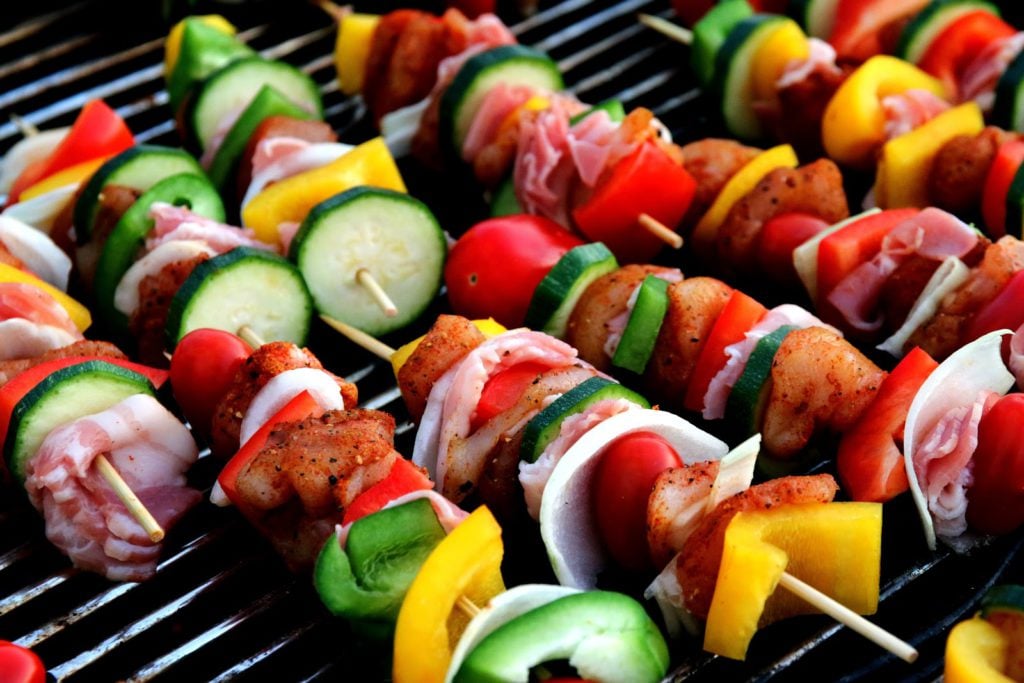 To start your barbeque experience in the tropical paradise, why not entrust your barbeque service in Bali to Lopodo? They have both non-vegetarian and vegetarian options ready for an unforgettable event. If you would like some greens instead of meat, you can enjoy some delightful veggie skewers and some smokey aubergines among other vegetarian menus. If you're fine with either or, enjoy some grilled beef kebab plus mushroom skewers, some delicious satays, and grilled seafood!
Still don't find it satisfying? Well, they also offer you more than a few different menus you can enjoy with a small extra price. Some examples of these extra menus include a tenderloin steak for 65k IDR per person or a cheese platter gourmet serving 4-6 persons for 500k IDR.
Make your event, whether a campfire with friends or a formal event held in some gorgeous beachfront spot, more delicious with Tropical BBQ by Lopodo. The price of this particular package is 385k IDR per person (excluding 17% tax). If you want other kinds of catering menus, they have two other sets of menus you can choose from, such as a Luxury set and a live station buffet
Call +62 361 355 2212 for a reservation.
3. Barbacoa Private Catering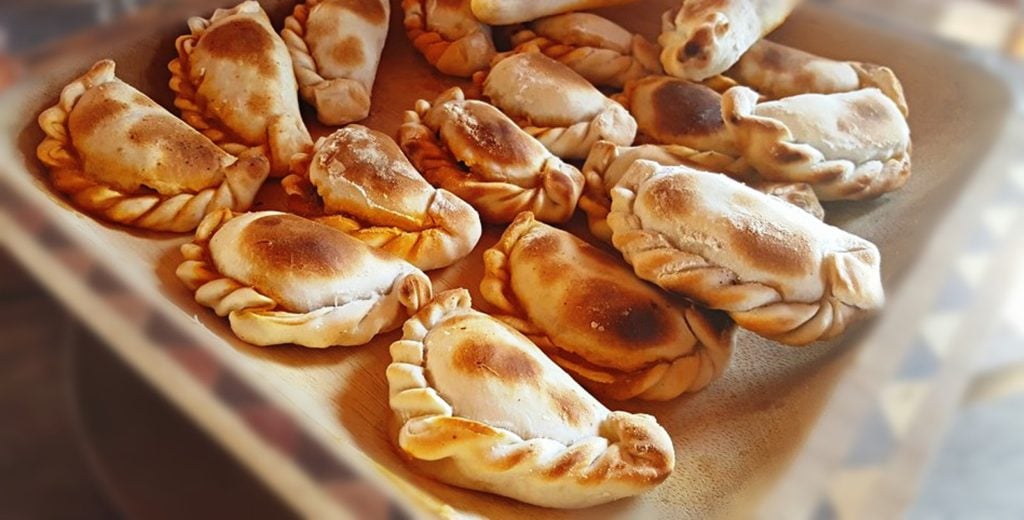 Enjoy some delightful and authentic barbeque service with Barbacoa Private Catering. They offer you Argentinian and Latin American delicacies to enjoy and share with your friends or people at your events. They have a nice range of menus, with three unique set menus plus a canape set for you to choose from.
For starters try their Empanadita, with both veg and non-veg options available, among other Latin American household snacks or foods. Once you're done with appetizers, go right ahead and enjoy either their 8 hours wood-fired Asado Pork, some classic wagyu beef sirloin steak, or some nice BBQ chicken to name a few. Change things up with some scrumptious sides like Spanish-style potatoes, or finish up with delicious desserts like vegan chocolate brownies and 3 hours Flan De Leche.
If you want to make sure you can keep munching on their delicious foods without getting your throat dry, order a free flow as well starting from 600k++ IDR per person. They'll cater to events or weddings big or small, so it's perfect for a nice BBQ event at home with friends and family. Fun fact, the word barbeque actually originated from Arawak-speaking Taino people from the Caribbean with the same name as this catering service/restaurant, so neat!
Call +62 8123 9999 825 / +62 361 739 233 or contact info@barbacoa-bali.com for a reservation.
4. Hog Wild Catering Bali
Want a barbeque service that offers you a luxurious and exotic experience? Try Hog Wild Catering by Chef Bruno! Enjoy a live BBQ stall where tender, juicy meats are cooked and served live! Talk about showmanship, right? A perfect way to show-off to your guess who means business. Speaking of business, let's check out their menu.
For starters, you should definitely order their famous wicked ribs for 185k IDR. There are also other delicious local and international signatures like Balinese pork satay for 85k IDR and angus rib-eye for 275k IDR. They have a minimum order of 15000k per event. For big events you can also order their Wild Bar list with a huge assortment of drinks with a minimum order of 6000k IDR per event, or their A La Carte Catering for 18000k IDR of minimum order.
They also have more affordable options, with a wild catering package costing around 450k IDR per event for a 15 item set and a wilder catering package costing around 550k IDR per event for a 19 item set. Perfect for smaller sized events. Great options to go wild with your food and drink in both big or small parties!
Call +62 361 847 6722 / (+62) 821 45166 3495 or email info@hogwildcateringbali.com for a reservation.
5. Karnevor
Last but not least, here is probably the closest thing you'll get to an easy and private barbeque service in Bali. Karnevor is a home BBQ service that offers not only the ingredients, but also the necessary equipment to start your BBQ night with friends and family. They have branches in many parts of Indonesia, but the one nearest to you is in Denpasar. They have a nice variety of BBQ, with packages such as Home Service Yakiniku to warm you and your companions up. In this package, you'll get half a kilos worth of US short plate, boneless chicken, 2 pcs bratwurst sausages, with some veggies on the side. You'll also get your own grill or portable stove for one day, so you can just take it slow and enjoy the night.
Home Yakiniku Service starts at 190k IDR for 4 persons. Like Captain America said in the movie Civil War, "We may not be perfect, but the safest hands are our own" and the best hand who cooks and grills that meat is your own. Follow their Instagram karnevor.id_denpasar to know more! 
Read also: Top 10 Restaurants & Cafes with Live Music in Bali
Thanks for reading! Want to know more about lifestyle and living in Bali? Visit our other blog posts for more useful stuff!
---
Want to find a rental option for your vacation in Bali? Flokq has several rental options in Bali at an affordable price. Head to Flokq or click the button below to find out more.
CLICK HERE TO FIND RENTAL OPTIONS IN BALI