Going to the cinema is perhaps never on your list of things to do in Bali, but this activity is surely one of the best things that you can do to level up your stay. This is an entertaining activity, easy to do, able to cure your exhaustion, and more importantly affordable. Instead of staying in your hotel room, why not drop into the cinema in Bali for some pleasant activity?
Bali has many options of cinema, and choosing the perfect one is as important as choosing the movie. Hence, in this article, we will guide you to find the best cinema in Bali. Ranging from the classic cinema to the unique ones. They are spacious, comfy, and use high-quality equipment. Totally worth visiting!
Read also: 12 Steakhouse in Bali: The Most Juicy and Mouth-Watering
1. Cinema XXI Premiere at Level 21 Mall
Cinema XXI Premiere which is located within the Level 21 Mall area is also known as Level 21 XXI. As one of the biggest cinemas in Bali, this one is a home for five deluxe studios and one premiere studio. If you happen to visit Level 21 XXI, you will be welcomed by the spacious and modern cinema. You can find Hollywood blockbusters as well as Indonesian movies here.
At this cinema, ticket prices are IDR50.000 on weekdays, IDR60.000 on Friday, and IDR75.000 on weekends. If you want something better, you can try their premiere studio with tickets prices are twice as expensive from the regular one but the vibes are totally worth the money.
Address: Jl. Teuku Umar No.1, Dauh Puri Klod, Kec. Denpasar Bar., Kota Denpasar, Bali 80113
2. Cinema XXI Premiere at Beachwalk Shopping Center
Located inside Beachwalk Shopping Center which is one of the famous places in Kuta, this cinema can be a perfect place to go whenever you feel worn out after shopping. Featuring a luxurious atmosphere and considered as a premiere cinema in Bali, you can spoil yourself by watching a movie with the best experience. One of the best facilities here is a superior studio with limited relaxing chairs.
Tickets for premiere studios in this cinema are ranging from IDR100.000 to IDR150.000. Other than that, you can also enjoy their deluxe studios with ticket prices starting from IDR45.000 to IDR65.000.
Address: Jl. Pantai Kuta No.2, Kuta, Kec. Denpasar Bar., Kota Denpasar, Bali 80361
3. Cinema XXI at Mal Bali Galeria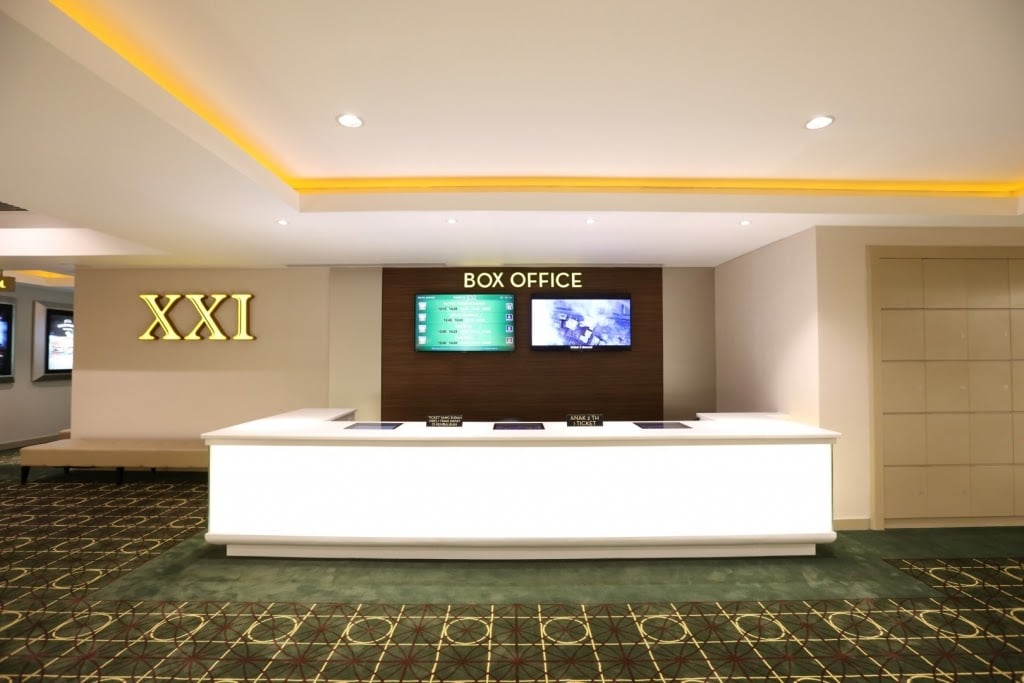 Mal Bali Galeria is located in a convenient and strategic spot in Bali. Inside this mall, you can find one of the best cinemas in Bali, which is Cinema XXI at Mal Bali Galeria. This cinema has two deluxe studios with prices starting from IDR45.000 to IDR65.000. It is even better because you can book your ticket online, and spend the waiting time strolling around the shopping center area.
Address: Galleria, DFS Galleria, Jl. By Pass Ngurah Rai, Kuta, Kabupaten Badung, Bali 80361
4. Cinema XXI at Park 23, Kuta
Another option of the best cinema in Bali is Cinema XXI at Park 23 Kuta. The shopping mall is actually new, but still able to provide you the best entertainment experience. Cinema XXI at Park 23 has four studios, you can enjoy both international and Indonesian movies here. Ticket prices at this cinema are also affordable, which is IDR 35.000 on weekdays, IDR 40.000 on Friday, IDR55.000 on weekends. Sounds good, right?
Address: Park 23 Mall, Jl. Kediri No.27, Tuban, Kuta, Kabupaten Badung, Bali 80361
5. Cinepolis Sidewalk Jimbaran
Cinepolis at Sidewalk Jimbaran offers you standard, preferred, and premium tickets, all at affordable prices. Located on the main road Jimbaran, you can easily head out to this cinema after having a delightful dinner at Jimbaran Beach. Enjoy yourself in this entertaining activity with ticket prices ranging from IDR40.000 to IDR65.000 on weekends or public holidays.
Address: Jl. Raya Uluwatu No.138A, Ungasan, Kec. Kuta Sel., Kabupaten Badung, Bali 80361
6. Cinepolis at Lippo Mall
For those who are staying at the famous Kuta area and looking for some pleasant activity, you can go to Cinepolis at Lippo Mall Kuta. This cinema has two options of studio, which is a regular studio with basic facilities, and gold studio which offers luxurious experience such as first-class dining, and the seating features plush, twin motor, leather recliners, complete with pillows and blankets.
You can enjoy those luxury facilities with ticket prices starting from IDR100.000 to IDR200.000. While the regular ticket prices are IDR35.000 to IDR50.000 depending on the day and show time.
Address: Jl. Kartika Plaza, Lingkar Segara, Kuta, Badung Regency, Bali 80361
7. Cinepolis at Plaza Renon
Cinepolis at Plaza Renon is a home for 4 regular studios but still completed by advanced equipment such as top-notch audio and visual systems. Located in the popular Plaza Renon in the Denpasar area, you can pay a visit to this cinema after strolling through the city. Get the best experience of watching movies in Bali at Cinepolis Plaza Renon with ticket prices starting from IDR45.000 to IDR65.000 on weekends.
Address: 2nd & 3rd Floor, Niti Mandala Renon Plaza Renon, Jl. Raya Puputan, Sumerta Kelod, East Denpasar, Denpasar City, Bali 80239
8. Denpasar Cineplex
For a cheaper alternative, head out to Denpasar Cineplex which offers the best cinema coming at budget-friendly ticket prices starting from IDR30.000 to IDR40.000 for the deluxe studio, and IDR50.000 for the executive studio. You can get a chance to enjoy a movie in a studio which is completed by relaxing sofas, delicious snacks, and International and Indonesian movies available.
Address: Jalan M.H. Thamrin No.69, Pemecutan, Kec. Denpasar Bar., Kota Denpasar, Bali 10350
9. Paradiso Ubud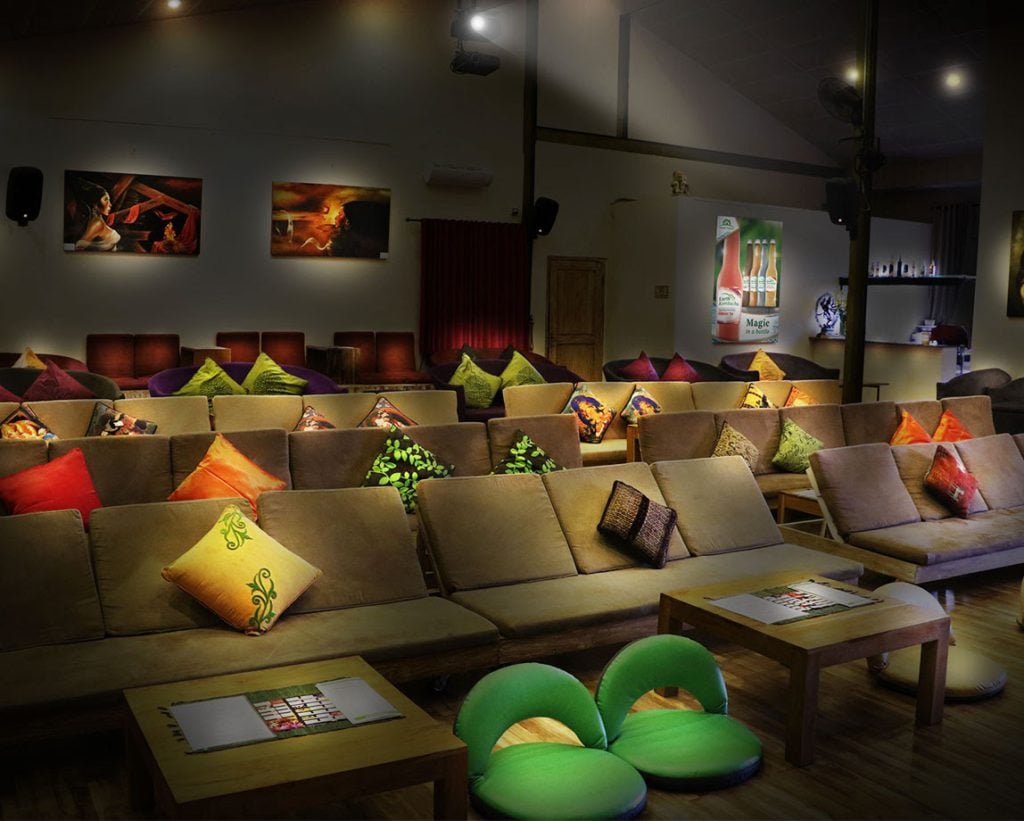 Paradiso Ubud is one of the unique cinemas in Bali. It has 150 seats and hosts a quality film screening, as well as other cultural activities. This cinema offers an organic plant-based menu to complete your movie experience in reclining loungers, plush couches, and cushioned platforms. Grab your seat in this cinema for IDR75.000 ticket prices which can be redeemed for food and beverages during the show.
Address: Jl. Goutama Sel., Ubud, Kec. Gianyar, Kabupaten Gianyar, Bali 80571
10. 5D Max Bali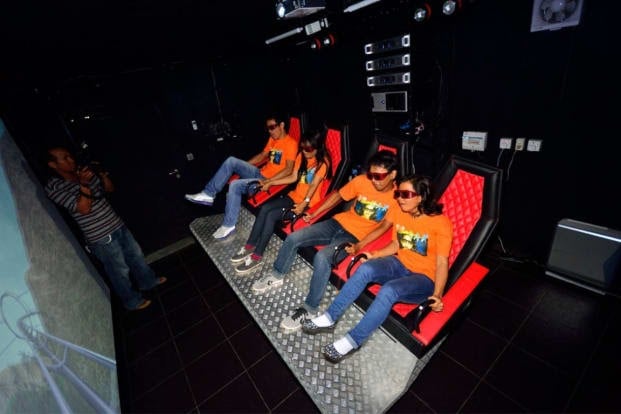 Level up your movie experience with 5D Max which is located in many areas of Bali such as Legian, Nusa Dua, Tanah Lot, and more. If you love challenging activities to boost your adrenaline, you can try these small movie booths to enjoy a 7-minute of 5D thrill ride of various interesting themes.
Hydraulic-powered seats move and jolt you around, completely in sync with the scenes on the screen, which you watch using 3D glasses. Lighting, wind, mist, and bubbles are all thrown in according to the screenplay and these special effects definitely add to its extremely realistic effect. You can enjoy all of those with a ticket price of IDR50.000.
Address: Jl. Poppies II, Kuta, Kabupaten Badung, Bali 80361
11. Blackbox Movies Kuta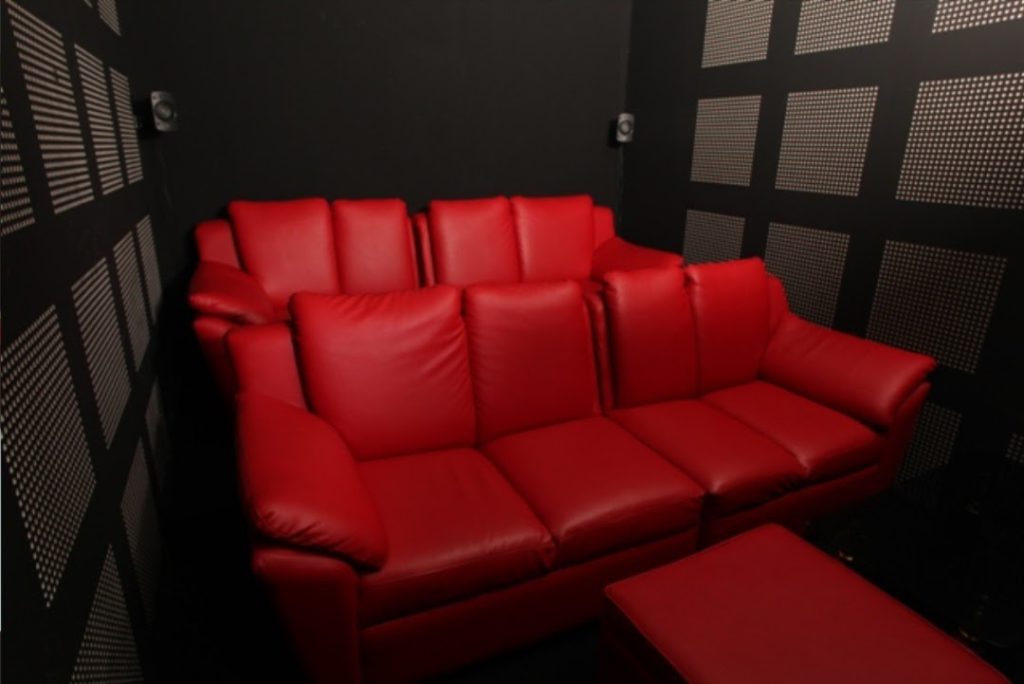 Another option for all new experiences of watching movies in Bali is Blackbox Movies. This cinema provides a small studio with a high-quality audio system and consists of 8 seats. Totally suitable to enjoy with your group of friends! Prices for renting the studio at Blackbox vary, you can also get a cheaper price if you choose to rent at certain times such as 3 to 5 pm every day.
Address: Jl. Tegal Permai No.1, Dalung, Kec. Kuta Utara, Kabupaten Badung, Bali 80361
12. Divine Earth Cinema Club Seminyak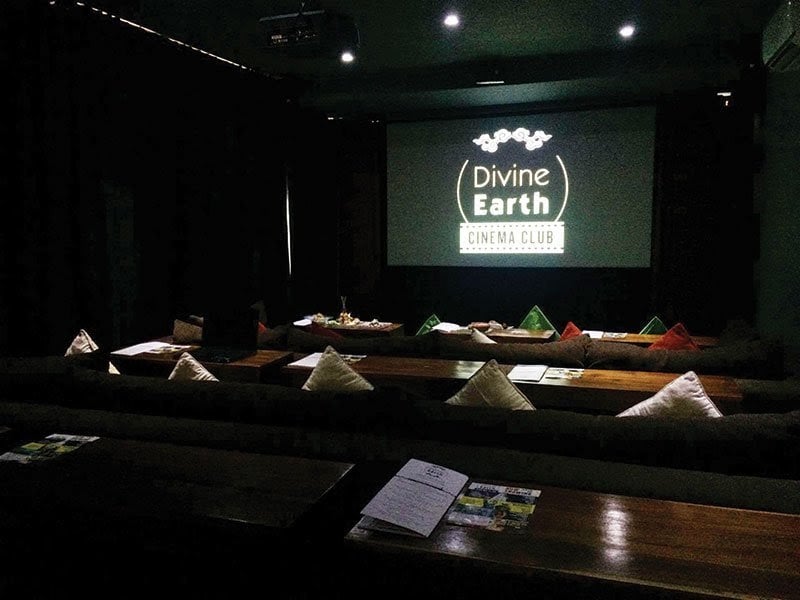 Sets above the Divine Earth Restaurant in Seminyak, the Divine Earth Cinema Club is a comfortable cinema which is completed by AC, plush couches, HD screen, an audio system, and obviously delicious food! What makes it even better is, this cinema is free, while all you need to do is purchase something from the menu.  
Address: Gg. Lesmana No.99, Seminyak, Kuta, Kabupaten Badung, Bali 80361
13. Yema Kitchen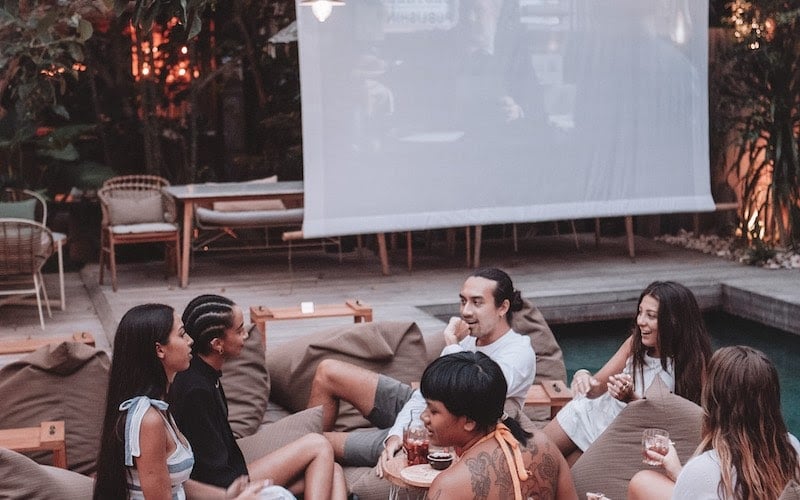 Yema Kitchen offers a relaxing cinema where you can arrange yourself around the plunge pool, on beanbag chairs, or at the tables to watch a movie every Wednesday at 8 pm. As an open-air cinema, this place will let you enjoy the movie and be surrounded by a Balinese feel. Completed the experience by having some mouth-watering dishes available at Yema Kitchen.
Address: Jl. Tanah Barak No.31, Canggu, Kec. Kuta Utara, Kabupaten Badung, Bali 80351
14. Karma Beach Club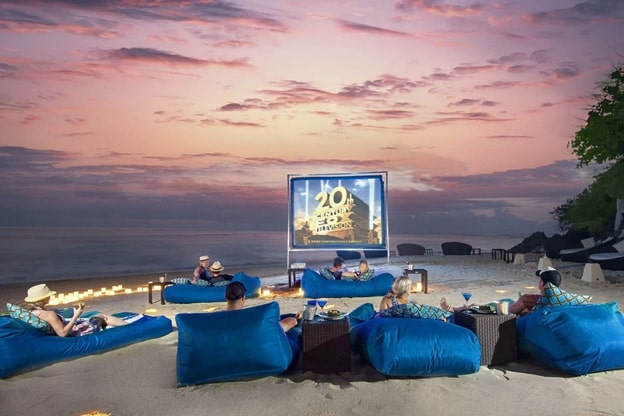 Karma Beach Club is surrounded by relaxed vibes, crystal clear water, amazing view, cool ocean breeze, and crashing waves. Such a perfect spot for a movie night out, right? Held regularly every Monday at 6.45 pm, you can enjoy this pleasant cinema in Bali for IDR250.000 which includes an entry fee, popcorn, a pizza, and a cocktail. Relax on beanbags strewn across the sand, with lights set around the area for a full experience.
Address: Karma Kandara Bali, Jalan Villa Kandara, Ungasan, Kec. Kuta Sel., Kabupaten Badung, Bali 80362
15. Folk Pool and Gardens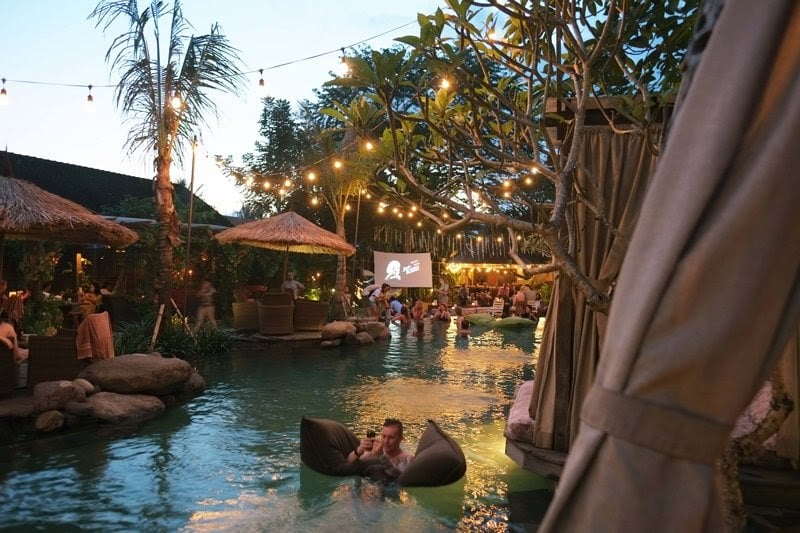 Last in our list of the best cinema in Bali is Folk Pool and Gardens. This cinema shows movies every day starting from 6.30pm with a screen set in front of the pool, and cabanas set around the sides. You can enjoy the movie while relaxing by the pool and having some delicious foods and drinks available.
Enjoy all these perfect facilities with a free entry on the weekdays in the general sitting area. On the weekends or public holidays, this area requires a minimum spend of IDR100.000, while daybeds require a minimum spend of IDR300.000 and applied every day.
Address: Jl. Monkey Forest, Ubud, Kecamatan Ubud, Kabupaten Gianyar, Bali 80571
Read also: 10 Ice Cream Shops in Bali: The Sweetest and Most Flavorful
And there you go! That is all for our top picks of cinemas in Bali to help you decide which one to go for some entertaining activity in the middle of exploring Bali beauties.
---
Want to find a rental option for your vacation in Bali? Flokq has several rental options in Bali at an affordable price. Head to Flokq or click the button below to find out more.
CLICK HERE TO FIND RENTAL OPTIONS IN BALI