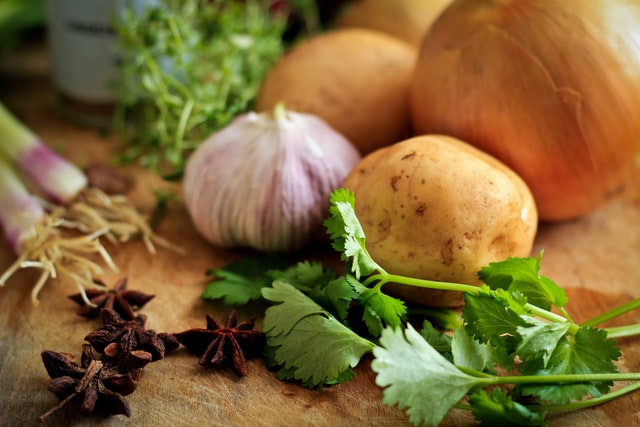 Joining a cooking class in Bali can be one of the few ways to learn about Bali and its culture. Yep, there are more than a few opportunities around the island to learn about its culture. Learning how to cook Balinese food makes you more mindful about the day-to-day of the average Balinese people.
Imagine making your own Balinese food or maybe bringing some of those skills and recipes home to enrich your culinary expertise. If you're not trusting yourself regarding anything food, then this could be a fun new introduction to the art of cooking itself. So, how about it? Here are 10 cooking classes in Bali to learn more about Balinese food, people, and culture.
Read also: Nyat Nyat: One of Bali's Most Famous Food
1. Pemulan Bali farm Cooking School, Ubud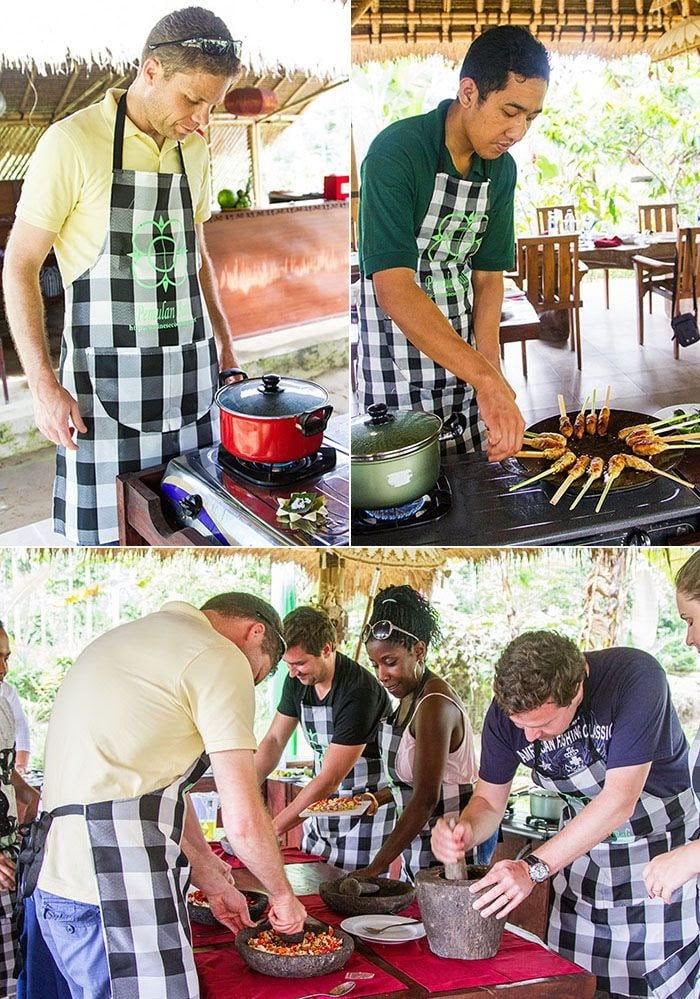 To learn about food you need to learn about where they come from. That is the kind of experience that Pemulan Bali wants to give you. As a show of their commitment to organic cooking, They can give you a tour of their growth farm for you to both enjoy the refreshing air and get yourself acquainted with various essential ingredients to make traditional dishes.
In addition, You can even try harvesting these ingredients yourself. They can also take you to see the hustle and bustle of a local farmer's market for you to feel the industrious and cheerful vibe that both the traders and customers exude. This is only for morning classes, though so be sure to arrive there early.
When it comes to cooking class arrangements, they have three kinds. The first arrangement is designed for those who want to have fun and learn Balinese cooking. The second arrangement is for advanced level chefs who want to try their hand at mastering traditional Balinese or Indonesian cooking. Lastly, the third arrangement will give you the opportunity to enjoy the bountiful natural sights of the countryside in addition to learning how to cook Balinese food.
Remember that they have both morning and afternoon classes, so you can go early or go slow. Also, they have both vegetarian and non-vegetarian sets for your cooking class, so don't worry about being left out!
Address: Banjar Patas, Taro, Gianyar, Bali 80561
Contact: +62 812-3953-4446
Open hours: 8 AM – 5 PM
2. Canting Bali Cooking Class
If you want to learn how Balinese people utilize nature around them to make great food, then you should definitely come to Canting Bali Cooking Class. They provide morning classes where you can visit local markets and get to know local farmers. After a nice tour of the area, you'll get to cook with the friendly people who operate Canting. Canting Bali is led and operated fully by Balinese people, so you can be sure to have an original and authentic learning experience. Lastly, they also offer pick-up from Nusa Dua, Kuta, Sanur, and Ubud area.
For the food, they also offer a very detailed list of menus of what you will be going to make based on vegetarian or regular options. Notable regular options include sate lilit, sambal matah (great sauce to add to your cooking inventory, could be consumed by vegetarians as well), and dadar gulung. Meanwhile, notable vegetarian options include tempe lalah manis, sate tempe, and lawar bali.
Address: Jl. Raya Laplapan, Petulu, Kecamatan Ubud, Kabupaten Gianyar, Bali 80552
Contact: +62 878-6010-3676
Open hours: 8 AM – 5.30 PM
3. Periuk Bali Cooking Class
If you want a very beginner friendly cooking class on Balinese food, try booking a session with Periuk Bali Cooking Class. Before cooking, they will take you to enjoy the scenic rice paddies of Ubud and the busy morning local market. After that, they are going to teach you how to prepare and cook delicious Balinese delicacies. Both vegetarian and regular options are in the menu. You can try your hand at making vegetarian kare tempe or sayur urab or regular tempe manis and Balinese chicken soup.
In addition to cooking classes, they also provide lessons on other things. These include making Canang Sari (a type of Balinese ritual offering), Balinese spice paste, and coconut oil that Balinese people use often in their cooking. Lastly, they also offer pickup in Nusa Dua, Kuta, Sanur, Ubud. For the last area, they give free pick up services.
Address: Jl. Raya Laplapan, Petulu, Kecamatan Ubud, Kabupaten Gianyar, Bali 80571
Contact: +62 813-3879-2368
Open hours: 8.30 AM – 4.30 PM
4. Chef Mudana Cooking Class Sanur
Want to get a professional cooking class experience? Then join Chef Mudana in his restaurant Warung SMS for a cooking class session. This cooking class has three options. The first package is called Island Delights, and in addition to a cooking class you will also get free transportation within the Sanur area and a chance to visit a local market in Jimbaran, the second and the third will be your standard morning and afternoon cooking class experience.
The Menu that you will make will depend on what day you are coming to visit. For Mondays, Tuesdays, and Wednesdays you will be taught how to cook Indonesian staples such as gado-gado and national comfort food soto ayam. If you visit on Thursdays, Fridays, and Saturdays, you'll get to try making Balinese menus such as Ayam betutu!
A feature of this cooking class is that you can pick and choose spices to use in your cooking by checking out ingredients from a small herb garden that is available on site. In other words, you get to roleplay as a natural herb or spice gatherer to add to your ingredient mix! Once you've finished all of the activities, you'll get a booklet and a certificate sent by Email. So not only you're adept at making Balinese food, but you're also certified!
Address: Jalan Betngandang I No.25, Sanur, Sanur Kauh, Kec. Denpasar Sel., Kota Denpasar, Bali 80228
Contact: +62 896-5903-3433
Open hours: 7 AM – 9 PM
5. Paon Bali Cooking Class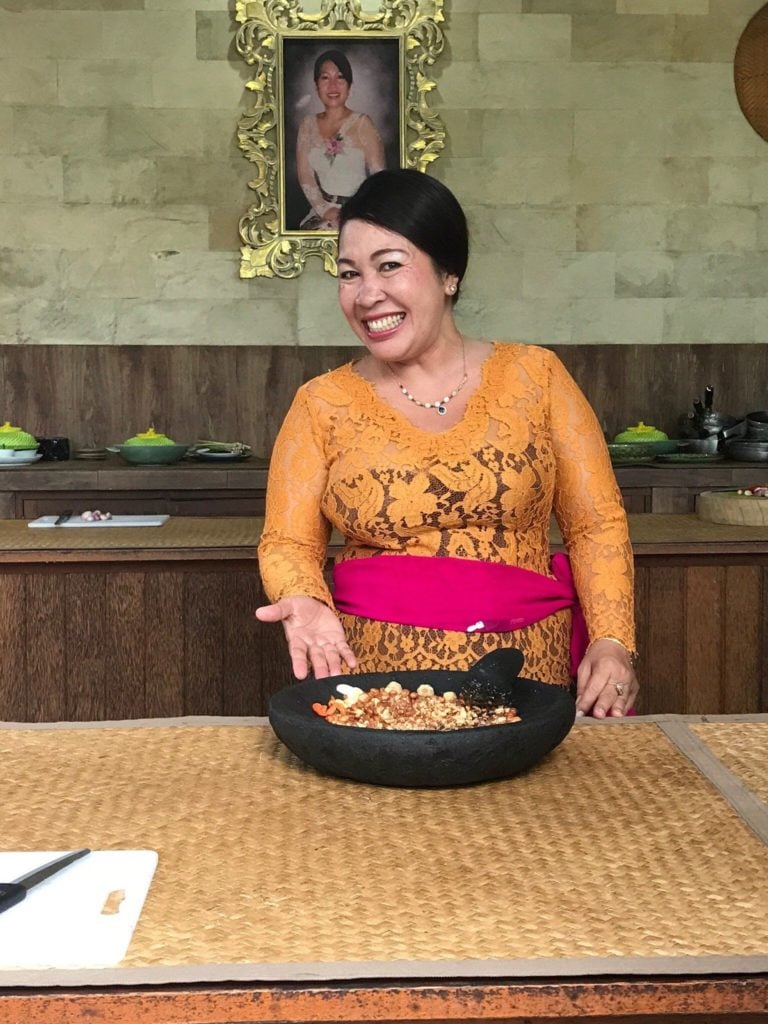 One of the most well known when it comes to cooking classes in Bali, Paon Bali will take you to the heart of Ubud to enjoy the view and enjoy making your own Balinese dish. If you're in a morning class, You can enjoy picking fresh spices and herbs at a nearby traditional market. Otherwise, you can take your time and join their afternoon classes.Their list of dishes you can try and cook includes both vegetarian and non-vegetarian options. Lastly, they also give recipes and notes for you to bring home.
For convenience, Paon also supports island-wide pickup. If you are in Ubud though, they'll give you a ride for free. So convenient!
Address: Jalan Raya Laplapan, Petulu, Ubud, Petulu, Kecamatan Ubud, Bali, 80552
Contact: +62 813-3793-9095
Open hours: 7 AM – 10 PM
6. Anika Cooking Class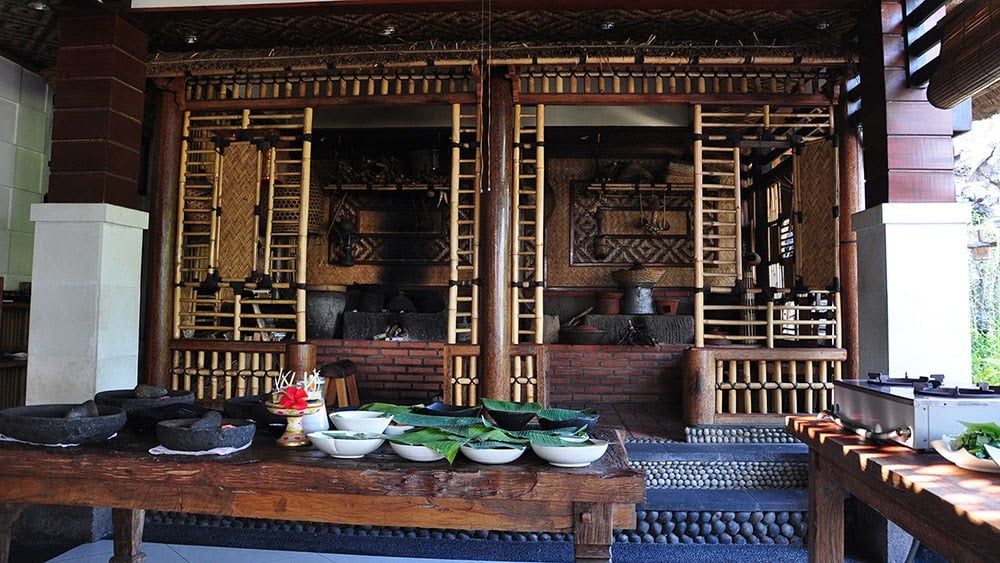 Next up we have Anika's cooking class. Located in Kuta area, Anika's cooking class is much easier to reach if you are living in Kuta area. Morning and evening classes are available for you to join. For the former you will receive an extra benefit of being able to visit a traditional market near Seminyak and for the latter you will get free transport for Kuta and its surrounding areas.
In addition, there is also a 2 day morning package that will give plenty of time for you to familiarize yourself with Balinese cuisine. Lastly, If you have a big group, they can host a cooking class for up to 300 people. For your hard work, they'll issue a certificate for you to show off to your friends and family.
With Anika's cooking class, you can learn up to nine different traditional main dishes and a Balinese dessert. To add up, those dishes are also differentiated based on days so you won't get the same food twice! Transfer services for pickup are also available, so you won't need to worry about being late or not having a ride.
Address: Jl. Nuri No.2, Tuban, Kuta, Kabupaten Badung, Bali 80361
Contact: +62 818-889-369
Open hours:
7 AM – 6 PM (Monday and Thursday)
7 AM – 3 PM (Tuesday, Wednesday, Friday, and Saturday)
7. Ketut's Bali Cooking Class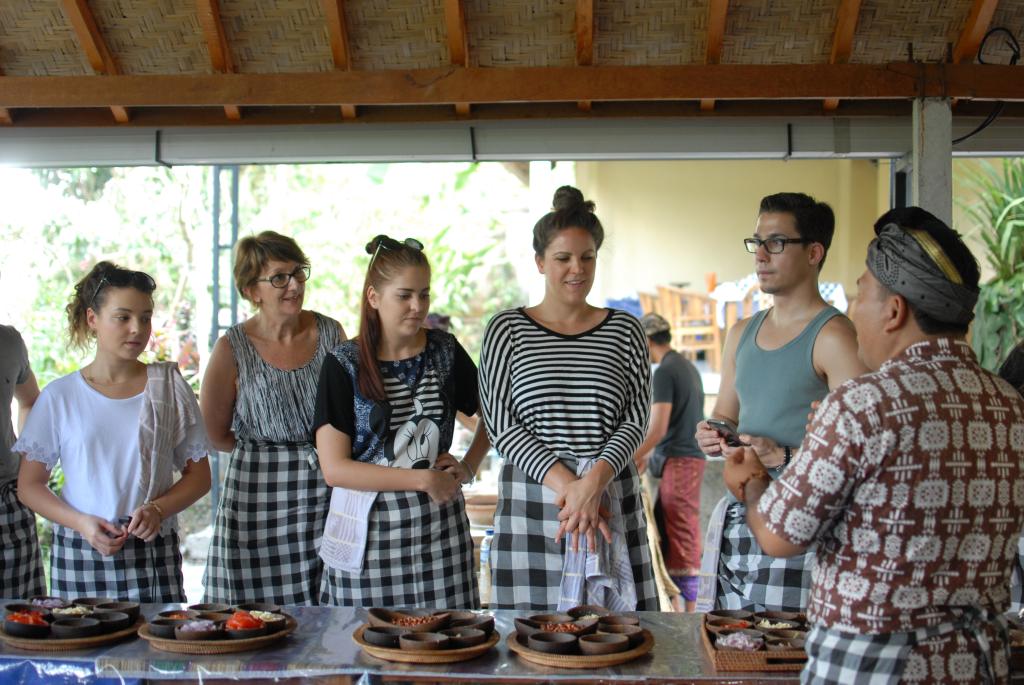 If you like your cooking class to be more personal, then contact Ketut for an unforgettable experience cooking Balinese food. He emphasizes a friendly and hands-on approach, meaning that you'll jump right into the cooking rather than watching people give instructions. Ketut offers two classes, one in the morning and one in the afternoon. If you join his morning class, you'll also get to visit the local marketplace to try your hand at hand picking ingredients. For the menus, both vegetarian and regular options are available.
Ketut emphasizes a personal and friendly approach in teaching so much, that he is willing to mix up menus for you. If you have a specific traditional menu in mind you'd like to try, don't hesitate to ask him. He also offers free transfer services within Ubud and surrounding areas.
Address: Jalan Laplapan Banjar Laplapan Ubud, Pejeng Kawan, Tampaksiring, Kabupaten Gianyar, Bali 80571
Contact: 62 812-4636-8226
Open hours: 7 AM – 6 PM
8. Nia Cooking Class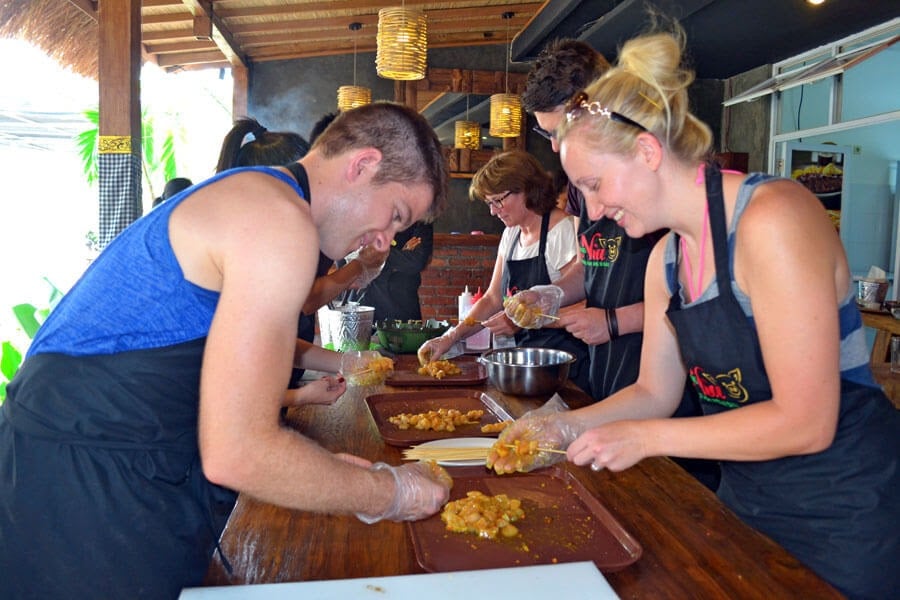 Nia's cooking class will show and teach you how to become better at handcrafted cuisines. If you are in Seminyak, then you should sign up for their cooking class for an insightful experience towards Balinese cooking. Your goal in the class would be to make a Balinese Rijsttafel (essentially a big spread of dishes). They have a wide assortment of dishes for you to choose from, with both dinner and day classes having 12 dishes consisting of appetizers, main courses, and desserts with both vegetarian and regular options available. You can even try your skill at setting up your own course meal! Their classes will also include a visit to the fish market or the farmer's market in the morning.
An edge that Nia has compared to other cooking classes is innovation. If you'd like you can ask Nia's professional and talented chefs to set up a private cooking class in your villa. It's classes are also concise, yet insightful so you can have more time to explore more of Bali.
Address: Kayu Aya Square No, Jl. Kayu Aya No.19, Seminyak, Kec. Kuta Utara, Kabupaten Badung, Bali 80361
Contact: +62 877-6155-6688
Open hours: 9 AM – 10 PM
9. Ubad Ubud Bali Cooking Class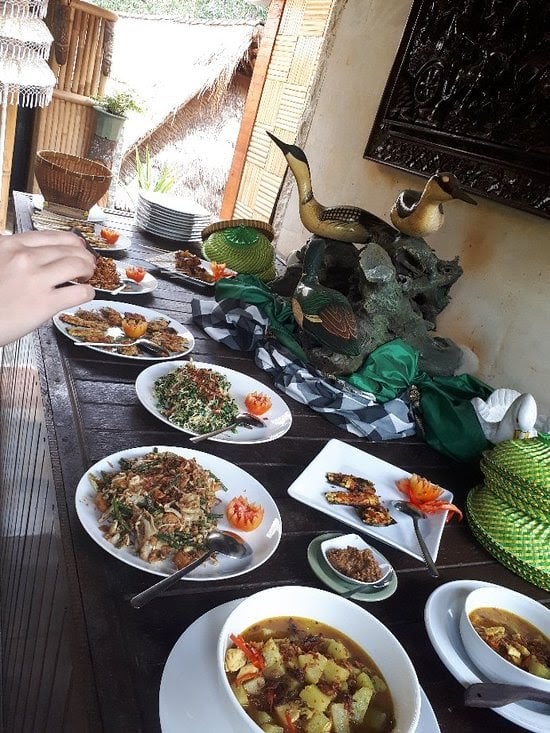 Ubad Ubud Bali cooking class highlights health and wellness in their approach towards giving lessons. For starters, they have morning and afternoon classes. They will teach you how to find and gather spices and herbs for both culinary and medicinal purposes in Bali's traditional market. As you wistfully stroll along the village area, you will also be delighted by the beautiful rice paddy scenery.
Before you get back to cooking, you'll be surprised with small yet ravishing sticky rice and a complimentary drink. You'll be happy to know that you will also soon learn how to make bubuh injin, the sticky rice you just ate alongside other Balinese and Indonesian food with vegetarian/regular options. In addition to food, they'll also give you a course on making Balinese traditional medicine. Lastly, if you are staying in Ubud then you are included in their free pick-up service!
Address: Jl. Ki Pasung Grigis, Banjar Tengkulak Kaja, Sukawati Desa Tengkulak, Blahbatuh, Kemenuh, Ubud, Gianyar, Bali 80581
Contact: +62 813-3776-9264.
Open hours: 8.30 AM – 8.30 PM
10. Subak Bali Cooking Class Ubud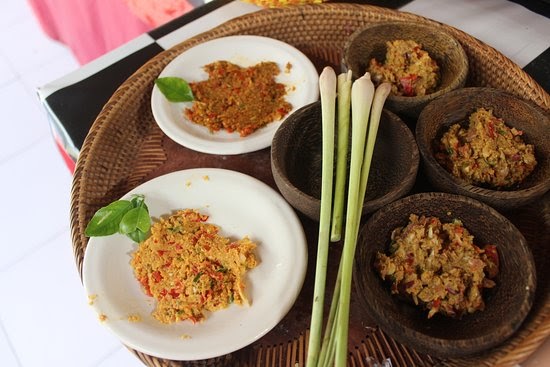 Last but not least, we have Subak Cooking class! Out of all the cooking classes on the list, they have the most number of packages. Let's start with the basics, though. Subak has morning and afternoon classes for you to try. For their morning classes, they will give you a tour of a nearby marketplace, Balinese house, and rice fields to start. Then, they will introduce you to 9 different dishes that you can learn, make, and taste on the spot. Other benefits include free transport inside Ubud area (charges are included if you are outside of Ubud) and mineral water. The same applies to afternoon, but again you'll miss the traditional market.
Oh, but they are not done. As we have said before they have more than just cooking classes for your enjoyment. They also offer tours as a complementary activity to your cooking class experience. Some of the tour examples that you can try are cycling tours and Barong tours. A real treat to enjoy your time in Ubud
Address: Jl. Werkudara, Tampaksiring, Kabupaten Gianyar, Bali 80552
Contact: +62 812-3887-9210.
Open hours: 24 hours
Read also: Lawar Bali: Introducing Balinese Local Food
And those are the 10 cooking classes in Bali where you can learn a bit more about the Islands' people, culture, and culinary heritage. Be sure to save time for them, as they are definitely not to miss when staying in Bali. Keep up to date with us to know what's cooking about lifestyle and living in Bali.
---
Want to find a rental option for your vacation in Bali? Flokq has several rental options in Bali at an affordable price. Head to Flokq or click the button below to find out more.
CLICK HERE TO FIND RENTAL OPTIONS IN BALI