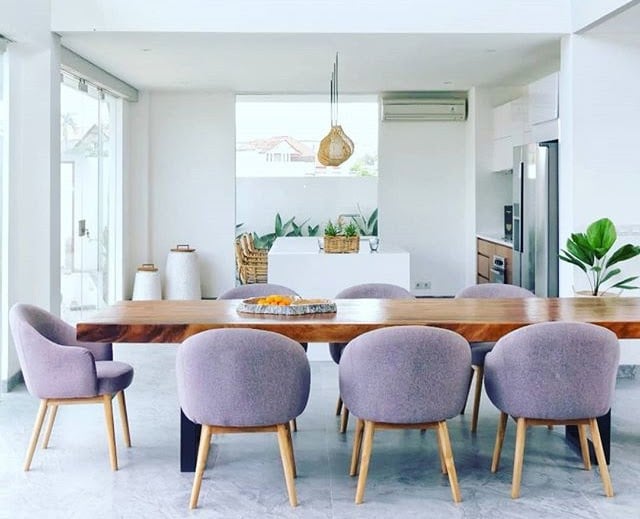 Bali
|
Local Guide
Ease Your Furniture Hunt with These 15 Recommended Furniture Store in Bali
There are many great furniture stores in Bali. If you want to decorate your Bali home with nice furniture, then this article is perfect for you. We have gathered a list of the best furniture stores in Bali that showcase an exclusive collection of housewares, each of them carries its own style, so you can easily find anything you want to match your needs. Either a piece of colorful furniture, a chic, a modern, or even natural and tropical furniture, those stores will provide it for you.
Read also: 8 Coffee Plantation in Bali: Must-Visit Ones
1. Lio Collection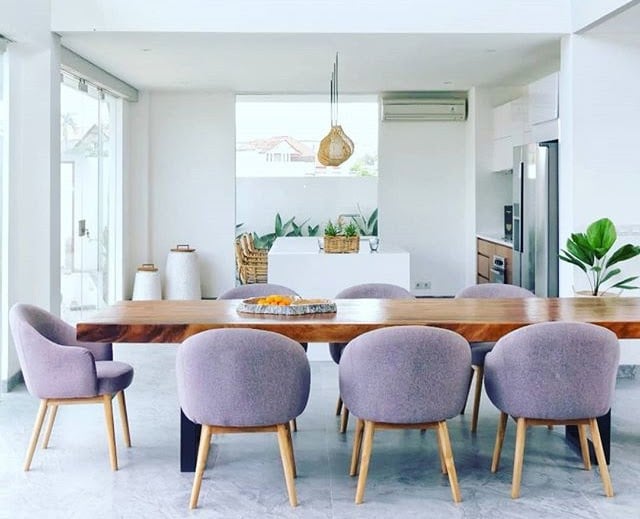 Featuring unique and beautiful furniture and interior products, Lio Collection specializes in exporting its products to restaurants, hotels, retailers, and wholesale customers in more than 40 countries! Sounds amazing and definitely should not miss during your furniture hunts.
Here, you can find their numerous collections of furniture while their most popular products are rattan and bamboo collections. But other than that, you can also rely on their high-quality products made of leather, woods, and even handcrafted paintings.
Address: Jl. Raya Kerobokan No.2, Kerobokan Kelod, Kec. Kuta Utara, Kabupaten Badung, Bali 80361
Open: Daily 9 am – 8 pm
Phone: 0811-380-950
Website: www.liocollection.com
2. Bungalow Living
Bungalow Living is actually a café in Canggu, but they also offer colorful and inspiring designs for furniture lovers, just like you! Here, you can enjoy their great coffee while browsing through their extensive range of home décor items, such as cushion covers, pillows, leather clutches, crochets, and more.
Another good thing about furniture available in Bungalow Living is their products are showing love for your pet just as much as you do! So you can also buy furniture that can bring a new touch to your pet's house, such as toys and bed base cushions.
Address: Jalan Pantai Berawa No.35A, Canggu, Badung, Bali 80361, Indonesia
Open: Daily 9 AM – 6 PM
Phone: +62 (0)361 844656
Website: www.bungalowlivingbali.com
3. Warisan Living Furniture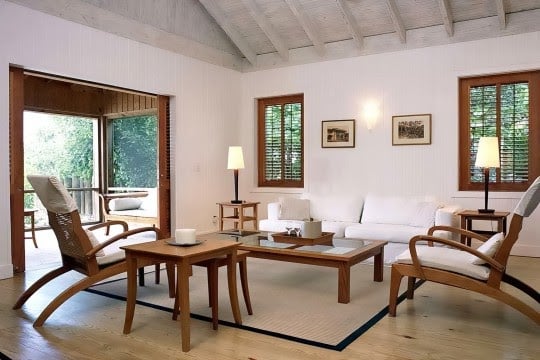 Warisan Furniture specializes their products in a diverse mix of quality rustic and contemporary furniture for both indoor and outdoor goods. To add the beauty and unique level of their product, they use Indonesian resources for materials, including wood, rattan, stone, and shells. As for the result, you don't have to worry because it is undoubtedly amazing.
Apart from the furniture, you can also see other housewares during your visit to Warisan. Bring a sense of modern and vintage touch with the help of wooden ethnic bowls or metal sculptures from Warisan Living Furniture. A simple step to a perfect result, indeed!
Address: Jl. Raya Kerobokan Br. Taman No.38, Kerobokan Kelod, Kec. Kuta Utara, Kabupaten Badung, Bali 80361
Open: Daily 9 AM – 8 PM
Phone: (0361) 730048
Website: www.warisan.com
4. Cempaka Furniture
Cempaka Furniture is a reliable and trusty furniture store in Bali that will turn your home to a maximum level of beauty. It is because they have furnished some of the most stylish hotels on the island. Their unique and stylish pieces, which hold a contemporary feel and the rich heritage of Indonesia, will help you to recreate your Bali vacation right at home.
Address: Jl. By Pass Ngurah Rai Simpang Siur No.8, Kuta, Kabupaten Badung, Bali 80361
Phone: (0361) 766555
5. Kim Soo Home
A bright, spacious, modern, and lovely space of furniture store in Bali called Kim Soo Home. The atmosphere at this store is unique. You can feel a sense of bohemian-style, contemporary, as well as vintage-style. As for the furniture collections, they feature a wide range of products from across the Indonesian archipelago that holds their unique styles made of wood, metal, textiles, stone, grass, paper, and more.
Address: Jl. Kayu Aya No.21, Kerobokan Kelod, Kec. Kuta Utara, Kabupaten Badung, Bali 80361
Open: Daily 9 am – 5 pm
Phone: 0822-4713-0122
Website: www.kimsoo.com
6. Balquisse Living
For those looking for an easy furniture hunt, Balquisse Living could be your choice. A one-stop-shop for your home decorating desires, they feature various brands with various styles too. Here, you can find outdoor synthetic rattan furniture, soft furnishings, and even a haven of antiques. All of their furniture collections are worth the money as you will get high-quality products for your lovely house.
Address: Jl. Sunset Road No.18, Seminyak, Kuta, Kabupaten Badung, Bali 80361
Open: Mon-Sat 9 am – 6 pm
Phone: 0812-3702-6128
Website: www.balquisseliving.com
7. Vinoti Living
Located in South Bali's Galeria shopping mall, this is the place for a great range of high-end furniture. Vinoti Living provides all sorts of furniture pieces, ranging from dining tables, sofas, to beds. Other than that, they also carry a gorgeous selection of clocks, photo frames, lamps, vases, plush cushions, and artwork. Definitely, a place to fulfill your needs!
Address: AT-01, Jl. By Pass Ngurah Rai, Simpang Siur, Kuta, Badung Regency, Bali 80361
Open: Daily 10am – 10pm
Phone: (0361) 752720
Website: www.vinotiliving.com
8. COVE Island Essentials
COVE Island Essentials brings a calm and relaxing collection that consists of carefully curated fashion, housewares, and art. Their furniture will help you to feel a luxury vibe to make you feel the beauty of Bali even better. Other than that, at Cove, you can also find handcrafted pottery, vintage treasures, and limited edition artworks sitting alongside some of your favorite lifestyle brands.
Address: Jl. Pantai Berawa No.50, Canggu, Kec. Kuta Utara, BALI, Bali 80361
Phone: 0812-3757-5775
Website: coveislandessentials.com
9. Balizen
Balizen creates a unique line of ethical products for your home, garden, and wardrobe. The designs of Balizen products are inspired by nature and provide simplicity, harmony, and the use of natural and eco-friendly materials. This furniture shop aims to bring love and joy to their works, and also to share the abilities and sensibilities of one culture with another.
Address: Jl. Monkey Forest, Ubud, Kecamatan Ubud, Kabupaten Gianyar, Bali 80571
Open: Every Wed, Sat, and Sun from 10am – 6pm
Phone: (0361) 976022
Website: balizenhome.com
10. Kevala Home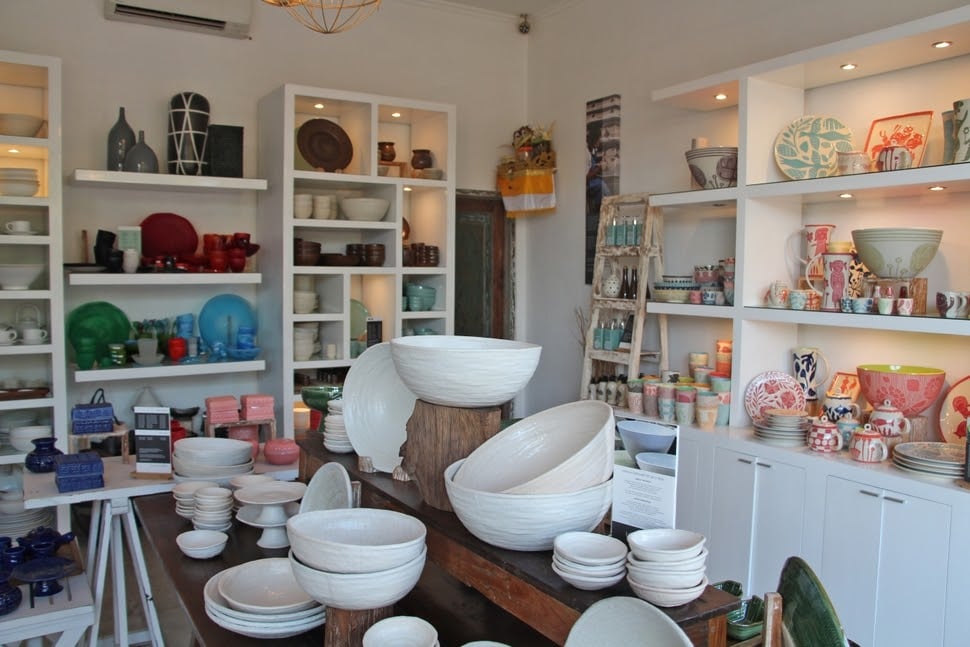 Kevala Home has a great selection of ceramic items, with collection ranges from tableware, stoneware, spa, and bathroom essentials, to exquisite décor items such as mini vases and candle holders. Most of their designs come in natural motifs, but you can also choose various themes and designs which is a result of collaborative works.
Address: Jalan Batubelig, Kerobokan, Badung, Bali 80361, Indonesia
Open: Daily 9am – 7.30pm
Phone: +62 (0)361 4735869
Website: kevalaceramics.com
11. Teckococo
Teckococo holds contemporary designs suitable for outdoor and indoor furniture which can be placed in the living room, bedroom, garden, terrace, and even your working space. Definitely will bring a relaxing touch to your room. Interestingly, all of their products are made using sustainable tropical plantation wood from Java. Teckococo aims to always innovate and improve their products for their product-lovers.
Address: Jl. Gunung Salak No.35 A, Padangsambian, Kec. Denpasar Bar., Kota Denpasar, Bali 80117
Open: Mon – Fri 10am – 5pm
Phone: 0811-3880-111
Website: teckococo.com
12. Creative Living
Specialize in custom-made furniture pieces, Creative Living could be your perfect destination whenever you have your own ideas and want to turn them into realization! We offer customized built-in-furniture services for kitchen cabinets, bathroom vanities, and wardrobes. Apart from customized furniture, they also have a variety of high-quality products at their store, ready for you to bring them home.
Address: Jl. Raya Kerobokan No.88, Kerobokan, Kec. Kuta Utara, Kerobokan, Bali 80361
Open: Mon – Sat 9 AM – 5 PM
Phone: 0816-571-829
Website: creativelivingbali.com
13. Mercredi
Located in the Seminyak area, this elegant boutique for shopping for housewares is called Mercredi. The store offers an impressive selection of linens, cushions, crockery, lamps, and home décor items, which is inspired by the tropical colors of Bali. Head into their store and you will feel the lovely atmosphere coming from their unique furniture.
Address: Jalan Raya Taman No.150, Seminyak, Badung, Bali 80361, Indonesia
Open: Daily 9 AM – 9 PM
Phone: +62 (0)361 735516
14. Toko Emporium
For those who are looking for some unique items to level up your home, Toko Emporium with its quirky housewares and decorations could be the best choice for you. Visiting their store will allow you to see their collection of artistic mirrors and photo frames, jewelry pieces, and other furniture for the living room such as a table or cabinet.
Toko Emporium supports local artists and crafters, they also stock almost 100% locally produced items made from a wide range of materials such as brass, rattan, resin, wood, and even shells, feathers, and bone.
Address: Jalan Oberoi No 1, Seminyak, Badung, Bali 80361, Indonesia
Open: Daily 9 AM – 8 PM
Phone: +62 (0)821 4745 9485
Website: tokoemporium.com
15. Heveya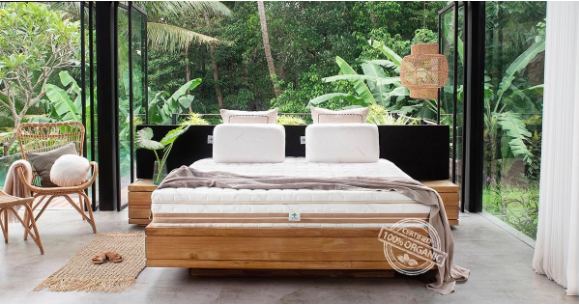 The last one on our list, we have Heveya as a bedding store from Singapore & Hong Kong that specializes in eco-friendly mattresses and pillows. They provide the most important piece of furniture, which is a mattress, and even better because it is comfortable and good for your health too. Made of natural latex harvested from organic rubber plantations, with no synthetic foam, metal springs, or glues, their mattress will bring a peaceful sleeping environment for you!
Address: Jl. Pantai Berawa No.50, Tibubeneng, Kec. Kuta Utara, Kabupaten Badung, Bali 80361
Phone: +65 9712 8764
Website: www.heveya.id
Read also: 10 Laundry Services in Bali to Help Manage Your Time
That's all about it! So, that is all for our recommendations of the best furniture store in Bali to help you decide your destination to buy furniture in Bali.
---
Want to find a rental option for your vacation in Bali? Flokq has several rental options in Bali at an affordable price. Head to Flokq or click the button below to find out more.
CLICK HERE TO FIND RENTAL OPTIONS IN BALI