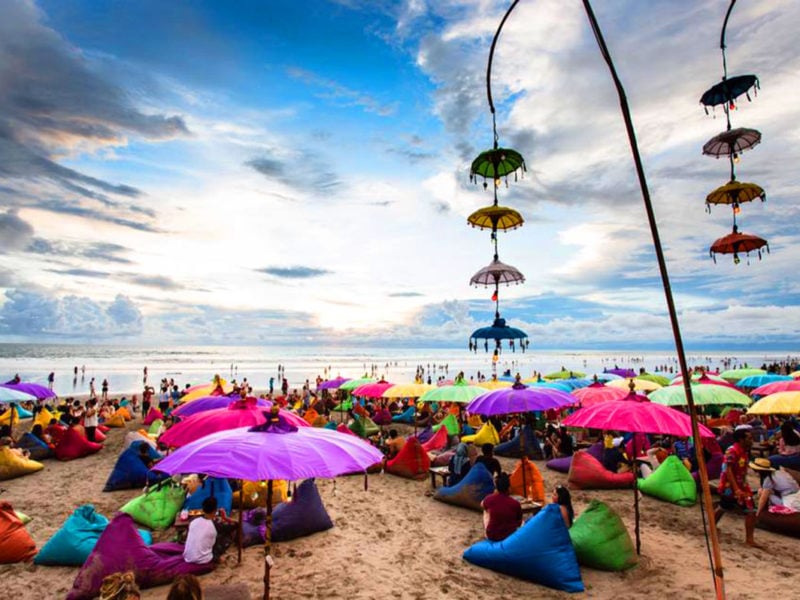 Bali
A Complete Guide To Living In Canggu: The Fun Way!
Bali is often called paradise island for a reason. It has tons and tons of tourist spots to visit, places to go, and faces to meet! One of the newer tourist spots you can find is Canggu, in which you can enjoy just about everything that you expect from visiting Bali. Are you an expat trying to start a life in Bali, or maybe you just want to know what kind of place you are buying a property in? From greeneries to great beaches, Canggu has it all! Here is a complete guide to living in Canggu: the fun way!
Read also: Ultimate Guide to Seminyak, Bali
About Canggu
Canggu is a village located in Bali, Indonesia. Located in the southwest of Bali, It forms a long inward strip stretching from its beachside to the inner areas of the village. Getting to Canggu from Ngurah Rai Airport only takes about 1 hour.
Things to do in Canggu, Bali
Canggu is home to a variety of restaurants, shops, beaches, and other lovely tourist spots. It is also pretty hip compared to other areas with similar things to offer such as Kuta and Seminyak. If you want a place where you can get anywhere in Bali easily while enjoying some peace and quiet during your down time, then Canggu is for you! Canggu has everything for just about everyone. Here are the things that you can do in Canggu!
Beaches in Canggu, Bali
Let's start with what many people know Bali for… beautiful beaches. In this department, Canggu offers breathtaking beachside sceneries and engaging beach activities such as surfing. Their beaches can go par to par with the beaches of Kuta and Seminyak! Here are some of the beaches that you can visit and enjoy!
1. Echo beach
This beach is known by advanced surfers for its challenging waves and reef breaks. But more than that, it also offers a gorgeous seaside strolling and sunbathing opportunity. If doing activities in the beach isn't really the wave that you'd like to ride on, then this spot offers fantastic choices for your beachside eating and dining. From cheap and chill to expensive and extravagant, this beach offers you all. Here are some of the restaurants in Echo Beach you can visit!
Echo Beach Bar and Grill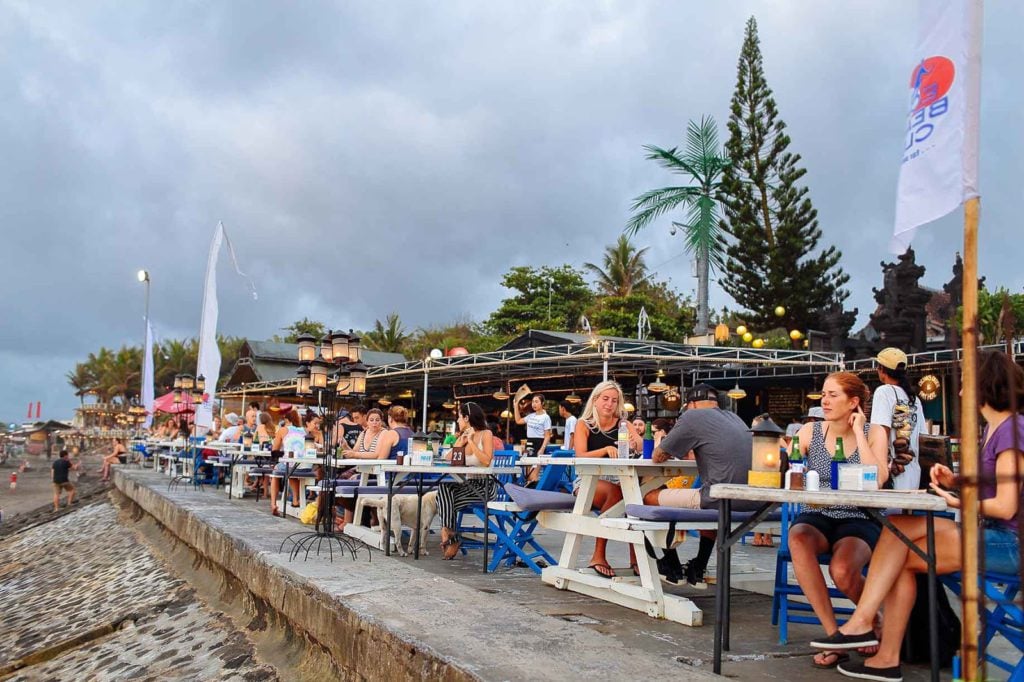 What better way to spend time on the beach than to grill some scrumptious barbeque? You can do so here, on Echo Beach Bar and Grill. The best times to come here are moments before sunset and during the day where people are busy surfing and doing other beach activities. Prices are not that high, and they are very much worth it!
Location: Jl. Pantai Batu Mejan, Canggu, Kec. Kuta Utara, Kabupaten Badung, Bali 80351
Price Range: Rp 35.000 – Rp 225.000
Como Beach Club Bali
Are you looking for a refined experience while enjoying echo beach? Then this place might be the one for you! Como Beach Club Bali offers a premium and relaxed environment where you can swing back and forth in your swinging chairs while watching the sun go down. Talk about classy!
Location: Jl. Pantai Pererenan Jl. Pantai Batu Mejan, Canggu, Kec. Kuta Utara, Kabupaten Badung, Bali 80361
Price Range: Rp 35.000 – Rp 250.000
Gaya Gelato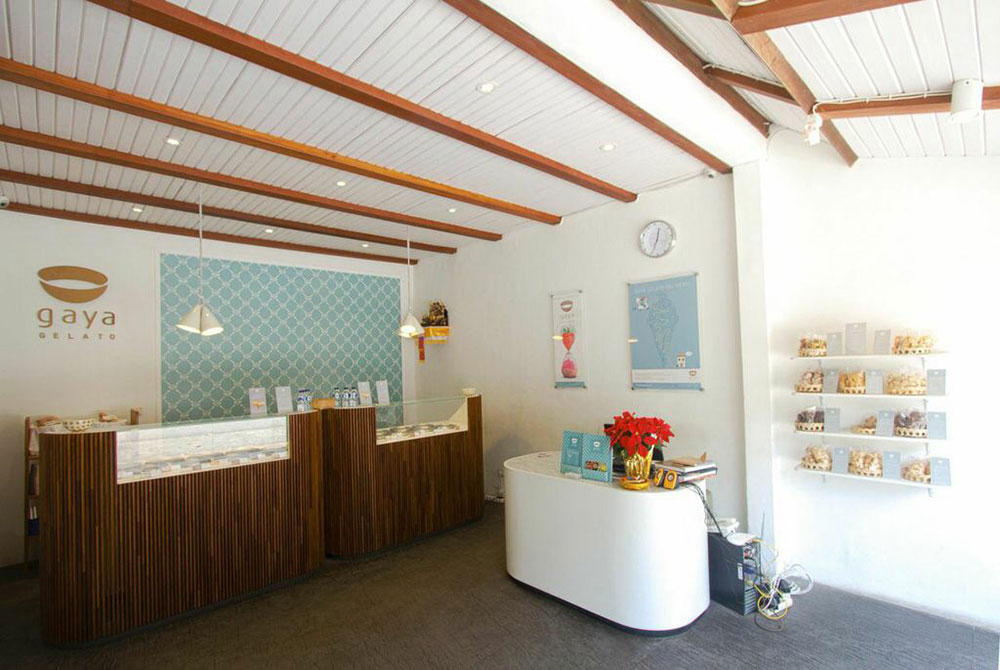 If you're looking to soothe your mouth and please your taste buds, then you can order some ice cream in Gaya Gelato. The ice creams that Gaya Gelato offers gives your taste buds a treat of a lifetime!
Location: Jalan Batu Mejan Echo Beach, Canggu, Kec. Kuta Utara, Kabupaten Badung, Bali 80351
Price Range: Rp 33.000 – Rp 110.000
2. Batu Bolong Beach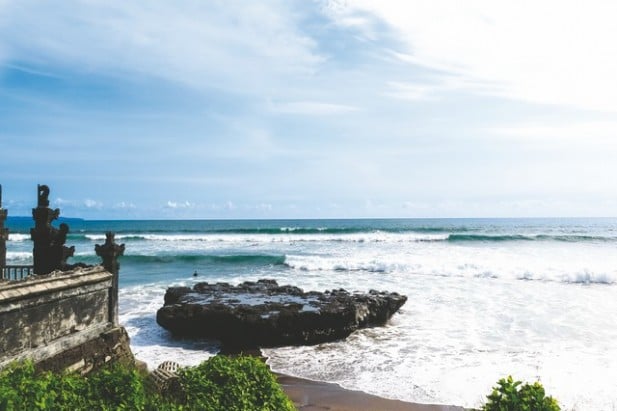 Another visit worthy spot in Canggu is Batu Bolong beach. The name 'Batu Bolong' means 'stone with holes'. Fun fact, there is another beach nearby named Batu Bolong beach located in Lombok.
This beach is not only a delight for your eyes only, though. You can also surf and do some other beach activities here. It's very enjoyable! You can find a lot of places and destinations to spend time in. To add to your Batu Bolong experience, here are some spots for you to enjoy the beach!
Old man's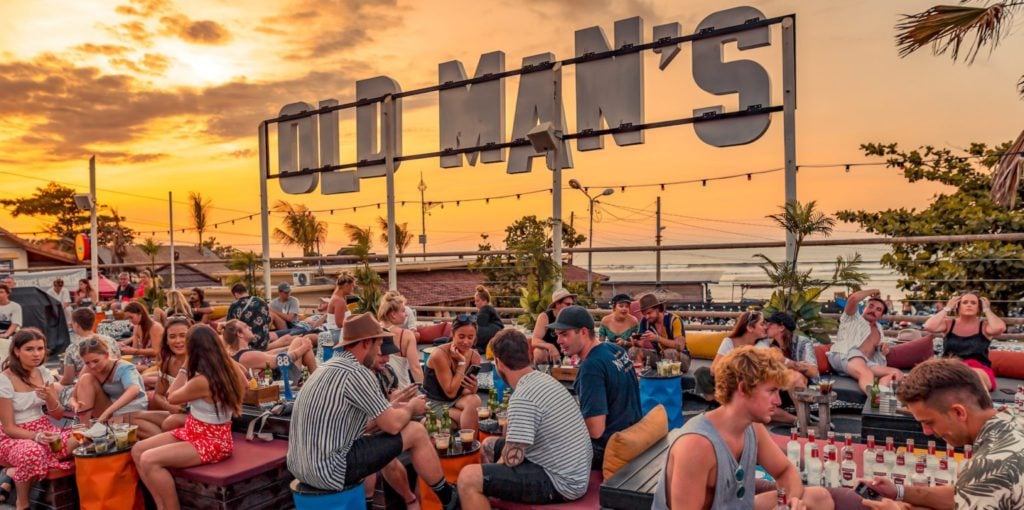 This is a pretty famous spot in Canggu. Offering a large set of delicacies ranging from western foods to Indonesian cuisines, this hip and fun hangout spot is just for you who wants to kick back and relax while enjoying the view of Batu Bolong beach! If you stay a bit longer, then you can also enjoy the night with good music and good drinks here!
Location: Jl. Pantai Batu Bolong No.117X, Canggu, Kec. Kuta Utara, Kabupaten Badung, Bali 80351
Price Range: Rp 20.000 – Rp 130.000
Island Beach Bar by Pizza House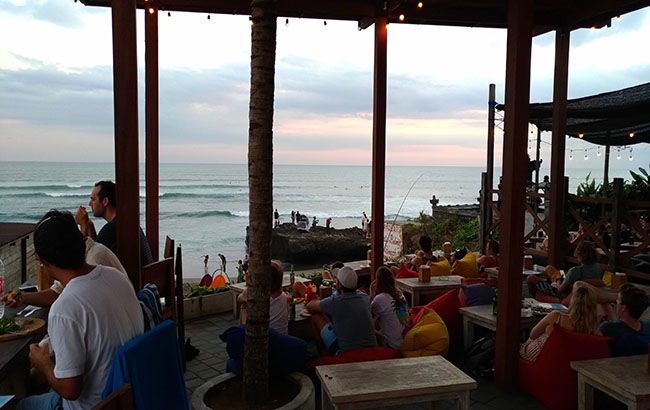 This restaurant is very near to the beach. The best part about it is that it's quite bustling even until early morning. Spend your night here with some good pizza and good company!
Location: Jl. Pantai Batu Bolong, Canggu, Kec. Kuta Utara, Kabupaten Badung, Bali
Price Range: Rp 75.000 /person
Warung Ithaka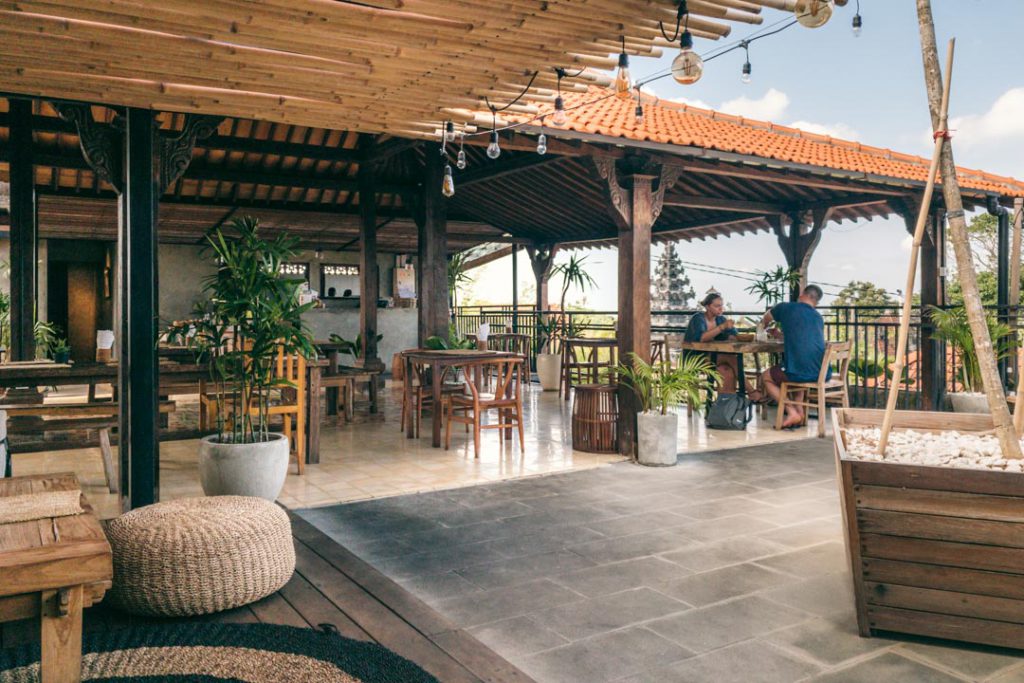 Want to skip the beachside view and go for some local delicacies instead? Then this restaurant might just fit what you're looking for. Offering some traditional Indonesian delicacies, this restaurant is a treat after a fun day at the beach!
Location: Jl. Pantai Batu Bolong No.168, Canggu, Kec. Kuta Utara, Kabupaten Badung, Bali 80351
Price Range: Rp 32.000 – Rp 80.000
3. Berawa Beach

Last but not least, we have Berawa beach! This spot is best for casual activities, as it is dangerous to swim here due to the high waves. You can still surf here if you find the waves manageable.
Here are some restaurants in Berawa Beach that you can go to!
Sushi Bar Bali, Finn's Beach Club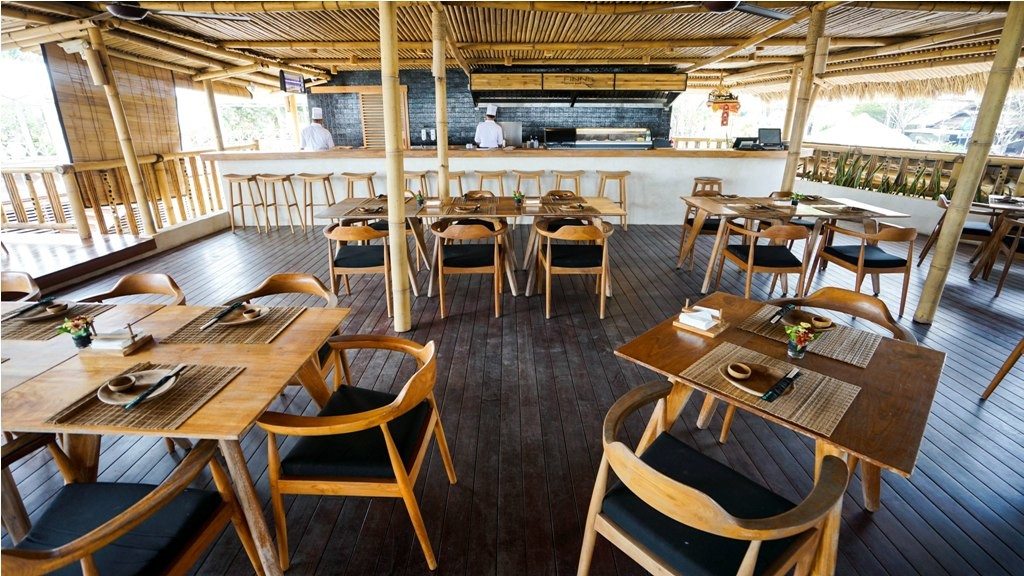 Eating sushi, drinking beer, and enjoying the sunset view. Enough said. This is one of the best beachfront restaurant experiences Berawa can offer! This place also offers an amazing nightlife experience!
Location: Jl. Pantai Berawa, Finns Beach Club, Canggu 80361
Price: Rp 55.000 – Rp 255.000 (without alcohol)
Panama Kitchen and Pool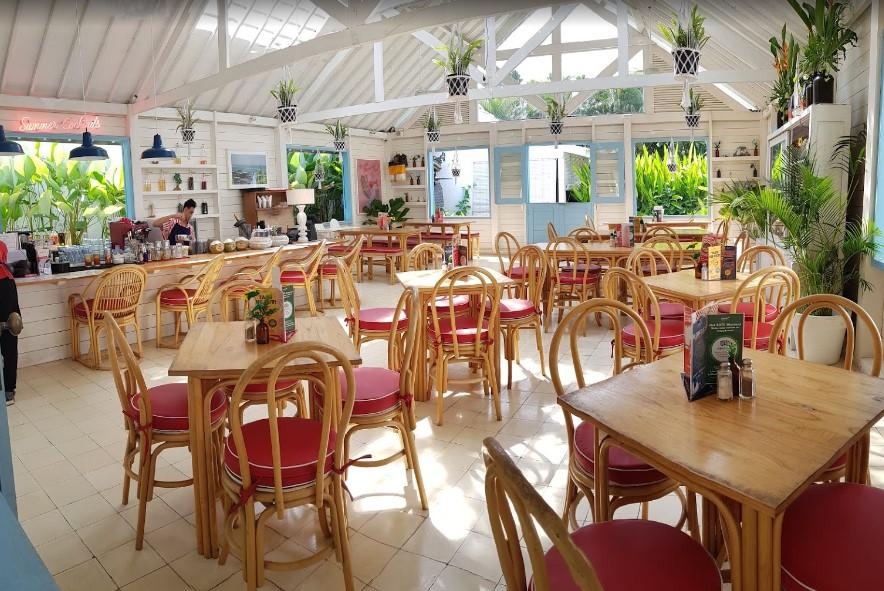 If you live near Berawa beach or are currently staying in this part of Canggu, then this place is a must visit for you to enjoy some good time with friends and family!
Location: Jl. Pantai Berawa No.13, Tibubeneng, Kec. Kuta Utara, Kabupaten Badung, Bali 80361
Price: Rp 100.000 – Rp 250.000
These three beaches can make your stay in Bali memorable, make sure to visit them once you get to Canggu!
Temples in Canggu, Bali
Batu Mejan Temple
This temple was actually the original given name of Echo beach. This was until many business owners and locals decided to adopt the given nickname of Batu Mejan beach. This temple is certainly photogenic, as it stands almost being touched by the breaking waves.
After visiting some if not all of the places above, staying in Canggu will become an unforgettable experience for you. Too bad you've got nothing to show for the months or years you were here… Oh wait…
Shopping in Canggu, Bali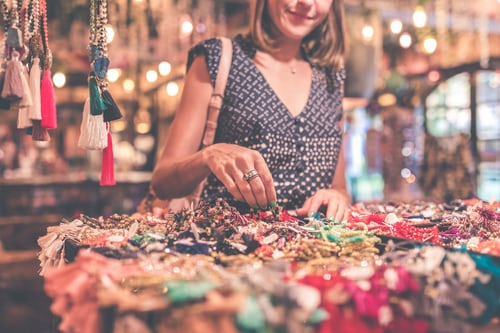 Maybe you want a souvenir for the time you spent there, or maybe you need to buy some groceries for your day to day activities. Don't fret, here are the places where you can shop your needs and wants while living in Canggu!
1. Sunday Market in Canggu
As the name suggests, this market only opens on Sunday. It offers a variety of goods, from coffee beans, vegetables, fruits, clothes and many more. Not only that, you will also get to experience food from the local stalls that were propped up there. Worth a visit!
Location: no, Jl. Padang Linjong No.39, Canggu, Kec. Kuta Utara, Kabupaten Badung, Bali 80351
2. Love anchor
In Love Anchor, you can see and buy local craftsmanship while enjoying the tranquil and calm ambience of the place. You can also try bargaining if that suits your fancy. Love anchor is the place to go for you to unwind from time to time while living in Canggu.
Location: Jl. Pantai Batu Bolong No.56, Canggu, Kec. Kuta Utara, Kabupaten Badung, Bali 80351
There are lots of things to see, and lots more things to buy in Canggu. But what if you want to get away from all of it to take a breather and relax?
Yoga in Canggu, Bali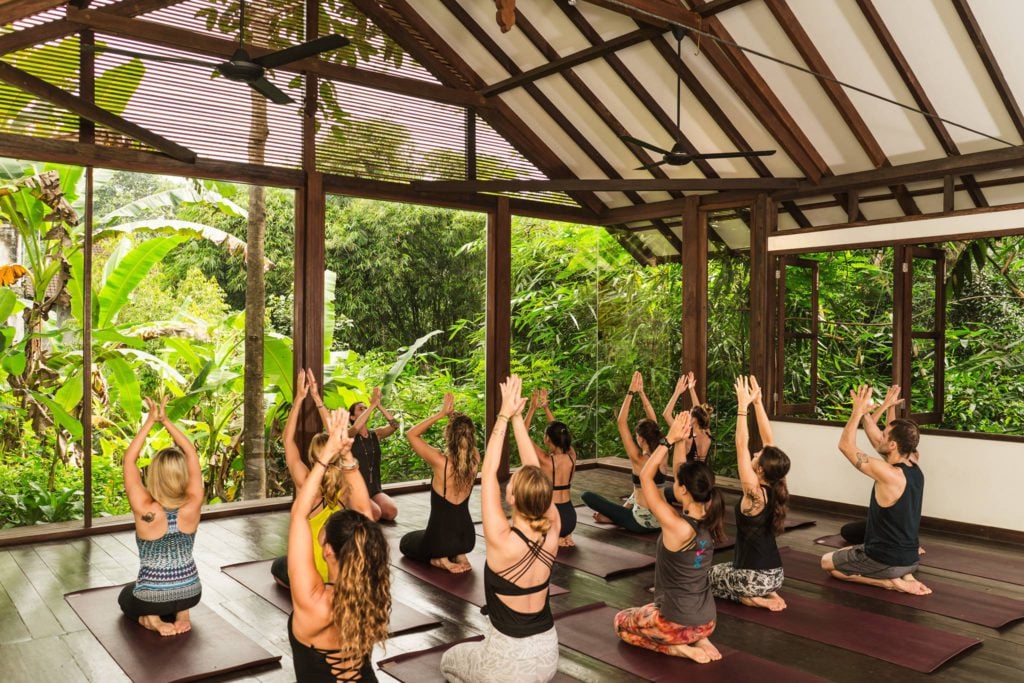 Bali is also known for its richness of culture and tradition. You can find many cultural and religious ceremonies held here. It's no wonder that you can also find activities catering to wellness and personal development. One of them being yoga. Check out some of these places that offer yoga lessons and beyond in Canggu!
1. Odyssey MVMT
Odyssey MVMT offers not only yoga, but also fitness sessions. Signing in isn't as hard as you might think, because you can get a 7 days of free trial before booking your next paid lessons. They also offer rooms for overnight stay, restaurants, spa, and surfing lessons. If you want to be physically and spiritually rejuvenated, try and visit this place!
Location: Alternative Beach, Pantai Batu Bolong St No.78, Canggu, North Kuta, Badung Regency, Bali 80361
Price: Rp 75.000 – Rp 150.000 per class
2. Samadi Bali
Samadi Bali has all the things you need to improve your lifestyle! In addition to yoga courses, they also have an open restaurant where you can get the best and the healthiest of foods! Other than a restaurant, they also offer you rooms for overnight stay. Their courses are also beginner-friendly, so it doesn't matter if you're a first-timer or a seasoned expert!
Location: Jalan Padang Linjong 39, Canggu, Bali – Indonesia
Price: Rp 140k for a normal class
Desa seni Indonesia
Literally meaning "the village of art", Desa seni takes you away to a lush green wonderland. In addition to Yoga, they also provide accommodations such as Spas, restaurants and even a traditional house for you to stay in.
Location: Jl. Subak Sari no. 13 Desa Seni, A Village Resort, Canggu 80361 Indonesia
Price: Rp 140k for a normal class, Rp 100k for Indonesian class
Now that you find a place of sanctuary where you can rejuvenate yourself, let's go back to having fun!
Nightlife in Canggu, Bali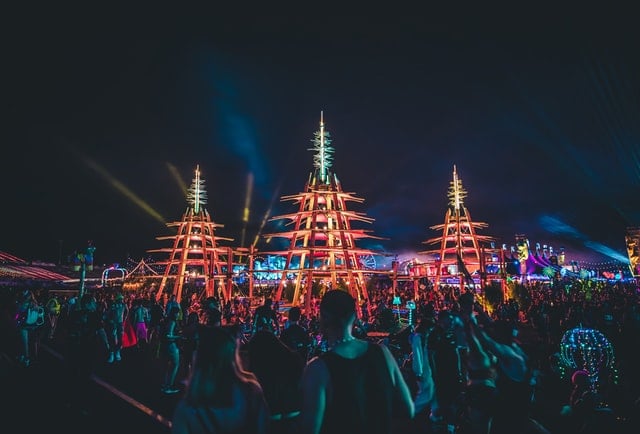 If you're wondering what places you can visit in Canggu at night, here are some nightlife places you can visit to make your stay in Canggu more fun!
1. Xbar Canggu
Near the beaches of Batu Bolong stands XBar, one of the best nightlife experiences that you can get in Bali while enjoying live music with some beers and cocktails. If you're in Canggu with a friend or maybe looking to meet some new faces, then XBar is the place for you!
Address: Jl. Pantai Batu Bolong No.117, canggu Badung, Bali, Indonesia
Price Range: Rp 40k – Rp 150k
2. Pretty Poison Bar and Skate Bowl
If you like the Skating Scene in California or anywhere else for that matter, you'll like this one for sure! Or maybe if you don't then the music and the people there are great, too!
Address: Jl Subak Canggu Canggu, Kuta Utara Bali 80361
Price Range: $$
3. Backyards Canggu
If loud music isn't really for you, then come to Backyards Canggu! They offer a relaxing experience where you can chat and chill with your friends while enjoying delightful beverages and delicious food. There is also a swimming pool available if you'd like to dip in!
Address: Jl. Pantai Batu Bolong, Canggu, Kec. Kuta Utara, Kabupaten Badung, Bali
Price Range: $$
Working in Canggu, Bali
In addition to having tons of fun, you can have a lot of productivity with the coworking spaces that they offer in Canggu, here are some examples:
Tropical Nomad Coworking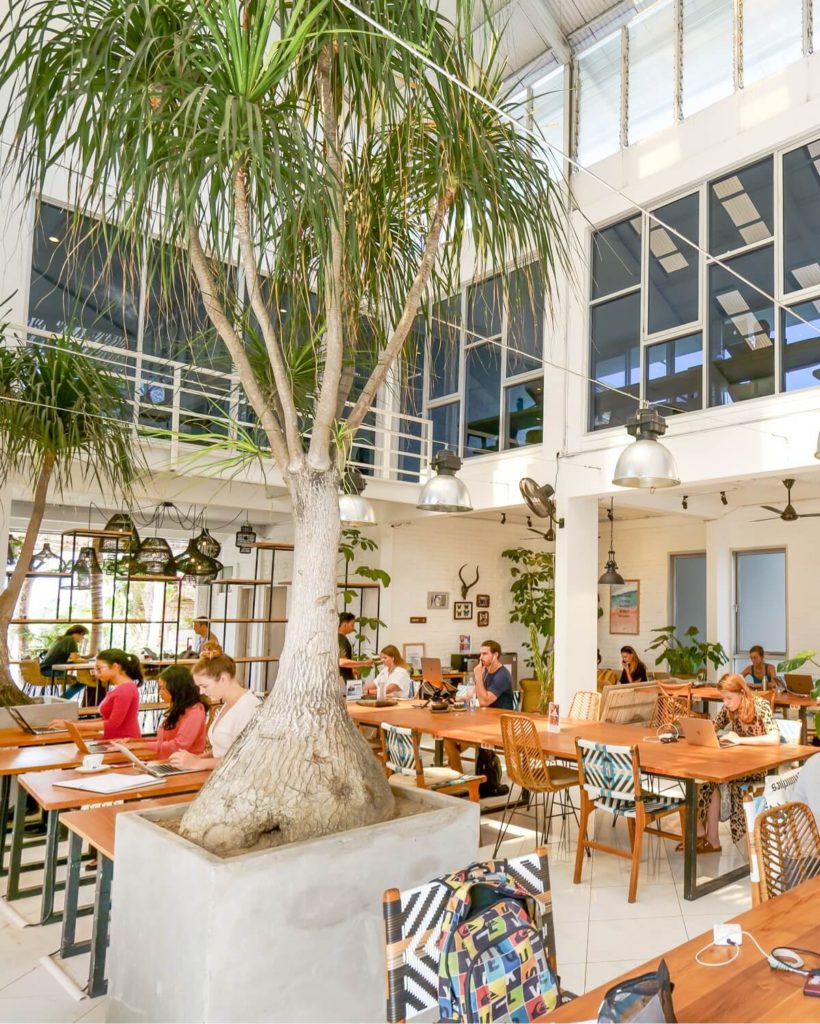 This coworking space offers both indoor and outdoor experience, with meeting places surrounded by greeneries and beautiful architectures.
Location: Jl. Subak Canggu No.2, Canggu, Kec. Kuta Utara, Kabupaten Badung, Bali 80361
Price: Rp 120k for first entry
Facilities: Wi-fi 24/7, 1 drink and a meal
Getting Around Canggu, Bali
Considering how big Canggu can be, if you want to stay in Canggu then it's best to use a taxi or have yourself rent a car/bike with an international drivers license. You can book an appointment with available car rental services there, such as avis and hertz. If you're using a taxi, blue bird groups are most preferable as they are generally pretty reliable.
Another tip about getting around canggu is to know where you are actually situated, if you are into the beachside lifestyle then consider renting places that are very near to them. This is so you don't have to order a taxi everytime you want to have a night out with friends at Batu Bolong beach
If it really comes down to it, looking for properties in the pantai batu bolong area might be ideal because of how convenient the place is. If you want to go cheap, you can try finding a coliving spot in the area
Expat Living In Canggu, Bali
The best thing about living as an expat or tourist in Canggu is that the area is actually much more friendly and accepting towards foreigners. If you have heard of stories in other areas in Bali where foreigners are discriminated against, then such a thing does not and should not exist in Canggu. Moreover, it offers many experiences and opportunities for you.
If you want to meet other like minded people and enjoy life in Canggu together, you might want to consider coliving! It's a fun, cheap and convenient way to own a living space. Particularly in a bustling and social area such as Canggu.
And there you have it, a complete guide to living in Canggu! Enjoy your stay in Canggu!
Read also: The Ultimate Guide to Ubud, Bali
---
Want to find more rental options for your stay in Canggu? Flokq has several listings of coliving rental options for you to choose from. Visit Flokq to find out more!
CLICK HERE TO FIND COLIVING BALI OPTIONS