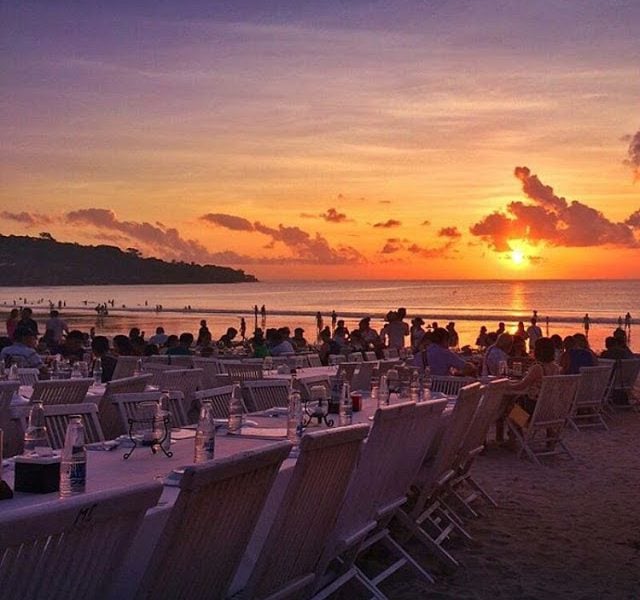 Bali
Ultimate Neighborhood Guide to Jimbaran, Bali: A Must-Visit!
What comes to your mind when you hear the word "Bali"? Beaches, sunset, hair braid or tattoos? Everything that reminds you about Bali can be found easily at Jimbaran. One of the famous cities in Bali that is worth visiting once in a lifetime.
About Jimbaran
Jimbaran, an old fishing village in Bali which is now filled with a romantic atmosphere. Surrounded by luxurious hotels but also offering a simple yet magical feel. Famously known with the beaches around and the simple seafood shacks on the waterfront. Jimbaran still carry on the local traditions, especially on activities that are related to religions. The temple in front of Jimbaran market is the center for religious activities as well as religious celebrations.
Jimbaran has grown rapidly and has become one of the favorite destinations for local and foreigners tourists. Lots of 5 star hotels are located in Jimbaran. Besides, there are also high-end villas in this area, especially around Jimbaran Bay. Curious enough to know more deeply about Jimbaran? Check this guidelines to find out another charm of Jimbaran.
Things to Do in Jimbaran
So many places to visit and so many fun activities can be done in Jimbaran. If you visit Jimbaran in such a short time and have no idea what to do to maximize your experience while visiting Jimbaran, no need to worry! Here are some of the recommendations about things to do in Jimbaran.
1. Sunbathe on Jimbaran Beach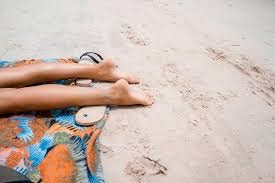 Jimbaran beach that is covered with clean sand is one of the best beaches in Bali. You can rent a sun lounger here and spend the day sunbathing, or get a bite to eat complete with a refreshing green coconut. There are also a sponge board available to rent and try bodyboarding if you are looking for something a little more relaxing.
2. Pottery at Jenggala Gallery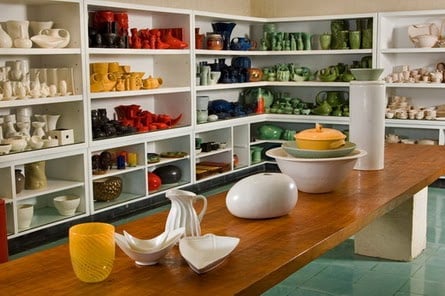 Jenggala Gallery is part of Jenggala Keramik which is one of the biggest and most famous ceramics producers in Indonesia. Jenggala Gallery offers you a chance not only to take in the collections, but also a pottery workshop that allows visitors to have a go and make their own pot.
3. Enjoy the Fine Dining at Dava Bar & Gri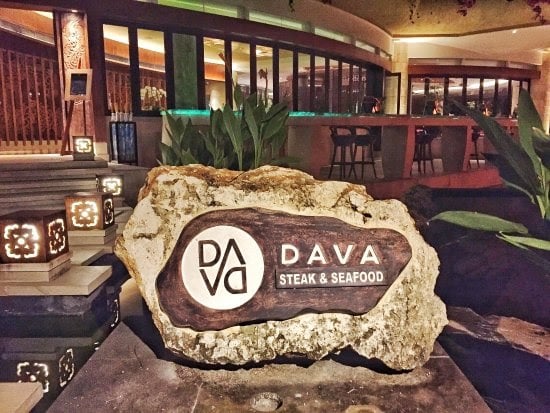 The Dava Bar & Grill is located at the AYANA Resort in Jimbaran and is a place for you to try the amazing taste of steak and seafood grill. One of the best things about the restaurant is the views, and it is much better if you made up your visit here around sunset time. Some of the special dishes here are tenderloin steaks, lobster and Babi Guling or spit-roasted suckling pig.
Beaches in Jimbaran, Bali
Beach is indeed a must-go place in Bali. What is the point of visiting Bali if you don't go to the beach, right? Jimbaran has lots of beautiful beaches that offer you different experiences to try. Although you might want to visit all of them, it is better for you to take a look first at these recommendations and make some priorities.
1. Jimbaran Beach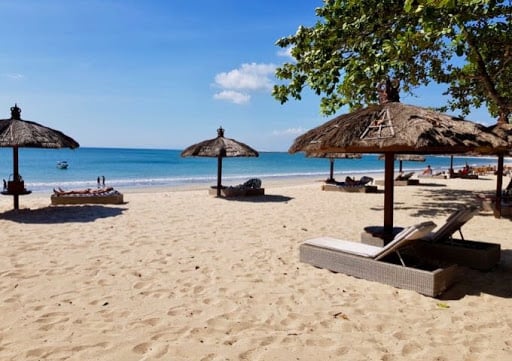 Jimbaran beach is a perfect place to visit if you want to feel some relaxing time and escaping from your stressful world. As mentioned before that Jimbaran beach is a recommended place to go sunbathing, you can also enjoy a walk along the beach and try to swim at the beach as well. Don't forget that a tasty seafood dish is waiting for you around the area.
2. Dreamland Beach

Dreamland beach offers you a whole new world where you can feel exotic and gorgeous views. Here, you can see the surrounding beautiful cafes. Make sure to challenge yourself and try the water sport activities around. Or you can also just relax and enjoy the scenery while floating on the water.
3. Tegal Wangi Beach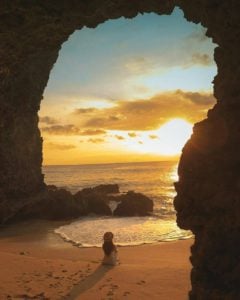 A whole new charm is offered by Tegal Wangi beach. During your visit to Tegal Wangi beach, you will be able to see an amazingly clean ocean with golden sand covering the beachfront. Try to spend some time in the hidden cave at Tegal Wangi beach and level up your experience in Bali.
Temples in Jimbaran, Bali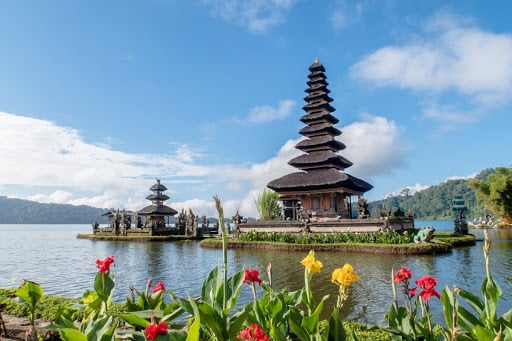 You might have already heard that Bali is surrounded with lots of temples. It is because temples are such an important part of the tradition, religion and culture in Bali especially for Balinese. Making a visit to a temple while in Bali is a perfect way to know deeply about Bali.
1. Pura Ulun Siwi
Pura Ulun Siwi is an 18th century temple made of black stone which is covered in flowers, offerings, and incense. Interesting part about Pura Ulun Siwi is that it is said to have sacred waters, many locals come here to take the waters and use them on their crops to ward off any pests.
2. Uluwatu Temple
Uluwatu Temple is a famous temple in Bali. Surrounded by forest lands, the temples are full of cheeky macaques. Funny thing is those cheeky macaques are famously known to steal things from tourists.
3. Dalem Segara Temple
Dalem Segara temple is famous as a romantic dining spot featured by Ubud Hanging Gardens Resort. This temple offers you a stunning look surrounded by beautiful landscape. This place is such a hidden games ini Jimbaran because the place doesn't crowded, since only a few people along with the locals know of this beautiful spot.
Shopping in Jimbaran, Bali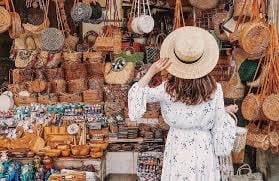 Shopping is a thing that will fulfill your visit in Jimbaran, Bali. You can easily find a mid-market filled with souvenirs to take home, but the unique atmosphere of shopping is also a must-try activity. Take a look on this list to see what to buy from Jimbaran for your beloved ones.
1. Paul Ropp Shop
Paul Ropp Shop is a place for you to buy clothes. Special thing about Paul Ropp shop is that the clothes here are made with hand-woven fabrics and embroidery. Famously known using cotton and silk and changed it to comfortable clothes. The store is located at Jalan Raya Uluwatu No.80, Jimbaran, Badung, Bali 80361, Indonesia.
2. 70°F Koffie
As you can see from the name, 70°F Koffie is a coffee shop and a factory that specialize in packaged beans and blends. Here you can purchase various kinds of coffee. Try to join the factory tours during your visit here, you will get to know more about coffee producing. 70°F Koffie is located at Jalan Parigata No.708, Jimbaran, Badung, Bali 80361, Indonesia.
3. Jimbaran Market
Jimbaran Market is a traditional market that is best for shopping for fresh groceries in the morning. Special things about this place is the market offers plenty of cheap tropical fruits and vegetables. This market is located at Jalan Uluwatu No.26, Jimbaran, Badung, Bali 80361, Indonesia.
Yoga in Jimbaran, Bali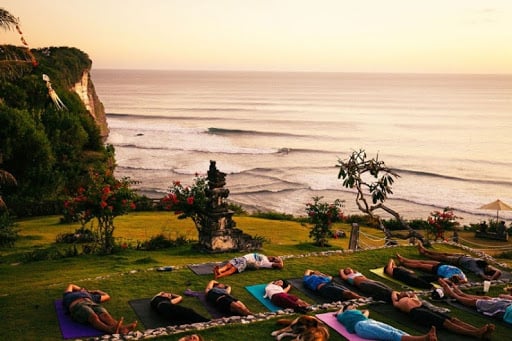 Having a relaxing time by doing yoga while looking at the beautiful scenery of Jimbaran is a must-try thing in Jimbaran. Many resorts in Jimbaran provide yoga classes. For example, you can take a yoga class available at Four Seasons Resort Bali such as AntiGravity Yoga, Night Fire Yoga and Sunrise Yoga.
Nightlife in Jimbaran, Bali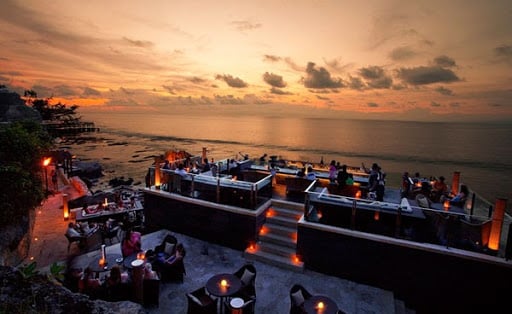 Just like another city in Bali, Jimbaran also has lots of bars. Most of the bars at Jimbaran come in a luxurious way that can bring you a best nightlife at Jimbaran. Here are some bar recommendations for you.
Rock Bar
Rock Bar is literally set on rocks below the limestone cliffs of the AYANA Resort and Spa. You will get the experience of enjoying sunset while enjoying the signature cocktails from Rock Bar.
Unique Rooftop Bar
Unique Rooftop Bar takes place at the rooftop venue. Best offer about this bar is a luxury spot. Unique Rooftop Bar also surrounded by green forested hills that will give you a relaxing scenery.
Sundara at Four Seasons Jimbaran
The last best place for your nightlife in Jimbaran is called Sundara, located at the Four Seasons Resort Bali. Just like the luxury resort that you already know, Sundara provides you a luxury place as well. Here you can experience one of Bali's best sunset locations.
You can also read about Popular Indonesian Cigarettes
Working in Jimbaran, Bali
One of the best things about working in Jimbaran is the environment here will bring you relaxed time. Whenever the works load stress you, you can easily relieve your stress by catching some fresh air and enjoying Jimbaran bright skies. Here in Jimbaran, you can easily find a coworking place or a café with high-quality internet connections to fulfill your work needs.
Getting around Jimbaran, Bali
Feeling enough with the vitamin sea after walking down around the beach? Now you can try another way of getting around Jimbaran. The best way to get around Jimbaran is walking, this will allow you to stroll the city even better. Otherwise, Bluebird taxis are the way to go a little further. You also have a chance to rent a private car and driver to spend the whole day exploring Jimbaran.
Expat Living in Jimbaran, Bali
Just like what you already know, Bali is such an expat-friendly city. Many of the places and activities in Bali are well designed even for expatriates. This is the reason why many expats decided to stay a little longer or even started to move in and live in Bali, including Jimbaran that offers a diverse environment. This also affects the percentage of foreign nationals in Indonesia that continues to grow every year.
So that is pretty much everything you need to know about Jimbaran. Now if you are planning to visit Jimbaran, you won't be confused cause we got you covered all in this guide!
---
Continue reading about Best Coliving Spaces in Bali