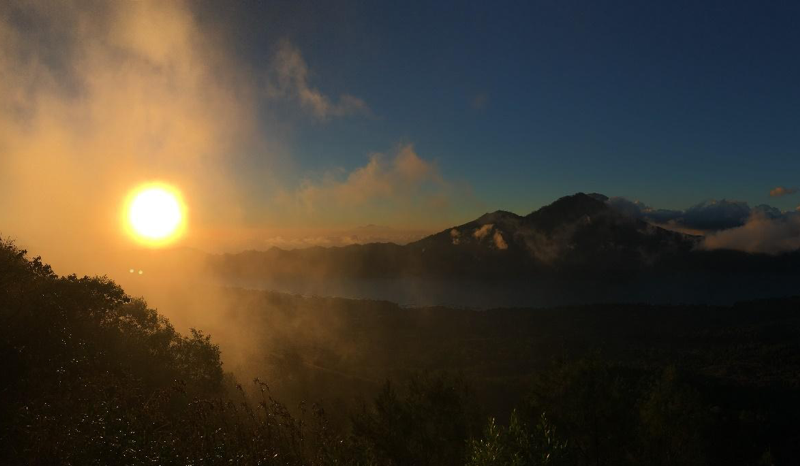 Bali
13 Hiking Trails in Bali with Its Magnificent Scenery
Bali is one of the best destinations when you want to explore and try something new. Which activities do you like the most when you're traveling? Diving, snorkeling, canoeing, food hunting, or maybe hiking? Yes, hiking is one of the unforgettable activities if you try to do so. Hiking is relaxing because you can take a long walk through the exact footpaths and enjoy the beautiful scenery along the road. It is a fun thing to do especially if you hike with your friends. Even though you're not a professional hiker, you can start to be and feel the good benefits of hiking such as strengthening your core and improving balance. How cool, right? So, if you are a professional hiker or a beginner, you have to try these hiking spots in Bali that you will be amazed along the way up.
1. Mount Agung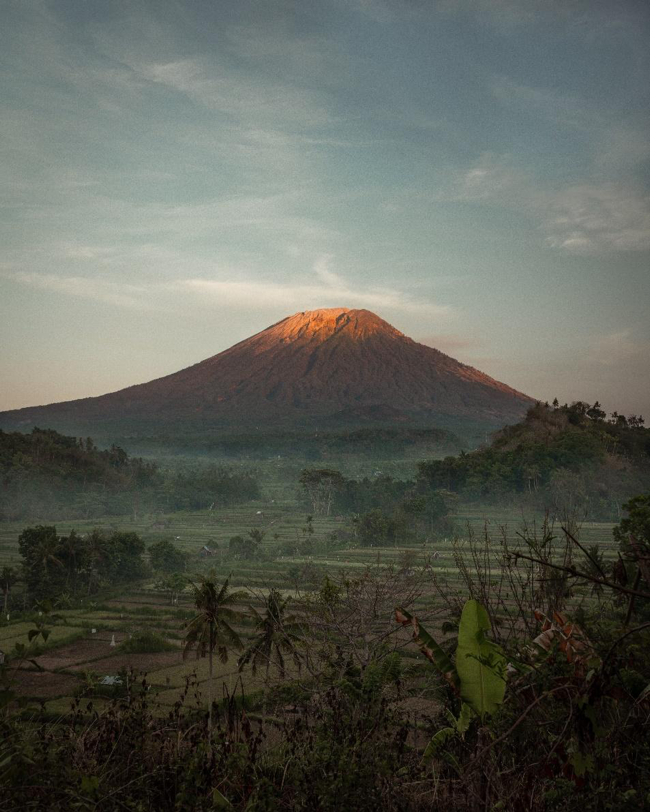 Climbing Mount Agung might be one of the hikers' destinations. The elevation of Mount Agung is 3,031 m which is the highest point in Bali and it is still an active volcano. Hiking in this part of Bali is not that easy and it's not that hard, it actually depends on your body stability. You just have to make sure that you are fit and healthy. It takes around 3 until 4 hours of hiking time if you're fit enough, but it can be up to 6 hours if you take a lot of resting time.
You can choose the best trails to hike Mount Agung such as from Pasar Agung Temple and it will take 4-5 hours hiking time. The second trail that you can consider is via Besakih and it takes around 6 hours to hike. You will see a scenic view at the top of Mount Agung.
Entrance ticket: Free
Address: Mount Agung, Jungutan, Bebandem, Karangasem Regency, Bali
2. Campuhan Ridge Walk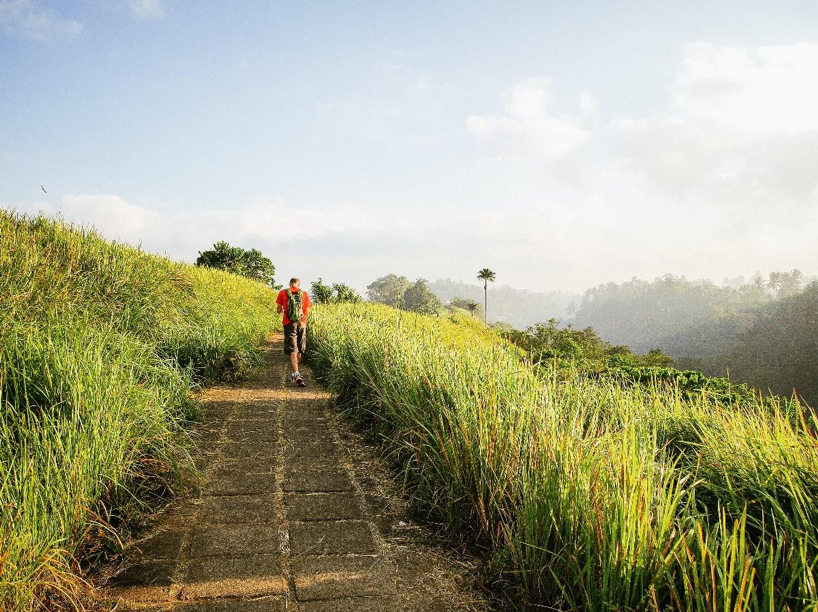 If you are a beginner in the hiking thing, you should try to walk along the Campuhan Ridge Walk first. You'll walk around 6 kilometers, it's not that long because you can have a nice long walk with interesting yet beautiful views along the way, the path isn't that difficult though. The time that you can expect to finish the walk is around 2 hours, including the resting time or if you want to take photos along the road.
The trail that you can reach to walk here is to start from Warwick Ibah sign, and yes! You can continue to walk then.
Entrance ticket: Free
Address: Kelusa, Payangan, Jl. Raya Campuhan, Sayan, Kecamatan Ubud, Kabupaten Gianyar, Bali 80571
3. Mount Batur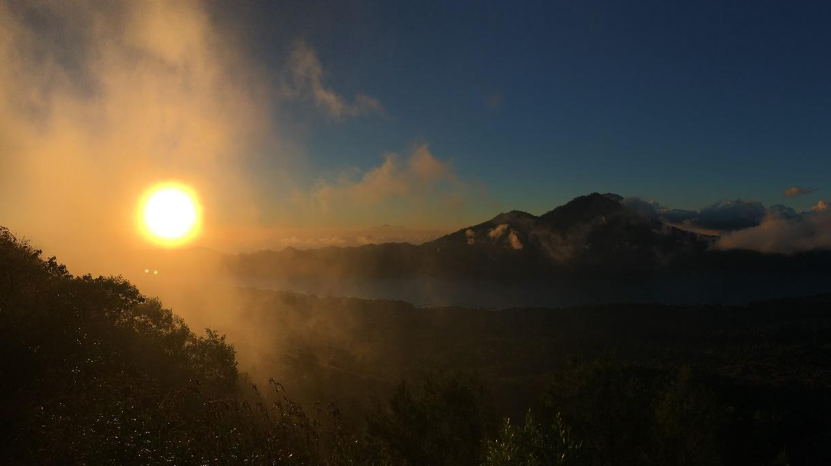 The elevation of Mount Batur is 1,717 m above sea level and it is one of the active volcanos in Bali. Mount Batur is considered to be the second important mountain on the Balinese island after Mount Agung. If you hike Mount Batur, you'll see Lake Batur as the view and it is located at an altitude of 1,050 meters above sea level on the right slopes of Mount Batur itself. Cool, right? You will need around 2 hours or less if you don't take a lot of resting time for this particular hiking trail in Bali. It is better for you to hike around 2 am because you'll see how beautiful the sunrise on the top of Mount Batur.
Entrance ticket: IDR 100,000/person
Address: Mt Batur, South Batur, Kintamani, Bangli Regency, Bali
4. West Bali National Park
The inside of the West Bali National Park area is around 190 square kilometers and 580 square kilometers of the protected area in the highlands to the east. The path that you can consider to trek the West Bali National Park area is from the Tegal Bunder trail and you can see various types of birds, monkeys, and deers and it is an easy two-hour walk. You'll never be bored along the road because you can see those cute animals with the fresh Bali air.
Entrance ticket: Start from IDR 10,000/person (various)
Address: Buleleng Regency, Bali
5. Sambangan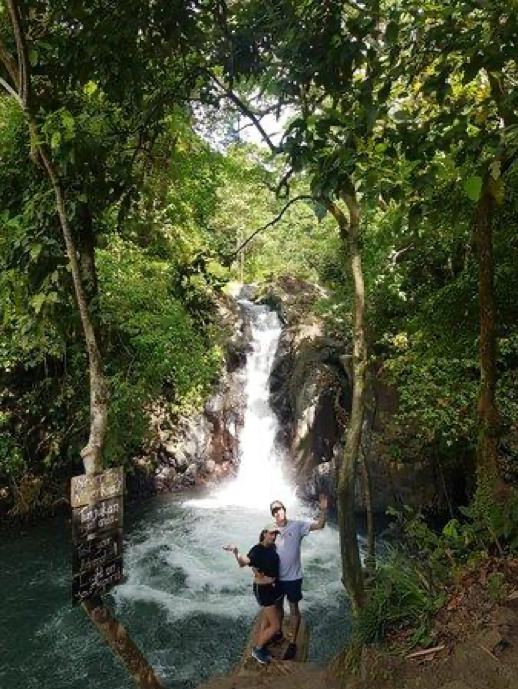 Sambangan is well-known as the Secret Garden that is located in North Bali. There are rice terraces and 4 beautiful waterfalls in the Sambangan village such as Aling-Aling Waterfall, Kroya Waterfall, Pucuk Waterfall, and Twin Waterfall. This is the best waterfall trek that you can explore during your holiday in Bali. You will need around 3 to 4 hours of hiking time until you get to the waterfalls area. Even though it's not that fast, you will see how magnificent the scenery from the tops is. Besides that, you can do the watersports like jumping or sliding in the waterfalls.
Entrance ticket: IDR 20,000/person
Address: Singaraja, Bali, 81152 Indonesia
6. Sekumpul Waterfall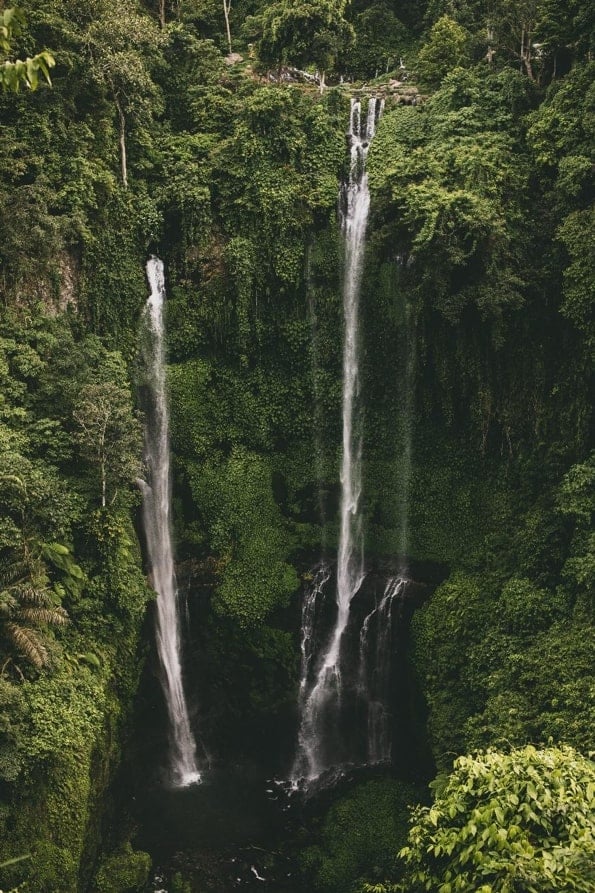 The next waterfall area that you can hike is Sekumpul Waterfall, or known as the most beautiful waterfall in Bali that has 100 m in height. They have a total of around 7 misty huge and tall waterfalls in the area itself. You need around 3 or 4 hours hiking duration and you'll see the rice field, temples, historical monuments, and fruit trees along the way. It's not an easy road to pass because it is steep, you have to cross a river and trek through the jungle, but it is still doable for people. After you arrive then, you can swim or just relax your mind between the twin waterfalls there.
Entrance ticket: IDR 20,000/person
Location: Jl. Air Terjun, Sekumpul, Sawan, Kabupaten Buleleng, Bali 81171
7. Mount Catur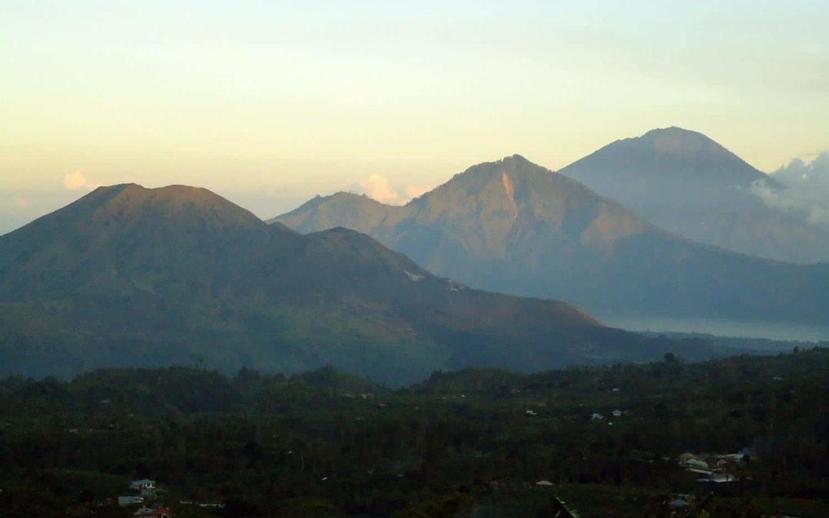 Mount Catur or Catu is the fourth-highest mountain in Bali with a height of 2.096 meters. You will need up to 3 hours to hike this mountain trail in Bali and the path up there is having a heavy tropical forest. When you arrive up there, you should give yourself a lot of time to enjoy the amazing Beratan, Buyan, and Tamblingan Lake. How cool, right? But, you have to make sure that you're physically capable of doing the hiking because untrained hikers would find it difficult to hike.
Address: Jl. Puncak Mangu, Batunya, Kec. Baturiti, Kabupaten Tabanan, Bali 82191
8. Candidasa
Located on the base of Mount Agung, the soil is fertile and rich in the Candidasa Trekking place. You can choose between 2 hiking types such as Rice Paddy Trekking for an easy hiking trail in Bali along with the rice fields or Mountain Trekking for difficult trekking for the serious trekker. You just need around 2 hours of walking until you arrive in the Tenganan village and see the beautiful scenery here. When you walk through or hike along the road, you will see farmers everywhere carrying huge sheaves of harvested cut grain and some of the stalls that sell foods, drinks, and unique handmade Balinese souvenirs. Sounds intriguing, right?
Entrance ticket: Not listed
Address: East Bali, Bali
9. Munduk Waterfall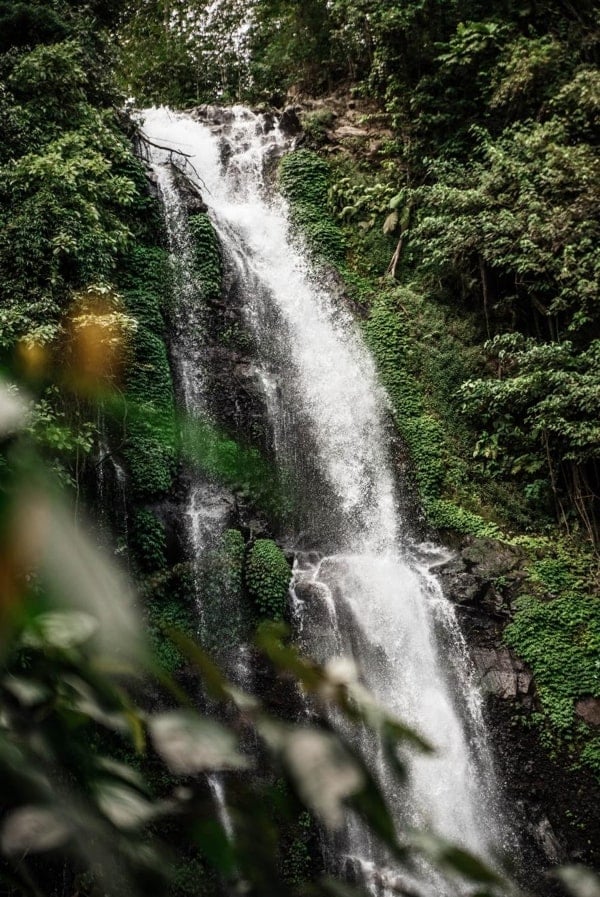 If you are looking for a fascinating hiking trail in Bali, you could consider Munduk Waterfall to be your destination hiking spot. It is surrounded by a tropical rainforest, rice terraces, and farms that make your hiking time enjoyable. It will take 3 or 4 hours until you arrive at the three different yet beautiful waterfalls such as Laangan Melanting, Red Coral, and Golden Valley or the Munduk Waterfall itself. This hiking path is an easy one, you just have to be careful because the road is a little bit steep.
Entrance ticket: IDR 20,000/person
Address: Jl. Raya Pancasari, Gobleg, Kec. Banjar, Kabupaten Buleleng, Bali
10. Tegalalang Rice Field Hiking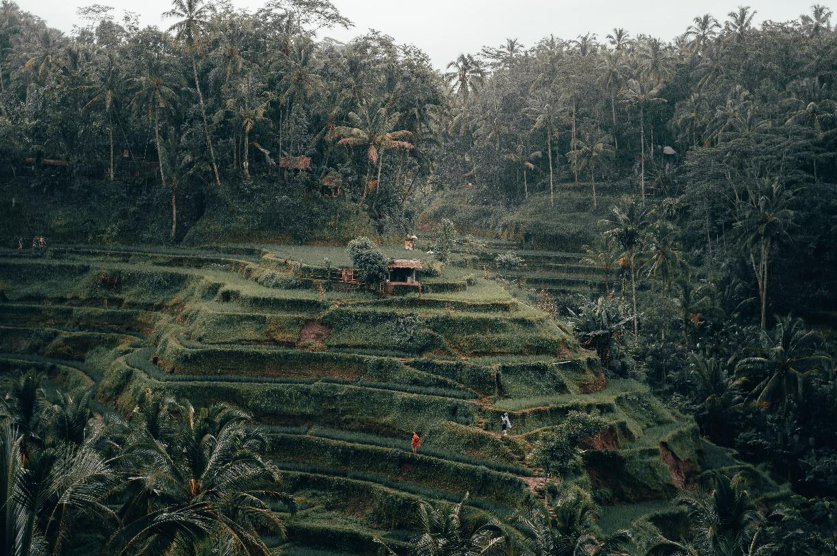 If you are looking for an easy hiking trail in Bali, Tegalalang Rice Terrace would be great for you. You will start your hiking trip when you see a sign "rice trekking" and you'll head down to the path while there are a lot of farmers in the rice terrace itself. It is expected that you need 3 hours of hiking time until you get to the exit point of Tegalalang Rice Terrace. However, the road isn't difficult so you can enjoy your time while hiking here.
Entrance ticket: IDR 10,000/person
Address: Jl. Raya Tegallalang, Tegallalang, Kec. Tegallalang, Kabupaten Gianyar, Bali 80561
11. Tamblingan Lake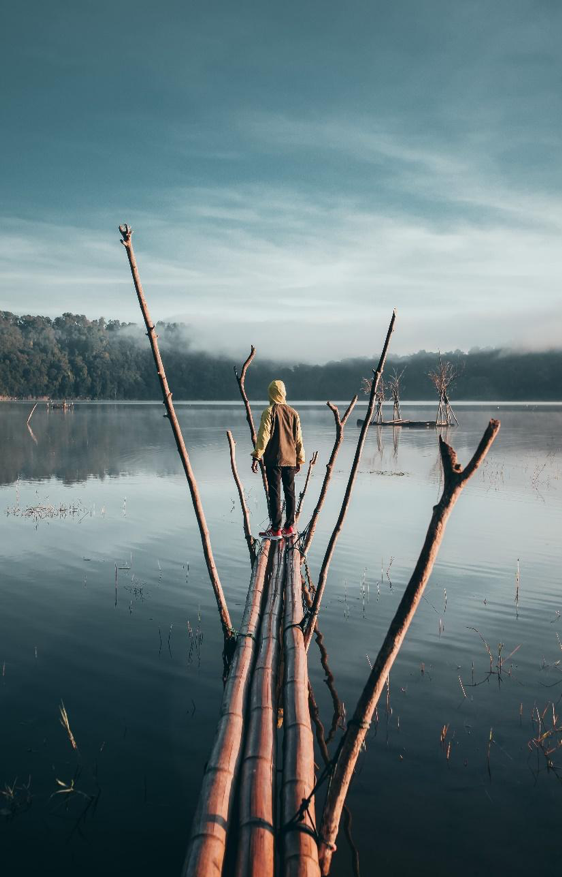 Another spot for you to hike in Bali is Tamblingan Lake. It is located in the plateau area and you can hike through the tropical rainforest that borders the twin lake (Buyan and Tamblingan). The jungle treks have various times from 2 until 6 hours long because it depends on the hikers themselves. After you've arrived, you will be amazed by how beautiful the scenery is.
Entrance ticket: IDR 10,000
Address: Buleleng Regency, Bali, Indonesia
12. Mount Lesung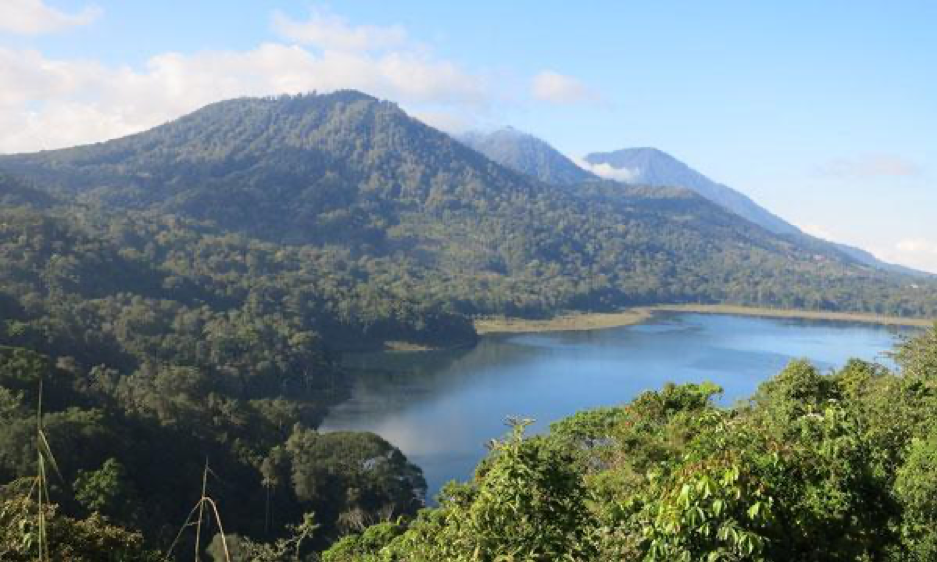 Mount Lesung is a holy jungle mountain with a height of 1.865 meters. For those of you who like to hike and walk through the jungle vibes that far away from the Bali crowds, you must consider Mount Lesung to be your first destination. You will need around 5 hours with an easy to moderate hiking level. On the way to the tops, you will pass Pura Endek, Pura Bukit, Pura Naga Loka, Buyan Lake, and also Tamblingan Lake.
Entrance ticket: Depends on the tourist agency
Location: Singaraja Regency, Bali
13. Mount Batukaru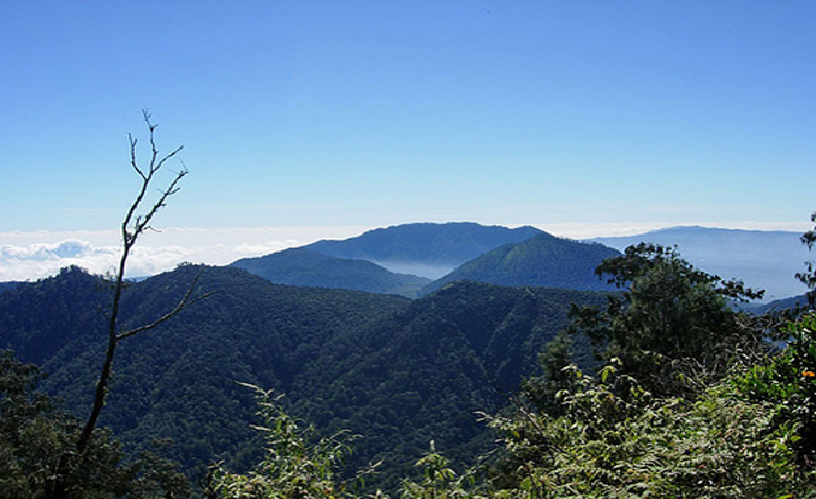 Last but not least, you have to consider Mount Batukaru as your hiking trail in Bali which has 2,275 meters of height. This is the second-highest mountain in Bali. You will be served with beautiful sceneries by a rainforest for 4 hours of hiking time. You also have to know that there is a temple that is located here named Pura Luhur Batukaru. All that you need is just to prepare your body, stamina, and make sure you are fit for the hiking day.
Entrance ticket: Free
Location: Tabanan Regency, Bali
There you have it! Those all are the most famous hiking spots in Bali that you should try. It is divided into easy, moderate, and difficult levels of hiking. So, which one will be your first hiking spot in Bali?
Want to explore more rental options in Bali before the next there? Flokq has several listings for a more affordable option from their offers. Head up to Flokq to find out more!
CLICK HERE TO EXPLORE RENTAL OPTIONS IN BALI