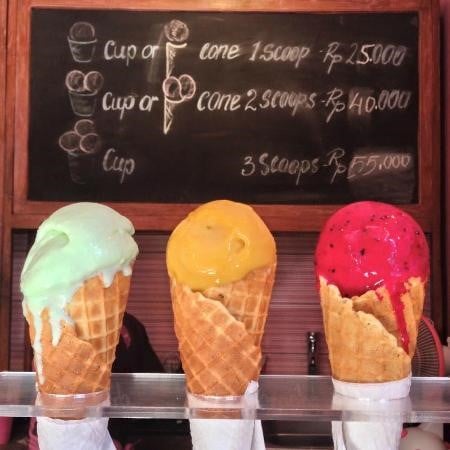 Bali
10 Ice Cream Shops in Bali: The Sweetest and Most Flavorful
Ice cream is one of the best desserts that will always lift your mood, right? That's why there are a lot of ice cream shops nowadays all around the world, including Bali. Which types of ice cream do you prefer? If you like Popsicle, gelato, sorbet, sherbet, sundae, or any type of ice cream, you are coming to the right page. Here, we are going to talk about the best ice cream shops in Bali that provide health. So, these are the most recommended shops.
People also read: 15 Bali Dessert: Must-try Fancy and Traditional Sweets
1. Mad Pops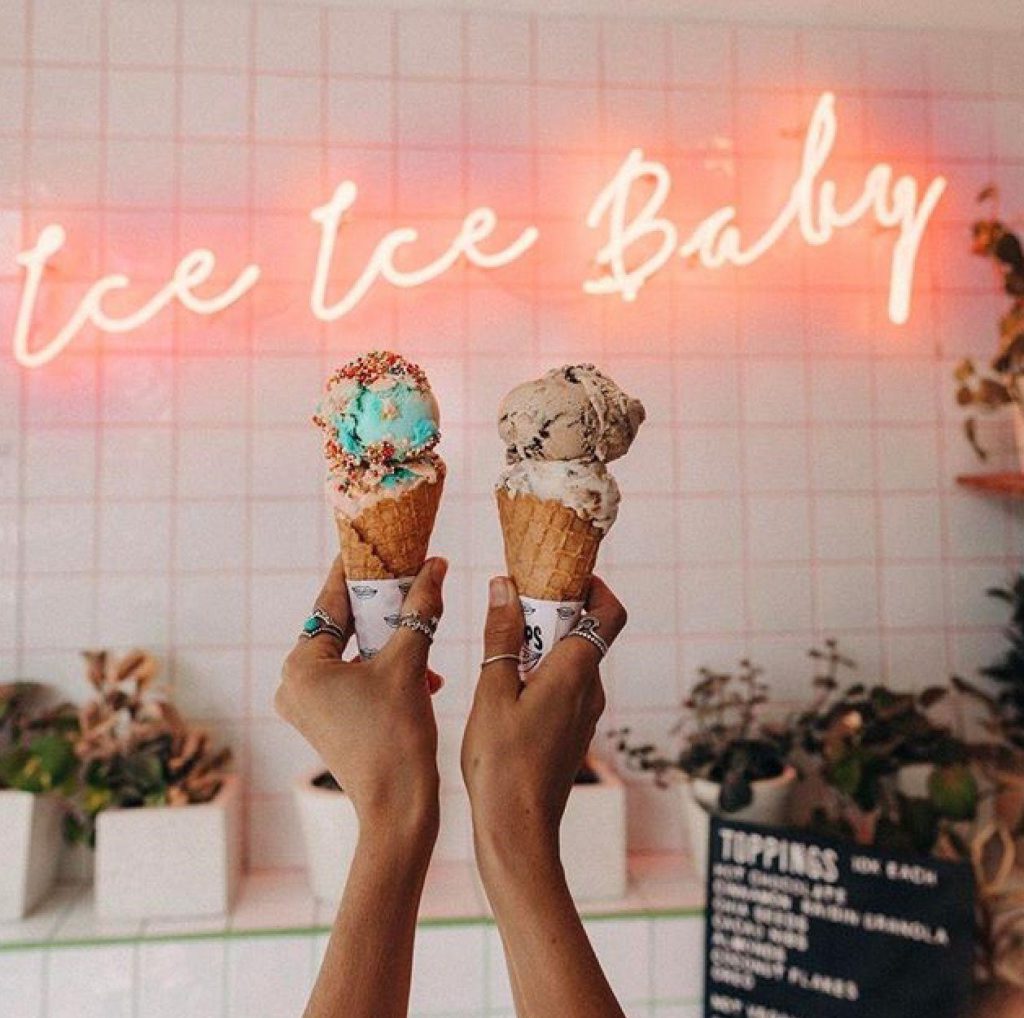 The first very famous ice cream shop in Bali is Mad Pops. It is a well-known brand for locals and tourists that has 20 branches all around Bali. They are having a good interior design that makes the customers enjoy the instagramable vibes here while licking their delicious ice cream. The products that they provide are divided into 2 types, the first one is Popsicle. It is a vegan healthy ice cream made with locally sourced seasonal fruits that contains organic palm or local raw sugar, but there are no preservatives. Popsicle is really fit for you who are on a diet and they have 15 different flavors for Popsicle itself. The next one that you can choose is an ice cream that is non-dairy ice cream made from fresh local ingredients that have 6 flavors.
Address: Pantai Batu Bolong St No.48, Canggu, North Kuta, Badung Regency, Bali 80361
Opening hours: 11 AM – 10 PM
Contact: +62 813 3777 9122
2. Gusto Gelato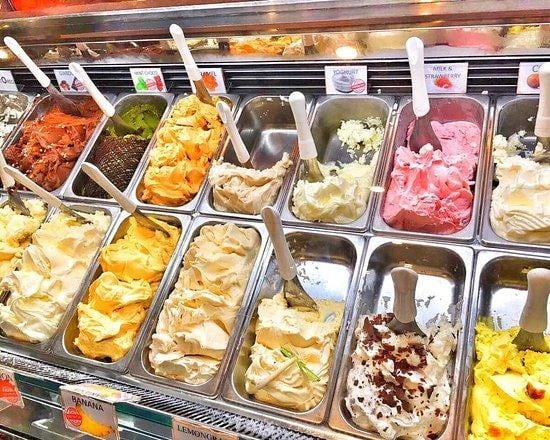 A gelato lover? Well, you shouldn't skip Gusto Gelato if you are in Bali. Chef Regis and his Indonesian team make a lot of delicious ice cream flavors for Gusto Gelato that you will be amazed when you try. They have 2 types of ice cream here such as a gelato that has around 31 flavors and a sherbet ice cream that has 15 flavors. Cool, right? You can choose those different flavors depending on your mood.
Address: Jl. Mertanadi No.46B, Seminyak, Kec. Kuta Utara, Kabupaten Badung, Bali 80361
Opening hours: 10 AM – 8 PM
Contact: +62 851 0052 2190
3. Massimo Gelato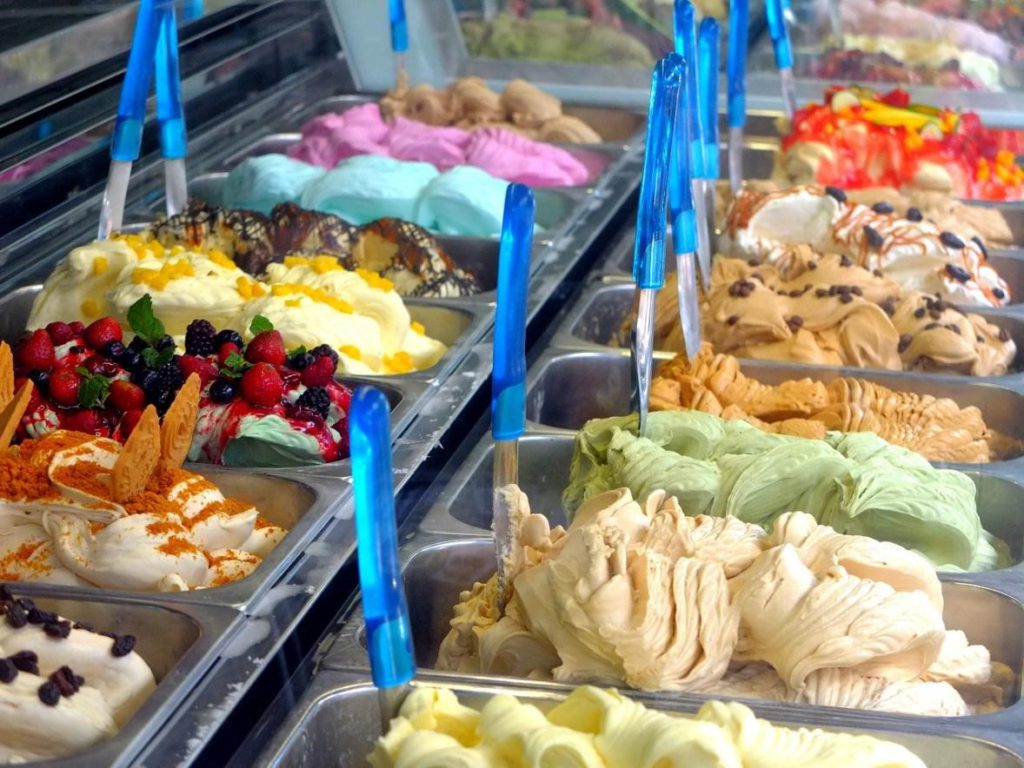 The next one that you should try is Massimo Gelato that is located in Massimo, an Italian restaurant in Bali. You will find a lot of colorful yet delicious flavors here and sometimes they have a topping for your gelato such as fruit. The famous flavors here that you shouldn't miss are mars, rum raisin, kiwi yogurt, espresso, salty caramel, vitamin c, and many other flavors.
Address: Jl. Danau Tamblingan No.228, Sanur, Kec. Denpasar Sel., Kota Denpasar, Bali 80237
Opening hours: 9 AM – 9 PM
Contact: +62 361 288942
4. XOXO Ice Cream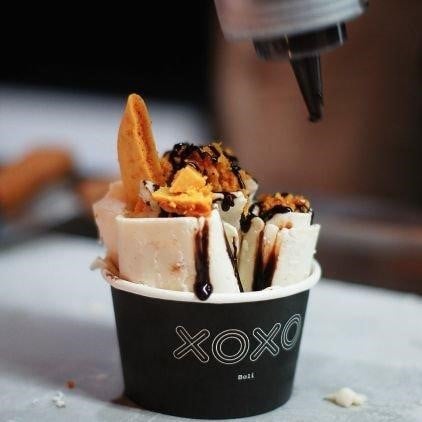 The next one is XOXO Ice cream that is located in Legian. The interior design inside XOXO café is elegant rustic that is dominated by black and wood color. It is one of the unique ice creams that you will find in Bali because they are providing the roll ice cream for the customers. The most recommended flavor that you should try in XOXO is la la land, it is a mixture of home-made sautéed caramel, white chocolate, and creamy ice cream roll. You will taste a salty blend yet buttery sweet that makes you want it more and more.
Address: Jl. Poppies II, Kuta, Kabupaten Badung, Bali 80361
Opening hours: 10 AM – 12 AM
Contact: +62 812 3775 5131
5. Gelato Secrets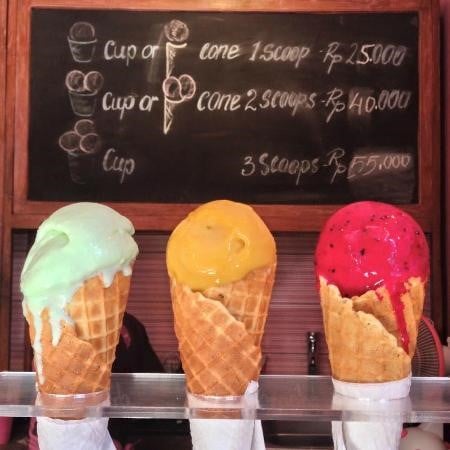 Gelato secrets is another well-known ice cream shop that you can find in Jakarta and Bali. They have 9 branches that are located in Bali that you can find everywhere easily. Their gelato is made from 100% natural ingredients, also originating from fresh milk and cream. Not only gelato, but you can find sorbetto creation here, it is a low-fat alternative option for the consumers. Sorbetto here is made with 100% real fruits, water, sugar, and they don't use any preservatives at all.
Address: Jl. Petitenget, Seminyak, Kec. Kuta Utara, Kabupaten Badung, Bali 80361
Opening hours: 10 AM – 10.30 PM
Contact: +62 361 4740003
6. Paletas Wey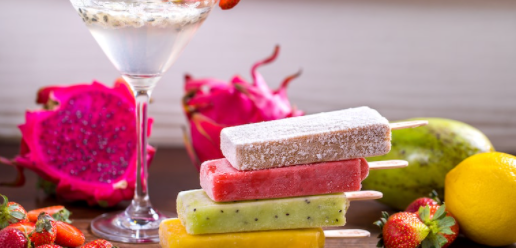 The favorite Popsicle for everyone is in Paletas Wey. They have 3 different types of Popsicle flavors here. The first one, you can taste the refreshing and healthy fruity ice cream with 4 different flavors like lime strawberry, pineapple watermelon, watermelon lime, and soursop strawberry. In the next one, you can taste a premium Popsicle that has sophisticated flavors on every bite with 6 flavors such as caramel, chocolate, coconut, mango strawberry, strawberry kiwi, and wild berries. And last but not least, you have to try the gold Popsicle that is made for real indulgence with 3 flavors such as banana with hazelnuts and chocolate, choco avocado, and vanilla oreo.
Address: Jl. Uluwatu II, Jimbaran, Kec. Kuta Sel., Kabupaten Badung, Bali 80361
Opening hours: 10 AM – 10 PM
Contact: +62 811 3886 262
7. Gaya Gelato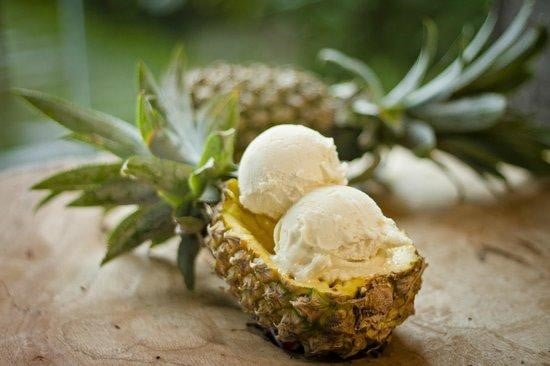 Gaya Gelato is one of the most famous ice cream shops that have a lot of branches in Bali. They have 2 types of ice creams that you can choose from here such as gelato, and sorbets. The ingredients that they provide are high-quality, and also fresh ones such as lemongrass, passion fruit, Balinese durian, and tamarillo. When you want to try Gaya Gelato, you don't have to worry about the flavors because they have a lot of flavors that will confuse you to choose.
Address: Jalan Batu Mejan Echo Beach, Canggu, Kuta Utara, Canggu, Kec. Kuta Utara, Kabupaten Badung, Bali 80351
Opening hours: 11 AM – 6 PM on Monday to Thursday, 12 – 9 PM on Friday to Sunday
Contact: +62 361 8469246
8. Icelab, Finest Gelato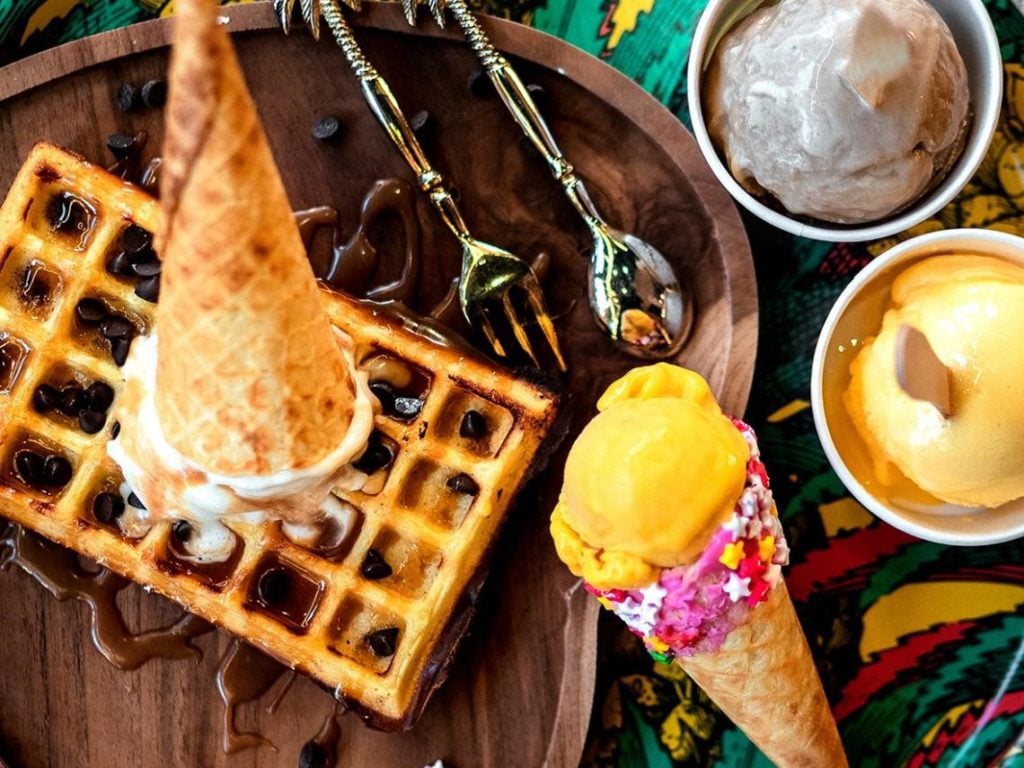 Icelab is another ice cream shop that is using only natural ingredients to make. Icelab is serving premium gelato, sorbets, and jams for the customers. They are also healthy vegan shops who have developed vegan recipes with coconut and soy for the gelato to reduce cow milk and cream use. You can find a lot of delicious taste here without a doubt.
Address: Jl. Pantai Kuta No.36, Kuta, Kabupaten Badung, Bali 80361
Opening hours: 12 – 7 pm only on Friday to Sunday
Contact: +62 812 4649 2390
9. Wala Gelato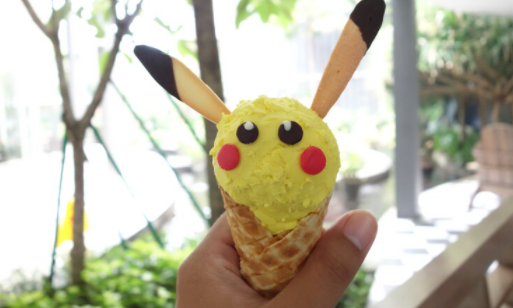 The photo above looks cute, right? It is from Wala Gelato that is located in Le Meridien Jimbaran. They are made the ice cream from the freshest, and natural ingredients only to make sure they meet the customer's satisfaction. The gelato flavors that they provide are varied from rum raisin, chocolate, fruits, and any other flavors. If you want to taste the sundae, you'd better try their hot chocolate fudge sundae, banana split, butterscotch sundae, or discovery sundae to lift your mood.
Address: Jl. Bukit Permai No.5A, Jimbaran, Kec. Kuta Sel., Kabupaten Badung, Bali 80361
Opening hours: 10 AM – 10 PM
Contact: +62 361 8466888
10. Gelato Factory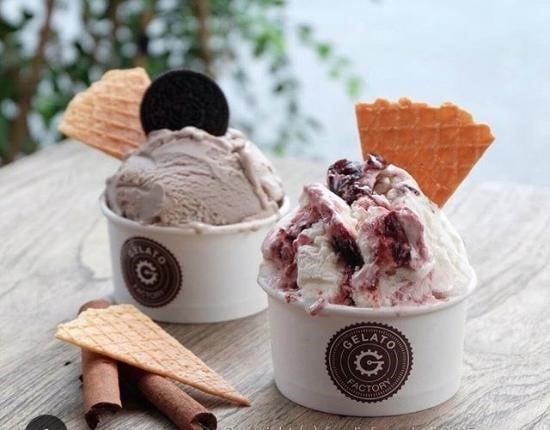 The last one is Gelato Factory or a healthy gelato made by Italians. They are offering healthy ice cream made by local products like fresh milk, fresh cream, and fresh seasonal local fruit only and there are no preservatives at all. Some of the flavors that you can choose here are yogurt, coffee, fior di latte, mint chocolate, durian, Nutella, matcha, lemon, and many more.
Address: Jl. Labuansait No.157, Pecatu, Kec. Kuta Sel., Kabupaten Badung, Bali 80361
Opening hours: 12 – 8 PM
Contact: +62 812 4636 2037
There you have it! For you ice cream lovers, you must want to try one by one of those famous ice creams in Bali. Have you decided which ice cream store that you want to visit first?
Want to explore more rental options in Bali before the next trip there? Flokq has several listings for a more affordable option from their offers. Head up to Flokq to find out more!
CLICK HERE TO EXPLORE RENTAL OPTIONS IN BALI