Bali
|
Local Guide
Enjoy the Night Culinary Sensation at Kreneng Market Bali
Bali is famous for all its beauty. But, apart from its beauty, you should also try the pleasures of food on the Island of the Gods. Well, this time we will discuss culinary destinations at night in the middle of Denpasar City. One that is quite well known is the Kreneng Market.
This traditional market sells daily necessities. Starting from clothing, Hindu worship equipment, to kitchen needs. There are also various children's games and most importantly culinary tours.
For that, Flokq has provided all the information you need about Kreneng Market, Bali. Curious? Let's take a look at it in full below!
Click here to rent a villa in Bali
1. About Kreneng Market
This market is called Pasar Kreneng because the market area is called Kreneng. Prof. Dr. Ida Bagus Mantra is the former Governor of Bali who built this traditional market in 1983. The market, which is only a 10-minute drive from Puputan Renon Square, has 805 traders in a three-story building and around 211 traders in the courtyard.
Balinese cultural expert, Sugi Lanus said there are at least three versions of the history of naming Kreneng Market. The first version, "Kreneng" comes from the word 'Kereng Eneng' which means often not getting water. In the past, this area was originally a rice field area that often did not get water, so it was rarely planted.
The second version states that Pasar Kreneng was a market relocation located at the T-junction of Surapati and Melati in 1963. This is different from the Cambodian Market which was moved from Lilabuana and is open every afternoon. The third version relates to the Kreneng Market which used to provide various kinds of kreneng, in Balinese it means a wrapping tool in the form of woven.
2. Location of Kreneng Market
Source: denpasarkota.go.id
Kreneng Market is located at Jl. Cambodia No.24, Dangin Puri Kangin, North Denpasar, Denpasar City, Bali 80236, Banjar Kreneng Kaja, Dangin Puri Kangin Village, North Denpasar.
3. How to Get to Kreneng Market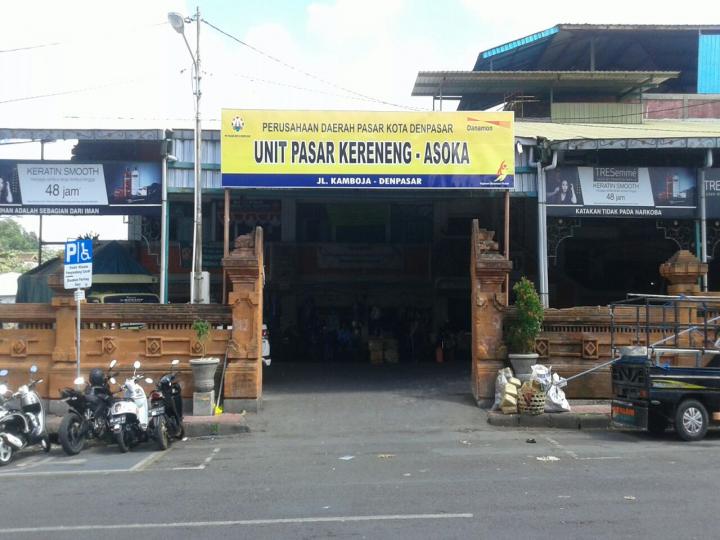 Source: culture.denpasarkota.go.id
There are many ways to get to this market, you can take public transportation or private vehicles. Here's how to get to Kreneng Market:
From Kuta, it's only about a 30-minute drive.
Take Jl. Raya Kuta, then take the direction of Jl. Imam Bonjol and Jl. Teuku Umar. Then head towards Jl. Diponegoro. Kreneng Market is on the left side of Jalan.
From Ngurah Rai International Airport it takes about 39 minutes via Jl. Raya Sesetan.
Driving along Jl. Ngurah Rai Airport. Driving from Bali Mandara Toll Road/Jl. Nusa Dua – Ngurah Rai Airport – Benoa Toll Road, Mandara Toll Road, Jl. Raya Harbor Benoa, Jl. Raya Sesetan, and Jl. Diponegoro to Denpasar City. Then turn left (destination is on the left).
4. Facilities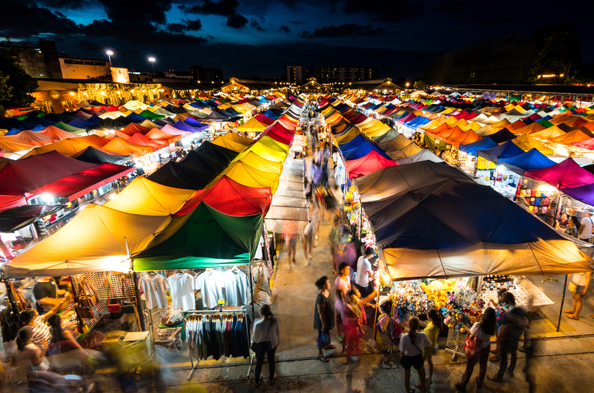 Source: ayotraveling.com
There are several facilities at Kreneng Market, namely:
Vehicle parking area
Food vendors
Bathrooms
Rest areas
5. Operational Hours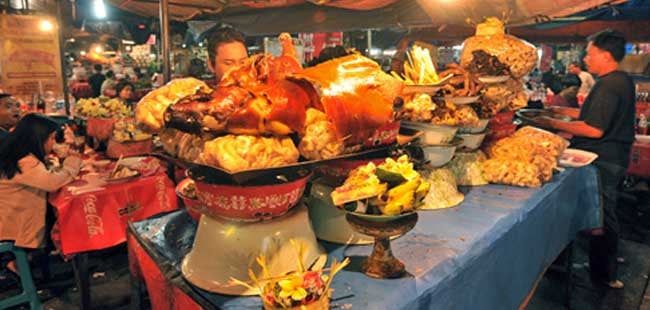 Source: kintamani.id
This traditional Balinese market is open every day, from dawn to dusk. There are two times you can choose to visit this place, namely the morning market or the night market (Pasar Senggol).
Towards evening, around 3 pm, the morning market will be replaced by the night market where traders start arriving to arrange their wares. Exactly at 4 pm, all merchandise is ready to be opened and serve buyers.
6. What You'll Find at Kreneng Market
Information There are lots of market snacks here, ranging from banana rai, milled, batun gun, laklak, marrow paste, injin, red sticky rice, white sticky rice, to painting. The most famous menus are beef soup, various variants of Jinggo rice, and pork roll rice. Jinggo rice traders in this night market can sell more than 200 servings per day.
The traders in the market are mostly Balinese and few outside Bali. When entering the market, one thing that is interesting is that there is a small offering place with poles made of bamboo or wood. Usually, the traders put it in the right corner or in the left corner of their merchandise.
Two large statues flank the steps to enter the market. This statue is a symbol of the 'guardian' of the market so that all traders in it are always safe. Every day before opening their wares, the traders deliver small offerings or canang saris in front of the two statues in front of the market.
People also read: Bali Safari and Marine Park Entrance Ticket Prices Update 2021
Now, that's some information about the Kreneng Market. Interested in a culinary tour in this traditional market? Come on, book a plane ticket and rent a villa in Bali with Flokq!
CLICK HERE TO RENT A VILLA IN BALI