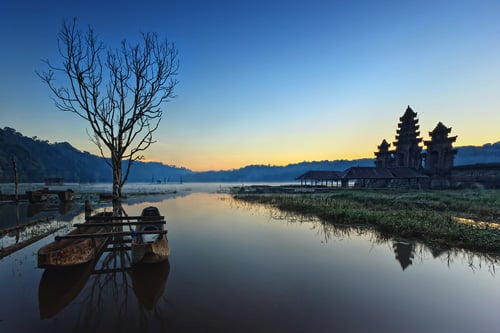 Bali
Note These 7 Things Before Traveling to Lake Tamblingan Bali
Bali is well known for its beaches. But, did you know that in Bali there are also many beautiful tourist attractions besides the beach? There are four lakes on the island of the Gods that can be a tourist destination. Each lake certainly has its own charm. The lakes are Beratan Bedugul, Batur, Buyan and Tamblingan. Lake Tamblingan is the smallest of those 4 lakes.
The place is far from the hustle and bustle of the crowd, making tourists feel calm. In addition, this lake offers natural tourism that is not commercial or has a modern design, such as Lake Beratan Bedugul.
People also read: 10 Most Popular Tourist Attractions in Buleleng Bali That You Should Know!
For that, there are 7 things you need to know before going on a trip to Tamblingan Lake. What about? Come on, let's see below!
1. History of Lake Tamblingan
The formation of Lake Tamblingan, Buyan, and Beratan occurred due to the eruption of Mount Lesung which then formed a large crater. Another factor was the massive landslide in the 19th century, which eventually became 3 separate lakes.
Then this raises the assumption that Lake Tamblingan and Buyan become twin lakes. They are separated by the wilderness which is only about 1 km away.
However, there is another story that is also believed by local residents as the history of the formation of this lake. They know him as the Legend of Tamblingan. Around the lake, there are 4 villages, namely Munduk, Gobleg, Gesing, and Umajero villages.
Once upon a time, a plague attacked the four villages. Then, one of the people who are considered holy and sacred takes holy water from the lake. Miraculously, the plague was gone and the people were healed.
So in the end the lake was named Tamblingan which comes from the Balinese word "Tamba" which means medicine. While "Elingan" means reminding of spiritual power. For this reason, both tourists and local residents are obliged to maintain the sanctity of the lake water.
2. Location of Lake Tamblingan
This lake is located on the northern slope of Mount Lesong, located in Munduk village, Banjar District, Buleleng Regency. Its location in the highlands makes it feel cool. The tourists can enjoy the beauty and charm of this lake from the top of the hill as well.
3. Route or Access Road to Lake Tamblingan
You can pass several routes to get to this tourist attraction. If you depart from Ngurah Rai airport, you will travel a distance of about 2 hours.
By walking along the Bedugul highway to Singaraja and then up towards the hills until you see a sign that reads Tamblingan Lake. You will pass Pancasari Village, Wanagiri Village, and Munduk Village to get here.
In order to travel faster and at a lower cost, you can rent a motorbike. In the middle of the trip, you can enjoy the nature of the mountains. For another alternative, you can register with a travel agent to arrange a tour package in Bali with the main goal of going to the Buleleng area.
4. Entrance Ticket Prices
Same as other tourist attractions, to be able to see the beauty of Lake Tamblingan you only need to pay an entrance ticket of Rp. 10,000 per person. Pretty affordable, right? In addition, with this fee, you can enjoy facilities such as camping ground tours, Lake Tamblingan, and lake nature tours.
However, for motorbike and car users, parking fees are also charged. The motorbike parking rental fee is IDR 3,000 and the car is IDR 5,000. In Jakarta, there will never be a parking fee this cheap, right?
Keep in mind that the price of entrance tickets and parking can change at any time according to the regulations set, yes. For operating hours, you don't need to worry. The lake is open every day for 24 hours. So you can come here whenever you want.
5. Things You Can Do
At this Bali tourist attraction, the activities you can do are not just taking pictures. You can also try some of the activity options below. Apart from being fun, these activities can also help you calm a complicated mind.
Camping
If you have an adventurous spirit and love nature tourism, this place is for you. Here, local facilities provide recreational areas for camping activities. The location is also close to the lake. Imagine waking up in the morning with foggy weather and a beautiful lake view. Well, it could be a new holiday experience for you and the people you invite here.
Religious Rituals
This area is very sacred. There are about 11 temples scattered around the lake. In fact, two of them, namely the Tukang Timbang Temple and the Embang Temple, are relics of ancient Balinese history that were built before the 10th century. In addition, you can also enjoy the beauty of other temples, such as Dalem Tamblingan Temple, Gubug Temple, Endek Temple, Naga Loka Temple, Batulepang Temple, Tirta Mengening Temple, Engraving Temple, Sang Hyang Kawuh Temple, Ulun Danu Temple, and Sang Hyang Kangin.
Go Around the Lake and Fishing
At Lake Tamblingan, tourists can get around the lake by renting a small boat, namely a pedahu. Pedahu is a canoe that is also used to catch fish by local fishermen. However, this canoe is not motorized, so it does not pollute the surrounding environment.
While walking around the lake, you can also fish. Usually, the facility provider will offer you if you want while fishing too or just riding a boat. Fish that are successfully caught can certainly be your meal when camping.
6. Nearby Attractions
Wanagiri Swing
This swing that hits hangs directly from a large tree branch. The photos you take will be even more beautiful because of the expanse of views of Lake Tamblingan stretching out behind you.
Wanagiri swing is located in Yeh Ketipet Hamlet, Wanagiri Village, more precisely on the path between Wanagiri Village to Munduk Village. To be able to enjoy this swing, you will be charged a fee of IDR 10,000. Very affordable, right?
Munduk Village
After recreation to Tamblingan Lake, you can take a leisurely stroll along with Munduk Village. The atmosphere is calm, quiet and the air is cool. In addition, you will see cloves and coffee plantations against a backdrop of towering mountains. This is the main attraction for Munduk Village.
Banyumala Waterfall
Banyumala Waterfall is located at the bottom of the valley of Wanagiri Village, Sukasada District, Buleleng Regency, Bali. Sukasada District is a highland area of ​​North Bali with a row of surrounding hills.
Under the estuaries of the three waterfalls, there is a large naturally formed pool. This round pool is about 15 meters in diameter. At certain moments, a rainbow will appear stretching across the pond. This place has also started a lot of tourists.
7. Pre-Wedding Photo Location
This tourist attraction can also be an option for tourists who want to capture pre-wedding photos. Not a few couples from within and outside the country who do pre-wedding photos here. But, don't forget to get permission from the manager of this lake, okay? Because the place is sacred, tourists need to maintain cleanliness and manners during activities at Lake Tamblingan.
People also read: A Local Guide: 10 Interesting Things You Can Do at Bali's Pandawa Beach
Well, that's 7 information you might need before going on vacation to Lake Tamblingan, Bali. Want to rent a place to live close to this tourist location? Rent now with Flokq!
CLICK HERE TO FIND RENTAL OPTIONS IN BALI