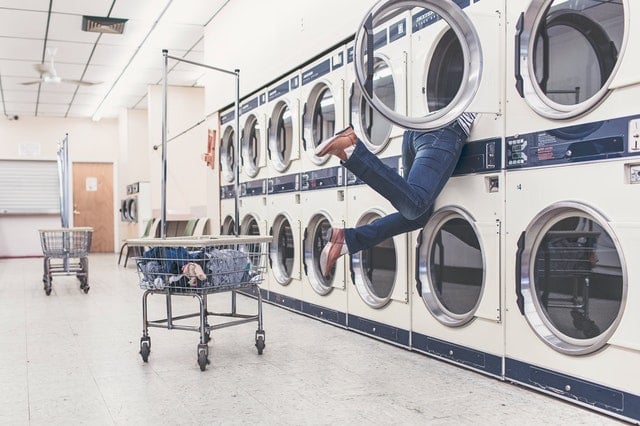 Knowing where your nearest laundromat or laundry services in Bali are is a blessing. Whether it's to take care of 1 week's worth of Laundry or to remove pesky stains, laundry services can be a lot of help if your schedule is hectic and simply can't afford to wash your clothes. Also, if you don't have a washing machine or housekeeping assistance at home you'll need someone or something to wash your clothes. Here is a list of 10 Laundry Services in Bali to Help Manage Time. The article includes two kinds of laundry services: normal laundry services and laundromats or coin laundry.

Read also: 7 Universities in Bali: The Most Prestigious Ones
Laundry Services in Bali
1. Laundry Bali Service @ Nusa Dua
If you are staying in an accommodation in Nusa Dua without laundry services or a washing machine to do your laundry, you can visit Laundry Bali Service. They try their best to understand the customers' needs by having you fill a form with very specific questions, such as how to dry your clothes, pick up day and time, how high the temperature should be when drying your clothes, and even whether you would like perfume on your clothes or not.
For the rates, they have three kinds. A 24-hour one with 50k IDR per kg, normal 2×24 hours 40k IDR per kg, or self pick-up and drop off for 30k IDR per kg. Payments can be done through PayPal, a concierge, or simply cash.
Address: Jalan pintas siligita Jalan Raya Nusa Dua Selatan Nomor 27, Benoa, Kec. Kuta Sel., Kabupaten Badung, Bali 80361
Contact: +62 89653415567
Open hours: 8 AM – 10 PM
2. Family Laundry
In crazy rich Seminyak with countless luxury spots, an affordable laundry service is the last thing you will expect to find. The place itself is also near Seminyak Beach and within the Sunset Road area. Starting at 20k IDR per kilogram, their friendly staff washes your laundry under 24 hours. The best part is that they would weigh in your laundry based on the dry rather than the wet result, practicing the 'honesty is the best policy' act for its customers. They also offer delivery services to hotels around the Seminyak area.
Address: Jln. Drupadi No. 19 – 20 Seminyak Badung, Bali, Indonesia
Contact: +62 896-8556-9840
Open hours: 8 AM – 3 PM (Monday to Friday)
3. Mertasari Laundry
Located in the middle of the Ubud area, Mertasari Laundry will offer great prices with awesome services. For 15k IDR, you can ask them to wash your dirty clothes for at most a day's wait. They will also do some extra services such as ironing, so you'll be sure to get your clothes back in good time and in good condition.
Address: Jalan Sri Wedari No.13, Taman Kelod, Ubud, Kabupaten Gianyar, Bali 80571, Indonesia
Contact: +62 361 970601
Open hours: Every day 8 AM – 7 PM
4. Cuciyu Laundry and Dry Clean
Located in the Legian area, Cuciyu is the best place if you are going for bulk. This place has machines that hold up to 6kg of dirty laundry, so don't worry if you have a lot to work with. There are a few price options. The first one being a wash, dry, and fold for 10k IDR. For 12k IDR you can either get wash, dry, and press services, and bed cover & baby clothes services. They also offer a free delivery service if you can wash 5-6kg, so the more laundry you have, the better their services get.
In the Kuta area, They will give a free delivery service for 5 kg. Wash, Dry, and Fold for 10k IDR. Wash, Dry, and Press for 12k IDR. Bed & Cover Clothes 12k IDR. Free Delivery if you are washing 5kg and are currently located 4km from the place.
Address: Jl. Dewi Sri VIII No.9, Legian, Kuta, Kabupaten Badung, Bali 80361
Contact: +62 816691884
Open hours: 8 AM – 7 PM
5. Bee Laundry Bali
Located smack dab in the Middle of West Denpasar. Bee Laundry Bali is the bee's knees in their area. With a very competitive price as low as IDR 7000 per kg, you can get a laundry and ironing service that ensures your clothes won't get mixed up with others. This is because of the owners guaranteeing that they will not put your clothes with others in the same washing machine.
Address: Jl. Pulau Moyo No.35, Pedungan, Kec. Denpasar Sel., Kota Denpasar, Bali 80222
Contact: +62 812-3802-8401
Open hours: 7 AM – 9 PM
6. Green Leaf Laundry Bali
Green Leaf Bali offers above average service with standard rates. They are one of the fastest laundry services in town, and deliver your laundry if you are living in the Uluwatu area. Price should be about 15-35k IDR per kg.
Address: Uluwatu St No.75X, Ungasan, South Kuta, Badung Regency, Bali 80361
Contact: +62 815-5300-0935
Open hours: Every day 8 AM – 8 PM
Uluwatu Main Road No.75x. Opens from 8am-8pm Every day Call +62 815-5300-0935 for inquiries
Coin Laundry or Laundromat in Bali
If you're too worried about the laundry staff not getting your clothes treated right, then you could also use coin laundry or laundromat in Bali. They are a better option if you want to make sure that your clothes won't get ruined or stained by other colors. Plus, some of these laundromats offer seat areas where you can get things done. Why not try to read a book or finish that you've been working on for quite a while in a laundromat? If you'd rather not, you can just go back and forth between your home and the laundromat, as it'll only take less than 3 hours to get your laundry clean and ready. Here are some suggestions from us about the best laundromats or coin laundries in Bali.
7. Coin Laundry @ Ganesh Laundromat
While not necessarily attaining to the self-service nature of coin laundries, Ganesha laundromat uses coins as their tokens for payment. We say token because the actual cost of the coin is 50k IDR per person for 6-8kg of laundry, so it is a bit more expensive than others. But in return, you'll get your laundry sorted out and cleaned in about 3 hours.
They also ensure that the clothes you bring don't get mixed up with other people. They also will separate fade and non-fade clothes to different washing machines, but you will have to pay for each.
Wash 6-8 kg for one coin (50k IDR). Usually finishes in about 3 hours time.
Address: Jl. Dewi Sri I No.14, Legian, Badung, Kabupaten Badung, Bali 80361
Contact: +62 812 4645 7797
Open hours: 10 AM – 6 PM
8. CityCoin Laundry (Kerobokan and Denpasar)
CityCoin is one of the true coin laundry or laundromats in Bali. They are located in Renon and Kerobokan. They provide you with a simple self-service experience with a starting price of 20k IDR. You can wash, dry, or wash and dry clothes here. The machines themselves can fit up to 6kg of dirty laundry. Washing here only costs 20k IDR with a waiting time of 35 minutes. Meanwhile, drying here costs the same with around 40 minutes of waiting. There's also free Wi-Fi and there is a staff there that can help you. Overall, it's great!
Address:
Jl. Tukad Barito No.77, Renon, Kec. Denpasar Sel., Kota Denpasar, Bali 80225
Jl. Raya Semer No.29, Kerobokan Kelod, Kec. Kuta Utara, Kabupaten Badung, Bali 80361
Contact: +62 823-3878-2526
Open hours: 7 AM – 11 PM
9. Tropical Laundry Laundromat
Located near Batu Bolong beach, Tropical Laundry offers both normal laundry services and self-service. For self-service, you'll have to pay 25k for wash and dry within 35 minutes each. If you don't bring a detergent, then you can buy the ones they sold at the store for 5k IDR. If you'd just prefer a normal laundry service, you can pay around 65k IDR for a full laundry service under a day. The staff is helpful there, so your clothes will be in good hands.
Address: Pantai Batu Bolong St No.11a, Canggu, North Kuta, Badung Regency, Bali 80351
Contact: +62 812-5634-9347
Open hours: 8 AM – 9 PM
10. Maxexpress Coin Laundry and Laundromat
Last but not least, here is a coin laundry service that you can find in the Jimbaran area. Maxexpress coin laundry offers both self-service and normal laundry service, in their case being called 'drop-off', under a day. For either wash or dry, you can get 30k IDR for a 6kg washing machine, 60k IDR for both, and 60k IDR for a drop-off service. Their staff is very friendly to both international and local customers.
Address: Jl. Uluwatu II no. 168, Jimbaran, South Kuta, Badung Regency, Bali
Contact: +62 895-3555-96275
Open hours: 9 AM – 8 PM
Read also: Steps On How to Get Foreigner Driver's License in Bali
So those are 10 best laundry services in Bali. Be sure to save the phone numbers and names on the list and check their prices to make sure that you pick the one that matches your budget.
---
Want to find a rental option for your vacation in Bali? Flokq has several rental options in Bali at an affordable price. Head to Flokq or click the button below to find out more.
CLICK HERE TO FIND RENTAL OPTIONS IN BALI