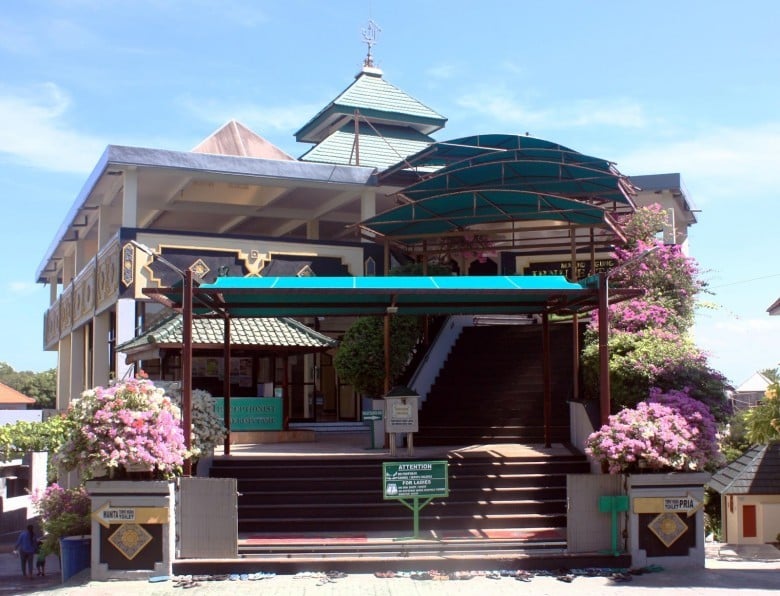 Bali
|
Local Guide
8 Unique Local Mosques in Bali to Visit for Religious Tourism and Muslim Travelers!
Bali is known as the Island of a Thousand Temples. It is only natural that the majority of Balinese residents are Hindus. Besides the temple, Bali also has many beautiful worship places, one is the mosque. For you Muslim travelers who want to have a vacation in Bali, you can also have religious tourism now!
Check out these 8 interesting mosques to visit while in Bali.
1. Palapa Great Mosque
If you visit Dreamland, it doesn't hurt to stop by the Palapa Grand Mosque. The mosque, which was built since 2012, is completely located in Dreamland Bali, Jalan Pecatu Indah Resort, Pecatu Bali, South Kuta.
The building, which carries the concept of a pyramid roof, stands right on the edge of the entrance to Dreamland Beach.
2. Muhammad Mosque
This magnificent mosque is located on Jalan Imam Bonjol, Pemecutan Klod, West Denpasar, Denpasar City, Bali.
This mosque is not visible from the main road, but this mosque provides quite comfortable facilities for worship. The design of the interior of this mosque is similar to mosques in Arabic so it can make you feel at home for a long time there.
3. Al-Hidayah Grand Mosque
The Al-Hidayah Grand Mosque is visited by many Muslim tourists when travelling in the Bedugul area. Because this mosque is located in the Bedugul area, Baturiti District, Tabanan Regency.
The local community calls this mosque the yellow temple mosque. The unique architecture of the mosque, dominated by gold, is the main attraction for taking pictures.
In addition, from the side yard of the mosque, you can see the breadth and beauty of Ulun Danu lake accompanied by its cool air.
4. Nurul Huda Gelgel Mosque
For those of you who want to trace the history of Islam in Bali, then you must stop at the Nurul Huda Gelgel Mosque. This mosque is the first mosque to stand in the Bali area.
Located on Jalan Waturenggong, Gelgel Village, Klungkung District, Klungkung Regency, Bali Province. Gelgel Village, which is about 60 kilometres east of Denpasar, has many traces of the spread of Islam that are still visible today.
Nurul Huda Mosque has undergone several renovations, but its distinctive shape is still visible. This mosque has a tower that has a height of 17 meters.
---
Also read: 8 Restaurants that Serve Tasty Halal Food in Bali
---
5. Ibnu Battutah Great Mosque
The existence of the Great Mosque of Ibnu Battutah is evidence of religious harmony in Bali. This is because this mosque stands next to four other religious places of worship.
The Great Mosque of Ibnu Battutah is adjacent to the Jagat Natha Temple for Hindus, the Budina Ghuna Vihara for Buddhists, and the Church of The Virgin Mary of All Nations for Catholics, and the Bukit Doa Christian Church for Protestants. This mosque is located in Nusa Dua, South Kuta, Badung Regency, Bali.
6. Jami' Singaraja Great Mosque
Jami' Singaraja Great Mosque is a historic mosque on Jalan Imam Bonjol, Kampung Kajanan sub-district, Buleleng Regency, Bali, Indonesia. According to a candrasengkala (like chronogram) that has been found, this mosque was founded in 1654 AD. This mosque is the pride of the Singaraja community, because of its historical value which witnesses the entry of Islam in Bali.
The Great Mosque of Jami' Singaraja is a silent witness to the beauty of religious tolerance on the Island of the Gods since Islam first entered Bali until today. The Great Mosque of Jamik Singaraja still keeps the handwritten Alquran book A. A. Ngurah Ketut Jelantik Tjelagie and until now there are still descendants of him and still uses the name Gusti even though he embraces Islam.
7. Al-Muhajirin Kepaon Mosque
Al-Muhajirin Mosque is a mosque located in Kepaon Village, Denpasar, Bali. This mosque is classified as an old mosque in the city of Denpasar and is in the middle of the city.
Based on historical records, this mosque was founded in 1326 Hijriyah. When it was first established, Al-Muhajirin Mosque was still 12 × 12 meters in size. When it was first built, this mosque was named Hamsul Mursalin. It is said that the presence of immigrants from Madura, Bugis, Malays, and Bali who inhabited Kepaon village after that demanded a change in the name of the mosque as a centre of worship facilities attached to the Muhajirin. The presence of a Muslim figure from Gujarat named Haji Abdurrahman made this mosque a place of worship under the name Jamik al-Muhajirin Mosque.
8. Sudirman Grand Mosque
The Sudirman Grand Mosque or commonly referred to by the local community as the Sudirman Mosque is one of the large mosques located in the middle of Denpasar City, Bali. The mosque is located in a military environment (Kodam IX / UDAYANA); even so, this mosque is accessible to the public and is one of the main destination mosques for Muslims in Denpasar.
This mosque is known for having a unique architecture because it incorporates the values of Balinese Architecture into its building as a form of adaptation and respect for the culture in the surrounding area.
---
So, those are 8 mosques that you can visit when you go to Bali. Each mosque has its own history and uniqueness. Hopefully, from this, you can add references for your religious tourism locations, and see you in Bali, Flokqers!