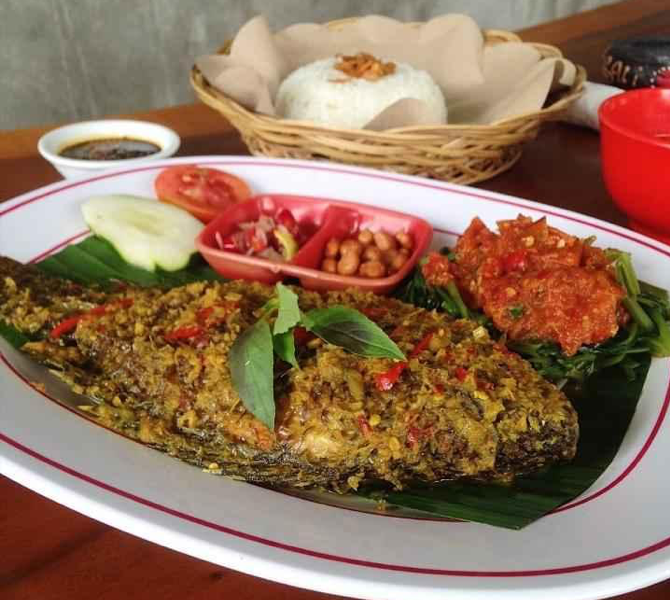 Bali
Nyat Nyat: One of Bali's Most Famous Food
When you come to Bali, you must be looking for the traditional or local Balinese foods that you want to try. Nyat nyat must be one of your lists especially if you like herbs and spices. Not only about the taste itself, but this is one of the legendary foods from Bali that is always being looked for by the tourists who come by. So before you come to Bali, make sure you have a list of Balinese foods and these are the details about nyat nyat that you should know.
People also read: 13 Local Foods in Bali with Authentic Taste, Must-try!
What is nyat nyat?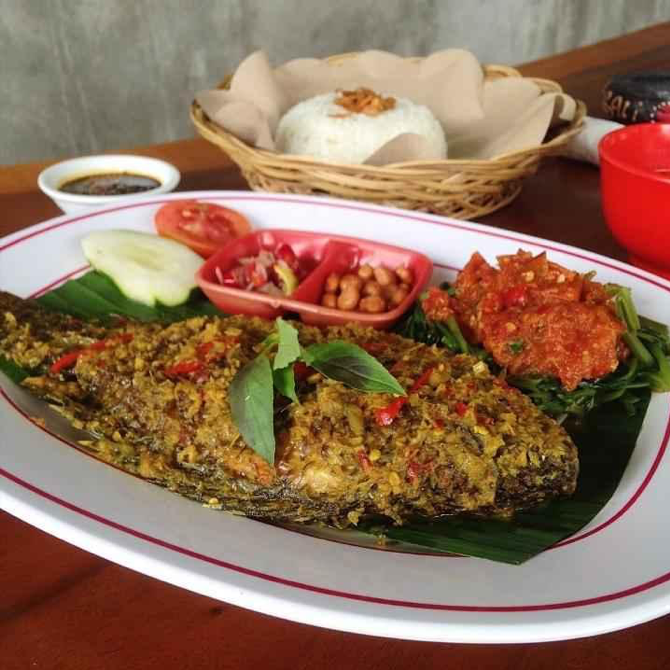 Nyat nyat is one of the traditional food in Bali that are famous and easy to find. It is a tilapia fish that is fried or baked and having Balinese herbs and spices such as ginger, galangal, kencur, black pepper, white pepper, nutmeg, tabia bun, candlenut, jangu, bangle, and also turmeric on top of the fish. Because nyat nyat is full of herbs and spices, it makes the dish rich in taste when you try it. You can taste the spicy, sour, and savory of the fish with a good smell.  If you want to try nyat nyat, don't forget to eat this with rice because you will probably want to eat more and more. Are you ready to try?
Places to Find It
There are a lot of places in Bali where you can eat nyat nyat finely. But, these are the most popular nyat nyat in Bali that you should try in the first place. So, here are the lists.
1. Mujair Nyat Nyat Pung Green Sempidi
The first famous nyat nyat restaurant in Bali that you can count on is in Mujair Nyat Nyat Pung Green Sempidi. You will have the tilapia fish with the delicious seasoning on top of it. There are also some other dishes along with the nyat nyat package such as the sautéed kale, sambal matah, and also rice.
Address: Jalan Raya Sempidi No.26, Banjar Uma Gunung, Kwanji, Sempidi, Badung, Kabupaten Badung, Bali 80351
Opening hours: 9 AM – 9 PM
Contact: +62 823 3953 0579
2. Warung Danau Batur Mujair Nyat Nyat Tabanan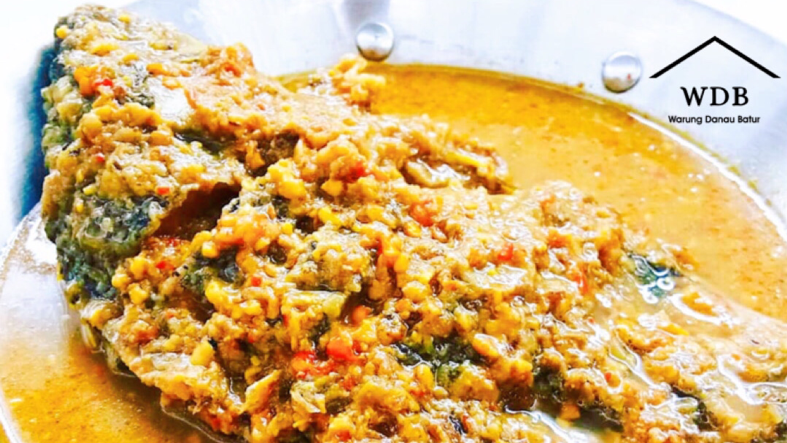 The second stop that you shouldn't miss when you want to try nyat nyat in Bali is in the Warung Danau Batur Tabanan. You can try the tilapia fish or parrotfish to be your main dish. The fish that they serve are always the freshest one especially because they made the dishes just right away to order the menus. You can have a delicious nyat nyat while having a view of a beautiful Lake Batur. Sounds intriguing, right?
Address: Jl. Yos. Sudarso No.12B, Dajan Peken, Kec. Tabanan, Kabupaten Tabanan, Bali 82114
Opening hours: 11 AM – 9.30 PM
Contact: +62 361 7992836
3. Warung Kintamani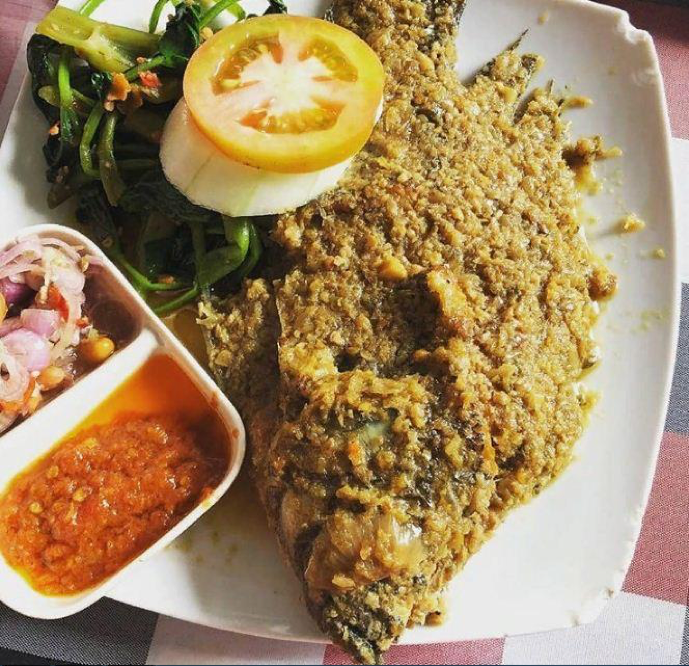 Another stall that you should visit is in Warung Kintamani, which is located in Ubud. It is easy to find, so you won't find any problem when you get here. The fish here is having a slight smell because they serve the freshest fish for the customers. You will never regret it when you try the tilapia fish from Warung Kintamani.
Address: Jl. Raya Kengetan No.68, Singapadu Kaler, Kec. Sukawati, Kabupaten Gianyar, Bali 80571
Opening hours: 10 AM – 9 PM
Contact: +62 812 3614 6629
4. RM Pak Bagong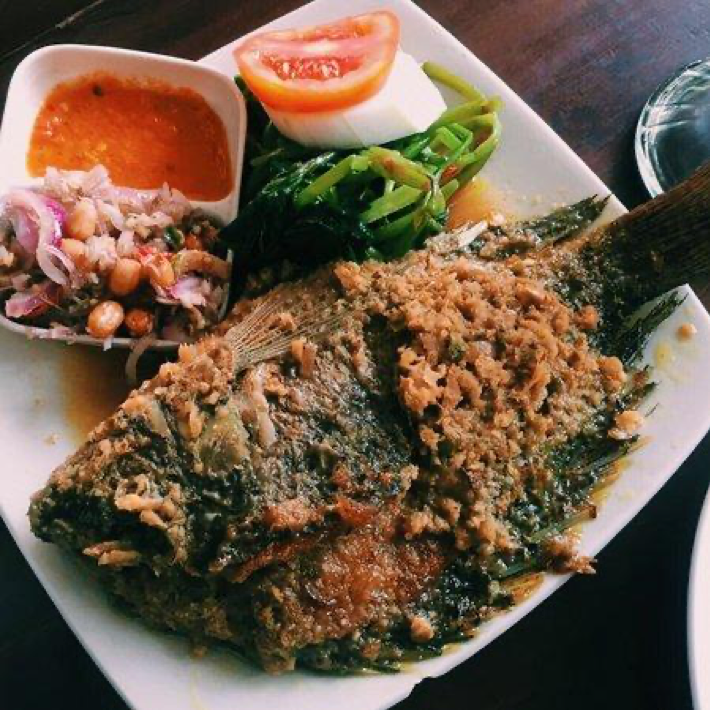 And last but not least, Bali's RM Pak Bagong is also famous for locals and tourists for its nyat nyat. The tilapia and parrotfish that you will try here come right from Kintamani or Lake Batur to make sure that the fishes are healthy and fresh. In a day, RM Pak Bagong could spend around 100 kilograms of parrotfish and tilapia fish for the customers. One thing that you will never forget here is the seasoning of nyat nyat itself. You will taste the rich herbs and spices with a good smell that will never make you stop eating.
Address: LC Subak Aya, Bebalang, Kec. Bangli, Kabupaten Bangli, Bali 80614
Opening hours: 7 AM – 7 PM
Contact: +62 813 3715 4900
Nyat Nyat Recipe
If you want to try to cook nyat nyat by yourself, then it's a great idea to do! Here is the easiest recipe to make nyat nyat and hope you could make one by following these steps.
Ingredients:
1 tilapia fish
1 piece of limes
2 pieces of bay leaves
3 sticks of lemongrass and chopped it
Seasoning:
4 cloves of garlic
2 cloves of onion
5 cm of ginger
3 cm of galangal
1 piece of turmeric
2 pieces of kencur
1 spoon of coriander
A piece of candlenut
1 spoon of baked shrimp paste
10 pieces of orange chili
Steps:
Clean the tilapia fish, remove or throw away the fish gills, fish scales, and fish guts. Wash it with clean water and grease it with salt and lime for 15 minutes.
If it's done, put the fish in the pan, fry it until it is cooked well, and put it on the plate
Stir-fry the seasoning with cooking oil and add the bay leaves to make the smell is good
Put or add the slices of lemongrass and stir it for a moment
Add a little bit of water, salt, sugar, and put the tilapia fish in the pan
Wait for a moment until the fish and spices are cooked well, and you can serve it on a plate
So, that's all the things that you should know about nyat nyat. After you know all of those things, are you interesting enough to try them? Or have you ever tried before? You will never forget the rich taste of Bali's herbs and spices in nyat nyat.
Want to explore more rental options in Bali before the next trip there? Flokq has several listings for a more affordable option from their offers. Head up to Flokq to find out more!
CLICK HERE TO EXPLORE RENTAL OPTIONS IN BALI