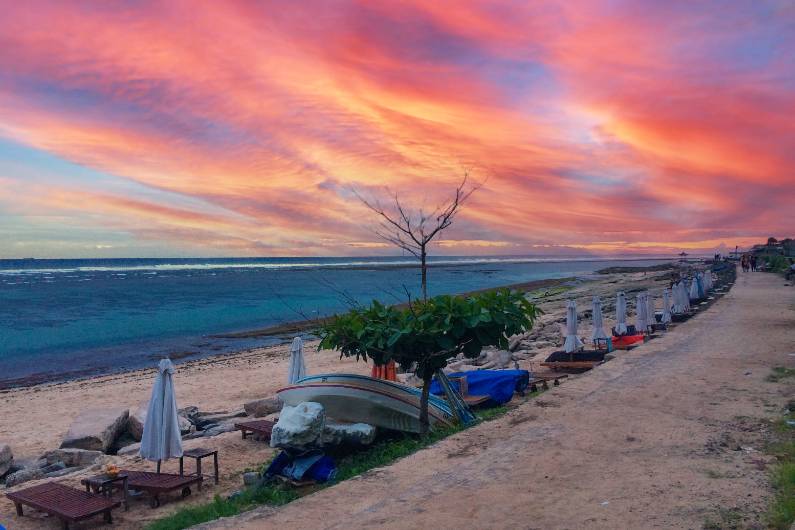 Bali
|
Local Guide
A Local Guide: 10 Interesting Things You Can Do at Bali's Pandawa Beach
Who does not know this one beach? Yes, Pandawa Beach is quite famous and visited by tourists in Bali. Bali is an island that has a variety of beautiful and charming beaches. The charm of the beach and nature here is the main factor that the Island of the Gods is constantly visited by tourists from within and outside the country.
Even so, the number of beaches often makes tourists confused about which one to visit first. But, you don't need to be confused. Flokq can convince you to put this beach at the top of the list of beaches that you must visit in Bali.
People also read: 7 Affordable Coliving Bali Spaces in Badung Regency
History of Pandawa Beach
The process of opening Pandawa Beach began in 2010 ago. People also call this beach a "secret beach". The problem is that this beach is covered by limestone mountains. Because it was considered quite potential, the local government then built an access road by splitting the limestone mountains.
Previously, this beach was called Melasti Beach, taken from the name of the epic story Maha Barata. The Pandavas consisting of Yudhisthira, Bima, Arjuna, and the twins Nakula and Sahadeva were trapped in the Gala-Gala Cave. They save themselves by making tunnels. After successfully saving themselves, they turned the haunted wilderness into the kingdom of Amertha.
On December 27, 2012, Melasti Beach was officially renamed Pandawa Beach. In addition, on that date, the beach is also opened to the general public.
Location of Pandawa Beach
The location of this beach is located in Kutuh Village, South Kuta, Badung Regency, Bali Province. To get to this beach, tourists can use various paths.
For tourists who come from Ngurah Rai Airport, can use the route via Jl. By Pass Ngurangi Rai to Jl. Raya Udayana University Campus. Then pass Jl. Goa Gong to Jl. Dharma Wangsa arrived at Jl. Pandawa Beach. This route is quite an adrenaline test because the road surface that has steep inclines and bends.
The distance from Ngurah Rai Airport is approximately one hour drive and there is still a distance of about 1.5 km from the main road. For those who do live or stay in villas around South Kuta, you can walk to reach this beach.
Pandawa Beach Entrance Ticket Prices
This natural tourist spot has several ticket price groups. For individual tickets for domestic tourists, IDR 8,000, – and for foreign tourists, IDR 15,000. If you bring a vehicle, you will be charged a motorbike rate of IDR 2,000,-; car IDR 5,000, -; and buses IDR 10,000, -.
Do These 10 Things at Pandawa Beach
The sloping coastline, wide shoreline, and well-maintained beach cleanliness are the main attractions of this beach. Another advantage that you can find here is the calm waves, making it suitable as a family tourist destination.
For that, Flokq has summarized 10 things you can do while traveling to Pandawa Beach Bali. Who knows, the information below can help you add to your wishlist of activities here!
1. Feel the fresh seawater by swimming
The seawater is clear, the white sand is clean, and the waves are calm. The three descriptions are sufficient to explain that Pandawa Beach is safe for swimming activities by the sea. Interestingly, this beach is relatively quiet and not many visitors, so you can swim as much as you want.
2. Visiting five statues of Pandawa Knights
Not far from Pandawa Beach, there is a statue of Dewi Kunti who is the mother of the five Pandawa Knights. All the statues were built as high as 5 meters and facing the beach. You can take pictures or selfies with the background of the Pandawa Knight statues such as Arjuna, Bima, Yudhisthira, Nakula, and Sadewa.
The five statues of the Pandava Knights are believed to be "guardians" of the coast who will protect the surrounding area from disaster. The Balinese sculptors are the ones who were carving the statues.
3. Surfing
Pandawa Beach has waves that are ideal for surfing activities. High and consistent wave rolls are a favorite of foreign surfers. Moreover, the condition of the beach that is not too crowded allows surfers to conquer the waves more freely.
Even so, the condition of the waves is always different every time. This beach will be crowded with professional surfers during the rainy season, which is around October to April. The surfers are always using the best times to conquer big waves. But for beginners, try to come between March to November. In these months, wave conditions tend to be lower than during the rainy season.
4. Playing canoe
Furthermore, Pandawa Beach also provides canoeing water tours. The rental rates are quite affordable. For a canoe with a capacity of 1 person, the rate is IDR 25,000 per hour. While a canoe with a capacity of 2 people can be rented at a rate of IDR 50,000 per hour.
You can surround the beach while seeing the beauty of the sea and the splendor of the limestone cliffs. Don't be afraid to drown because you have to wear a life jacket. So, make sure to wear a life jacket so that canoeing activities are safer.
5. Paragliding at Timbis Hill
Want to see the beauty of Pandawa Beach from above? If you have enough guts, try paragliding at Bukit Timbis. There are many paragliding equipment rental services to be able to enjoy this exciting activity. Prices start from Rp. 400,000, -. However, the price provided depends on the type of package you take.
If you are interested in trying it, the best time to fly is in the afternoon to the late afternoon if the weather is favorable. Plus, you can also watch the sunset in the afternoon.
6. Sunbathing and relaxing on the beach
On the right side of the beach, there are many chair rental services complete with wide umbrellas. The rental price is set at IDR 50,000 per hour. It is a perfect place to take shelter while enjoying the beauty of the beach and the excitement of visitors playing in the water.
7. Observing seaweed cultivation
This one activity can also make you entertained. Here, you can see firsthand the activities of the farmers at work, from tying seeds, planting, to drying seaweed. In fact, you can also participate in cultivating seaweed. Of course, you can make this activity an exciting alternative while on Pandawa Beach.
8. Reflexology traditional
While enjoying the surrounding scenery, you can try the services of a masseur that many local residents offer. The price starts from Rp. 40,000, – to Rp. 130,000, -. It depends on the type of service you choose. In addition, there are also other massage services, such as Balinese massage, Pandawa massage, foot reflexology, and manicures and pedicures.
9. Buying cute knick-knacks
For those who like shopping, in this tourist area, there are also several shops selling clothes, arts crafts, fabrics, and unique Balinese handicrafts. You can get cheap prices that are not much different from those sold in special souvenir markets.
The price is relatively affordable. In fact, you can get cheap prices if you are good at bargaining when shopping at shops around Pandawa Beach.
10. Enjoying the beauty of the beach while eating delicious food
After swimming or activities around Pandawa Beach, visitors can rest on a chaise longue under an umbrella with a rental fee of IDR 50,000 per hour. Plus, don't forget to drink coconut water to make you feel fresh. If you feel hungry, you can order various types of Balinese, Indonesian and western food.
People also read: Here Are 9 Best Area to Work From Bali: Everyday Feels Like Sunday!
Well, that's some information we can convey about Pandawa Beach. Hopefully, the information above can help you! One more thing, if you want to book an apartment in Bali, you can book it with Flokq.
CLICK HERE TO RENT AN APARTMENT