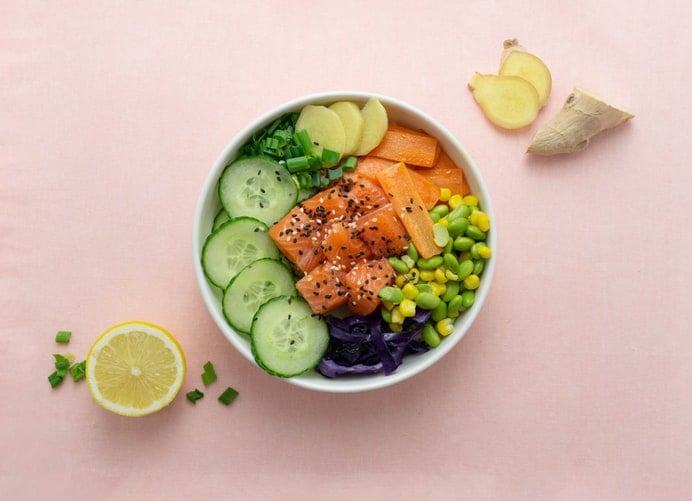 Originating from Hawaii, the poke bowl dish is popular because of its fresh taste. In the original language, "poke" means cut into squares. Raw fish pieces such as square sashimi combine with other healthy ingredients into a bowl of delicious dishes. Especially in Bali, fresh seafood would make a delicious poke bowl!
Here are some recommendations for places where you can get a tasty poke bowl in Bali!
1. Nüde Canggu
Combining the concept of healthy food with 'naughty' food, Nude offers a variety of healthy and delicious dishes. One of the favourite choices at Nude is the poke bowl, available every day starting from 12 noon.
At IDR 75,000, each bowl is served with sashimi-grade tuna, quinoa, edamame, avocado, cucumber, radish, wasabi mayo, and the dressing made from ponzu and sesame. If you still have room for more, you can add chicken or mahi-mahi fish for IDR 20,000.
Location: Jalan Pantai Berawa 33, Tibubeneng, North Kuta, Badung Regency
2. Fishbone Local
Fish that is served immediately after receiving it from fishermen ensures the freshness of the dish at Fishbone Local. The sustainable concept is indeed the pride of this restaurant.
They also work with the Bali Sustainable Seafood movement to ensure the welfare of the local fishing community and protect the marine ecosystem. Of the many fish-based menu choices at Fishbone Local, the tuna poke bowl is one of the favorite dishes, topped wakame, avocado, edamame, and sushi rice.
Location: Jalan Pantai Batu Bolong 99, Canggu, North Kuta, Badung Regency
3. Moana Fish Eatery
From the name alone, it is predictable that Moana Fish Eatery offers an all-fish menu suitable for pescatarians. As a Polynesian-style cafe, this place that is always full of lines doesn't forget to offer Hawaiian poke bowls.
Try the Maui poke served with chunks of raw tuna, avocado, edamame, cucumber, and lettuce, as well as a dressing made from sesame seeds, green onions, and ginger. If you want to try something different, choose Maui Poke with black sauce from soy sauce that is unique but addicting!
Location: Jalan Pantai Batu Bolong 28, Canggu, Kec. North Kuta, Badung Regency
4. Bali Bowls and Smoothies
Next on the list is Bali Bowls and Smoothies, which serve various types of healthy bowls ranging from smoothie bowls, breakfast bowls and poke bowls. With price starts at IDR 85,000 per portion, the poke bowl dish in this place is divided into three types. Namely sea-sa-me tuna with sesame soy dressing and tuna ponzu with ponzu dressing which both use tuna as the main ingredient, and poke mahi which using mahi-mahi fish as the main ingredient.
Available starting from 12 noon every day, this menu offers a choice of base green salad, organic brown rice, rainbow couscous, or quinoa and sweet potato.
Location: Jalan Segara Perancak, Tibubeneng, North Kuta, Badung Regency
5. Poke Poke
Even though it is small, the tropical atmosphere is immediately felt when you set foot on Poke Poke. In addition to walls with coconut trees, this outlet that specializes in poke bowls has a unique wooden swing hanging in the middle of the restaurant, which is sure to be a favourite photo spot complete with photo props such as colourful ukuleles, grass skirts, and flower garlands.
You can choose the contents of the poke bowl yourself from the glass window, but there are also several options for ahi poke (tuna) and vegetarian poke from the menu. For small sizes, a portion of a poke bowl is set at IDR 65,000, while for a large size, a portion is priced at IDR 90,000 with special additions for some special toppings. Want something unique? Try poke wrap and poke doughnuts creations!
Location: Jalan Pantai Batu Bolong 58, Canggu, North Kuta, Badung Regency
---
Also read: Check Out These 20 Japanese Restaurants in Bali, Guaranteed Delicious!
---
6. UNIBOWL
Sitting half-way between Canggu and Seminyak, the poke at UNIBOWL is worth heading slightly out of town for. Using unique and contemporary ingredients to create the perfect poke recipes (from sashimi and meat to vegetables and grains) each bowl is well-balanced and undeniably delicious.
Try the Salmon Bowl with flamed-torched Aburi fillet, or the more traditional Ahi Poke with sashimi tuna, nori, avocado, sesame seeds and wasabi-ginger soy. There are even vegan and vegetarian options here (we LOVE the Tempeh Bowl!) or if you really want to think outside the poke box, then you can build-your-own-bowls too, with umami-loaded Japanese toppings like onsen eggs, furikake, miso eggplant and all the spicy ponzu.
Location: Jalan Batu Belig 17, Kerobokan Kelod, Kuta Utara, Badung Regency
7. Matcha Cafe Bali
Welcome to the first dedicated matcha café in Bali! This cosy little neighbourhood café serves up (no points for guessing) a menu of matcha-infused goodness, alongside some matcha-less treats too.
Sitting pretty on the sensational menu is their own take on the classic Poke Bowl, served with Balinese-style sambal matah, or the classic wasabi mayo dressing. Whichever you choose, you'll love it so matcha!
Location: Jalan Pantai Berawa 99, Tibubeneng, North Kuta, Badung Regency
8. Sea Circus Restaurant & Bar
Roll up, roll up, to our favourite little Seminyak cafe, cocktail & coffee den. There's a whole circus of delish dishes on the menu of Sea Circus Restaurant & Bar, but one of the total standouts is Sea Circus' Summer Poke Bowl.
It's a heady, gluten-free mix of sashimi-grade tuna marinated in a citrus ponzu dressing, served with quinoa, edamame, avocado, radish & wasabi mayo. For the vegetarians out there, switch up the tuna for marinated tofu and you're all set for a vegan feast of epic proportions.
Location: Jalan Kayu Aya 22, Seminyak, North Kuta, Badung Regency
9. Seasalt Seminyak
Turn up the Poke swank at Seasalt Seminyak – the super-chic beachfront restaurant at Alila Seminyak. Inspired by the sea, you can expect a whole host of fruits de mer here, including a scrummy selection of bowls.
The Red Rice, Pork or butter-soft Gindara are all super tempting, but for the purists, their Skipjack "Tuna" bowl is simply divine with avocado, kyuri, and chirashi rice.
Location: Jalan Taman Ganesha, Jalan Petitenget 9, Seminyak, North Kuta, Badung Regency
10. Drifter Cafe & Restaurant
Head to the back of a vintage surf shop and you'll find a peaceful garden café area with excellent coffee and healthy dishes. One of the menu highlights is of course the Tuna Poke Bowl – a reinvention of the classic done right.
They serve each bowl with Mother Nature's finest creations (mango, edamame, and sesame-marinated local yellowfin) on a mixed bed of brown rice, red barley, mung bean, and red millet. Not to mention Aloha vibes all around. Right on!
Location: Jalan Labuansait 52, Pecatu, South Kuta, Badung Regency
---
Those are all the 10 restaurants in Bali that served poke bowls that we recommend for you. If you happen to crave for poke bowl while you're in Bali, make sure you visit one of those restaurants! See you in Bali, Flokqers!
---
Want to find a coliving option for your stay in Bali? Flokq has several well-facilitated homes in Bali at an affordable price! Click the button below to find out more.
Check Out Other Flokq's Units in Bali