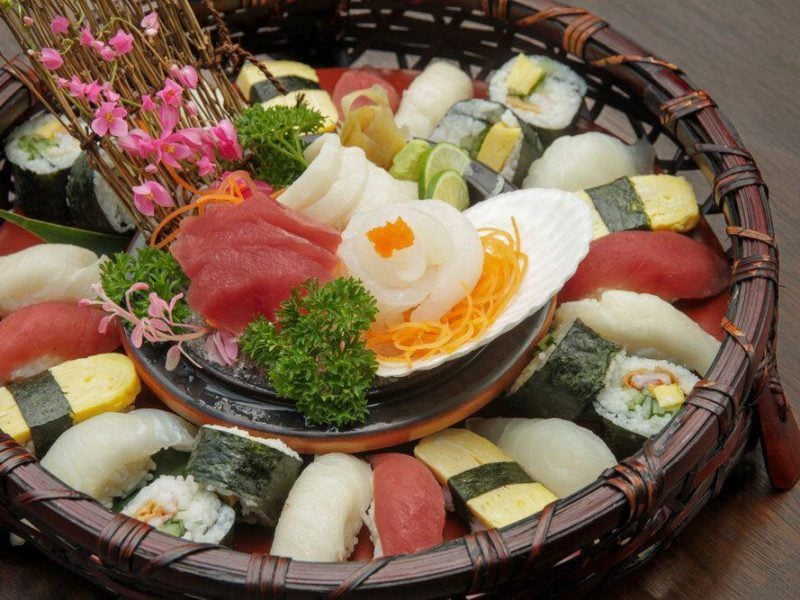 Bali
|
Local Guide
7 Recommendations for a Japanese Restaurant in Seminyak for Food Lovers
Ah, who doesn't love a good Japanese cuisine? In recent years, Japanese cuisine has dominated the world, including Indonesia. Many food lovers are die-hard fans of their rice and noodle-based dishes. Plus, it's easy to share and it's mostly fried or grilled, making it more popular amongst youngsters. In Bali, you will have no difficulty in finding a good Japanese restaurant. As an island with many beaches and wide seas, expect to eat the freshest, most delicious fish-based Japanese cuisine. If you're in Seminyak, one of the most sought-after areas in Bali, and you're looking for a great sushi or ramen place, you're in luck. Flokq has 7 recommendations for Japanese restaurant in Seminyak, just for you!
Also read: Check Out These 20 Japanese Restaurants in Bali, Guaranteed Delicious!
1. Dahana Restaurant
If you're looking for a Japanese restaurant in Seminyak with a romantic atmosphere, great service, and delicious food, look no further. Dahana Restaurant is a Japanese style restaurant and gallery set in an old villa. Adding to its romantic atmosphere, there's a pool in the centre of the restaurant, making Dahana Restaurant all the more beautiful. For their menu, they have a variety of Japanese cuisine to satisfy your tastebuds. From gyoza and sushi rolls to delicious cocktails, food lovers won't be disappointed by the selection or the taste of their food and beverages! Psst, we recommend you to snag outdoor seating if you can with your date to enjoy its ambience. Don't forget to order their teppanyaki and sushi, too!
Address: Jl. Petitenget 98 in the corner of the street of Villa Lumbung, Seminyak 80361 Indonesia
Contact: +62 813-3918-1295
Operating hour: 12.00-21.00 WIB
Price range: Rp100.000-200.000
2. Shiro Sushi Bar
This Japanese restaurant in Seminyak is perfect for those who are looking for a peaceful space to enjoy sushi and sake. Shiro Sushi Bar is located in Jalan Pangkung Sari and it is limited to only 20 seats. Their interior utilizes wooden furniture and accents to create a unique ambience. You don't even need to question the taste or quality of their food. Said to combine the essence of Japanese flavours and the seasonal ingredients of Bali, this Japanese bar has customers leaving raving reviews for them. Hence, you can expect the freshest sashimi and the most delicious sake once they open again!
Address: Jalan Pangkung Sari 3, Seminyak 80361 Indonesia
Contact: +62 822-1081-1100
Operating hour: 12.00-21.00 WIB
Price range: Rp400.000
3. Sushimi Bali
Wow, a Japanese restaurant in Seminyak that provides a unique experience for their customers! This restaurant specializes in sushi, sashimi, and poke bowls. The best part? They even deliver their sushi to their customers via sushi trains. Hence why it's a popular spot amongst youngsters who are passionate about Japanese cuisine. In a cozy and interactive space, They have a wide variety of selections in their menu. Other than their specialization, they also offer donbury, tonkatsu, gyoza, and many more! Gluten-free, vegetarian, or vegan? No worries; they've got options for everybody! For diet-conscious people, this Japanese restaurant in Seminyak even lets you choose between white or brown rice for their sushi!
Address: Jl. Camplung Tanduk No. 4X, Seminyak 80361 Indonesia
Contact: +62 858-5819-0308
Operating hour: 11.00-23.00 WIB
Price range: Rp50.000-150.000
4. Ryoshi House of Jazz
A fan of jazz, nightlife, and sushi? Flokq has you covered. According to The Bali Bible, Ryoshi House of Jazz is a Japanese restaurant in Seminyak, and they host both local and overseas Jazz musicians. They have a live Jazz music every Monday, Wednesday, and Friday, and have been standing strong for 20 years! Aside from exceptional live music, you can expect top-notch, authentic Japanese cuisine, too! From sushi, sashimi, soba, udon, to yakimono, they've got it all! Their sushi sets come with unique names (Kelapa, Pisang, Salak), and they look positively delectable! Come have a visit on a Friday night with your friends! You surely won't regret it.
Address: Jl. Seminyak 17, Seminyak 80361 Indonesia
Contact: +62-361-731152
Operating hour: 12.00-00.00 WIB
Price range: Rp300.000
5. Ling Ling's Bali
Are you in the search for a cute, quirky Japanese restaurant in Seminyak for you and your friends? Come to Ling Ling's Bali this weekend! At Ling Ling's Bali, they offer contemporary Asian fusion cuisine. They base their core ideals on Japanese and Korean styles, so it's perfect if you're both a fan of Japanese and Korean cuisine! They have an endless supply of Asian tapas and the most delectable drinks for customers' satisfaction. Ling Ling's Bali has become a hit for both locals and tourists in Seminyak, standing out for their quirky Harajuku vibes! Craving sushi plates and cocktails? Come have a visit to Ling Ling's!
Address: Jl. Petitenget no. 43B, Seminyak 80361 Indonesia
Contact: +62 819-1641-7867
Operating hour: 11.00-24.00 WIB
Price range: Rp150.000-300.000
6. NOAA Social Dining
This ones for the social butterflies looking for a chic dining experience in the heart of Seminyak! NOAA Social Dining is one of our recommendations for a Japanese restaurant in Seminyak both for their ambience and their food. They offer a unique culinary experience, offering their customers contemporary comfort European and Asian, particularly Japanese, cuisine, made with their signature style. Many locals and tourists love NOAA Social Dining for their sushi and seafood, plus, their thoughtfully curated beverages list. With their sophisticated interior design which heavily features see-through glass and ceramic tiles and elegant lamps, you will surely enjoy a night out with friends at NOAA Social Dining! Psst, it's Insta-worthy, too!
Address: Jl. Petitenget no. 2000 X, Kerobokan Kelod 80361 Indonesia
Contact: +62-361-9343112
Operating hour: 17.00-23.30 WIB
Price range: Rp100.000-250.000
7. Rayjin Teppanyaki
Calling all teppanyaki lovers! Last but not least on our recommendation for a Japanese restaurant in Seminyak is Rayjin Teppanyaki. This modern contemporary Japanese restaurant has been established since 2013, serving delicious fusion Japanese Teppanyaki, adjusted to both Western and local taste. You won't need to worry about the quality of their teppanyaki, as they only use the freshest, high-quality ingredients. For drink enthusiasts, they also provide a wide option of drinks with a Japanese twist, from cocktails, fresh juice, to premium wine and sake. Perfect to pair with your teppanyaki! Enjoy a lunch or dinner at this fancy, yet still affordable restaurant! You can even take a peek at the chefs as they prepare your meal; they have an open-kitchen concept!
Address: Jalan Petitenget No.98X, Seminyak, Bali 80361
Contact: +62 813-3918-1295
Operating hour: 12.30-21.00 WIB
Price range: Rp100.000-250.000