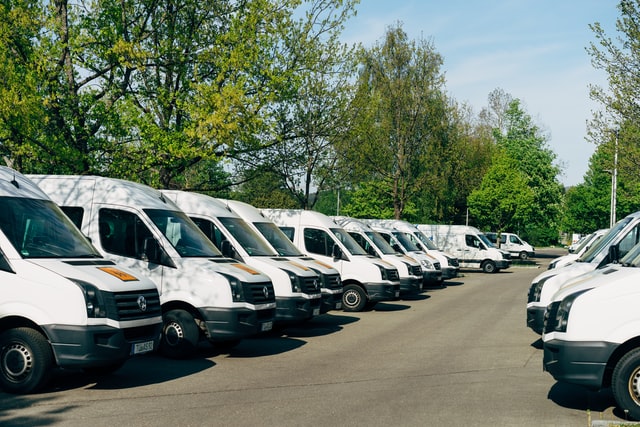 Bali
Recommended Places to Rent a Minibus in Bali For Your Bali Vacation
Bali is bigger than you think. If you are currently staying in Ubud and wanting to go to Kuta, walking is certainly not an option. Furthermore, There are some beautiful and fascinating areas beyond Ubud and Canggu that are worth the trip. Take West Bali with its National Park, North Bali with Lovina Beach, or East Bali with CandiDasa. So, how about renting a ride? Bali offers all kinds of services to expats and tourists alike. You can either rent a motorcycle to go to other nearby areas to Bali or you can rent a minibus to go with your gang to all sorts of places in Bali.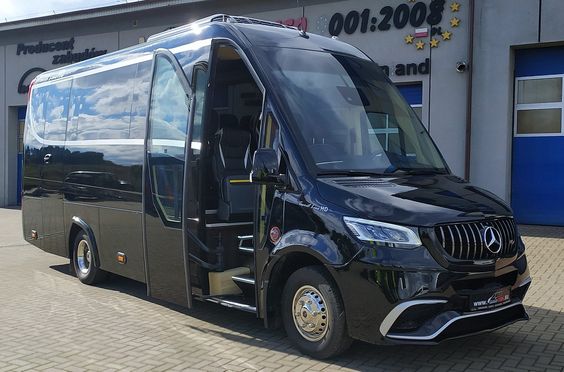 One problem that you need to concern yourself about though, is whether you have a driver's license or not. We recommend against renting bikes and cars without driving licenses, as it is very risky and dangerous when you're face to face with the police. So, if driving is out of the option what should you do? Don't worry, there are plenty of driving services in Bali for your leisure. They mainly do business with cars and minibuses. If you want to know more about how you can rent my own Minibus, then you have come to the right place. Here is a guide to renting a minibus in Bali.
Read also: Rent a Bike in Bali: A Complete Guide
What do you need to know before renting a minibus in Bali?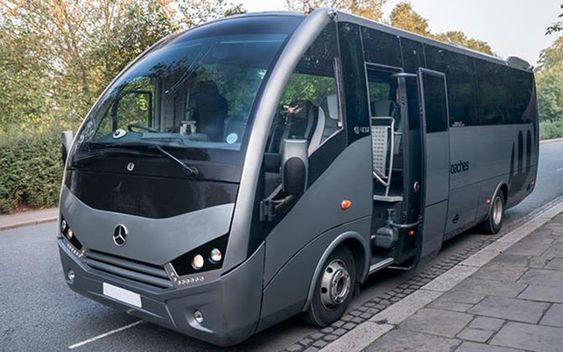 Alright, so let's get started with the deets. What do you need to know before renting a minibus in Bali? Well, firstly let's see what you can do with minibus services in Bali. You can arrange a family or group tour, provide transportation with events like marriages, meetings or outings for example, Or as a form of airport shuttle.
After you know what they offer, let's also see the price. The lowest price that you usually can get is around 700k IDR. The value of this price also hinges on the duration of your rental. Most services usually offer 5 hours or 10 hours charter. Meanwhile, the ceiling price can go up to 1300k IDR for 5 or 10 hours depending on the company that the services use. By paying that amount, you should also expect other things such as a personal driver and gas money.
Keep in mind that often companies that provide minibusses do not include other payments such as tour guides, tips for drivers, tolls, parking, and meals and services. Granted, some of these are more optional than others, but it's best to know what you're going into and inquire about these things (particularly tolls and parking). Also, it's important to note whether there are extension options available. Some companies can extend your rental time by an hour for a meager price of 90k IDR.
Other than minibuses, you could also look at other options such as MPVs (Multi-Purpose Vehicles) or Microbuses for your leisure. Microbuses are smaller than your average minibus with around 9-10 seats available. MPVs are much smaller, and they usually fit up to 8 people at best. Renting a microbus or an MPV instead might save you money compared to a normal minibus.
Minibus Brands
While there are many automobile brands that offer minibus, microbus, or MPVs, there are common types/brands of vehicles that many of Bali's services use. Here are some examples:
1. Toyota Hiace (Commuter and Standard Variant)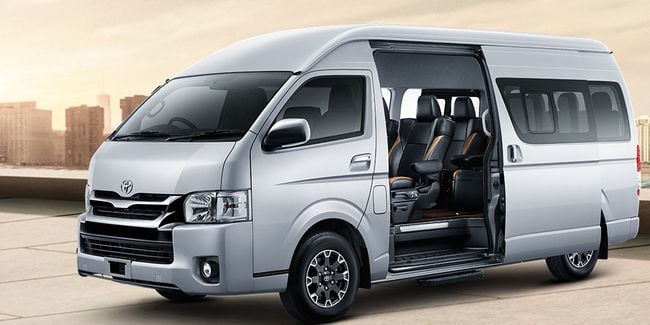 Toyota Hiace's facilities Include front and back Air Conditioning, adjustable seats, sliding doors, power outlets for charging phones, USB plug, and radio AM/FM among others. Toyota Hiace has five generations of cars, and the ones that the rental companies often use are either the fourth-generation H100 (produced from 1989-2004) and the newest fifth-generation H200 (2004-now). The commuter version of this vehicle can usually fit up to 13-15 passengers, while the standard one can only fit about 12-13 people. One important thing to note is that the commuter version has headrests for your comfort in all seats, while standard seats do not have headrests. Just a little tidbit that might make you think twice.
2. Kia Pregio
This minibus is most likely the ones that you will often meet with tours and travel groups. Although it's been mass-produced since 2008, its convenience and comfort is a selling point for many travel and rental services. While it doesn't boast much in terms of entertainment options, it is very comfortable. Its seats can be adjusted to small beds for 3 or 4 people. If not, then their leg space is quite nice for you to get a good sleep while going around. It also features sliding doors and double blower AC for your comfort. This vehicle can usually fit up to 8-10 passengers.
3. Isuzu Elf
Another common type of bus that you can find with travel groups, Isuzu Elf has larger entertainment options with DVD, Aux, CD, MP3 among other features. They are also somewhat similar when it comes to comfort options with reclining seats being available. There are two versions of Elf, which are the 12-seaters and the 16-seaters. Commonly, you will only get to have the 12 seaters, though.
Lastly, you might want to check for extra services depending on the rental companies. Some companies offer other beneficial things, such as tours or meals. If you're on holiday, you can pay more to reduce the hassle of finding food or figuring out where to go exactly. Some of these tours even offer to go to less explored areas such as North, West, or East Bali. Albeit, you might have to consider hikes in price due to the place being farther. Also, be sure to know exactly when and where you will need the minibus to arrive so that you won't spoil a day with a late ride!
Read also: The 10 Best and Trusted Driver in Bali
Some places or renters you can check out for references
So after knowing things that you need to understand before renting a minibus, here are some minibus rental services that you can check out. They are both online and offline, so you can either look them up on their website or maybe come to their office for an on-the-spot rental:
1. Bali Bus Rental
Their office is located at Jl. Raya Beringkit Jl. Raya Denpasar – Gilimanuk, Belang, Sembung, Kec. Mengwi, Kabupaten Badung, Bali 80351. It opens from 8 am-7 pm every day, except for special holidays. Alternatively, you could also try and visit their website balibusrental.com for information and reservation. There, you can find all sorts of useful tidbits. from the kinds of transportation they offer, information about Bali in general, and different tours and adventure packages just for you. Notable ones include tours to Kintamani, Bedugul, Uluwatu, and Mengwi and adventure activities such as rafting, fishing, and sunrise trekking.  
2. Tara Bali
Tara Bali's office is located at Jl. Glogor Carik Gg. Ganesha No.11, Pemogan, Kec. Denpasar Sel., Kota Denpasar, Bali 80119. They are open 24/7 Every day except for special holidays. You could visit their website tarabali.com for more information or reservations. They also rent a large variety of cars, from compact ones to ones that are designed for a family. A great place to find a variety of options. 
3. Minibus Bali  
They are located in Bali's administrative city. Their exact address is Jl. Glogor Indah Indah IB, Gg. Arjuna No.12, Pemogan, Kec. Denpasar Sel., Kota Denpasar, Bali 80221. They are open 24/7 every day except for special holidays. They also offer a large range of both cars, minibusses, and microbuses for you to select from. One notable thing about their minibus rental service is that they offer a competitive price with longer periods of rental. Most of their minibusses have a rental fee of 12 hours. Perfect for a large excursion day trip! 
4. Bali bus hire/Leko Trans
Bali Bus Hire is under Leko Trans and is located at Br. Belang, Jl. Sahadewa I, Sembung, Kec. Mengwi, Kabupaten Badung, Bali 80351. Visit their website, aptly named balibushire.com for more information surrounding their services. They Offer quite affordable services with prices being provided in both USD and Rupiah for your convenience. They also offer tour packages to North, South, Central, and West Bali, with some of the places including Kintamani, Lovina, and Garuda Wisnu Kencana National Park.
5. Bali Charter Bus 
Bali Charter Bus is located at  Jl. Pangkung sari, gang kubu lebak, Kerobokan Kelod – Kuta Utara Bali 80361. To make an office appointment, you need to call +62 81 933 004 774 or contact their Whatsapp +62 81 338 738 111. You could also visit their website balicharterbus.com for more information surrounding their services. They also offer very affordable tours, with one notable example being a cheap half-day tour of Bali to places like Uluwatu, Tanah Lot, and Ubud. 
There you have it! A short guide to renting a minibus in Bali. We've covered what kind of services you can have, what kind of price is to be expected, what kind of vehicles are available, and what kind of extra goods you can pay for while renting a minibus. We hope that you find this article to be useful and we wish you a fun time exploring Bali with your group or family.
---
Want to find a rental option for your vacation in Bali? Flokq has several rental options in Bali at an affordable price. Head to Flokq or click the button below to find out more.
CLICK HERE TO FIND RENTAL OPTIONS IN BALI