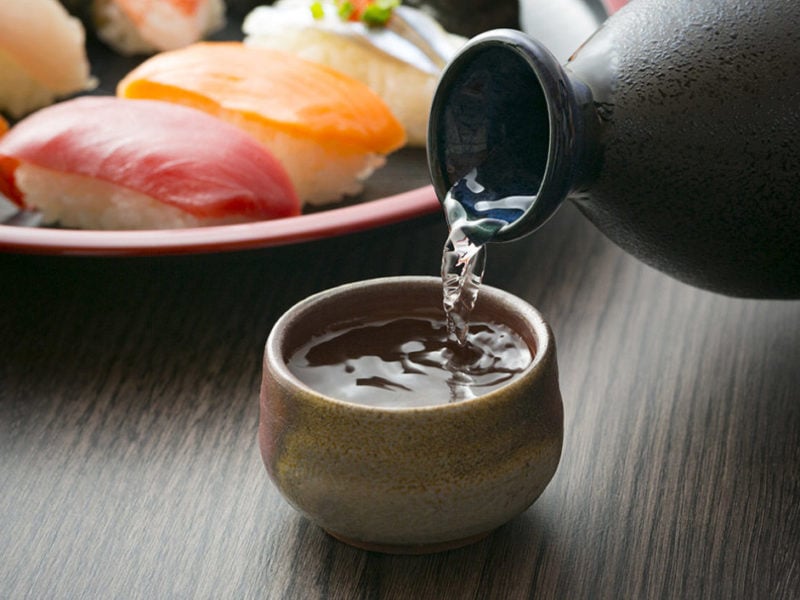 Bored with beer or high-class drinks like cocktails? Try switching to sake for a moment. Sake was originally made in China, but it was the Japanese who succeeded in popularizing it. Even today, sake is still synonymous with Japanese drinks. The good news is, there are numerous places and bars to try sake while staying for a vacation in Bali.
If you are in Bali, you can visit these Japanese restaurants & bars which provide sake to enjoy. They don't just offer sake, they also provide a comfortable place to drink it and tasty food to fill your tummy!
1. Rayjin Teppanyaki & Dining Bar
Been to Fujin Teppanyaki Jakarta? Well, Rayjin Teppanyaki & Dining Bar is said to be the originator of the birth of Fujin Teppanyaki Jakarta. There you can order sake. While the dining options are Japanese, European, and local. Teppanyaki is one of their signature dishes. Rayjin carries the Omotenashi concept. This means that you will be served with great hospitality and warmth.
Location: Jalan Petitenget Number 98x, Kerobokan, Bali.
Opening Hours: Daily, 11.30 AM – 9 PM (May change due to pandemic)
2. Take Japanese Restaurant
A place to go for authentic Japanese food and drinks, Take Japanese Restaurant is one must-visit in Bali. The sake is no exception as they are imported directly from Japan. Compared to other Japanese restaurants, the menu at this restaurant is also very complete. In Japan, people usually go to eat ramen after drinking sake together. Well, you can also follow their habits. Order ramen when you're satisfied drinking sake.
Location: Jalan Patih Jelantik, Legian, Kuta, Badung Regency, Bali.
Opening Hours: Daily, 12 PM – 8 PM (May change due to pandemic)
---
Also read: 12 Most Delicious Ramen Places in Bali to Cure Your Craving
---
3. Ji Terrace
Drinking sake with a view of the Indian Ocean and Canggu Beach is extraordinarily impressive. If it's sake and views like that you're looking for, Ji Terrace is the restaurant. Offering Japanese, Indian, Thai, as well as Indonesian menus, Ji Terrace is a great alternative to drinking sake. If you want to listen to music, you can also sit on the second or third floor.
The fusion of the ancient Japanese and Chinese cultures which are reflected not only in the ornate animal carvings of the Chinese temple's elegant dark wood façade but also in the restaurant's branding. An innovative take on Japanese calligraphy highlighting the fanciful flora, fauna, and cultural elements of the region—offers animated glimpses into the past while at the same time spearheading into the future.
Ji Terrace could transport you through time from mystical ancient Japan & The East thousands of years ago. To a different exotic era where their chefs take the best of the most traditional Japanese cooking and add just a touch of worldwide flavors.
Location: Hotel Tugu, Jalan Pantai Batu Bolong, Canggu, North Kuta, Badung, Bali.
Opening Hours: Daily, 12.30 PM – 9 PM (May change due to pandemic)
4. Sake no Hana Bali
Originating from Mayfair in London, Sake no Hana brings modern authentic Japanese dining to the cliffs of Uluwatu by boasting the majestic and uninterrupted views of the Indian Ocean. The a la carte menus provide a selection of charcoal grill, toban, and kamameshi dishes. While sushi and sashimi are ready for you to order at the sushi bar.
With an interior that is inspired by nature, Sake no Hana Bali is perched atop a limestone plateau overlooking the Indian Ocean. The Mezzanine level restaurant provides diners with panoramic ocean views through the wood-crafted open-air cage.
Whist the Grand Staircase below offers an alternative more relaxed environment under the minimalist contemporary light installation, which emanates a golden glow throughout the restaurant as the sun sets to create a truly unique dining experience.
Location: Jalan Belimbing Sari, Banjar Tambiyak Desa Pecatu, Uluwatu, South Kuta, Badung, Bali
Opening Hours: Daily, 12 PM – 11 PM (May change due to pandemic)
5. Shiro Bar
The name Shiro and its ambiance converge together with the essence of Japanese flavors and the seasonal ingredients of Bali. Shiro is known for the highest standards associated with the preparation of sushi with the freshest ingredients, and always remaining true to his roots.
Boasting interiors fully designed by famed interior architect Shigemasa Noi. This collaboration with one eleven has resulted in a wondrously intricate design of woodwork throughout creating a truly authentic design that allows the guest to feel welcome when dining amidst the warmth of natural wood.
Location: Jalan Pangkung Sari 3, Seminyak, North Kuta, Kerobokan Kelod, Badung, Bali
Opening Hours: Daily, 6 PM – 11 PM (May change due to pandemic)
---
Also read: Check Out These 20 Japanese Restaurants in Bali, Guaranteed Delicious!
---
6. One Eyed Jack
One Eyed Jack is an Izakaya and Sake Bar concept. Izakayas are small bars, typically found in Japan's urban cities, serving an eclectic mix of dishes to share. They are often small, cozy, and noisy "holes in walls" filled with good vibes. Izakayas, as a result, are popular post-work and weekend hangouts perfect for congregating with friends while enjoying an eclectic mix of shared plates over drinks.
One Eyed Jack follows the same philosophy, but with a strong focus on the food. They are a social dining concept. The chef is ex-Nobu, preparing a mix of traditional classics and modern style Japanese dishes. The bar menu includes an extensive Sake selection, Japanese inspired cocktails, Chuhais, Japanese whiskey and beer, wines, and the other usual suspects.
The menu comprises sections of Bites (as the name suggests, perfect starters to warm up the taste buds), Sashimi Plates (modern Sashimi dishes pairing fresh fish with delicate sauces and ingredients), Small Plates (cooked dishes perfect for sharing), Yakitori (traditional grilled meat and vegetable skewers), Donburis (rice bowls), also Noodles (soup and fried noodle dishes).
As one sake bar in Bali, they naturally carry a well-rounded sake offering. For the casual Sake drinker, they have a house Sake, served either chilled or warm. But if you're looking for more refined flavor profiles, they have a range of premium Sakes, including Nama, Honjozo, Sparkling, Nigori, Junmai, Junmai Ginjo, and Junmai Daiginjo types. And for those who want to end the meal on a sweet Sake note, they also offer fruit-infused Sakes.
Location: Jalan Pantai Berawa 89, Tibubeneng, North Kuta, Badung, Bali
Opening Hours: Monday 12 PM – 8 PM, Tuesday to Sunday 5 PM – 10.30 PM (May change due to pandemic)
---
When drinking sake with friends at one of these restaurants, don't forget to say 'kanpai' when toasting! Kanpai means the same as 'cheers'. Not an official rule, but often done by the Japanese. These are our picks of the top 6 sake bar in Bali. Which one do you want to go to? See you in Bali, Flokqers!
---
Want to find a coliving option for your stay in Bali? Flokq has several well-facilitated homes in Bali at an affordable price! Click the button below to find out more.
Check Out Flokq's Units in Bali