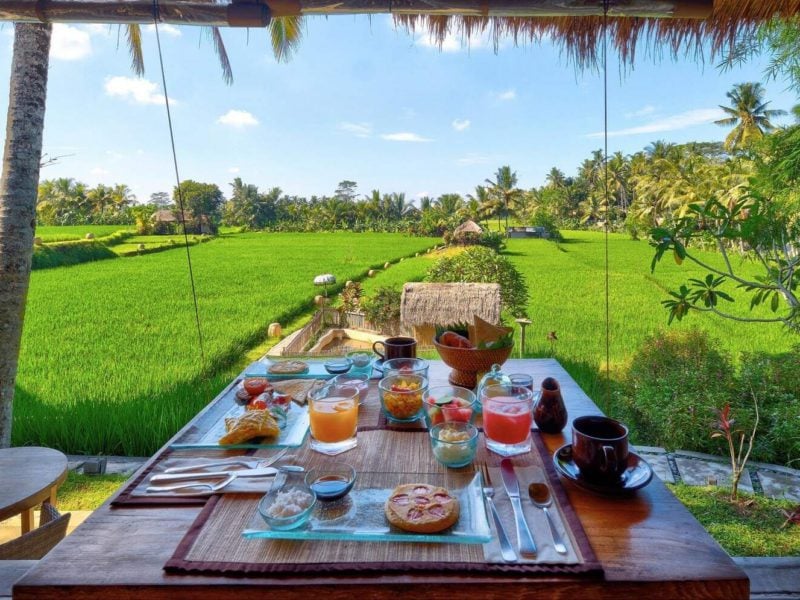 You may know Ubud as one of the centers of Balinese art and culture with its extraordinary diversity and creativity. Although many people come here to visit rice fields, art galleries, or traditional handicraft shops, Ubud also offers restaurants with delicious food and a soothing natural atmosphere.
Here are the 10 restaurants in Ubud with the best natural atmosphere that we recommend for you. Not only will your stomach be satisfied, but also your eyes!

1. Terracotta Restaurant
Take a break from the hustle and bustle of downtown Ubud into the middle of a stretch of cool rice fields at the Terracotta Restaurant.
Rice is one of Bali's top products, so it would be impressive to enjoy it in the middle of the rice fields. Look at how beautiful the rows of rice plants, both growing and yellowing, are ready to be harvested, framed by a row of coconut trees on their embankments.
This restaurant building adopts the form of a traditional open rice barn, allowing you to eat while enjoying the cool breeze and natural sounds that are so relaxing.
Imagine how wonderful it is to eat rice that comes from the stretch of rice fields around you! Of course, the taste will be much better, right?
2. Green Kubu Café
Want to enjoy the true back-to-nature atmosphere while eating a delicious lunch?
Offering green views as far as the eye can see, Green Kubu Café is guaranteed to be no less fun than La Plancha, because here you and your partner can also relax on colourful bean bags under the shade of beautiful Balinese decorative umbrellas. Romantic, right
Although the view is the main attraction, that doesn't mean the food is just that. Try their signature Nasi Goreng or Fried Noodle, it's really good! Still not full? How about you order the spicy roasted corn.
This café also has a swing that is quite thrilling (Kubu Swing), so you can take pictures between lunches and show off on Instagram.
3. The Sayan House
This beautiful place to eat directly facing the Ayung River is quite famous as a location for holding private events or receptions.
The Sayan House is the best place to be at one with nature. From the view of the forest, green rice fields and the flowing water in the Ayung River, all can be seen here.
Enjoy a romantic dinner with loved ones while watching the beautiful sunset behind the hill. Or put the lights on the tree to create a fairy tale wedding atmosphere.
Regarding the foods, The Sayan House serves a variety of contemporary menus as well as Asian dishes that are of course delicious.
4. Folk Pool and Gardens
Fun swimming in Bali doesn't always have to be on the beach, you can try swimming with a different atmosphere at the Folk Pool & Gardens.
Here, you can eat while swimming. The interior design of this tourist spot is simple but quite interesting. Around the pool, there are several beautiful gazebos with a capacity of 4 people complete with soft beds where you can relax or even eat.
If you are lazy to swim, you can also come to just stretch your legs while enjoying the scenery around the other side of Bali. Tiredness after walking around Ubud is guaranteed to disappear immediately afterwards!
5. Rondji Restaurant
What could be more romantic than a meal at a place inspired by the love story of Ubud's proud maestro?
Yes, the name of this restaurant comes from the figure of Ni Rondji, a Balinese woman who managed to captivate the reliable painter Don Antonio Blanco. It is said that in addition to being famous for her beauty, it is said that her cooking skills are increasingly making the maestro attracted.
Located in the complex of The Blanco Renaissance Museum, this beautiful restaurant with a high artistic taste not only offers a European menu with French and Italian influences, but also traditional Balinese tastes such as the delicious Rondji Duck. There is also a wide selection of tapas and cocktails if you don't want to eat heavily.
If you are satisfied with your meal, it's incomplete if you don't visit the museum area to see hundreds of collections of paintings by Don Antonio Blanco. Moreover, this museum and restaurant are often likened to symbols of two human beings who love each other.
6. Pomegranate Café
Who says we can't find peace in Bali? Just imagine the grain swaying in the fields accompanying you while enjoying a cup of coffee or tea in the afternoon. That's what you will find at Pomegranate, a café owned by Japanese brothers that has been operating since 2012.
From Pomegranate you will be able to see rice fields and fields in Ubud with a 360 ° view that stretches all the way to the Campuhan River.
If you come in the morning, you can even see the majestic Mount Agung to the north and Mount Batukaru to the northwest.
At night, you will be greeted by hundreds of fireflies and flickering lights from the distant houses of residents. Remember to bring a flashlight if you plan to come here at night, as you will be going through the small dirt road between the rice fields without any lighting.
7. Cascades Restaurant
Viceroy Bali is a luxury hotel located right on a ridge that overlooks the Maharaja valley. One of the highlights of this hotel is its excellent restaurant, Cascades.
The beautiful nature surrounding makes the dining experience at this award-winning restaurant even more memorable.
Moreover, the food served is really special, with distinctive and innovative menus with European and Asian nuances.
To be sure, eating here will be an experience in itself that you will never forget. As impressive as the view of the Petanu River which is so beautiful.
On the edge of the valley, there is also an infinity pool surrounded by the dense forest around it. As far as the eye could see, all that appeared was a soothing green color. To know more about Cascade Restaurant, you can visit their website at www.cascadesbali.com
8. Swept Away at the Samaya
Let us return to nature with a relaxing atmosphere and a soul-refreshing experience. With a gorgeous wooden deck by the river, it creates a serene atmosphere for your dinner at Swept Away.
Feel the stress that has been whacking carried away by the ripples of river water that wet your feet. The towering coconut trees and lush vegetation will make you feel like you are in a world of your own.
Swept Away comes alive at night with 100 candles lit when it gets dark. The view of the river is even more beautiful with the presence of these candles, giving a very special atmosphere.
Don't just be amazed by the comfortable-looking deck and furniture in their lounge, Swept Away also presents a variety of extraordinary menus that are ready to satisfy anyone.
Sit back and relax, let the stress go away right here at Swept Away.
9. Ke-Pi-Tu Restaurant
Indulge in a meal on the floating deck located on the sky roof of Ke-Pi-Tu restaurant.
From here, you can have a view of the surrounding dense forest. And a multilevel waterfall adds to the perfection of this spectacular tropical paradise.
Even though it is famous for its quite diverse Indonesian menu choices, other Asian and Western culinary specialties at Ke-Pi-Tu are equally appetizing. Not only that, there is also a bakery here, so you can order freshly baked bread for breakfast.
10. Bebek Bengil
This restaurant, known as Dirty Duck Diner by foreign tourists, has been around for 35 years with a mainstay menu of Bebek Betutu.
Carrying the concept of traditional Balinese garden architecture with various tropical plants and rice fields, the atmosphere of eating here is like being in the middle of a beautiful village.
Because of the delicious variety of duck preparations here, now you can find branches of this restaurant in Jakarta, Tangerang, Nusa Dua and Jimbaran.
Even so, the first Bebek Bengil in Ubud is still the most special because of its view and pleasant atmosphere.
There are bales available for those of you who want to dine in a more intimate atmosphere. While enjoying a delicious meal, you will be accompanied by the sound of a soothing fountain.
Don't worry, if you don't really like duck meat, there are also a variety of other delicious options here too – including nasi goreng!
---
Those are all 10 restaurants in Ubud that we recommend for you. If you are in Ubud, make sure you visit one of those restaurants, Flokqers! Hope this list could help you plan your Bali vacation! See you in Bali, Flokqers!
---
Want to find a coliving option for your stay in Bali? Flokq has several well-facilitated homes in Bali at an affordable price! Click the button below to find out more.
Click Here to Find Your Bali Home