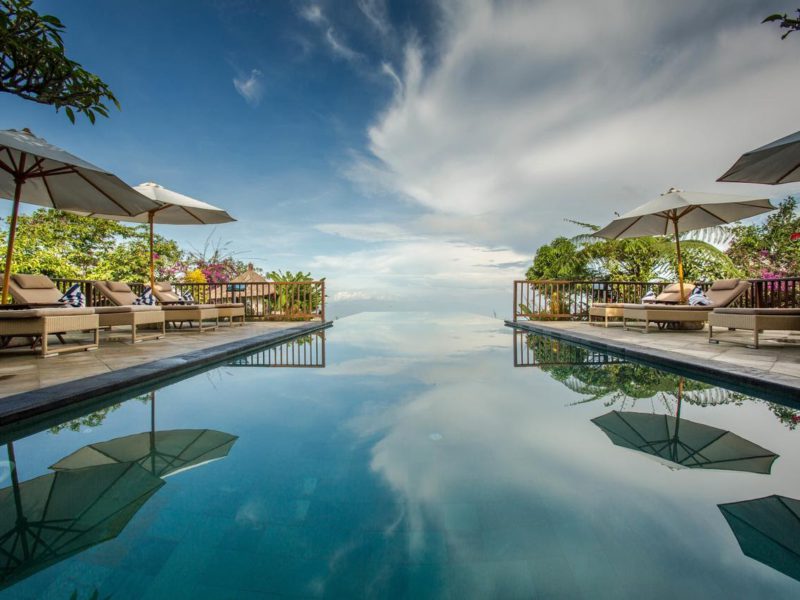 Staying in a villa in North Bali might not be people's ideal Bali vacation. Why? When you think of Bali, you'll probably think of a crowded vacation place with many clubhouses and restaurants throughout their coastlines. While that stereotype is not far from the truth, it can only be applicable to some parts of Bali. Particularly, the Near-Middle to Southern parts of the island hosts an array of wonderful entertainment options for an average tourist. Living in one of the top holiday destinations sounds lots of fun, but you can find yourself bored and tired with the hustles and bustles of Denpasar, or the rowdy clubs and restaurants located in Canggu or Kuta.

If you ever feel that way, then why not freshen up and head to the lesser-known and lesser populated part of the island? Think of it as a vacation spot from your vacation spot, as these places offer a completely different experience. The particular area that we are talking about today is North Bali, hidden behind the mountains located in the central part of the island. If you ever want to go there but are confused about where to stay, then we've got you covered. In this post, we'll be talking about villas in North Bali! Yep, exactly the accommodation you need for a private getaway with friends or loved ones. Here are Villas in North Bali for your dream getaway from the bustling south!
Read also: A Complete Guide on Vacation in North Bali
Why North Bali?
North Bali is probably the most secluded part of Bali, with its borders mainly being mountains. But that also spells privacy for you who wants seclusion from the fast-paced world. Definitively speaking, it stretches wide from Bondalem to Seririt. It is mainly bordered by Kintamani and Amed to their Southeast, Gilimanuk to their west, and Bedugul to their south.
Lovina Beach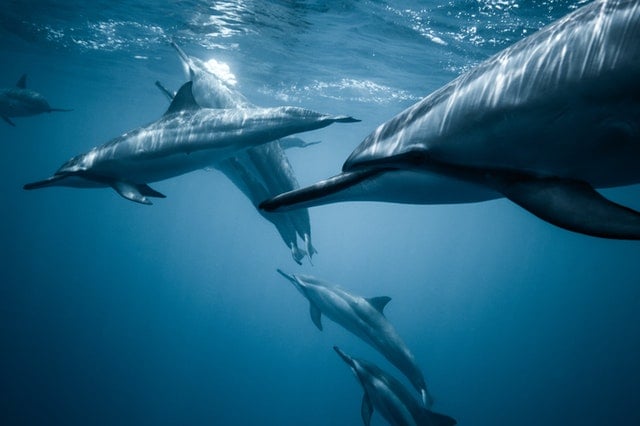 The main attraction of North Bali resides in Lovina Beach, a black sand coastline covering a large part of the area. A soothing and quiet beach is a matching fit for your quiet escape. It is a great diving spot where you can observe and interact with dolphins. If not, then the scenic and picturesque beach will keep you satiated and content.
Singaraja City
Other than Lovina beach, there is also the old city of Singaraja. This city is North Bali's center, and in fact, it used to be Bali's administrative center. Due to its relative proximity to Indonesia's inner sea and ease of access for sailors of old, the place was a bustling trading port. You can see the remnants of various peoples who have left their mark in Indonesian history, with Arab villages and European-style buildings popping here and there in the city. If you love to learn more about Bali's history, you should also visit Museum Gedong Kirtya located in the city
Relaxing spa villas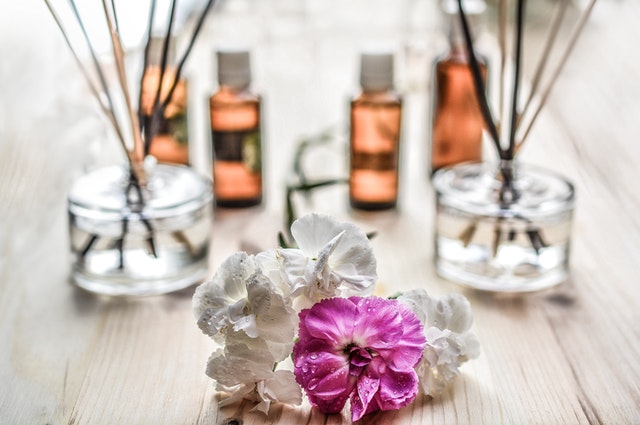 North Bali is also home to a slew of relaxation and spa villas. A particular attraction that you should visit here is the Hot Springs of Banjar or Air Panas Banjar, a perfect destination for a weekend trip to rejuvenate yourself.
Read also: 8 Affordable Spa and Massage Places in Bali: Starting from 130K IDR
Outdoor activities
Lastly, if you look at the South of North Bali you can find a range of natural/outdoor activities. This mainly includes canyoning activities within the many waterfalls in the area, such as the Blue Lagoon waterfall, Aling-Aling Waterfall, and Gitgit Waterfall among countless others.
All in all, North Bali is your ideal place for a truly private retreat. If you are interested, let's also look at some villa accommodations in the North Bali area!
Read also: Top 8 Bali Family Friendly Hotels & Resorts with Exciting Kids Club!
1. Villa Kelapa Lovina Bali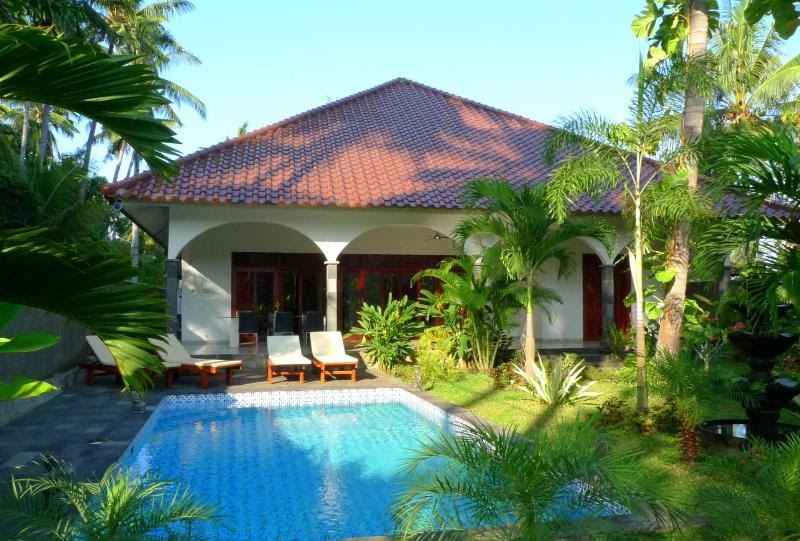 With an open concept inspired by Balinese Banjar, Villa Kelapa Lovina Bali entices its visitors with a wide range of activities being offered. What is interesting about this accommodation is that it can give a lot of tours and activities based on other places than North Bali, despite it being located there. They offer various thematic tours for cooking, dining, yogas, and other things to Ubud. This is certainly because it only takes a 15 minute drive from there to get to Ubud.
Other notable things include a Mount Batur Trekking tour, which is also not in North Bali. If you want a North Bali getaway with the best experiences that all of Bali can offer, visit and stay at Villa Kelapa Lovina! They have an array of differing accommodations for your lodging needs, from rooms to private pool villas with Cable TVs, Yukatas, and other fancy amenities!
Location: Jl. A. Yani, Pemaron, Kec. Buleleng, Kabupaten Buleleng, Bali 81119
Contact number: +62 362 26196
Price: starts at 500k-700k IDR per night
2. The Beach Front Villas (North Bali)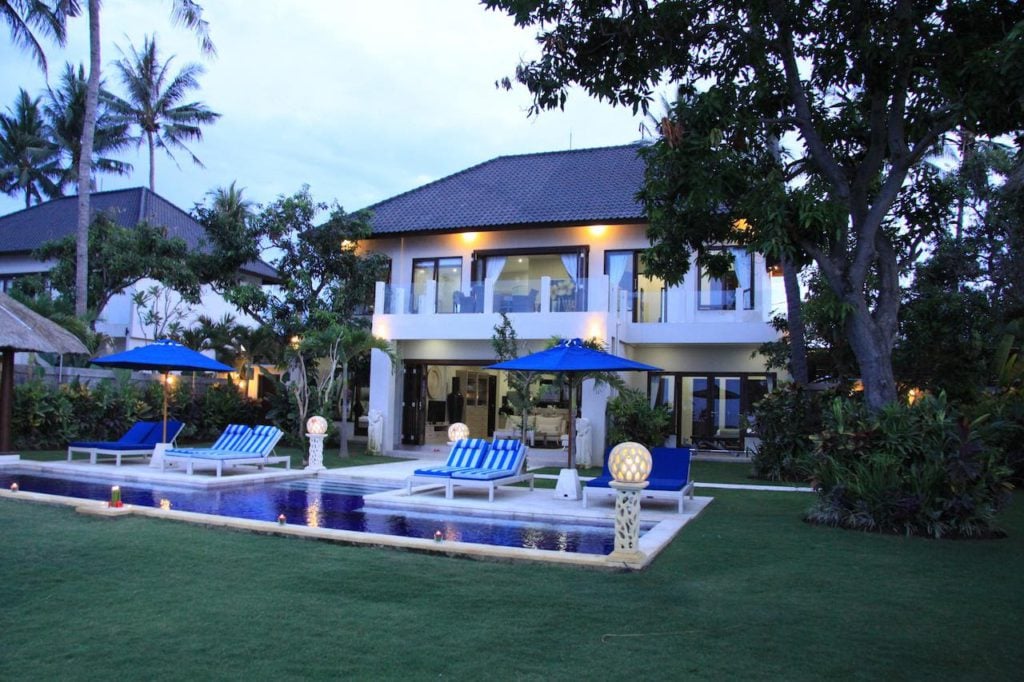 By renting one or a few nights here, you can experience high quality lodging services and facilities that few in North Bali can offer. Situated right in the tip of Lovina Beach's coastline, The Beach Front Villas will turn your sour face into a smile. Firstly, there is the view. They boast a spectacular backdrop of Lovina Beach, complimented by their gazebos, terraces, and poolside chairs for you to take in the rare and untouched beauty of Lovina Beach. It's particularly pretty during golden hours, so be ready to save a spot and take a shot of the majestic scene.
Secondly, there are the services. The Beach Front Villas' staff will help you with many things, including arranging tours or activities, shopping ingredients for you to cook, and more. Lastly, the place is relatively close to the city of Singaraja where you can shop and explore. All in all, you can get a pretty rounded North Bali experience here with both the beach and the city. There are four types of rooms here, with one super-king room and three double deluxe rooms. All of them have complete entertainment options, a well-equipped kitchen, and luxurious bathroom facilities and amenities.
Location: Bungkulan, Sawan, Buleleng Regency, Bali 81171
Contact number: +62 812-4605-6093
Price: starts at 900k IDR per night
3. Munduk Moding Plantation Nature Resort & Spa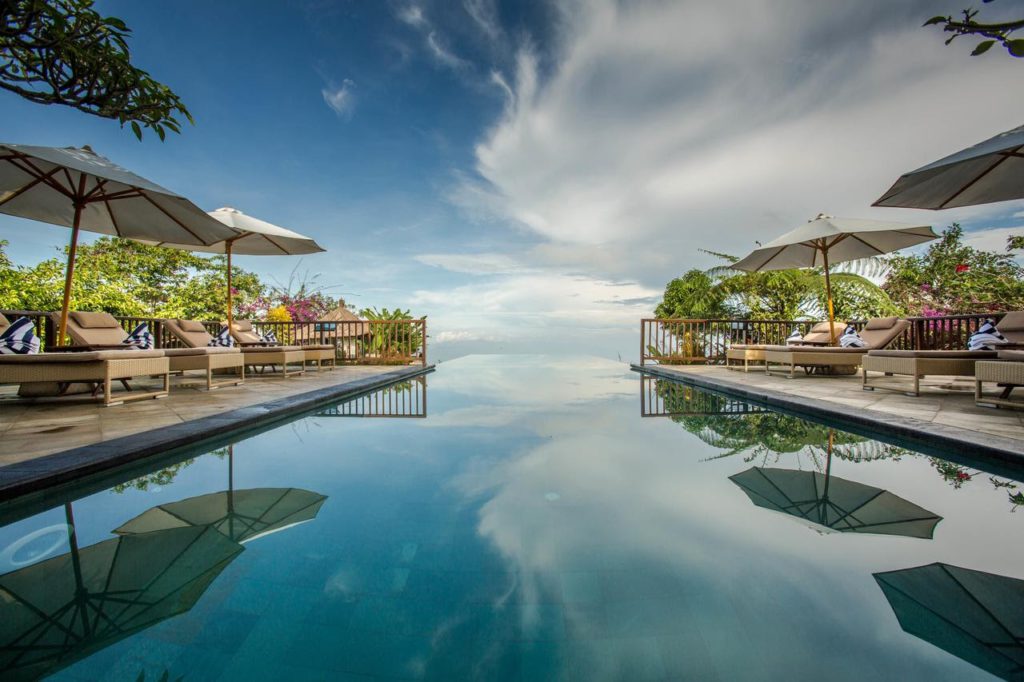 Munduk Moding Plantation Nature Resort & Spa might be one of the more luxurious options on our list here. But let us tell you that it's all worth it because they are more than just a simple lodging for your private getaway in North Bali. Emphasizing privacy and eco-friendly practices, they will provide you and your group a place to rest and relax while enjoying natural beauties you can find only in the countryside.
Their rooms are all well-furnished, available for individuals, couples, or small groups alike to enjoy. Featuring an infinity pool, you can enjoy the view of mountains and seas at your pleasure. Outside of the rooms, you can enjoy a relaxing spa or a feast at MiMpi Restaurant. Their uniqueness lies in having a coffee plantation and roastery for you who loves to learn and appreciate the caffeinated drink. Convenience is also part of their game, as nearby you can find many tour and trekking services for outdoor adventures to spots like Munduk waterfall.
Location: Jl. Asah Gobleg, Gobleg, Kec. Banjar, Kabupaten Buleleng, Bali 81152
Contact number: +62 811-3810-123
Price: starts at 1.5-1.6 Million Rupiah per night
4. Puri Lumbung Cottages
At Puri Lumbung Cottages, you'll be given more than just a place to stay. You will also be offered a unique experience through many activities provided by the organizers of this villa. When visiting the room, you will be greeted with a rustic and well-furnished room including all your necessities.
When looking at the list of activities they offer, you have typical ones such as trekking and hiking, yoga classes, and spas. But then, you also have activities that are more unique than any other place. These activities are Offerings (sesajen) class, Bali musical instrument making class, dancing class, and even a seasonal harvesting event! If you want to have a wonderful and insightful experience while having a weekend retreat to North Bali, then stay at Puri Lumbung Cottages. Nearby, you can visit Melanting waterfall for some gorgeous photos and fantastic experiences.
Location: Jalan Raya, Desa, Munduk, Kec. Banjar, Kabupaten Buleleng, Bali 81152
Contact number: 62 812-3874-042
Price: range from 95 USD to 175 USD per room per night
5. Dewantara Boutique Villa Resort Bali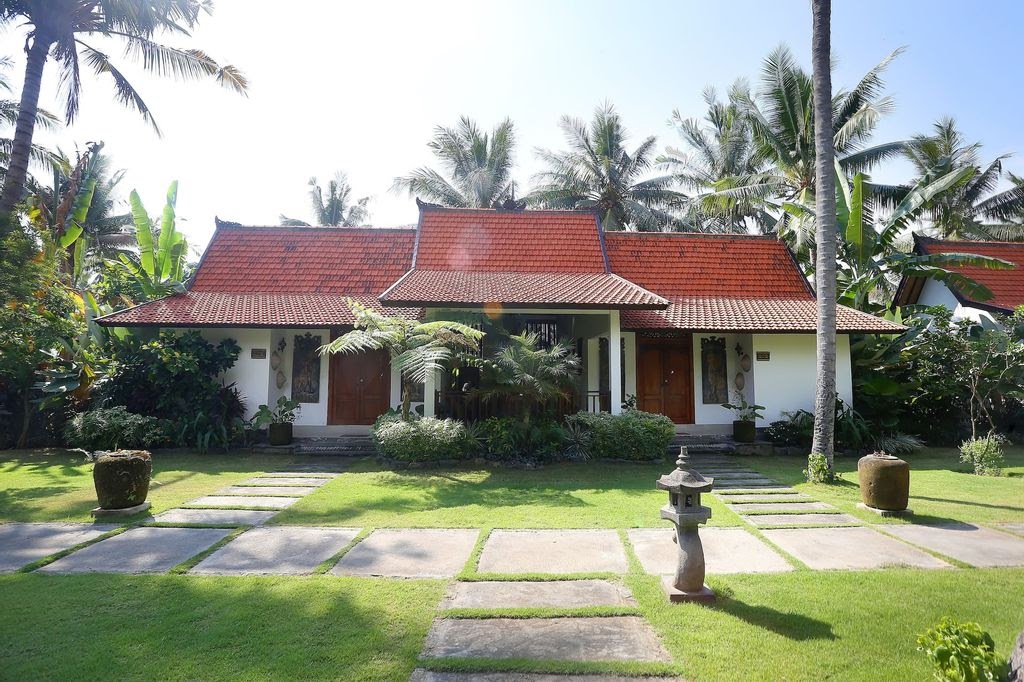 Here is a Villa in North Bali that truly gives you privacy and the definition of a private getaway. Locked behind big wood colored gates, Dewantara Boutique Villa Resort Bali will give you a nice opportunity for R&R alone or with your group. They have a very spacious and artistic design when making this place, which you can see from how they design their rooms to their swimming pool.
Speaking of the room, it boasts a semi-open space with large gardens and walkways. Moving outside, there is also a lounge and a sports centre where you can enjoy chatting with your group or other guests. Nearby, a ping pong table is also present for you to enjoy.
Location: Jl. Pantai Moding No 08, Desa Brongbong, Celukan Bawang, Gerokgak, Buleleng Regency, Bali 81155
Contact number: +62 361 4471199
Price: can range between 900k to 2 Million IDR per night
6. Pandawa Village
Their namesake is all you need to know about their service. Based on the mythical five half-god brothers, Pandawa lima or the Pandawa five, this place only has five one-bedroom villas. This is because they emphasize on quality service and experience for their guests. In fact, their motto says "come as a guest, leave as a friend", showing you how much hospitality means to them. More than that, they also offer a wide range of activities for you to get to know the area and enjoy your time there. These activities include a dolphin tour, diving & snorkeling, village tour, hiking, and many more. They also have a great restaurant on-site with capable chef on the helm.
Location: Jl. Pandawa, Kaliasem, Banjar, Kaliasem, Kec. Banjar, Kabupaten Buleleng, Bali 81152
Contact number: +62 878-6317-4343
Price: ranges from 800k IDR-1.2 Million IDR per night
7. Bali Sea Villas-North Bali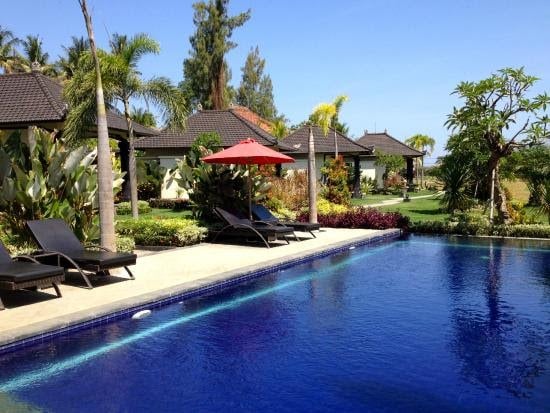 Last in our list we have Bali Sea Villas. This lodging can fit a small number of 10 people, bringing an air of exclusivity and privacy to the area. There are only two villas, but you can rent them both if you'd like. They offer a complete set of necessities such as a fully equipped kitchen, washing machine, ironing board, and a water dispenser.
The facilities outside are very extravagant, with a large private swimming pool, bale bengong, and a shower for rinsing yourself after a nice swim. The staff there are very accommodating, as they offer a wide range of services, ranging from food to tour planning. Last but not least, this is a beachfront property so the beach is only a stone's throw away!
Location: Jl. Mawar, Lokapaksa, Kec. Seririt, Kabupaten Buleleng, Bali 81153
Contact number: +62 821-4447-7110
Price: starts around 89 Euros per night. You can arrange a weeklong stay for about 630 Euros.
And there you have it! Did you like what you see? We hope that you can find villas in North Bali for your dream getaway. Keep up to date with us to know more about lifestyle and living in Bali!