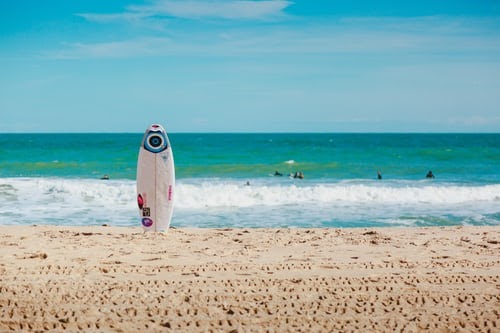 Bali
|
Local Guide
Boost Your Adrenaline with 15 Most Exciting Water Sports in Bali!
Bali is famous for its beautiful beaches that not only gives you magical scenery but also allows you to try various kinds of watersports. If you happen to visit Bali, water sports are one of the things that you should not miss. It is fun, challenging, and will definitely level up your holiday.
A thing to remember is, make sure you visit Bali during the right season. Otherwise, you won't be able to try several water sport Bali due to bad weather or other natural reasons. It is better to come within May, June or October because the weather and waves are in perfect condition.
The watersport in Bali is available on lots of beaches, but the most famous one is Tanjung Benoa where you will be able to try many kinds of water sport. Here are some recommendations of the most exciting watersport in Bali that are worth trying.
1. Jet-Ski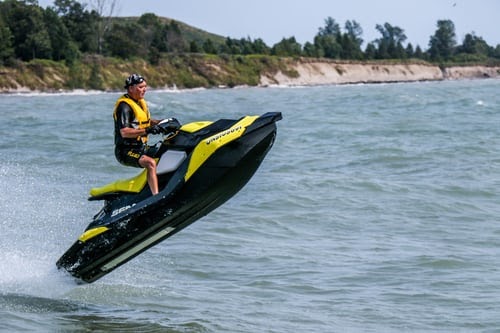 The most popular watersport Bali is jet-ski. This is a challenging activity where you sit on a motorised jet ski and ride it to the waves at high speed. Next level of jet-ski, you can try water-ski which require you to stand on a ski board while dragged by a speedboat.
Jet-ski is one of the water sports available in Tanjung Benoa, and it costs about USD20 for one ride. Make some time to try jet-ski or water-ski during your visit to Bali and you will get a fun experience.
2. Flyboard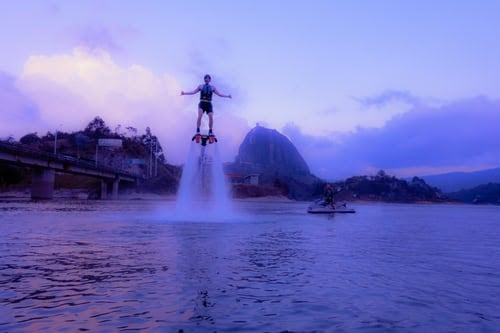 Flyboarding is a powerful water spray attached to your boots that will push you to the air, then dive into the water and fly right back up. Sounds interesting, right? You can even try backflips or 360-degree loops while riding it. This watersport Bali is available at Tanjung Benoa and costs around USD45 for a 20 minutes ride.
3. Sea-walk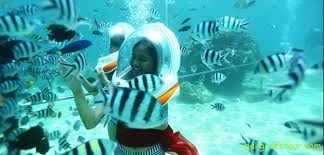 Sea-walk is a must-try activity in Bali that will bring you a whole new experience while witnessing the underwater world surrounded by fish and corals. You are going to use a helmet to let you breathe, so you can go to a depth of 20-25 metres under the sea. This activity cost around USD25 for a 45 minutes trip.
4. Banana Boat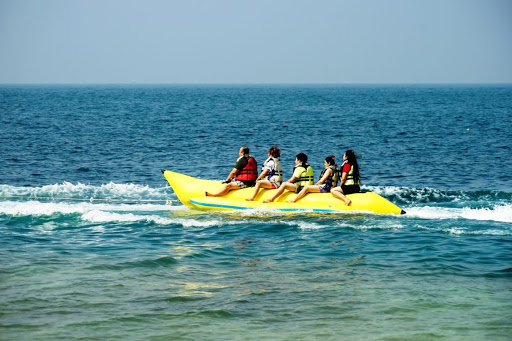 You might have already heard about this popular water sport Bali where you are riding a banana-shaped rubber boat with a group of people and get dragged by a speedboat. This is a fun activity that allows you to see Bali's beautiful nature while your face gets splashed by ocean water.
5. Flying Fish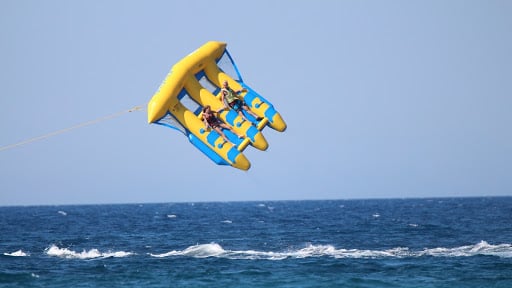 Flying fish is actually a fish-shaped rubber boat that can carry up to 3 people. While riding it, the boat will be pulled by a speedboat which makes this a challenging yet fun water sport Bali. You will be able to fly over the ocean for 10 minutes at a cost around USD15, and available at Tanjung Benoa.
6. Scuba Diving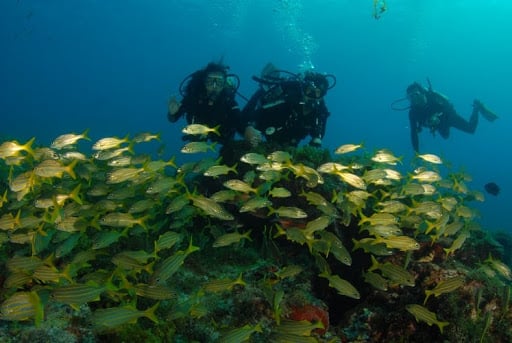 Scuba Diving is a popular watersport activity which lets you feel the sensation of diving underwater. But you need to get a license before doing scuba diving in Bali. Once you get your license, you can try scuba diving at Tanjung Benoa with a cost around USD65.
7. Snorkelling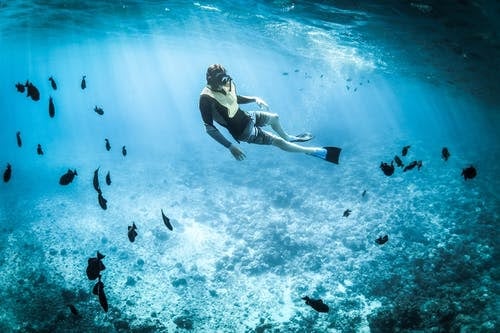 Similar to scuba diving, this activity called Snorkelling also allows you to witness the beautiful water world in Bali oceans. With a cost around USD40, you will get a chance to do snorkelling in Bali including insurance, taxes, rented equipment, and a guide to accompany your trip.
---
Also read: 15 Best Spots for Snorkeling and Diving in Bali
---
8. Parasailing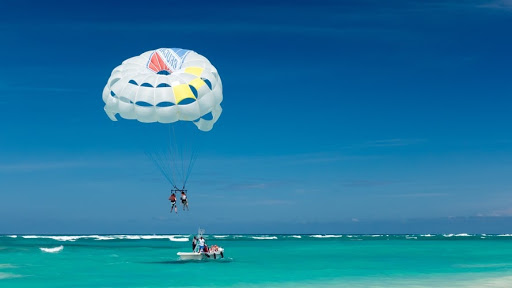 With parasailing soar up in the sky over the ocean using a parachute and pulled by a speedboat. You can feel the wind and see the beautiful surroundings. Parasailing is also one of the water sport Bali that is worth trying and available at Tanjung Benoa, the cost is around USD11 for one ride.
Read also about Best Coliving Space in Bali
9. Rolling Donut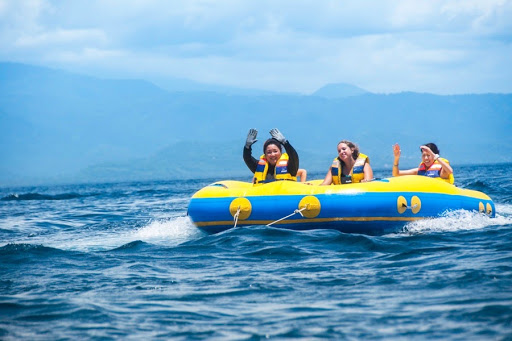 Another unique watersport Bali using rubber boats is called Rolling Donut. It is a donut-shaped boat, just like its name and can carry up to 4 people. While riding rolling donut, the boat will be pulled by a speed boat which makes the water splashed to you.
This is an interesting yet challenging activity as during the rolling donut ride, you will get rolled up in the water. With cost around USD10 for each person, the rolling donut is ready to bring you a fun experience in Bali.
10. Rafting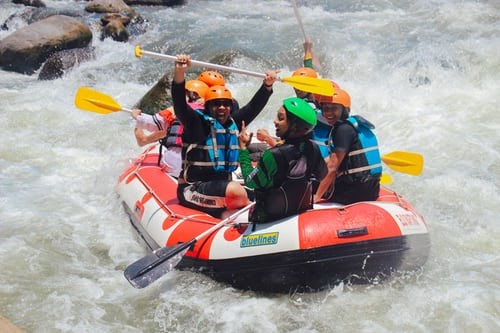 Rafting is considered as one of the thrilling water sport Bali where you will ride a rubber boat all over a river with roaring water. You will experience wild rapids which are surrounded by an amazing view of the jungle and a sensation of challenging adventure.
In Bali, the best spot to do rafting is Ayung Rivers that is located in Gianyar or Telaga Waja Rivers in Ubud. Rafting cost around USD30 for one ride full of interesting things to maximize your trip to Bali.
---
Also read: River Rafting Guide in Bali!
---
11. Wakeboarding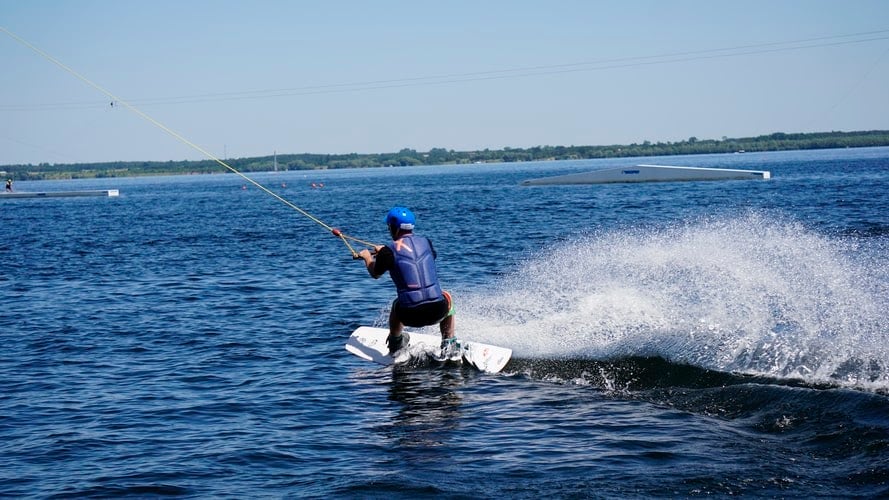 Wakeboarding is a watersport Bali that is like a combination of surfing and water-ski. This activity can boost up your adrenaline because while riding it, you need to hold on to a cord and balance yourself on a board dragged by a speedboat.
You can definitely enjoy a fun atmosphere while doing it, but sometimes it will be quite hard to see the beautiful scenery around as you might have got too focused on balancing yourself. Otherwise you will fall into the water. But don't worry! With a life jacket, falling into the water is just another interesting part of the ride.
12. Surfing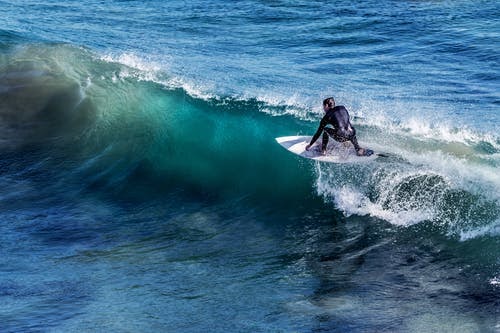 Quite similar to wakeboarding, surfing also demands you to stay balanced on a board while riding the waves. Bali has lots of amazing spots for surfing such as Balangan beach, Dreamland beach and Bingin beach. Or if you are new to this water sport Bali, then Kuta beach is the best option for you since you can easily find surf schools there.
13. Canyon Tubing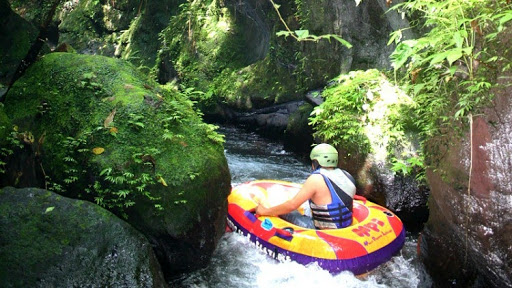 Canyon Tubing is basically similar to rafting but you don't need to paddle while riding it. This activity offers you an experience to explore a narrow stream surrounded by a green rainforest during a trip using inflatable rafts. Best spot for canyon tubing in Bali is Ubud. Completed with a helmet and a life vest, this activity costs around USD90 and brings you a whole new Bali's charm.
14. Kitesurfing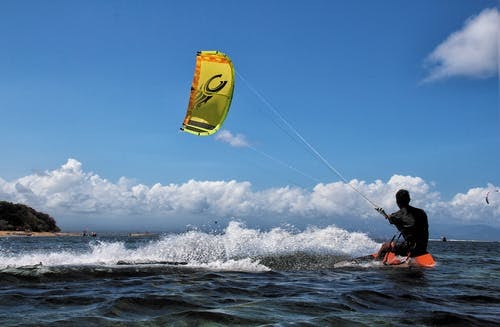 Kitesurfing is considered as one of the thrilling watersport Bali. It is because while trying kitesurfing the wind decides the speed that is why a steady breeze is important for kitesurfing. Your ability to jump high is also a key to the success of your kitesurfing experience.
Kitesurfing uses a large steerable kite to launch you over the water. This activity is available at Tanjung Benoa and costs around USD70 for you to soar up in the sky, feel the ocean breeze and beautiful Bali's scenery, and obviously a challenging sensation.
15. Subwing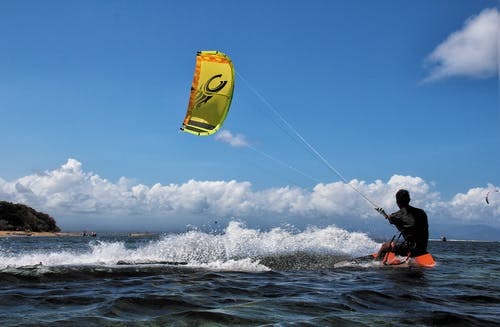 The last most exciting watersport Bali is subwing which is also considered as an extreme adventure that offers you a new way to experience the underwater world. Available at Gili Trawangan, this activity costs you around USD27 and will take you to a level up trip.
For subwing, you need to dive into the water while holding onto a carbon-fibre wing dragged by a speedboat. This might sound tense especially for a first-timer, but once you get along, you will be able to spin, twists or any kind of acrobatics you can under the water.
So those are 15 watersports that you need to try while in Bali. Make sure to maintain your safety and you can enjoy the fun and excitement. Got one already in mind to try? Share with us by commenting down below!
---
You can also try a new experience of living in accommodation with Flokq! Flokq offers new comfortable accommodation with the co-living concept that you can rent during your stay.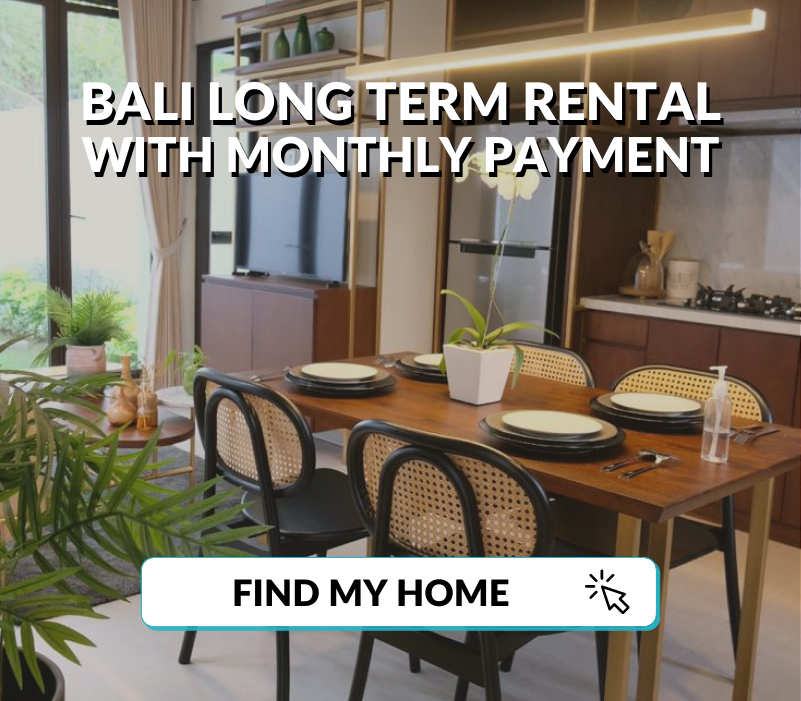 Want to know more? Reach us at +62 813-1490-5690 or click the button down below!
Click here to check out Flokq's Units in Bali