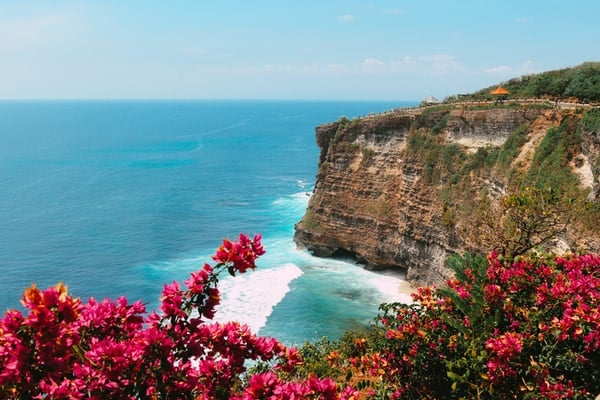 Bali
|
Settling Down
Here Are 9 Best Area to Work From Bali: Everyday Feels Like Sunday!
In times of a pandemic like this, of course, many people feel bored working from home. For that, the government invites the community to Work From Bali (WFB). The Work From Bali program is an effort to restore the tourism sector affected by the pandemic. There are several area available for Work From Bali.
From the beaches to the beautiful nature in Bali, you can feel everything here. Moreover, the low cost of living, peaceful atmosphere and aesthetic views are the main attractions for people visiting Bali. The price of lodging rentals is getting cheaper during the pandemic.
Well, Flokq has provided 9 recommended Work From Bali area, so you can work while enjoying the beauty of the Island of the Gods. Come take a look!
People also read: Check Out 12 Best Kost in Denpasar
1. Ubud
First, there is Ubud. This area became more and more famous after being used as one of the settings in the movie "Eat, Pray, Love". This area has beautiful natural scenery and cool air. For that, if you like a calm and beautiful atmosphere, Ubud is the perfect location for Work From Bali.
Starting from a relaxing walk in the rice fields, taking a yoga class, or hanging out at a coffee shop while enjoying the natural panorama of Ubud. You need more calm so you can focus on work. For that, you can try some fun activities here.
Click here and find a place to live in Ubud for Work From Bali with Flokq.
2.Canggu
The second one is Canggu. The location of this one is in the southern part of Bali, precisely in North Kuta. Several beaches in the Canggu area have waves suitable for surfing. For this reason, this location is the right choice for lovers surfing. In addition, many cafes are ready to be a place for you to WFB. These cafes are very Instagrammable. For that, you can upload the Work From Bali atmosphere on Instagram.
Click here and find housing in the Canggu area for Work From Bali with Flokq.
3. Mengwi
Maybe for those who frequently go to Bali, you know this one. But, for those who haven't, you should know it. Mengwi is a sub-district in Badung Regency. Most village visitors come to this area just passing by to feel the atmosphere of a traditional Balinese village.
However, it is also possible to make this location a place to work. A quiet rural atmosphere allows you to focus on doing your job. When your work is done, you can do various fun activities. For example, exploring the villages around Mengwi by bicycle. Or, you can also do trekking through a small hidden path. You can enjoy the beautiful view of rice fields and coconut plantations.
Click here and find housing in the Mengwi area for Work From Bali with Flokq.
4. Uluwatu
The fourth is Uluwatu. This location is quite attractive to tourists because it offers a variety of exotic beaches. Some of the most beautiful beaches in the region are Suluban Beach, Dreamland Beach, Blue Point Beach, and Uluwatu Beach. You can do swimming or sunbathing on the beach every weekend.
In addition, Uluwatu is also famous for its mushrooming beach club. The best time to visit the beach club is in the late afternoon. Perfect for relaxing after work.
Click here and find housing in the Uluwatu area to Work From Bali with Flokq.
5. Denpasar
Furthermore, in this city, you can find malls easily. Denpasar has many tourist attractions and the location is quite strategic. The advantage of this location is a stable internet connection. Moreover, internet speed is very important when working.
This location is perfect for those of you who want to stay in the city center. During a full week of work, the body and mind feel very tired. Therefore, you can go to Sanur beach and pamper yourself there.
Click here and find housing in the Denpasar area for Work From Bali with Flokq.
6. Nusa Dua
Nusa Dua itself was chosen as the location for Work From Bali by the government because it has a single management system that makes it more controlled and supervised. In addition, this Work From Bali destination also has end-to-end integrated services and is valid from arrival at the airport.
If you want to find a beach for refreshing, you don't need to worry. Nusa Dua is famous for its beach tourism. For example, Sawangan Beach, Geger Beach, or Mengiat Beach, and various water sports activities.
Click here and find housing in the Nusa Dua area to Work From Bali with Flokq.
7. Jimbaran
The main attraction of this location is the white sand beach. This beach is also known as Jimbaran beach. In addition, the uniqueness of Jimbaran beach cannot be found in other beach attractions on the island of Bali. The uniqueness is in the cafe which is located on Jimbaran beach.
The cafe specifically serves grilled seafood with special Jimbaran spices. This is an advantage if you choose Jimbaran for Work From Bali. When you are hungry in the midst of busywork, you can try to eat at the cafe.
Click here and find housing in the Jimbaran area to Work From Bali with Flokq.
8. Kuta
Who does not know Kuta Beach, which is popular among tourists? Many people come here to capture the moment with the beautiful sunset. In addition, on the Kuta beachside there are many surfboard rental services and also offer surfing lessons.
If you want to learn to surf on the sidelines of Work From Bali, you can go to Kuta Beach. Various knick-knacks markets are also available around the area. For that, you can also take the time to shop.
Plus, Kuta also has a wide selection of nightlife venues such as bars and discotheques. This can be an option to spend your weekend.
Click here and find housing in the Kuta area for Work From Bali with Flokq.
9. Seminyak
Last but not least, this area offers something different from other locations in Bali. Seminyak is preferred by visitors seeking a private residence. For this reason, there are various luxury private villas available in this area for rent.
In addition, Seminyak is also famous as a location for upscale tourists. Why is that? Because luxury SPA treatments and restaurants & bars with five-star standards are in this area. Moreover, Seminyak is in great demand by foreign tourists because of its luxury.
Click here and find housing in the Seminyak area for Work From Bali with Flokq.
People also read: 8 Instagrammable Hangout Cafes in Canggu
Well, those are 9 recommended places to work from Bali. Interested in doing office tasks in Bali? Book your dream home now with Flokq!
CLICK HERE TO FIND RENTAL OPTIONS IN BALI