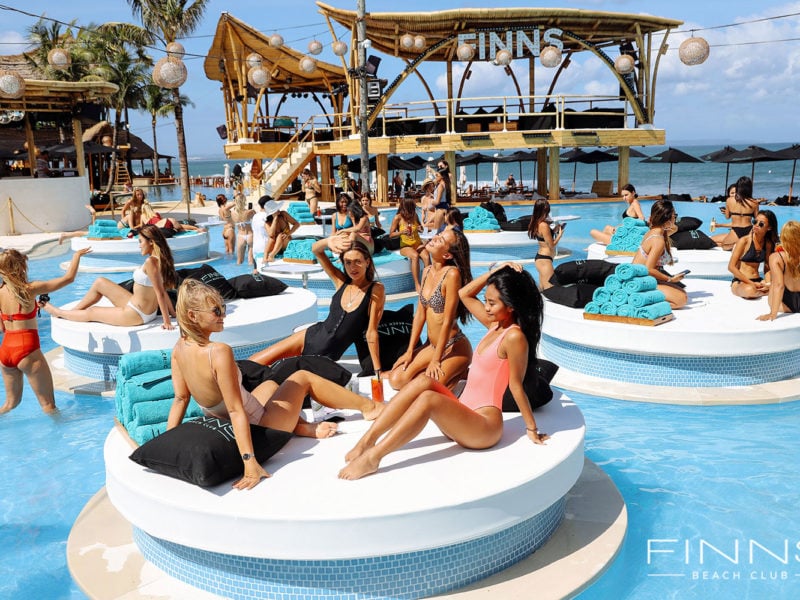 It's no secret that Bali is a paradise for those of you who like beaches. Besides snorkelling, diving, and surfing, Bali's beaches are also home to creative cocktails, glittering infinity pools, and superstar DJs in their beach club.
After a day full of activity, there is nothing better than relaxing by the beach. Best of all, you can enjoy these places during the day or at night. You can sunbathe during the day, enjoying the sunset, then partying at night.
For you who still don't know which beach club to go, no worries, we've picked 15 of the very best beach clubs from every happening neighbourhood in Bali for you. All you need to do is turn up, tune out and lounge on. Don't forget your bikini!
1. Mrs. Sippy Beach Club
The first on the list is Mrs. Sippy Beach Club, the perfect Bali beach club for drinks, food, music, and the perfect place for those of you who want to get the perfect tan. Mrs. Sippy also has the largest saltwater swimming pool in Bali. With a wide selection of daybeds, diving spots and DJ music starting at night, Mrs Sippy will give you the best party experience.
2. Tropicola
Tropicola will take your experience of enjoying a Seminyak beach club to the next level. With the color block pool club theme, Tropicola provides a very attractive 80s vibe which makes it unique and a lot more attractive compared to other Bali beach clubs!
Head to one of the three bars available at Tropicola, which are built in-house, to match the Tropicola theme. Tropicola's signature is a cocktail with jackfruit, which replaces the pineapple that is usually in cocktails.
If you are hungry, Tropicola provides a wide selection of food, from fresh seafood, grilled meat and vegetables.
Enjoy the sunset from one of the swimming pools available and enjoy the evening with the DJ who will play the best songs for you!
3. Motel Mexicola
For tacos and tequila, head to the colorful Motel Mexicola beach club. This restaurant and bar in Bali with a Mexican cultural theme has a very eye-catching interior – every part of Motel Mexicola is perfect for you to take a photo with!
The atmosphere at Motel Mexicola will get busier at night, with music to accompany you! Go upstairs for a more drink, or join the crowd and dance!
4. Finns Beach Club
Located at Canggu beach, Finns Beach Club is an iconic Bali beach club for watching people surf in the sea, chatting and snacking and waiting for the beautiful view of the sunset. With two pools, nine bars, two restaurants, and a wide selection of lounge chairs and daybeds, Finn's is one Bali beach club we recommend for a splendid afternoon!
Apart from the beach club, Finns Bali also has a Recreation Club which provides a fitness and spa center, and a Splash Water Park which has a slide area and also a lap pool! You can try them all with the Finns Bali Day Pass.
5. Vue Beach Club
Want to try a long and truly beachside infinity pool? Check out the Vue Beach Club in Canggu. This open-air Mediterranean-style beach club is at LV8 Resort Hotel Bali, on Jalan Berawa, Canggu.
You can swim or relax on the daybed. There is also a gazebo made of rattan which is suitable for 4 to 5 people!
If you come together, you can really order a Daybed through Klook, where you will also get two drinks, 1 choice of Mangiare La Pizza, 1 choice of pasta, and 1 dish of fresh fruit platter.
6. La Brisa
La Brisa, located on the popular Echo Beach, is a must-go if you want to discover the true beauty of Bali. As the name suggests, which means sea breeze, you can enjoy the sea breeze at this Bali beach club and forget all your problems.
Built with logs from a Balinese fishing boat, La Brisa serves seafood and sea-inspired drinks to accompany your time here. There are Ceviche, Superfood Bowls and various types of grilled fish, and some snacks such as Croquettes and Cured Salmon.
Whether you want to come to La Brisa before the sunset, or at night, you will always be able to pamper yourself at La Brisa.
7. The Lawn Canggu
Located right on the beach, The Lawn in Canggu is the right Bali beach club for you to visit with your friends and enjoy a meal on the beach.
The day and night menus at this beach club prioritize fresh seafood and grilled meats, but you can still find a menu that's right for you, whatever your taste – you can try Truffled Four Cheese Mac and Cheese Balls or Lemongrass Chicken Sate.
The Lawn's cocktail menu also features classic drinks with local flavors. Order the Spiced Colada, which is made with spiced rum, coconut liqueur, pineapple, lemon, coconut water and homemade sugar. If you come in the morning, you can try the Espresso Martini which has a mixture of caffeine, vodka, Balinese wine, liqueur coffee, and coconut nectar.
---
Also read: 8 Best Nightclubs in Bali for Night Owls and Partygoers!
---
8. Old Man's
Next on the list is Old Man's, a Bali beach club that has the longest operating time compared to other places, Old Man's open from 7 am and stays open until 1 am!
There's a Happy Hour that you can enjoy every evening from 5pm to 6pm so you can get 2-for-1 drinks, so make sure you come at the right time! Food at Old Man's is also quite pocket-friendly, you can order Fish & Chips, various types of pasta and starters to share.
Don't forget to invite your friends to join the party with the DJ which starts at 9pm. You can also enjoy a relaxing evening in the lounge.
9. Ji Terrace by the Sea
For the experience of enjoying a visit to a bar in Bali that pampers your tongue, visit Ji Terrace by the Sea. This restaurant and bar with a terrace style and offers views of Canggu Beach from a 180-degree angle, serves food with a touch of Asian flavors, and is reflected in the cool and open interior and balcony style.
Head to the bar on the second floor for an eclectic cocktail experience made with local produce. Inspired by volcanoes in Indonesia, Coco Sexo is one of Ji Terrace's most famous dishes. In addition, The Tugu Signature Gin & Tea is also a favorite of visitors because of its freshness.
10. OMNIA Dayclub Bali
With beautiful cliff views, hidden beaches and luxurious villas and resorts, Uluwatu is a paradise for beach club lovers. Located at the top of one cliff in Uluwatu, OMNIA Dayclub is probably one name that you will immediately remember when you think of the beach club in Uluwatu.
Opened by the team responsible for the famous OMNIA Nightclub in Las Vegas, they design OMNIA Bali to create the perfect combination of panoramic views of the Indian Ocean with all kinds of entertainment.
There are daybeds, an infinity pool with sea views, a bar, lounge, and more! There is also Sake no Hana, a restaurant that serves grilled food and modern Japanese sushi. You can also find various Japanese-inspired drinks here.
11. Single Fin
If there is only one location that you can visit in Uluwatu, choose Single Fin. With a stunning view of Uluwatu, this place is the right location for you to enjoy your day with drinks and snacks and a lovely atmosphere.
If you go to this area, don't miss one of the most iconic sights in Uluwatu – Uluwatu Temple, which is the venue for the famous Kecak Fire Dance! You can take the Uluwatu Temple Sunset and Kecak Fire Dance Tour, which will also take you to Padang-Padang Beach!
12. Café del Mar
This so-hot-right-now beach club has brought Ibizan vibes to Bali, and our sun-kissed bodies are forever grateful. You'll want to flaunt your finest designer bikini here, because Café del Mar Bali is a breathtaking 10,000 square-metre, two-level beachfront pool club, perched on the sands of Berawa Beach in Canggu.
It features a 1,000 square-metre infinity pool with views over the ocean, and private luxury cabanas that look more like oceanfront villas, a premium coastal-Mediterranean restaurant, multiple swim-up bars and cocktail lounges, and world-class staging for large, outdoor music events. Armed with a team of international talent and all the white-and-blue interiors you'd expect from this Ibiza-born brand, Café del Mar is a must on every Bali beach club hit-list.
13. Sundays Beach Club
A heady mixture of powder white sand and azure blue ocean tucked away at the edge of the world, Sundays Beach Club brings a heavenly combo of sun, sea and sand to your very own sun lounge. Take the cliff-side escalator down to this hidden oasis for magical beach hangs 'til the sun goes down, plus top-notch drinks and an expert gourmet menu.
Graze on scrumptious seaside-inspired bites like Tempura Lobster Bao Buns, charcoal-grilled calamari and Steak Sangas, and lose track of time in between snorkelling, kayaking and stand-up paddle boarding. Oh, and if you stick around until after sunset, its beanbags, beach bonfires, marshmallows and nightly happy hours 'til late
14. Potato Head Beach Club
With its Bali-inspired aesthetics and endless amounts of delish food & cocktails, Potato Head Beach Club is top of the list for most Bali visitors—and deservedly so. Get there nice and early (we recommend by 11am) so you can avoid the afternoon queues and bag yourself the best seat in the house for a day of luxe lounging before the sunset show kicks in.
We lurve the hand-drawn cocktail list, grazing nibbles and smooth tunes curated by a top list of local and international DJs – not to mention the sustainable, zero-waste initiatives in place across the entire grounds of Desa Potato Head. And don't forget to keep your eye on the events calendar – some of the biggest live shows on the island take place right here.
15. Manarai Beach House
Just one step inside Manarai Beach House and it's a panoramic palette of paradise in fifty shades of blue: a crystal-clear azure ocean, sleek violet daybeds and an aquamarine glow from two dazzling swimming pools (yes there's over one!). This daytime destination in Nusa Dua is the only beach club, restaurant and wine shop combo on the island, brought to us by the unstoppable ISMAYA Group.
It's a fully fledged beachfront experience that breaks the Bali beach club mould – not only a place to knock back cocktails and dance the night away, but a place to kick back while the sun sails from east to west, as breakfast smoothie bowls blur into lunchtime sushi spreads, and afternoon snacks are washed down with Piña Coladas. It's a place to settle in, soak it all up, and lose track of time
---
Those are all 15 beach clubs in Bali that we highly recommend you to visit when you are in the area! Hope this list could help you plan your Bali vacation! See you in Bali, Flokqers!
---
Want to find a rental option for your vacation in Bali? Flokq has several rental options in Bali with well-facilitated rooms and at an affordable price! Click the button below to find out more.
Click Here to Check Out More Flokq's Homes