Looking for an apartment in Senayan is not really hard! Senayan is one of the business areas in Jakarta. Senayan is very close to Sudirman, Tanah Abang, Gatot Subroto, Semanggi and many other businesses and important places. There is the Bung Karno Sports Complex which is the biggest sports facility in Jakarta. There are Headquarters of Greater Jakarta Regional Metropolitan Police, Indonesia Stock Exchange, and TVRI. Here we provide you top apartments in Senayan for you to stay, let's check them out!
You can also read other articles about apartments around Senayan from this link below:
1. District 8
District 8 apartment is close to the center of Jakarta business spots such as Sudirman, Senayan, Kemang, and also business centers in Central Jakarta. Having an apartment in District 8 can help you reach the central business district very easily. It is suitable for high-intensity business people because of its luxury serviced facilities. District 8 has 3 towers that have various units to choose from, the 1BR, 2 BR, 3BR, 3BR plus a study room, and a 4BR. You might also want to consider sharing the luxury with others by coliving!
To go to SCBD offices, apartment residents can walk on foot, as well as to the Jakarta Stock Exchange. Workers will be greatly facilitated with a location very close to the office. As one of the largest office areas in Jakarta, SCBD will be easier to reach from District 8. For those of you who like to go shopping or just want to buy daily groceries, District 8 apartments are very near to shopping centers such as Pacific Cafe, Senayan City, Plaza Senayan, FX Malls, restaurants and cafes, and other important places. This makes District 8 a very strategic and exclusive apartment for you.
Address: Tulodong Atlas 1 No.1A, RT.8/RW.3, Senayan, Kby. Baru, Kota Jakarta Selatan, DKI Jakarta
Phone Number: +62899-9988-587
Website: http://www.district8jakarta.com/
Room Type & Price:
2 Bedroom – starts from Rp32.500.000,00/month
3 Bedroom + – starts from Rp45.500.000,00/month
Facilities:
ATM
Cable TV
Grocery Store
Internet
Swimming Pool
Laundry
Security
Basketball Court
Function Room
Gym
Jogging Track
Tennis Court
Restaurant
Playground
2. Four Winds Apartment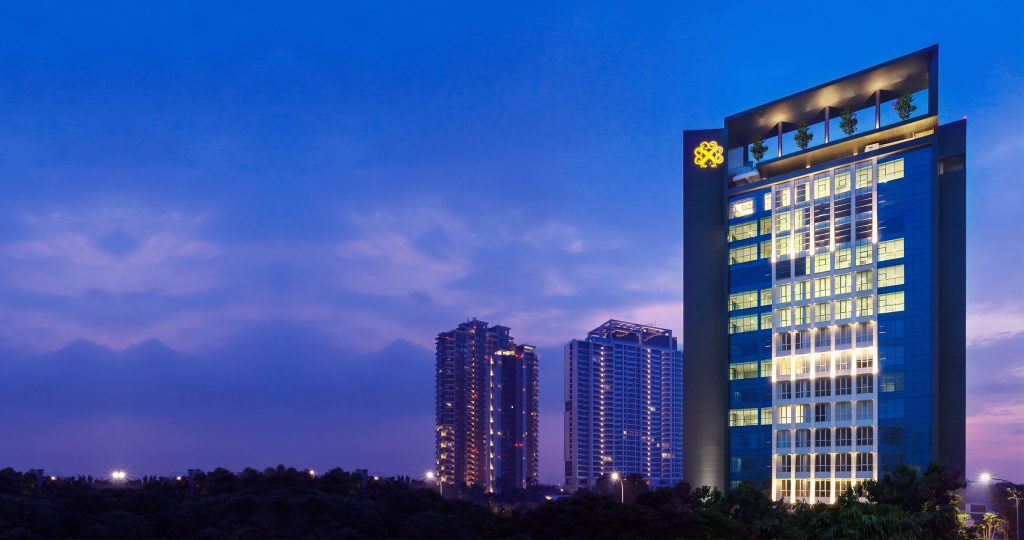 Located in Senayan, Four Winds Apartment offers an exclusive and strategic environment. Senayan is one of the important areas in Jakarta because the area is a business center and shopping, entertainment, and lifestyle center. So, do not be surprised if the apartment is surrounded by several office buildings and the best shopping centers of Jakarta.
Click here to colive in Four Winds Apartment!
There are various choices of shopping centers surrounding the apartment to support your shopping and entertainment needs. You can come to Plaza Senayan, Senayan City, Pacific Place, and Gandaria City which offers the best upper-middle-class tenants. Besides, fx Sudirman can also be a choice for those of you who want to hang out with families and friends. Four Winds Apartment also offers easy access to various business centers of the city. You can go to SCBD, Sudirman, Semanggi, Thamrin, and Kuningan in minutes of driving. So, you can always maintain work productivity without having to linger with the traffic jams in the city.
Address: Jl. Tentara Pelajar No.2, RT.7/RW.9, Grogol Utara, Kby. Lama, Kota Jakarta Selatan, DKI Jakarta
Phone Number: +62857-1588-8000
Room Type & Price:
1 Bedroom – starts from Rp22.100.000,00/month
2 Bedroom – starts from Rp20.850.000,00/month
Facilities:
Cable TV
Internet
Laundry
Security
Gym
Swimming Pool
Restaurant
3. Permata Hijau Residence
Permata Hijau Residences are built on an area of ​​6,600 square meters and consist of two apartment towers, Tower A and Tower B. Each tower consists of 26 floors with a total of 250 units. A strategic location makes this apartment easily accessible from anywhere. It is located quite close to the Senayan, Simprug, Kebayoran Baru, Palmerah, and Sudirman-Thamrin office areas. There are also various shopping centers around the apartment area, starting from ITC Permata Hijau (4.2 km), Senayan City (4.2 km), Plaza Senayan (4.2 km), FX Lifestyle X'nter on Jl. Jendral Sudirman (3.4 km), Pondok Indah Mall 1 – 3 (5.2 km), to Pacific Place (5.8 km).
The residence is surrounded by the Jakarta Outer Ring Road (JORR), Jakarta Inner Ring Road (Jakarta Inner Ring Road, abbreviated as JIRR), the Jakarta – Tangerang Toll Road, and Jl. Panjang – Green Permata Artery. Its position is quite close to the Kebon Jeruk Toll Gate (8 km). Permata Hijau Residence also has easy access to public transportation. The Permata Hijau Transjakarta shelter is located on Jl. Lieutenant General Supeno which is only 210 m away and takes 3 minutes on foot. Whereas if you are a commuter user, the nearest train station is Palmerah Station (4.9 km) and Kebayoran Station (4.3 km) only 10 minutes away from the residence.
Click here to colive in Permata Hijau Residence!
Address: Jl. Permata Hijau No.8 Grogol Utara Kby. Lama Kota Jakarta Selatan, DKI Jakarta
Phone Number: +6221-5367-8688
Room Type & Price:
2 Bedroom starting from Rp15.000.000,00/month
3 Bedroom starting from Rp16.250.000,00/month
Facilities:
ATM
Function Room
Gym
Jogging Track
Laundry
Security
Cable TV
Grocery Store
Internet
Swimming Pool
Restaurant
Playground
4. Senayan City Residence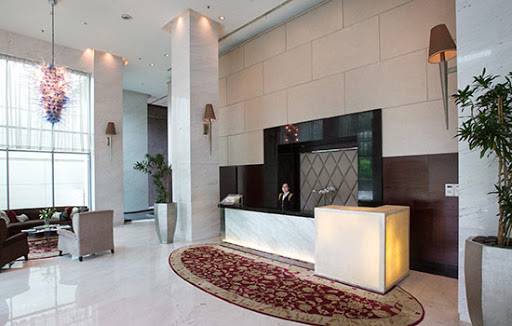 Senayan City Residence is one of the best apartments in Senayan, although it stands between two districts, Tanah Abang and Senayan. Its located in a modern district in Jakarta where city life has developed greatly. The location of Senayan City Residence is quite strategic, with only 10 minutes driving to Jl. Jenderal Sudirman, one of the most important streets in Jakarta that connects grand offices and shopping centers.
Although located on the side of a busy road like Asia Afrika Street, residents of Senayan City Residents are still able to avoid bustling environments, as the residential stands behind Senayan City, and has no contact with Asia Afrika Street. On the contrary, the building faced Senayan Golf Course, which is a greener and more pleasant view. Green open space dominates the view from the balcony of every unit. The units that they have consisted of 2BR and 3BR with a study room in each unit. This surely is one of the luxury apartments you want to consider.
Address: Jl. Asia Afrika Lot 19, Senayan, Jakarta Pusat, DKI Jakarta, Indonesia 10270
Phone Number: +6221-723-7979
Website: http://senayancity.com/residence
Room Type & Price:
2 Bedroom – starts from Rp59.800.000,00/month
Facilities:
ATM
Function Room
Gym
Swimming Pool
Restaurant
Playground
Cable TV
Grocery Store
Internet
Laundry
Security
So there you have the best apartments in Senayan. Good luck with moving to your new place and don't forget to check out our other recommendations on our blog!