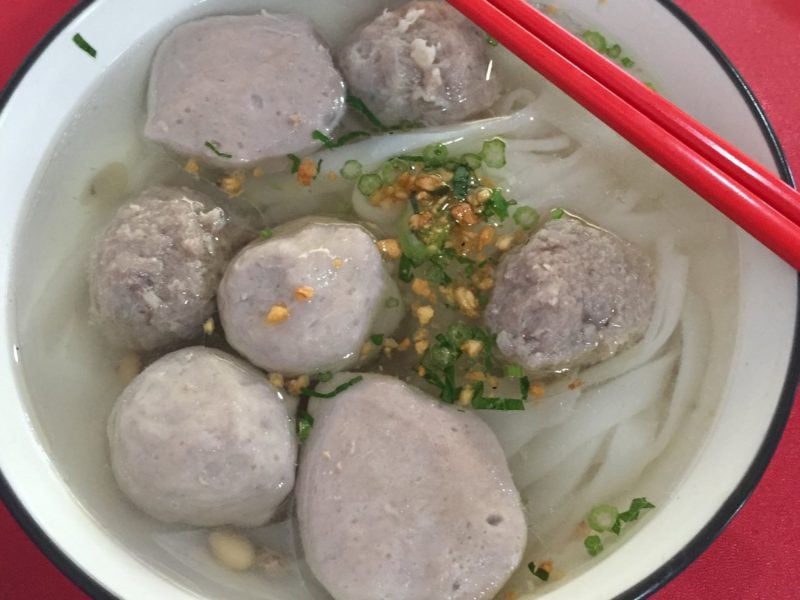 Bakso or meatballs has become one of Indonesian favorite dishes. It's because of its chewy texture, coupled with a splash of warm and savory broth is so tempting. What's more, when you eat it with the addition of soy sauce, hot chili sauce and lime juice, just imagining it will make you drool.
Bakso is very easy to find everywhere, from restaurants, stalls, to roadside carts, all of them are equally delicious. So, if you want to try enjoying the sensation of eating meatballs that are even more special, try visiting some of the legendary meatball stalls in the capital. That said, these stalls and stalls serve the most delicious meatballs in all of Jakarta. Here we have summarized five legendary bakso places in Jakarta:
Bakso Solo Samrat
This bakso place is located at the northern end of Jakarta, Bakso Solo Samrat is one of the meatball stalls that are often hunted by culinary lovers. In fact, this meatball shop is often crowded with visitors, with long queues, especially at meal times.
The texture of the vein meatballs is very chewy, solid and tasty. In addition, the broth is also very thick and rich in flavor. For only Rp. 32 thousand, a bowl of warm and savory meatballs can satisfy your hunger.Besides being located in North Jakarta, Bakso Solo Samrat also has two other branches in the Karet,Tanjung Duren and Cibubur areas.
Location: Jl. Boulevard Raya Blok WAB 2 No. 1, Kelapa Gading, Jakarta.
Opening hours: 11.00 – 23.00 WIB
Bakso Jawir
The name Bakso Jawir may be familiar to culinary lovers. Yes, Bakso Jawir is famous for its jumbo meatballs containing quail eggs, the broth is very tasty and rich. In addition, their bakso places are all around Jakarta and can be found on the side of the road to inside the mall.
Besides jumbo meatballs, you can also order various other meatball variants, such as empty meatballs, meatballs, special jumbo meatballs, and egg meatballs. To enjoy a bowl of Bakso Jawir, you need to spend from IDR 28 thousand.
Location: Jl. Tanjung Duren Raya No. 96, Tanjung Duren, Jakarta.
Opening hours: 10.00 – 22.00 WIB
People also read Indonesian Traditional Foods You Can Find in Jakarta
Akiaw 99
This meatball stall is said to serve the best meatball dishes throughout Jakarta. The serving of the meatball is complemented by tender and abundant beef slices. The texture of the meatball is just right, not too chewy and not too soft.
The addition of slices of meat with a sweet taste compliments the taste of the clear, savory broth. In addition, the typical Medan chili sauce will also add to the spicy sensation that arouses your appetite when eating a portion of the meatball.
Besides beef meatballs, you can also order other meatball variants, such as vein meatballs or fish balls. The price of a bowl of meatball is a bit expensive, ranging from Rp. 47 thousand to Rp. 50 thousand, but this price is very reasonable to satisfy your tongue with its delicious taste.
Location: Jl. Mangga Besar Raya, Mangga Besar, Jakarta
Opening hours: 15.00 – 00.00 WIB
Mas Kumis Djarum
The nickname 'Bakso Djarum' is attached to this bakso shop because of its location in the Djarum office area. And, it turns out, the Djarum meatball shop has been around since 1972. Therefore, it is not surprising that the service is fast even though the kiosk is already full of visitors.
Not only that, the texture of the meatball is also very fitting and not tough, with the broth that is boiled with beef and beef bones to produce a sharper and more delicious taste. Bakso Djarum itself only serves one menu variant, namely a meatball dish equipped with yellow noodles and vermicelli, as well as beef drops.
The specialty of this meatball dish lies in its tetelan which not only consists of lard, but is still delicious beef. The price is quite affordable, only Rp. 18 thousand for half a portion of meatballs, and Rp. 27 thousand for one portion.
Location: Jl. KS. Tubun Raya No. 2B, Slipi, Jakarta
Opening hours: 09.00 – 21.30
People also read BSD Food Hunt Guide
Bakso Dua Saudara
Want to eat a bowl of bakso in the morning? The legendary bakso in the Jelambar area, West Jakarta can be your choice. Yes, Bakso Dua Saudara is open from 5.30 in the morning. Even though it was open from the beginning of the sun, it was just made, the buyers were already large, even at 8.00 the meatballs they made were usually sold out.
The specialty of Bakso Dua Saudara is the famous meatball which is famous for its delicious taste and is the most sought after. Not without reason, their meatball tofu has a soft and fitting texture. In a bowl of meatballs, you will get the legendary tofu meatball dish, with several small beef meatballs, as well as jumbo meatballs filled with minced meat. Very filling, right?
Location: Jalan Jelambar Utama 10 near Medan Market
Opening hours: 05.30 – finished.
Bakso Sapi Singkawang 28
Do you want to eat a more pocket-friendly version of A Fung's meatballs? Just stop by their bakso place at Singkawang 28 Beef Meatballs which taste no less great!
Flat meatballs, 'vein' meatballs, and meatballs are both delicious. The texture is quite smooth, dense, and feels the beef.The savory sauce is even more special when you add the typical Singkawang sonkit orange juice. The splash of chili sauce and soy sauce is guaranteed to make the taste kick even more! Price: Rp. 28,000 – Rp. 31,000
Location: Bakso Sapi Singkawang 28 Jln. Sunter Indah Park No. 22, Sunter, North Jakarta
People also read Jakarta's Classic Streetfood Snacks
How about you, have a recommendation for your favorite meatball shop in Jakarta? Come on, write your recommendation for a delicious meatball stall in the comments column below!