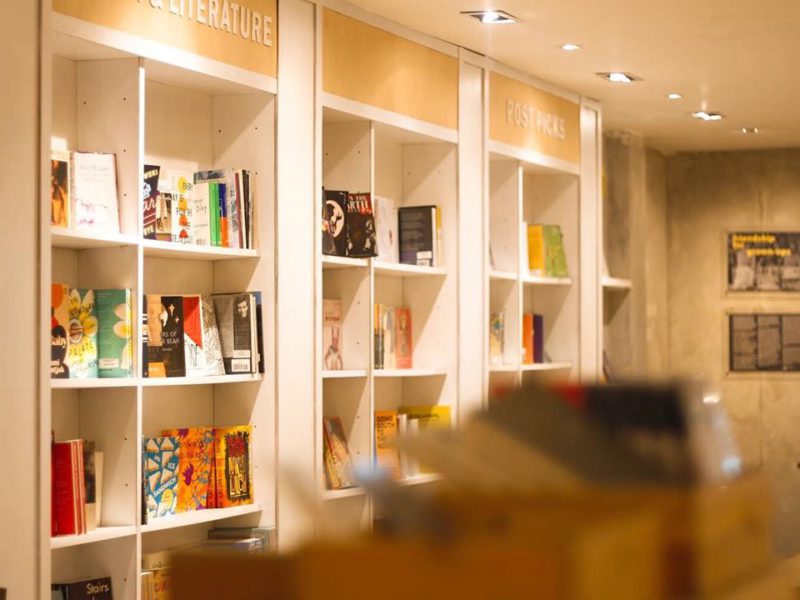 Bookstores are built to provide various kinds of books. It is very advantageous since people could find the book they are looking for and even come across some interesting books while they're at it. Jakarta, as the capital city of Indonesia, has numerous bookstores to facilitate people learning and working in different fields. The existence of a bookstore then helps them to know more about this world.
We have collected several bookstores in Jakarta that have the best services and fully stocked with books. Let's check them out!
1. Periplus
Periplus is one of the best bookstores providing lots of imported books. It has many branches in Indonesia, especially in Jakarta. One of them is the store in Pondok Indah Mall, South Jakarta. Their place is not that wide but complete enough. The book collections are neatly organized and the price is relatively affordable. They also give plenty of discounts regularly. Furthermore, the staff is very friendly and helpful. You can order books through the staff if you cannot find them there. Otherwise, you can do online orders on their website if you have no time to go to the store. If you're looking for some interesting English books, Periplus is the right place.
Address: Metro Pondok Indah Mall Blok III, 1st Floor No. 148, Jl. Metro Pondok Indah, Pondok Pinang, Kebayoran Lama, South Jakarta
Website: www.periplus.com
Instagram: @periplusid
Phone Number: +6287 782866046
Opening Hours: Monday to Sunday (10.00 – 22.00)
2. Gramedia
Gramedia is the most popular bookstore in Indonesia. You can find it in many cities in Indonesia, including Jakarta. This bookstore is usually quite big and most are located inside malls. One of them is the store in Jalan Matraman Raya, East Jakarta. The spacious building is convenient. Their collection is also undoubtedly varied starting from kids' books, textbooks, fiction, non-fiction, science, and religious books. You can find any book either in Bahasa and English.
Furthermore, their friendly staff would help you to find the book that you're looking for. They also have lots of stationery and art supplies.
Address: Jl. Matraman Raya No. 46-48, RW.2, Kb. Manggis, Matraman, East Jakarta
Website: www.gramedia.com
Instagram: @gramediabooks
Phone Number: +6221 8509733
Opening Hours: Monday to Sunday (09.00 – 21.30)
3. Kinokuniya
Kinokuniya, as seen from its name, originated from Tokyo, Japan. It was built first in 1927 and now has a lot of branches in many countries. We can also find some in Jakarta. One of them is in Plaza Senayan. This bookstore sells various interesting and high-quality books. Most of them are in Japanese, Bahasa, and English.
Since it is a Japanese bookstore, you can find many Japanese books to learn their language or comics released in Japan. The books are quite pricey but it is worth it because some books are hard to find in other bookstores. Selling the best quality of imported books, Kinokuniya is undoubtedly a great place for book lovers!
Address: Unit Sogo, Plaza Senayan, Jl. Asia Afrika No. 8, Gelora, Tanah Abang, Central Jakarta
Website: www.kinokuniya.co.id
Instagram: @kinokuniya_id
Phone Number: +6221 57900055
Opening Hours: Monday to Sunday (10.00 – 22.00)
4. Aksara Bookstore
Aksara is a bookstore using a minimalist and elegant concept in Jakarta. This small building offers a cozy ambiance for the customers wanting to read some books or work on their tasks. Located in Kemang, Aksara is also interconnected with a coffee shop called Ruang Seduh, so it is very convenient for reading books while enjoying your coffee. They provide lots of books including the imported ones and indie literature. This bookstore is surely a great choice to spend your free time!
Read also: 5 Best Coffee Shops in Kemang
Address: Jl. Kemang Raya No. 8B, RT.9/RW.1, Bangka, Mampang Prapatan, South Jakarta
Instagram: @aksarakemang
Phone Number: +6221 7199288
Opening Hours:
Monday to Friday (10.00 – 21.00)
Saturday to Sunday (10.00 – 22.00)
5. Books & Beyond
Books & Beyond is a bookstore that is usually located inside malls. One of them is in Plaza Semanggi. It has a small space but has a cozy ambiance. You could find lots of classic literature there, therefore it is a perfect place for literature students. The prices are also quite reasonable since imported books usually have higher prices. For having beneficial shopping, you can register yourself as a member because they allow a 10% discount per day for the members. They also have a booth for discounted books several meters away from the main outlet. Therefore, you can visit both to find interesting books!
Read also: 5 Best Coffee Shops in Setiabudi
Address: Jl. Gatot Subroto, RT.1/RW.4, Karet Semanggi, Setiabudi, South Jakarta
Website: www.booksbeyond.co.id
Instagram: @booksbeyond_id
Phone Number: +6221 25536493
Opening Hours: Monday to Sunday (10.00 – 22.00)
6. POST Bookshop
If you're looking for interesting books, POST Bookshop is the answer. Almost all of them are coming from small publishers targeting specific communities. This bookshop has a warm atmosphere and beautiful décor. Both international and local books are neatly organized on the display shelves.
Read also: 7 Best Coffee Shops in Cipete
For indie literature lovers, it will be great to visit this place since you can also read the books on site. Some chairs and tables are provided there. The owners are friendly and they seem to sort the good books well. The price itself is relatively affordable, starting from Rp60.000 to 250.000, so it is quite possible to buy several books once. However, you need to pay attention to the opening hours since it only opens on certain days.
Address: Santa Market, Upper Floor, Jl. Cisanggiri II No. 6, Petogogan, Kebayoran Baru, South Jakarta
Instagram: @post_santa
Phone Number: +6221 57900055
Opening Hours: Friday to Sunday (15.00 – 20.00)
Bookworms, what are you waiting for? Ready to hunt your wish list books in one of these bookstores in Jakarta?