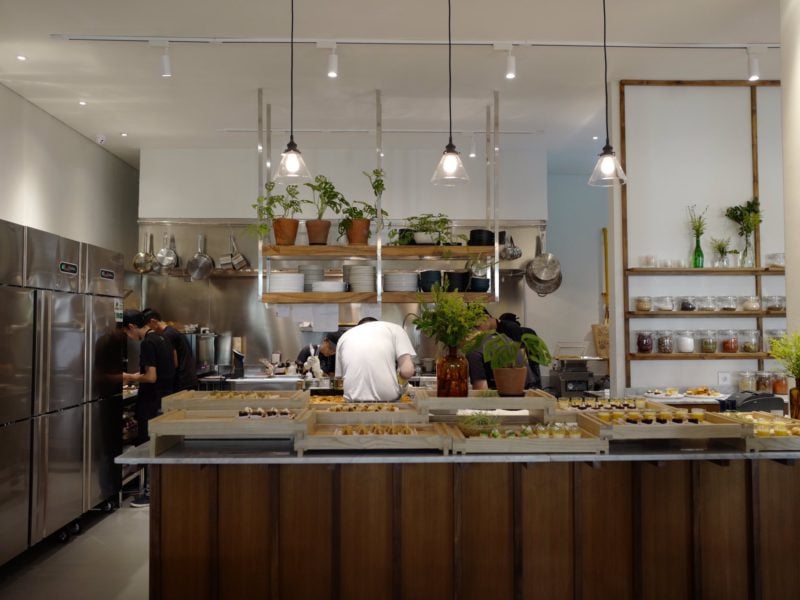 Local Guide
5 Best Coffee Shops in Menteng You Have to Try 
Getting a lot of work done under the deadline must be so stressful for some people, especially in Jakarta where everything moves really fast. Caffeine is one of the many ways you can energize yourself to get through the day. Coffee shop owners seem to understand what you need nowadays. So, not only do they have various kinds of coffee, but they also provide super convenient spaces for you to recharge your energy. There are lots of coffee shops in Jakarta that you can find easily in any area, really. Here we have collected some best coffee shops in Menteng that you can try anytime. Let's check them out!
1. Sedjenak Koffie – Sabang
Having some time to enjoy coffee and throwing away our stress is something we need to do from time to time. Sedjenak Koffie offers an intimate space for one to enjoy a nice cup of freshly roasted coffee. The term "sedjenak" itself means "for a moment"- the time where we can escape from the bustling city life for just a moment.
This coffee house is located right by the roadside of Jl. Agus Salim. Despite its small spot, the menu does not disappoint. Sedjenak Koffie uses local coffee beans to support our local coffee farmers. The beans they use are derived from across the archipelago such as Sukosari Ijen, Welirang Mountain, and many more.
Read also: Hottest Merchants on GoFood
Other than coffee, they also provide chocolate products that originated in Indonesia. The price of the coffee and other beverages itself is quite affordable, starting from Rp25.000,- per serving. While enjoying the coffee, you can also try various snacks. At this coffee shop, you can try its signature menus such as Kopi Susu Sedjenak, Black Sweet Cream, Latte Sweet Cream, and Choco Sweet Cream. Moreover, they also have a spacey outdoor smoking area. You should try this one because, why not? Definitely one of the best coffee shops in Menteng!
Address: Jl. Agus Salim No. 23, Menteng, Central Jakarta
Instagram: @sedjenak.koffie
Phone Number: +6287771213133
Price Range: Rp20.000-58.000
Opening Hours:
Sunday to Thursday (08.00 – 22.00)
Friday to Saturday (08.00 – 24.00)

2. Pigeonhole Coffee Chapter 2
Looking for a place to chill with your friends? Pigeonhole Coffee Chapter 2 is the coffee shop in Menteng you would want to go to! With a small but comfy space, you can enjoy your cup of coffee while catching up with your loved ones or reading the magazines provided. 
This nicely decorated place is located on the first floor of ShopHaus. This super cozy coffee shop is completed with fast service and friendly baristas. You can also choose to sit in the outdoor area but it'll still be inside the ShopHaus building.
Other than coffee, you can also try the non-coffee beverages and snacks as well. All the options on the menu are quite standard for a coffee house. We recommend their specialty menus such as Happy Black, which is sweetened espresso with milk added with activated charcoal, Happy White, Granita, Sonic Boom, and Jamochato.
Pigeonhole Coffee opens daily in the early morning so it's great for those wanting a quick coffee fix before work. For you who support the no-plastic movement, this coffee shop is suitable for you because they have "no plastic straw policy"!
Address: ShopHaus 1st floor, Jl. Teuku Cik Di Tiro No. 36, Menteng, Central Jakarta
Instagram: @pigeonholecoffee
Phone Number: +6285899971238
Price Range: under Rp50.000
Opening Hours: Daily (07.00-22.00)

3. Giyanti Coffee Roastery
Having a cup of coffee and taking some pictures to be shared on our social media is like a habit for some people nowadays. Giyanti Coffee Roastery is a great place for you to get some aesthetic pictures.
This minimalist place is super comfy and we promise you, every corner is instagramable. Both the outdoor and indoor spaces are convenient and the baristas are super kind. They can make pretty latte art for the customers as well.
Read also: Top 5 Sunday Brunch Spots in Menteng
As it is very well-known among coffee lovers, get ready to be on the waiting list. The prices are quite affordable and there is a lot of coffee and snacks that are worth the wait. you who want to come over, Mocca Melt and Croissant are recommended for you to try! The opening hours are relatively short and they close every Sunday and Monday, so mark your calendars!
Address: Jl. Surabaya No. 20, Menteng, Central Jakarta
Instagram: @giyanticoffee
Phone Number: 021 31923698
Price Range: Rp40.000-50.000
Opening Hours: Tuesday to Saturday (09.30-17.30)

4. Coffee 31 Menteng
Sometimes, it's hard to hold a deep conversation with your significant other. If you're looking for a nice private space to do it other than at home, give Coffee 31 Menteng a visit. The L-shaped building creates a minimalist look and you can also enjoy the view of the outside world through the glass wall – making the room feel bright.
The tranquil space and good service could attract customers to revisit. Make it one of the best coffee shops in Menteng. Also, the price is super affordable for both drinks and snacks, starting from 15K. To give a try, we recommend you the signature menu such as Es Kopi Susu 31, Es Kopi Amen 31, and Es Kopi Regamen 31.
Address: Jl. Dr. GSSJ Ratulangi No. 31, Menteng, Central Jakarta
Instagram: @coffee31menteng
Phone Number: +6281918478677
Price Range: Rp15.000-45.000
Opening Hours:
Monday to Thursday (08.00-22.00)
Friday to Saturday (08.00-23.00)
Sunday (07.00-18.00)

5. 1/15 Coffee Menteng
Enjoying coffee while having a fancy brunch? 1/15 Coffee is a place with a vintage concept to make you feel comfortable and relaxed. You can choose either an outdoor or indoor area to sit in. The place was actually an old house which has been redecorated into a uniquely beautiful coffee house.
Read also: 5 Must-Try Fine Dining in Menteng
The sight of many plants and flowers will make you calm. Both hot and cold coffee are nice to enjoy and you can also try the delicious sweet and savory foods while you're at it. The recommended ones to try are Ice White and Potato Hash Brown. The coffee and food can be a bit pricey but it is totally worth it!
Address: Jl. Dr. Kusuma Atmajaya No. 79, Menteng, Central Jakarta
Instagram: @115coffee
Phone Number: +6281918478677
Price Range: Rp30.000-180.000
Opening Hours:
Daily (07.00-21.00)
Now coffee lovers, get up and get your coffee! Try one of these coffee shops in Menteng!