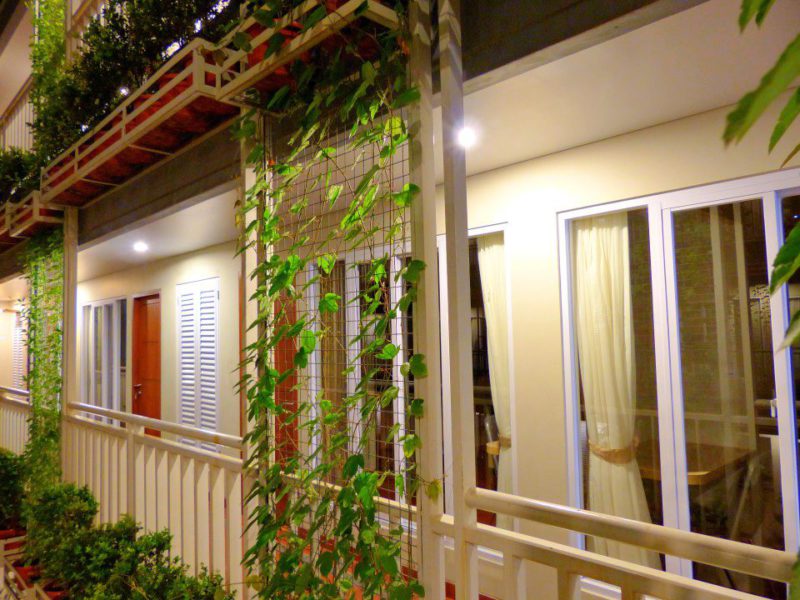 South Jakarta is a strategic region in Jakarta known for its many office buildings and residential hotspots spread around ten districts: Kebayoran Baru, Kebayoran Lama, Cilandak, Pasar Minggu, Mampang Prapatan, Tebet, Setiabudi, Pancoran, Jagakarsa, and Pesanggrahan. It's home to major CBDs such as SCBD and Mega Kuningan. So, it's no wonder that many people want to live in the area.
For those who are not from South Jakarta, commuting to work or university is tiring – especially with Jakarta's traffic. One of the best options to avoid this is to find accommodation nearby. Instead of buying a house, it is better to rent since purchasing one would be such a big commitment; not to mention expensive. Fortunately, there are some more affordable and flexible options such as renting a house, an apartment unit, and a room in a boarding house – what locals refer to as kos-kosan. For you who are still studying or starting your work, living in a kos might be the option since the price is more affordable.
Before deciding on which kos-kosan you want to rent, you may take a look at our recommendation. We have a compilation of some of the best kos-kosans in South Jakarta that is situated in a strategic location and provides great facilities to make you feel right at home. Check them out!
1. Gandaria Service Residence
Gandaria Service Residence is a boarding house located in Gandaria, South Jakarta. It is easy to find the location since it's near the main street, right across the 1Park Apartment. This place supports long or short term stay and is expat-friendly. Besides, it facilitates 32 rooms with a simple minimalist arrangement and several types. There are superior rooms, standard rooms, and deluxe rooms. You could also find other rooms such as the lounge and ones that are specially made for relaxing and exercising. The fish pond outsides the rooms creates a tranquil atmosphere so the atmosphere of the place, in general, is peaceful and comforting.
As it is located near the main street, public transportations is easy to reach. You could also find shopping centers around the area such as Gandaria City Mall which is only 800m away. Provided with lots of good facilities and Japanese food as a special service, this boarding house is a great place to stay.
Address: Jl. Gandaria 8 No. 18, RT.11/RW.1, Kramat Pela, Kebayoran Baru, South Jakarta 12130
Phone Number: +6221 7255125
Website: www.gandaria-residence.com
Price: You can directly contact the owner for details
Facilities:
Fully furnished room
Inner bathroom
Lounge
Fish pond
AC
TV
Wi-Fi
2. Aalaya Pakubuwono
Providing 5 types of bedrooms, this boarding house is quite large since the room sizes start from 9.88m2 to 13.23m2. The rooms' have a minimalist design and a homey vibe. It has a large and shady front yard that is surrounded by some small plants and trees.
Most of the boarders are college students because Aalaya is located in Jl. Hang Lekiu, which is near one of the campuses of Binus (Bina Nusantara) University, a popular university in Jakarta. It is also near some shopping centers such as Blok M Plaza, Plaza Semanggi, and Plaza Sudirman that can be reached within 5 to 13 minutes by car. As it is a fully furnished boarding house, you can stay there as soon as you're done with the deal.
Address: Jl. Hang Lekiu IV No. 10A, RT.6/RW.4, Gunung, Kebayoran Baru, South Jakarta 12120
Phone Number: +6287 877290898
Price: Starting from Rp3.200.000/month
Facilities:
Bed
AC
Cupboard
Inner bathroom
Water heater
Living room
Wi-Fi
Security/CCTV
Parking lot
Maid
Kitchen
3. Sastrodikoro Residence
Sastrodikoro Residence is located in Blok M, precisely Jl. Tulodong Atas. Since it is reachable to go to some office buildings and private universities, most of the residents are employees and college students. Jl. Sudirman and Gatot Subroto, on which the business offices are spread out, Atmajaya, and Moestopo University are only 8-9 minutes away by car from the residence.
The rooms in this residence are quite spacious and comfy. Both buildings and rooms are dominated with brown and cream colors, with wooden furniture in every space. Providing a homey vibe, Sastrodikoro Residence is one of the best-rated kos' houses to live in South Jakarta.
Address: Jl. Tulodong Atas No. 14, RT.6/RW.3, Senayan, Kebayoran Baru, South Jakarta 12190
Phone Number: +6221 52963489
Price:
Rp400.000/day
Rp3.700.000/month
Facilities:
Bed
AC
Wi-Fi
TV
Inner bathroom
Water heater
Cupboard
Table and chair
Parking lot
Kitchen
Refrigerator
CCTV
4. Urbanite at Kemang
Having 30 rooms in total, Urbanite is like a small apartment located in Kemang, South Jakarta. This exclusive boarding house is decorated with beautiful green plants arranged on the balcony, making it look fresh and clean. The rooms have various sizes starting from 14m2 to 31.5m2 and are fully furnished. You could also get natural light and fresh air since the wide windows inside the rooms are directly facing the open air.
Surrounded by some culinary spots, you don't have to worry about finding food since Urbanite is located behind McDonald's Kemang and Dim Sum Festival so you can just walk to those places. Kemang is also an area where there is a large expat community because some prestigious schools and universities are situated there. This boarding house could be rented daily, weekly, and monthly; depending on your period plan on staying there.
Address: Jl. Kemang I No. 4B, RT.10/RW.1, Bangka, South Jakarta 12370
Phone Number: +6281 8982050
Facebook: Urbanite at Kemang
Price:
Rp400.000/day
Rp3.000.000/month
Facilities:
Bed
AC
TV
Wi-Fi
Living room
Security/CCTV
Kitchen
Maid
Parking lot
5. Lamandau Kost Exclusive
Located in Bulungan, Lamandau Kost Exclusive is a strategic boarding house emphasizing its easy access and transportation to other areas. The house is quite big with a fully furnished room and some other facilities. Lamandau Inn provides 2 types of room with sizes starting from 20m2 to 24m2. It is dominated by calming colors like white and blue so if you are looking for a simple but cozy room, this kos-kosan would be the best option.
Furthermore, if you stay in this boarding house, you can reach some landmarks easily such as Plaza Blok M, RSPP (Rumah Sakit Pusat Pertamina), Mall Gandaria City, Beer Garden Radio Dalam, and Senayan City which are only 5 to 10 minutes to reach by car. It is also near a TransJakarta halt so you don't have to worry if you don't have a personal car or motorbike.
Address: Jl. Lamandau Raya No. 2 Bulungan, South Jakarta
Phone Number: +6281 21063286
Price: Rp3.200.000/month
Facilities:
AC
Wi-Fi
Inner Bathroom
Cupboard
Water heater
Table and chair
TV
Refrigerator
Security 24/7
Parking lot
Maid
Shared kitchen
Living room
They all seem pretty cool, right? We hope from the list we provided, you're able to find the one that you're looking for. If you're still unsatisfied with the list or am looking for something 'more,' we suggest you take a look at our shared apartments. It's great for those looking for more flexibility, privacy, and community. Or even before that, you can check out our article comparing traditional rentals with coliving in a shared apartment so that you can get a clearer picture of which type of accommodation suits you the best. Happy hunting!