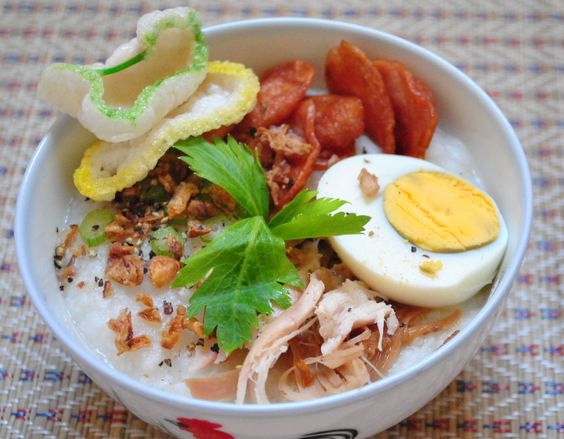 Jakarta is a very multicultural city, every month there must be new menus created by creative people in the culinary field. But in the midst of the increasingly rapid development of the culinary world, there are Jakarta's local specialties that still survive. These foods are very characteristic of Jakarta's taste since a long time ago and remain a favorite food among the locals in the midst of this modern era. So, for those of you who travel or live in Jakarta, don't forget to taste the typical Jakarta's inherited local food listed down below!
read more about: Best Street Food Center in Jakarta

Bubur Ayam
In Jakarta, chicken porridge or as the locals call it, Bubur Ayam. is very famous to be eaten at breakfast in the morning. Jakarta chicken porridge is sprinkled with delicious shredded chicken and also added beans and leeks. In addition, you can also add eggs and optional side dishes such as various kinds of satay. In Jakarta, many traders sell chicken porridge, from carts, street stalls, to restaurants.
Recommended stall: Bubur Ayam Barito.
Address: Jl. Gandaria Tengah III No.3, RT.3/RW.4, Kramat Pela, Kec. Kby. Baru, Kota Jakarta Selatan.
Opening hours: 04.30 PM –11.30 PM (Every day).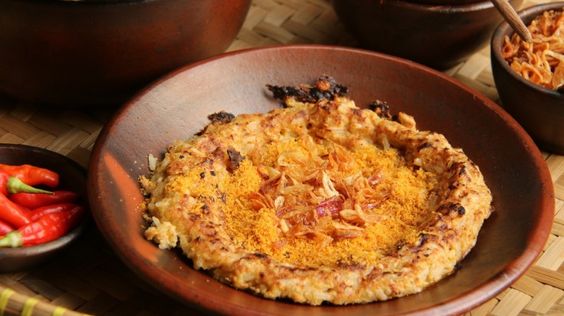 Kerak Telor
Kerak Telor can be said to be the local fast food of Jakarta residents. No need to take a long time to serve it, it only takes less than 15 minutes then you can eat a delicious warm kerak telor.
This dish is made from ingredients such as white glutinous rice, chicken/duck eggs, dried roasted salted ebi (dried shrimp) plus fried onions, then given a finely seasoned form of roasted coconut, red chili, kencur, ginger, granulated pepper salt, and sugar.
Recommended stalls: There's a bunch of kerak telor stalls around the Monumen Nasional (Monas) area that you can try.
Address: Jl. Medan Merdeka Selatan, Central Jakarta.
Opening hours: 08.00 AM – 10.00 PM (Every day).
Nasi Uduk
Nasi uduk has been a favorite food of Jakarta people for a long time. There are so many food stalls in Jakarta that sell this dish. Turns out that Nasi uduk has been around since the 14th century. Nasi uduk comes from Malay land, coming to Jakarta brought by traders. Side dishes for nasi uduk may vary, but the characteristics of nasi uduk everywhere remain the same. The rice used is processed by diaron and steamed with coconut milk and various herbs. Side dishes most often served with Nasi Uduk include tofu, tempeh, chicken, or omelet. This menu is suitable to be eaten at any time, whether morning, afternoon or evening.
Recommended stalls: Kedai Nasi Uduk & Ayam Goreng Zainal Fanani.
Address: Jl. Kb. Kacang 8 1-5, RT.1/RW.5, Kb. Kacang, Kecamatan Tanah Abang, Kota Jakarta Pusat, Daerah Khusus Ibukota Jakarta 10240.
Opening hours: 10.00 AM – 12.00 AM (Every day)
Ketoprak
Ketoprak, one of Jakarta's local food, has a very distinctive savory taste. No wonder, there is a mixture of peanut sauce and sweet soy sauce, making ketoprak even more delicious. You could say, ketoprak is the best way to enjoy a combination of diamond, tofu, and vermicelli.
Recommended stalls: Ketoprak Ciragil, Senopati.
Address: Jl. Ciragil II No.24, RT.6/RW.1, Rw. Bar., Kec. Kby. Baru, Kota Jakarta Selatan, Daerah Khusus Ibukota Jakarta 12180.
Opening hours: 09.00 AM – 05.00 PM (Every day).
Gado-gado
Gado-gado is a typical Indonesian food consisting of various boiled vegetables then mixed with peanut sauce. Usually, the vegetables that are used are cabbage, string beans, kale, potatoes, lettuce, and many others. Gado-gado is often referred to as a salad. But the difference is, gado-gado is often eaten with lontong, fried tofu, and boiled eggs. Gado-gado is also a favorite food of many people because it consists of various vegetables that are so nutritious and healthy. Vegetables from the gado-gado component are not sauteed, so they do not contain oil. It feels even more delicious with a blend of peanut sauce or peanut sauce, making gado-gado so popular. Gado-gado is often found in every city. There are several kinds of gado-gado seasoning recipes spread in Indonesia, one of them is gado-gado Jakarta.
Recommended stalls: Gado-gado Bon Bin, Cikini.
Address: Jl. Cikini IV No. 5, Cikini, Menteng, Jakarta Pusat.
Opening hours: 10.00 AM – 05.00 PM (Every day).
Ketupat Sayur
Besides a variety of rice and porridge, ketupat sayur is no less popular for breakfast among Jakartans. In Jakarta, there are many places to eat the legendary complete and delicious ketupat sayur. A plate of ketupat sayur has a large portion, with a complete filling. Such as eggs, stews, vegetables, chili sauce, crackers, until the addition of warm fried foods. In Jakarta, many ketupat sayur stalls have been open since morning and some stalls open until midnight.
Recommended stalls: Ketupat Sayur Mandala, Mampang Prapatan.
Address: Jalan Mampang Prapatan No. 17 RT. 03 / RW. 05 Duren Tiga Pancoran RT.4, RT.3/RW.5, Duren Tiga, Kec. Pancoran, Kota Jakarta Selatan, Daerah Khusus Ibukota Jakarta 12790.
Opening hours: 06.00 AM – 02.00 PM and 06.00 PM – 04.00 AM (Every day).
Soto Betawi
In Indonesia, Soto has various variants in each region. Some are served with yellow, clear broth, some are brownish like rawon. One of them is soto betawi from Jakarta.
Soto Betawi's broth is a combination of coconut milk and milk cooked with spices. Do not forget to combine into one in the delicious tender meat. There are also additional toppings such as fried or boiled potatoes, tomatoes, and melinjo chips used as crackers.
Recommended stalls: Soto Betawi Haji Husen, Manggarai.
Address: Jl. Padang Panjang No. 6C Pasar Manggis Setiabudi Jakarta Selatan DKI Jakarta 8 8, RT.8/RW.8, Ps. Manggis, Kota Jakarta Selatan, Daerah Khusus Ibukota Jakarta 12850.
Opening hours:
07.00 AM – 02.00 PM (Monday – Thursday; Saturday & Sunday),
Closed on Friday.
There you have it, 7 Jakarta's local foods that are a must-try while you are in Jakarta! We hope you like these foods! Don't forget to check out our other culinary recommendations!
find out more about a guide through neighbourhood in tebet here