People of Jakarta love shopping! It's the center of entertainment, trends, and fashion, they offer their customers a wide range of activities in Jakarta. You can watch the newly-released films, shop for groceries, or browse through the fashion boutiques, all in one venue. But with so many shopping malls, how would you know the best? Don't worry, we got your back! This page takes you to an in-depth look at Jakarta's finest shopping malls. And don't worry about an overselling list, because by best shopping malls we mean malls with the most curated brands, from luxurious to the affordables, and all other activities you can do in between. Great foods, cinemas, even playgrounds, you name it!
1. Grand Indonesia Shopping Town, Thamrin
Located in the business hub of Thamrin, Grand Indonesia is the largest shopping mall in Jakarta. This enormous 'shopping town' consists of a massive collection of high-end, fast fashion, and local shops enough to quench anyone's thirst for shopping. There is also an array of great quality restaurants and cafes where you can find local delicacies and international cuisines. Grand Indonesia is also home to the largest Sphere X theatre in the world, which has a giant curved screen the size of a basketball court!
Why we love this mall: Grand Indonesia has a lot to offer! And by a lot we mean one day is not enough to enjoy all of its amazing features. When you get there, don't forget to check out Alun-Alun Indonesia, which is the one-stop shopping experience for world-class Indonesian products inspired by the nation's culture and heritage. Plus, there is a free Magic Fountain show, which is a spectacular light and music show performed every weekend. Both locals and expats alike find this mall a great hangout spot!
Address: Jl. M. H. Thamrin No.1, Central Jakarta, Jakarta 10310, Indonesia
Telephone: +62 2123587000
Social Media:
Instagram (@grandindo)
Facebook (@grandindonesiaGI)
Official Website: www.grand-indonesia.com
Opening Hours: Monday to Sunday (10.00 – 22.00)
2. Plaza Senayan, Senayan
Famous for its collection of high-end fashion, this shopping paradise is located in Senayan –  one of the most affluent neighborhoods in Jakarta. Indulge yourself in Plaza Senayan and treat yourself with a variety of high-quality apparel, accessories, and jewelry. The three-story building is lined with high-end brands such as Bvlgari, Gucci, Fendi, Cartier, and many more. Due to its luxurious atmosphere, the mall attracts a more upper-class crowd. Plaza Senayan is a favorite mall for Jakarta's socialites to hang out and dine at one of its gourmet cafes or restaurants.  
Other than luxury shopping, the mall is also known for a giant musical clock located in the central lobby that plays a jingle accompanied by dancing animated figures at every hour. You also don't want to miss out on the Kinokuniya book store, the second-largest bookstore in the nation for imported books. So, put on your sensible heel, grab your wallet, shop til you drop at Plaza Senayan shopping mall!  
Why we love this place: Luxurious brands, classy layout, amazing gourmet places, all under one roof. This mall is perfect for your dress-up and flashy kind of night. Having a romantic dinner with your loved ones and go shopping afterwards or a cute bookstore date, all possible in Plaza Senayan.

Address: Jl Asia Afrika No 8, South Jakarta, Jakarta 10270, Indonesia
Telephone : +62 5725555
Social Media:
Instagram (@plaza_senayan)
Facebook (@plazasenayan)
Official Website: plaza-senayan.com
Opening Hours: Monday – Sunday (10.00 -22.00)
3. Kota Kasablanka Mall, Tebet
Kota Kasablanka mall is probably one of the most popular shopping centers in South Jakarta.  Located strategically in the developing Casablanca area, Kota Kasablanka, or "Kokas" as locals call it, attracts millions of visitors each year with its hundreds of international and local apparel, entertainment, and lifestyle stores at affordable prices. It is the one-stop shopping venue with the most complete products and services. And of course, you can't miss the Food Society section, one of the biggest food court in the country with numerous tenants.
Not to mention, Kota Kasablanka is a very family-friendly mall with several entertainment options that can be enjoyed by all members of the family. You can sing your heart out in Inul Vizta KTV; watch the latest released film in Cinema XXI; or play some arcade games in the Amazing Caribbean. For those with young children, there is Chipmunk Playland and Cafe, an indoor kid's playground and cafe for children up to 11 years of age.    
Why we love this place: The astonishing design of the mall will make us spend a really long time in Kokas. One-stop shopping venue layout curates all the stores neatly so no need to go back and forth to get the things you need.
Address: Jl. Kasablanka Raya, Kav. 88, Tebet
Central Jakarta, Indonesia 12870
Telephone: +62 29465000
Social Media:
Instagram (@kotakasablanka)
Facebook (@KotaKasablanka)
Official Website : www.kotakasablanka.co.id
Opening Hours: Monday – Sunday (10.00 -22.00)
4. Lotte Shopping Avenue, Kuningan
Located amongst high rise towers in Kuningan, South Jakarta,  Lotte Shopping Avenue or "LOVE" is a part of the LOTTE Group, a South Korean-based company primarily involved in the operation of retails. The mall's design shares similarities with department stores with each floor having its own category of products ranging from cosmetics, fashion, home appliances, to children's toys. The shopping avenue carries local and imported products, with a wide range of popular K-beauty brands, from luxury brands such as SK-II to affordable ones like Tony Molly and Face Shop. Moreover, in LOVE you can find numerous options for Korean restaurants and cafes with guaranteed satisfaction to fulfill your cravings for Korean cuisine. It's a must-visit for Korean lovers. 
What's unique about LOVE is it provides an Art & Culture Edutainment Center which is an informal education center for kids and adults where you can take lessons on a variety of subjects. LOVE is partnering with the most prestigious institutions in the categories of education, art, and lifestyle to give you the best learning experience. Discover your true potential with LOVE Kuningan.  
Why we love this place: Basically all the things they have about Korea! And it doesn't stop there, international brands like Elle and Thule set you up for a great shopping trips. Need to do your groceries too? Ranch Market it is! The complete features really makes this mall one of the best.
Address: Jl. Prof. Dr. Satrio Kav 3 – 5, Karet – Kuningan
Jakarta 12940, Indonesia
Telephone: (021) 29888010
Social Media:
Instagram (@lotte_avenue)
Facebook (@lotteavenue)
Official Website: www.lotteavenue.co.id/
Opening Hours: Monday – Sunday (10.00 -22.00)
Want to what else Setiabudi has to offer? Come check out some places you can enjoy in the Setiabudi area!

5. Pacific Place Mall, SCBD
In the SCBD area, Pacific Place is the perfect place to go if you don't know what to eat. The six-story building offers a wide selection of restaurants, cafes, and bakeries at various price ranges. The top floors are filled with international and local restaurants, so you can pick in what you're in the mood for. Other than that, Pacific Place houses many high-end shops like the Galeries Lafayette, a luxurious French department store located on the ground floor. Make sure to visit the Hard Rock Cafe, the legendary rock-themed cafe that became the hot spot for Jakarta's upper classes ever since it opened its branch there in 2013. 
Why we love this place: Did we mention the numerous high-end stores? Yes, but we're telling you anyway! From Prada to Lamborghini store, this mall really is one of a kind. It even has a Hard Rock Cafe, one of the very few located in the country.
Address: Jl. Jend. Sudirman No.52-53, Senayan, South Jakarta, Jakarta 1290, Indonesia
Telephone : +62 5154888
Social Media :
Instagram (@pasificplacemall)
Facebook (@PasificPlaceJakarta)
Official Website: www.pacificplace.co.id
Opening Hours:
Saturday – Sunday (10.00 – 21.00)
Monday – Thursday (11.00 – 20.00)
Friday (11.00 – 21.00)
6. Plaza Indonesia, Thamrin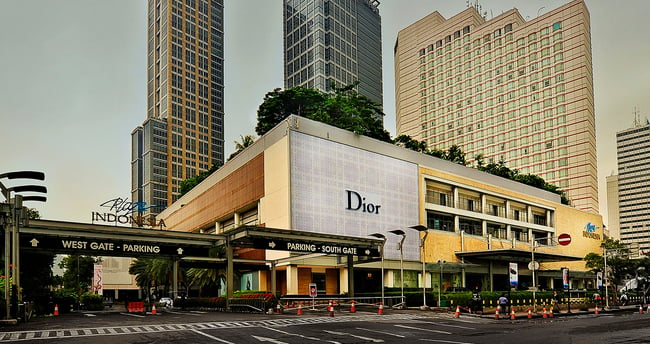 Located right across Grand Indonesia, this mall easily one of the best malls in the country in terms of shopping. Curated with lots of high-end brands like Louis Vuitton, Rolex, Gucci, Balenciaga, Versace, and a whole lot more. Definitely not the biggest building, but it makes it handy to explore all the corners. It also has Ranch Market for your groceries errand. Cork&Screw, Sushi Hiro, and the luxurious Enmaru, those are just a few of the great restaurants in this mall.
Why we love this place: Simple but undeniably classy. Plaza Indonesia is perfect for a quick shopping trip and grab a handy meal afterwards. Or, you can go all the way for a shopping spree with all the available options laid neatly in front of you.
Address: Jl. M.H. Thamrin No.9, RT.9/RW.5, Gondangdia, Menteng, Central Jakarta City 10350
SocialMedia:
Instagram (@plazaindonesia)
Facebook (Plaza Indonesia)
Official Website: www.plazaindonesia.com
Opening Hours: Monday to Sunday  (10.00 – 22.00)
7. Central Park Mall, Petamburan
Marked by two towers overlooking a spacious park, you just can't miss this mall. Its main oval atrium offers numerous tenants, neatly placed on each one of its five floors. The wide range of choices from fast-food restaurants to a dining place also serve your appetite just fine. The mall also sits perfectly between two other famous malls, Mall Taman Anggrek and the magnificent Neo Soho. Bored hovering in one mall? just hop on to another one!
Why we love this place: Local brands like Batik Keris, to international ones like Mont Blanc and Aigner, all provided here. The outdoor park features koi ponds and lush gardens, and not to mention, it's pet friendly! Truly is one of the shopping experience you can't get anywhere else.
Address: Jl. Letjen S. Parman No.28, RW.6, Tj. Duren Sel., Kec. Grogol petamburan, Kota Jakarta Barat, Daerah Khusus Ibukota Jakarta 11470
Social Media:
Instagram (@centralparkmall)
Facebook (Central Park Mall)
Official Website: centralparkjakarta.com
Opening Hours: Monday to Sunday  (11.00 – 21.00)
8. Pondok Indah Mall
More known to locals as 'PIM', this mall is perfectly located close to luxurious residential area, Pondok Indah suburb of South Jakarta. The selection of high-end retail shops of healthy stuffs like Braun Büffel and Karen Millen offers you great shopping experience. You're also guaranteed to find plenty choice of affordable to classy products. Other than cinemas, PIM also has numerous food places from Gyu-Kaku, Five Guys, to Din Tai Fung.
Why we love this place: This mall somehow radiates lovely youth vibes, maybe because it is often the go-to place for teenagers and young adults to grab meals, watch movies, and of course, shopping. The practicality is also a great value provided by PIM for you to comfortably fulfil those shopping cravings
Address: Jalan Metro Pondok Indah Kav. IV, RT.1/RW.16, Pd. Pinang, Kec. Kby. Lama, Kota Jakarta Selatan, Daerah Khusus Ibukota Jakarta 12310
Social Media:
Instagram (@pondokindahmall.pim)
Facebook (Pondok Indah Mall)
Official Website: pondokindahmall.co.id
Opening Hours: Monday to Sunday  (11.00 – 22.00)
9. Mall Taman Anggrek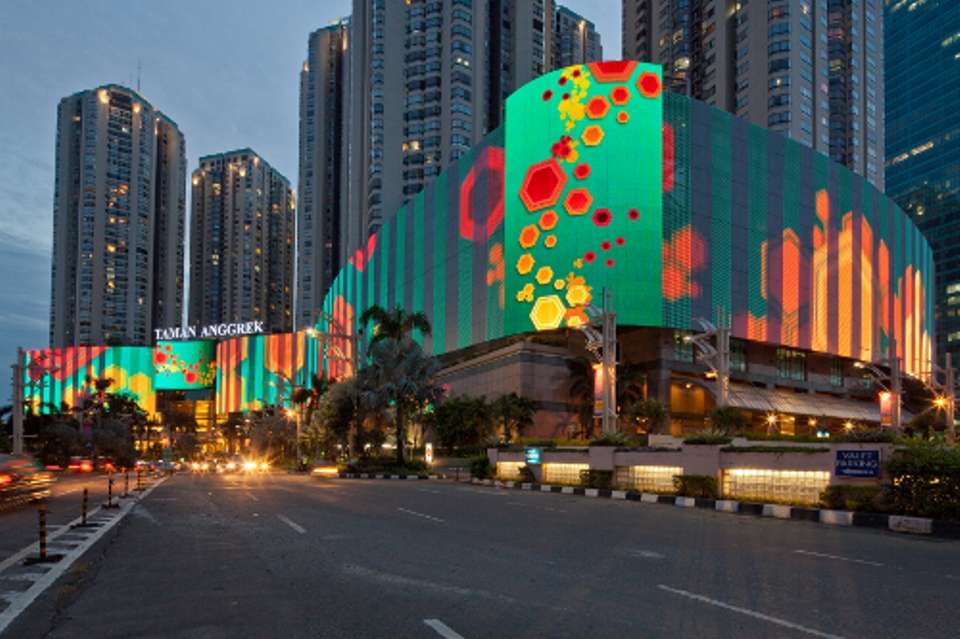 Established in 1996, Mal Taman Anggrek still reigns as one of the best shopping mall in Jakarta. Seven storeys up filled with finest brands from fashion to beauty stores, Taman Anggrek is truly amongst the biggest mall in the country. The mall is home to over 400 outlets, few of them are Uniqlo, Elle, and L'Occitane. And surely, the most favorite spot in this mall, the ice skating rink. Your kids or young relatives can enjoy their best time there while you go off-the-chain and enjoy the best shopping experience.
Why we love this place: As we said, it's a BIG big mall. You can  prove this just by admiring the giant LED display that cover the whole front side of the mall. So it has everything you can ask for a mall. It's perfect for those kind of shopping trips where you decide what you're getting just along the way. You can see yourself walking out with heavy shopping bags!
Address: Jl. Letjen S. Parman No.Kav. 21, RT.12/RW.1, Tomang, Kec. Grogol petamburan, Kota Jakarta Barat, Daerah Khusus Ibukota Jakarta 11440
Social Media:
Instagram (@maltamananggrek)
Facebook (Mal Taman Anggrek)
Official Website: taman-anggrek-mail.com
Opening Hours: Monday to Sunday  (11.00 – 21.00)
10. Gandaria City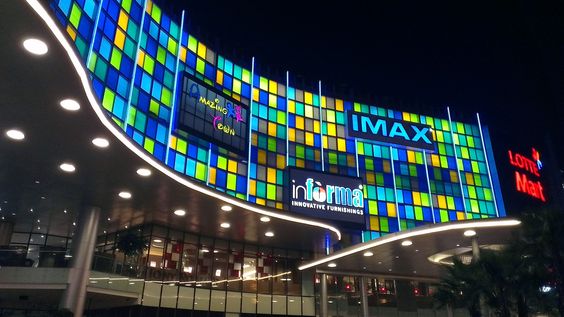 Other than one of the best, we call this mall a proper family shopping destination in Jakarta. Also popular as 'GanCit' by the locals, this mall offers well over 300 stores with well-known brands like Charles & Keith and H&M. Kids entertainment also stands out here with one of its arcades provides cosy walks under a beautiful ceiling resembling a sky. Supermarkets and department stores include Lotte Mart, Metro and Uniqlo. Various choices of restaurants and food courts are also worth exploring.
Why we love this place: GanCit is incredibly spacious compared to other previous malls and it uniquely brings out a homey and comfortable feel to your shopping experience. This mall is elegantly modern and goes under the conept of "one-sto lifestyle hub". So you can expect plenty of your needs be taken care of here.
Address: Jl. Sultan Iskandar Muda, RT.10/RW.6, Kby. Lama Utara, Kec. Kby. Lama, Kota Jakarta Selatan, Daerah Khusus Ibukota Jakarta 12240
Social Media:
Instagram (@gandariacity)
Facebook (Gandaria City)
Official Website: gandariacity.co.id
Opening Hours: Monday to Sunday  (11.00 – 21.00)
11. Ashta District 8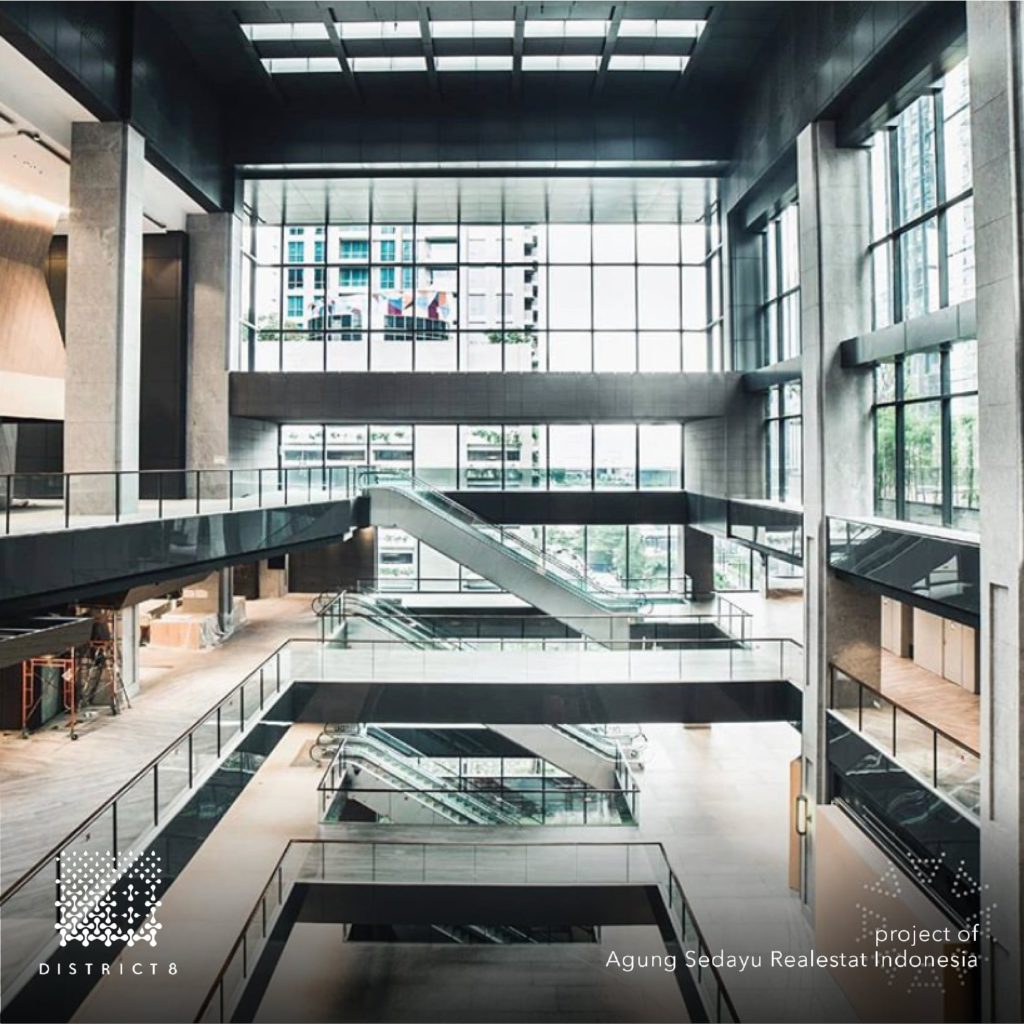 Our number eleven can't come any handier than this. Comes from Sanskrit which means eight, officially open on 11/11. Unlike other malls, this mall has a futuristic design with the concept of a lifestyle mall and hangout place. The philosophy is taken from District 8 figures and 8 elements for a better life. Not many merchants have joined this mall, but there are some merchants that are not found in other malls such as Maison Kitsune, Level Gym, and The Testing Room. Several hangouts with Instagram-able spots are also available including% Arabica, Locus, and Ground Zero by Common Ground. For supermarkets, Ashta chose The Gourmet by Ranch Market to provide household needs such as fruits and vegetables.
Why we love this place: This mall not only provides a variety of fashion and lifestyle needs but also can develop themselves by getting to know various art workshops that are held every week. Ashta collaborates with established and emerging artists to foster enthusiasm and passion for the artists. It will be enlivened with live music events which will be filled by musicians from the capital.
Address: District 8, SCBD Lot 28, Jl. Jend. sudirman kav 52-53, RT.8/RW.3, Senayan, Kec. Kby. Baru, Jakarta, Daerah Khusus Ibukota Jakarta 12190
Social Media:
Instagram (@asthadistrict8)
Facebook (Astha District 8)
Official Website: ashta.co.id
Opening Hours: Monday to Sunday (11.00 – 21.00)
So there you go, our 11 best shopping malls in Jakarta to fill your weekends with joy. Please be selective and prioritize your primary needs while shopping, or don't. Happy shopping!
If you're new to Jakarta, we want to tell some more things about Jakarta through our A to Z Guide to Visiting Jakarta for the First Time.