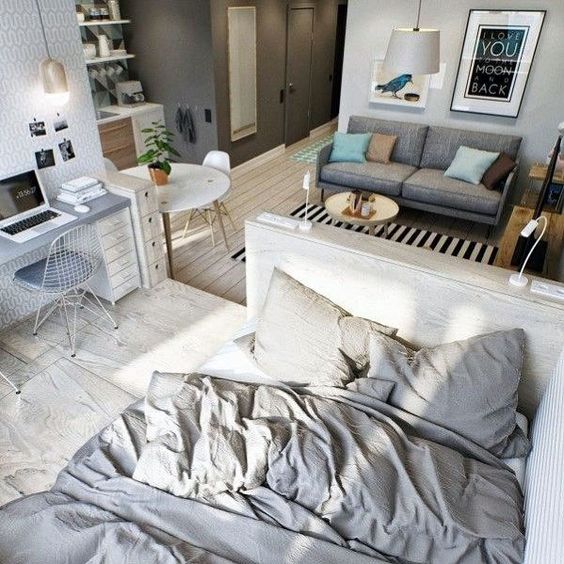 Living in a studio apartment is a very good option for anyone who likes the minimalist way of living. In one room, you can fit all your belongings and still get by with your life. Here in Jakarta, studio apartments work exceptionally well because of how crowded Jakarta is, with so many buildings and not that many empty spaces to get a big house with a good deal. Because Jakarta residents are filled with workers and students anyway, big houses aren't too beneficial because tight schedules require residents to be out and about, leaving the houses empty most times.
People also read: Renting An Apartment In Jakarta: All You Need to Know
If living in a studio apartment sounds like something you want to try out, we have some choices for you. Our picks give you one top studio apartment in each part of Jakarta, so you can make sure that your studio apartment also makes your working and social life simpler.
Kelapa Gading is a very self-sufficient area in North Jakarta. Many things that are essential to living can be found in Jakarta: working places, great homes and neighborhoods, shopping malls, schools for children, places of worship, and so on. Having a studio apartment in Kelapa Gading will mean that your home is in an accessible area, so public transportations wouldn't be a problem to get around.
With the facilities that are availabe in this apartment, you're sure to find everything you need inside the apartment as well. This is good news for you homebodies because you can do many things just by staying in your apartment complex. Apartemen Gading Nias is a good choice of studio apartment if you're in North Jakarta!
Address: Jl. Pegangsaan Dua, Rt 02/Rw 03, Pegangsaan Dua, Kelapa Gading, Kota Jakarta Utara, Daerah Khusus Ibukota Jakarta 14250
Facilities: Fully furnished room, inside bathroom, kitchen, living room, 24-Hour Security, ATM On Site, CCTV In Public Area
Price: Start from Rp 1.980.000,00/month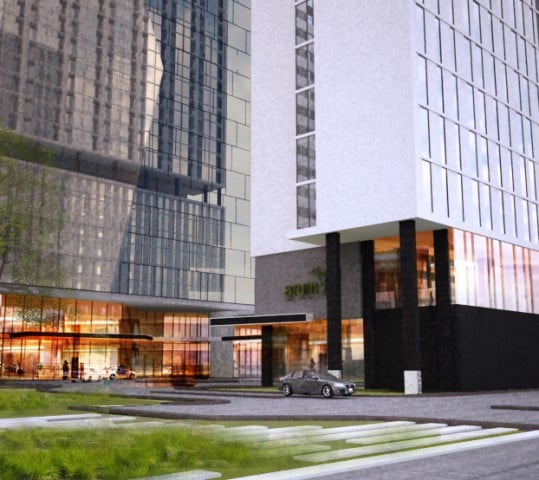 South Jakarta has become Jakarta's proof of the good life for its residents. With many business districts around this area, many (many, many) places for entertainment like shopping malls, theatres, bars, restaurants, and so on, living in South Jakarta means you're living in THE popular place that is looked for by so many. Nifarro Park Apartment, located in Pasar Minggu, gives a good middle where it's not too crowded with entertainment, but it's not too far from it. You can live peacefully at in this studio apartment in South Jakarta with the comfort of your studio apartment with its great facilities, or you can go out and enjoy what the fun is all about, with the places being just minutes away!
Address: Jl. Raya Pasar Minggu RT.1/RW.1, Pejaten Timur, Pasar Minggu, Kota Jakarta Selatan, Daerah Khusus Ibukota Jakarta 12510
Facilities: Fully furnished room, kitchen, living room, 24-Hour Security, ATM On Site, CCTV In Public Area
Website: http://www.nifarro.com/
Price: Rp 3.350.000/month
The Central Jakarta area is known for two things. The first one is the great business districts and is a good area to build homes, as the neighborhoods are very friendly and can create a safe and playful environment for kids. Cempaka Putih, Rawasari and Pramuka is a good area to do this, because the areas are filled with houses and residences.
Green Pramuka City is somewhat a new member of these residences, but it is proven to be a good one. The apartment complex has many buildings for you to choose from, so you can find the best view and place for you. There is also a Green Pramuka Square shopping mall built in the middle of the complex, so you can have a place to fill your living supplies and entertainment within walking distance.
Address: Jl. Jenderal Ahmad Yani Kav. 49, Rawasari, Cempaka Putih, RT.16/RW.9, RT.16/RW.9, Rawasari, Cemp. Putih, Kota Jakarta Pusat, Daerah Khusus Ibukota Jakarta 10570
Facilities: Fully furnished room, kitchen, living room, 24-Hour Security, ATM On Site, CCTV In Public Area, Swimming Pool, Laundry (Charge), Playground, Restaurant, Supermarket, Jogging Track:
Price: Start from Rp 3.000.000,00/month
Living in West Jakarta is a very pleasant way to enjoy life. This area in West Jakarta has more of a green breeze than the rest of Jakarta, so it's not as hot on sunny days in Jakarta. The apartment is close to 2 shopping malls: Lippo Mall Puri and Puri Indah Mall. Therefore, Your needs can be fulfilled in a short time, so that's definitely off your "to pay attention" list. Other than that, you can also find many coffee shops and restaurants lining their streets. If you want to be extra safe for your health emergencies, this studio apartment in West Jakarta is also close to RS Puri Indah.
Address:Jln Pesanggrahan No. 88, Meruya Utara, Kembangan, Jakarta Barat, Daerah Khusus Ibukota Jakarta 11620
Facilities: Fully furnished room, kitchen, living room, 24-Hour Security
Price: Start from Rp 2.500.000,00/month
Bassura City Apartment is also one of those apartments that are integrated into a shopping mall. This comes with many benefits, such as direct access to the mall if you need some food or supplies for your apartment. This area of East Jakarta is very nice although a little bit crowded, usually during busy hours like early mornings (when school starts) or after-working time at about 6 PM. However, the area is still safe because it has 24 hour security.
Address: Jl. Basuki Rahmat No.1A, RT.8/RW.10, Cipinang Besar Sel., Jatinegara, Kota Jakarta Timur, Daerah Khusus Ibukota Jakarta 13410
Facilities:
Fully furnished room
Kitchen
Living room
Mall Access
Swimming pool
Fitness Center
Laundry
Access Card
Cafe
Elevatro
Frontdesk
Jogging Track
CCTV
ATM
Playground
Restaurant
Shops
Supermarket
Security
Price: Start from Rp3.000.000,00/month
6. Sentra Timur Residence, Pulo Gadung
Located in East Jakarta, only a few minutes to Bekasi, Jakarta Outer Ring Road, and Pulo Gadung Industrial Area. Very close to gas station, hospital (Resti Mulya, Pondok Kopi), and Cakung KRL Station. This place is fit for a young executive or a young married couple who works in the Pulo Gadung Area.
Sentra Timur Residence is a part of Sentra Timur Superblock that is under PT. Bakrieland Development. They have established some property masterpieces, such as Rasuna Epicentrum, Bogor Nirwana Residence, Bali Nirwana Resort, etc. With 40 hectares of land, Sentra Timur Superblock was expected to become the newest CBD in East Jakarta.
It's easy to access various public facilities in Sentra Timur Superblock because Sentra Timur Residence lies within this region. Residents can have easy access to Sentra Timur Hotel & Convention, shopping mall, Commercial Plaza, hypermarket, function hall, and office building grade A.
Furthermore, there is Cakung Station 1 km away from the apartment, so it would give convenience to residents who commute a lot. In terms of health facility, there is Rumah Sakit Pondok Kopi (Pondok Kopi Hospital) nearby (3 km away).
Address: Jl. Sentra Primer Timur, Cakung, Jakarta Timur, DKI Jakarta, Indonesia 13950
Facilities:
Swimming pool
playground
Jogging track
ATM Center
Function Room
Grocery store
Fitness center
baksetball court
CCTV
24 hour security
Phone Number: +6287886702171
Price: Rp 2.000.000,00/month
This studio apartment lies in a strategic location in West Jakarta. The distance between the apartment and Soekarno-Hatta Airport (CGK) is just 27 km. It only takes 32 minutes driving to get here. Moreover, Taman Anggrek Residence also located close to Jakarta-Tanggerang and Jakarta-Merak toll road. Developed by Agung Sedayu Group, Taman Anggrek Residence has several towers. The provided unit at Taman Anggrek Residence has various types and sizes, including a studio with 20 m2 of size.
Taman Anggrek Residence gives a lot of convenience to its residents, especially for those who travel a lot in a long distance. The distance between this apartment and the Jakarta Inner Ring Road is only 400 meters. You could also go to West Jakarta and South Jakarta CBD without any difficulty. The nearest station from here is Grogol station (2,5 km).
It's surrounded by many prestigious malls in West Jakarta, such as Taman Anggrek Mall, Central Park Mall, and Neo Soho Mall. All of them can be reached by driving in less than 17 minutes, except for Taman Anggrek Mall which is very close to the apartment (500 meters away). Another edifice nearby is Podomoro University, Kristen Krida Wacana University, Trisakti University, and Tarumanegara University. You can reach those places by driving in less than 2 km.
There are many clinics and hospitals surrounding the apartment, for example, Harapan Kita Hospital (heart disease), Grogol Hospital (mental illness), and Dharmais Hospital (cancer specialty).
Address: Jl. Tj. Duren Timur 2, RT.12/RW.1, Tj. Duren Sel., Grogol petamburan, Jakarta Barat
Facilities:
Kolam renang
Taman bermain
Clubhouse
Fitness center
Jogging track
Tennis court
Forest trail
Aqua gym
Party deck
Garden
Tree House
Sky bridge connecting to the mall
Phone Number: +6282114888360
Price: Rp 4.200.000,00/month
The 12-hectare superblock in South Jakarta, Kalibata City applies the concept of the Affordable Public Residential Superblock that consists of Kalibata Residences, Kalibata Regency, and Green Palace Apartment. The superblock features Kalibata City Square, a state of the art mall that will be the heart of Kalibata City, as well as other amenities that include schools, offices, and commercial areas.
The 7,000 sqm Kalibata City Forest, which serves as Outbound Adventure Park, is designed to be the lung of the superblock. Kalibata City Apartment is really close to Duren Kalibata station. It is only 5 minutes to reach the city's highway.
Besides that, for you who work in areas of Sudirman, Kuningan, and others around, occupying a studio apartment in Kalibata City is suitable for you because it is located near Jakarta Golden Triangle, which is the biggest business district in Indonesia.
Address: Jl. Raya Kalibata, Rawajati, Pancoran, Kota Jakarta Selatan, Daerah Khusus Ibukota Jakarta 12750
Facilities:
Free TV cable 60 channels (locals and internationals), Rukos, Canteen and Culinary visits, Swimming Pool, Jogging Track, Adventure Park, Fitness Centre, Playground Park, 24 Hours security, and large parking area
Phone Number: +62217975111
Price: Rp 2.650.000,00/month
The location of Green Bay Pluit is really strategic which is located Pluit Karang Ayu street and exactly located on the edge of the beach so it makes the residents can directly enjoy the sea's scenery.
Access to various places in North Jakarta is also easy, just like Soekarno-Hatta airport that can be reached in just 15 minutes. This apartment is still one neighborhood with Mall Baywalk so it is close to Pantai Indah Kapuk, Pluit, and other areas of offices and business districts.
Address: Jalan Pluit Karang Ayu Blok B1 Utara, Pluit, Penjaringan, Pluit, Penjaringan, Jakarta Utara
Facilities: ATM Centre, Grocery Store, Functioned Room, and also minimarkets like Alfamart and Indomaret. Besides that, there are also Gym Centre, Basketball Field, Tennis Field if you like to do sports. Not only that, but Swimming Pool, Jogging Track, and Park Playground
Phone Number: +62216621888
Price: Rp 2.200.000,00/month
Menteng is one of the elite residential areas in Jakarta. Its is knows as a residence for high profile people and expatriats. The location is close to the heart of the capital city. Located at Menteng, Capitol Suites Apartment is right at the center of the most strategic elite residential complex in Jakarta, making it one of the best studio apartment in Jakarta. The apartment is very close to Bundaran HI and Thamrin business area.
You can do the shopping and access various entertainment tenants at various malls, such as Plaza Indonesia (4 km), Grand Indonesia (4 km), and Sarinah (3.5 km). You can also find a variety of best schools in Jakarta near apartments, like Kolese Kanisius School (1 km), Bellarminus School (3 km), St Theresia School (3 km), and SMAN 17 Jakarta (5 km).
If you need medical assistance, you can go to Bunda Hospital (2.9 km) and Cipto Mangunkusumo Hospital (3.2 km). Meanwhile, various transportation facilities are also available in this apartment, such as Gambir Station (2 km), Senen Station (500 m), and Kwitang TransJakarta bus halt (50 m).
---
The apartment is developed by Capitol Group and was built as a luxurious and exclusive residence designed with modern style. This can be seen from the building design facade which is the masterpiece of a renowned Singapore designer, Genius Loci. Capitol Suites Apartment has a 19-story tower, where each floor only has 17 residential units.
By the concept, location, and units offered, this place is perfect for businessmen or executives who want to live not far from the business center. The apartment is also perfect for government officials and their families who want to live close to the center of the government.
Address: Jl.kko usman dan harun kavling 22-24, RT.1/RW.5, Kwitang, Kec. Senen, Kota Jakarta Pusat 10410
Facilities: Shopping centers, schools, healthcare centers, adult and children's pool facilities, jacuzzi, fitness center, children daycare, a meeting room, library lounge facilities, lobby service, concierge service, and valet service
Phone Number: +6282122316110
Price: Rp 7.050.000,00/month
---
These are our top picks for the best studio apartments in Jakarta. Finding a studio apartment comes with many options that start with knowing the area you want to live in. Once you know which area benefits your needs every day, we assure you that there's a studio apartment ready to rent or buy.
Read also: List of Apartments Near LRT Stations in Jabodetabek
WANT TO RENT A STUDIO APARTMENT? RENT HERE