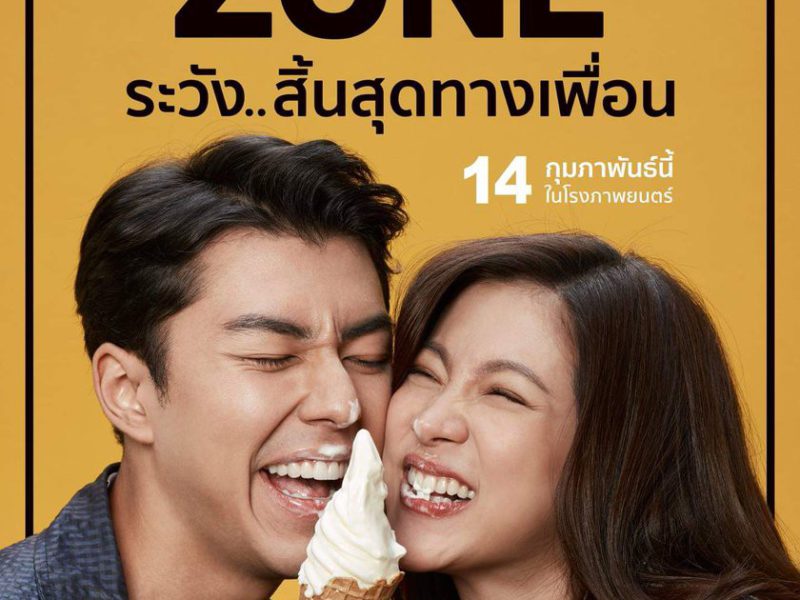 Thailand has a lot of good quality movies, in terms of storylines, cinematography, and the acting of the actors. Thailand is one of the countries in Southeast Asia which is productive in releasing various famous movies to foreign countries. One of the Thailand movie genres that are successful is romantic-comedy. Movies with this romantic genre are liked by teenagers. Especially, when combined with the comedy genre, it becomes more appealing to the audience.
Many of these rom-com Thai movies have indeed been proven to be able to make the audience feel emotional and mixed with laughter, because of the romantic and ridiculous scene. Rom-com Thai movies are particularly a delight for many audiences outside Thailand, too.
So, without further ado, for those of you who are curious about Thailand movies with the rom-com genre, Flokq has 11 rom-com Thai movies you should watch.
1. Crazy Little Thing Called Love (2010)
The movie A Little Thing Called Love may be familiar to you because this Thai rom-com movie has been one of the most popular Thai movies since it was released. The movie A Little Thing Called Love tells the story of a bookish girl named Nam, and for the first time, she feels the thrill of love for one of her seniors named Shone. Nam does various ways to win Shone's heart, such as with the help of his friends, and by using a book that contains various methods to win a man's heart. Nam also started to make various changes to herself that made her a better person than before. The story in this movie is very light and simple, but sweet, and will make you watch it many times.
2. SuckSeed (2011)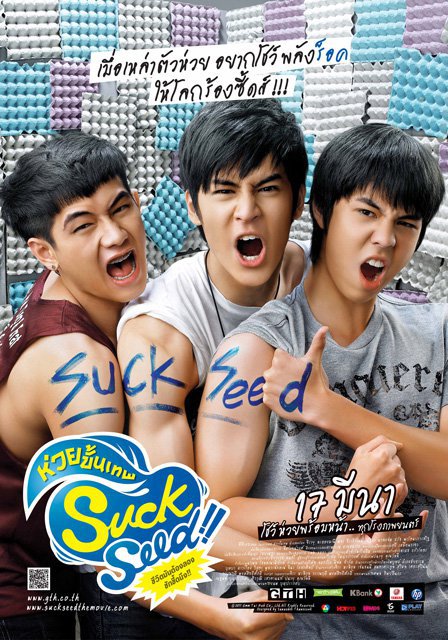 Next, we recommend watching Suckseed. It is a movie in which there are spices of romantic romance and many sides of comedy. This Thai rom-com movie tells the journey of a band whose purpose is formed to attract girls. From the storyline, this Suckseed movie tries to describe the polemic faced by teenagers when starting their band career. It feels relatable because it is typical for teenagers to form bands only aiming for popularity among the girls in their schools. Watching this movie will not make you feel bored because the director of the movie has arguably succeeded in combining elements of comedy, romance, and friendship in the right proportion.
3. Hello Stranger (2010)
The movie Hello Stranger tells the story of a woman and man who are traveling and accidentally meet from the airport, plane to South Korea. These two people who don't know each other finally meet and go through various interesting things together while in South Korea. From the normal to the absurd. It's just that, they don't know each other's names and identities. This Thai rom-com movie, which takes two different backgrounds, namely Thailand and Korea, has a funny but quite touching story.
4. Bangkok Traffic (Love) Story (2009)
This movie tells the story of a girl who feels hopeless because she hasn't married yet at the age of 30. The girl is a female office employee who goes to work every day by train. On the train, she met a man and fell in love with him. But the funny thing is, the difference in working hours makes this Thailand movie romantic comedy interesting. The girl works from morning to evening while the man works at night as a train-technician. The interesting storyline brought this Thai rom-com movie directed by Adisorn Tresirikasem and written by Navapol Thamrongruttanarit to dominate the box office and recorded the biggest revenue in 2009.
Read also: Scary Movie List to Binge-Watch On Halloween
5. May Who? (2015)
Ever imagined life with superpowers? Who says superpowers will always make you popular and adored. May, the main character in this Thailand romantic comedy movie, has superpowers. His body can discharge electricity if he is too sad, too excited, or excited. But the super-strength he has makes her not be too close to the people she likes because it can be dangerous. May Who? presents hilarious humor that is sarcastic and slapstick. The cuteness given by this movie is centered on the figure of May. Although a lot of humor is inserted in this Thai rom-com movie, May Who? still presents a drama that makes the audience churned out.
Read also: 10 Must Watch Indonesian Movies for Expats
6. ATM: Er Rak Error (2012)
This romantic Thailand movie is about a bank that has a law that prohibits fellow employees from dating. If that happens then one of them must resign. One of the bank directors, Jib, always investigates the dating relationships of his employees and even fires them. When in fact, he was dating his employee, Sua. Not only is the love story in it complicated, but the problems that the characters in this movie have to face are guaranteed to make you laugh out loud. This Thai rom-com movie is arguably funny, entertaining but sweet.
7. I Fine.. Thank You.. Love You (2014)
This movie has a balance of comedy and romantic elements. Where you will find it difficult not to laugh at the ridiculous behavior that occurs between the two characters. However, you can also feel the chemistry between the two of them is very sweet. I Fine Thank You Love You is one of Thailand's best-selling romantic comedy movies. This movie tells the story of a young man who tries to learn English to stay in touch with his Japanese girlfriend who goes abroad. Compared to romance, the recommendation for Thailand movies this time is dominated by comedy scenes. The success of this rom-com Thai movie made it the highest-grossing first-day movies in Thailand's history.
8. Love at First Flood (2012)
Adapted from real events, this best Thailand movie combines disaster with elements of comedy and romance. Love at First Flood photographed this flood by presenting a story about a man who wanted to become a flood volunteer because his friend told him that there were two beautiful female volunteers in that place. Between the two women, there is one volunteer who rejects her because she thinks the man has a psychological disorder. Until finally, because they meet every day the two people have feelings of love. Quite a lot of funny events in this Thai rom-com movie.
Read also: 7 Best Romantic Movies of All Time
9. London Sweeties (2019)
Thailand and its romantic comedies always manage to make smiles of their own. This Thai movie is no less interesting to watch. It tells the story of three Thai young people who migrate to England and try to survive with limited language skills. To sum up, this movie presents scenes full of laughter and adorable moments of falling in love.
10. Mr. Hurt (2017)
Mr. Hurt tells the story of Don Sichang, a professional tennis athlete from Thailand who has a superstar girlfriend, Anna. But reality says another, Anna refused Don's marriage proposal and is dating the vocalist of the band The Rockets, Jimmy. The choice of characters in this movie makes the problems that arise in Mr. Hurt's story more varied and still makes sense. The excitement is that the elements of sports and music are integrated into this Thai rom-com movie. We can see daily problems from the perspective of sportsmen and musicians, which can refresh our eyes and hearing, of course.
11. Friend Zone (2019)
Just like its title, this Thai movie is about a man who falls in love with his best friend but trapped in the "best friend" status. Actress Baifern Pimchanok, who played in "Crazy Little Thing Called Love", is playing a role as the long-time best friend that the guy falls in love with. Their relationship is pictured with such comedy, and the story may relates to some of us with the same "friendzone" situation. Worth watching!
So, those are some recommendations for the best Thai rom-com movies that we have summarized for you. In your opinion, what movies attracted you to watch first? Also, don't forget to bookmark this article so you don't forget the recommendations about the best Thai rom-com movies that we give. Happy watching!