Local Guide
10 Best Bike Apps to Upgrade Your Cycling Experience
A bike app is not only a solution for those of you who want to upgrade your daily exercise experience, but also useful as a companion aid when you exercise. Especially now that there are many choices of bicycle applications available on your smartphone, both iOS and Android.
By using a bicycle application, you can use all the features offered. Starting from GPS tracking so you don't have to stop to see the direction of your trip, to recording cycling tracks and even sharing the results of your trip with friends via social media. Like applications on smartphones, the services offered are paid and free. But no need to worry, Flokq has prepared 10 of the best free bicycle applications for you! So there is no need to pay subscription fees anymore. 
1. Strava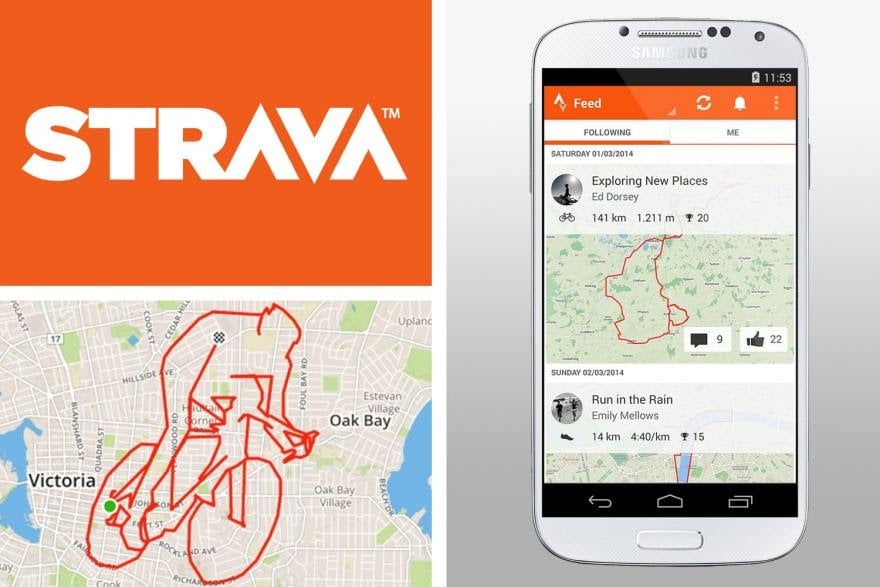 Strava is a tool for measuring bicycle mileage, measuring altitude, measuring calories burned. In addition, you can create bicycle routes (Route Builder), see routes that have been taken by other Strava users and their data (Segments), and see people who are currently using Strava on the map. Strava is the most popular bicycle application among cyclists. Apart from cycling, Strava can also be used for other sports.
You can post Strava activities to social media, follow and view friends' trips. In fact, there is a service leaderboard to compare your trips with your friends as motivation and to interact with fellow cyclists. The review consider Strava as the best application for cycling and it is available for free! Although in some features are for purchase, it is sufficient for your bicycle trip. Paid features on Strava are divided into several categories, namely Training, Safety, and Analysis, starting from 59 thousand per month.
How to use Strava is quite easy, after downloading the application on your phone, you need to create an account first. Strava requires an internet connection and GPS, in order to analyze, and store data for your bike track record. Press "Start" when you want to start the sport and press "Finish" when finished. When using Strava, you can see the map, distance, time and speed on your phone.
2. Relive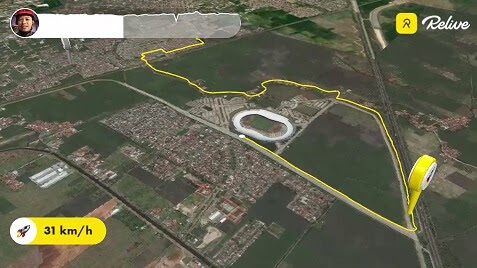 The next bike app is Relive. The main advantage that Relive offers is being able to change your bicycle route intovideo story a 3-dimensional (3D). How to use the Relive application is enough to upload your bicycle activity data, then Relive will convert that data into a 3D video. The results you get from Relive look fantastic because you'll feel like you're being followed by a camera from the air.
Relive is available for free and still allows you to create 3D landscape video stories, insert photos, create highlights, and share results to social media. For the paid or premium versions, the features offered are adding music, interactive videos that are more detailed, combining with old videos, adding up to 50 photos, and longer activities for up to 10 hours.
3. Komoot

The third bike app is Komoot which functions as a route planner. If you create a route through the Komoot application, you can see the distance, the path to be traversed, the road profile, the difficulty level of the route, to the required body condition. Review says Komoot is the best app to create friendly routes for cyclists.
How to use the Komoot application is simply done by determining the start and end points on the map. You can also use route references, such as parks, restaurants and various other public facilities. The Komoot bike application allows you to enter information about your physical abilities and body condition, so that Komoot will consider the best time and distance for you.
Komoot can be downloaded for free and used offline. This bicycle application will also provide a sound alert at the time of its user. Using the Komoot route on other devices is also possible, such as the Apple watch, Samsung Gear, Wahoo, and Garmin. Komoot also has a feature to share routes and invite your friends to join you on the route you created.
4. Cyclemeter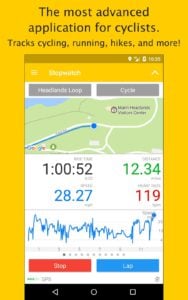 Cyclemeter is an app that is suitable for those of you who like data and analysis. Cyclemeter displays data, graphs, tables and statistics. This application is available free of charge. The features offered by Cyclemeter are quite complete, ranging from maps, intervals, zones, to exercises that can support your cycling trip. The Cyclemeter bike app allows you to stop recording data using only a remote headset.
To use Cyclemeter, you don't need to register via the website, and there is no member area on the website. All data will be stored on the smartphone and cloud. How to use Cyclemeter is very easy, when you access the application, Cyclemeter will compile route preference data, monitor statistics, remaining time and distance. You can set voice markers to start and stop cycling activities.
Just like several other bicycle applications, Cyclemeter can also be used as a social media to share your cycling results via Facebook, Twitter and several other applications. You can also hear comments from friends on social media via the earphone remote.
People also read about Best Health Apps to Stay Fit at Home
5. Google Maps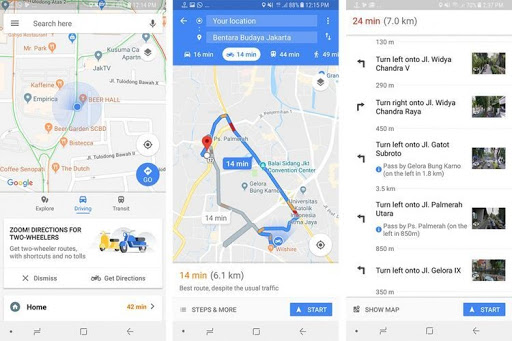 This app is certainly familiar to all of you. Apart from being a direction for cars and motorbikes, now Google Maps has a bicycle path feature. Google Maps is also the easiest to use especially when comparing it to other bicycle applications. You only need to specify the destination point and Google Maps will display the routes.
The advantage of Google Maps as a bicycle application is that the navigation features. Google Maps is very reliable for seeing distances, road congestion conditions, and shortcuts. In addition, now Google Maps allows users to view interesting areas such as cafes, tourist attractions, restaurants, museums and others. You can also use Google maps offline, by storing maps or routes in the cellphone memory and can be used even without the internet.
6. Map My Ride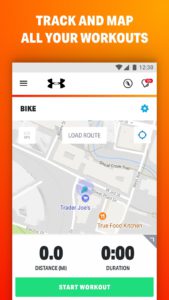 This bike app can be used to record and analyze your cycling trips, it can also be used for running, gym and other sports. Another feature that Map My Ride offers is voice feedback, with this feature your smartphone will tell you about the distance, height, pace and route. In addition to the leaderboard and competition features, there is also a point system for each completed routes and time records.
Map My Ride can be downloaded for free, but the paid version has advantages in the form of no advertisements, heart rate analysis, training plans and live tracking. The paid version of Map My Ride starts from 79 thousand per month. You can design your own route or a route that is already in common use. This bicycle application also allows you to share cycling results to Facebook and Twitter. MapMyRide also has a community so you can share your cycling results with others.
7. Runtastic Road Bike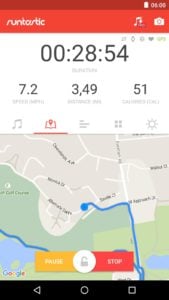 This app offers features such as tracking, measuring bicycle mileage, heart rate, data analysis and sharing of results to social media. Another feature of this application is offline maps which can be accessed without internet. You can download this app for free and offline maps can be used to determine the map in advance before losing the internet. So you can still see the position on the map, speed, distance, time and calories. The paid version of this app also allows for an offline map feature with prices starting from 59 thousand rupiah.
Technically, Runtastic Road Bike has reliable features and reliable routes, charts and data to maximize your cycling experience. The appearance of the application also looks clean without lots of ads and popups, and the use of colors on attractive graphics and maps. There is also another application from Runtastic specifically for mountain bikes, which is an application that is useful when used on off-road routes.
8. Endomondo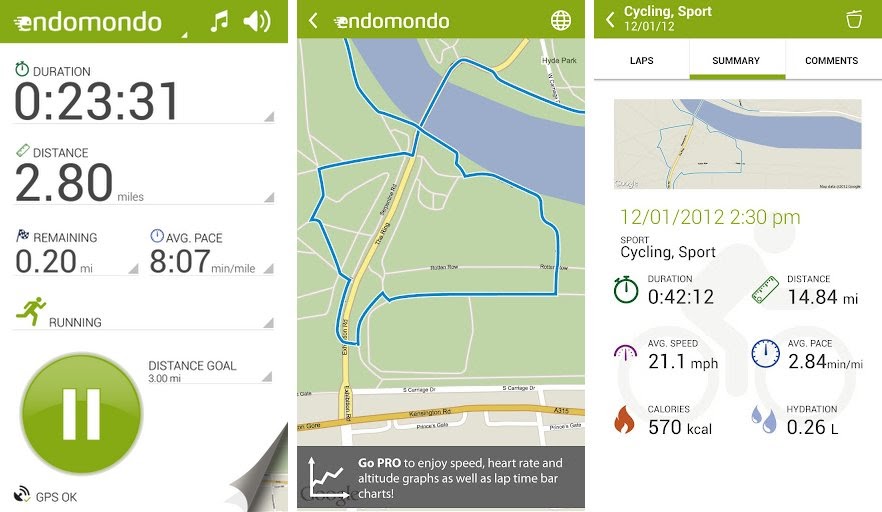 Endomondo is a bike application that provides recording, training, analysis, and even social media features because it can share results to Facebook and Twitter. You can also use Endomendo to share and compete with friends. Not only for cycling, this application can be used for various types of other sports. You can download this app with powerful features for free!
Endomendo is very easy to use. You only need to choose the sport you will do, then you set the goal or goal of the sport, and Endomondo will give you directions according to your goals. The strength of Endomondo is that if you do a lot of activities, it provides better and more useful analysis. This application also stores activity data, making it easier to see the progress of your activity.
9. First Aid for Cyclist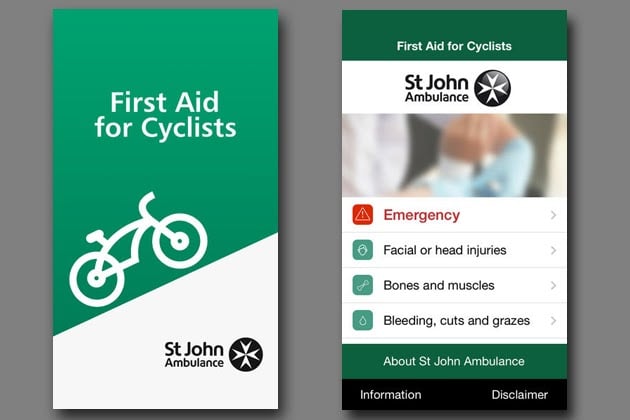 Bike apps are not limited to applications as a tool for measuring mileage, providing travel routes, as well as other data and graphics. One of the important applications for cyclists is the First Aid for Cyclist which was released in 2014 by St. John Ambulance. The main feature of this application is information about how to handle accidents that occur to cyclists. Many reviews consider The First Aid for Cyclist very important, informative, and useful.
For those of you who are bicycle enthusiasts, you must understand first aid in the event of an accident, whether you are cycling alone or in groups. This application is made specifically for accidents that are often experienced by cyclists, made by and from trusted sources. The appearance of each handling instruction is also quite simple and easy to understand, with the help of pictures and sequential steps.
10. Road iD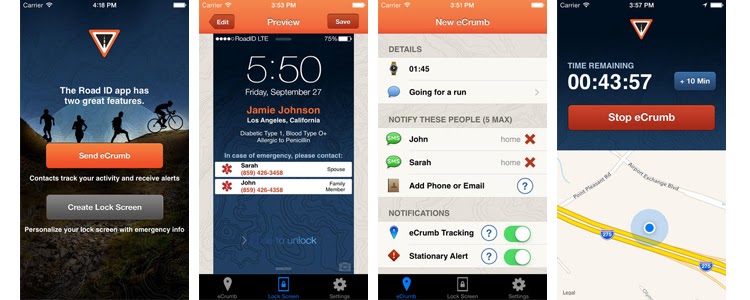 Road iD is also an important bike app as it provides data in the form of a real time GPS tracker which is useful for tracking users in real time. If you want to do activities such as cycling, hiking, running or other outdoor activities, it is highly recommended to use Road iD so that your can track your own whereabouts.
Another advantage offered by the Road iD is the features that are useful for user safety. Among other things, the "Stationary Alert" feature, which is able to send an alert to the selected contact if the user stops for more than 5 minutes. Then, "Lock Screen Emergency Notification" which allows you to leave a message on your smartphone's lockscreen to contact people in case of an accident. If you lock your smartphone with a password, this feature can provide information about emergency contacts that can be contacted.
That's the 10 best bicycle applications according to Flokq that you can choose according to your needs. Is there an application that you are already familiar with? Share with us in the comment section below!
Continue reading about Best Biking Routes in The Busy City of Jakarta