Jakarta is a metropolitan city with a dense population. You can complete your daily needs and hobbies through a variety of markets and shopping options. Ranging from branded goods, used goods, to environmentally friendly goods. Bulk stores are similar to mini markets or supermarkets in general that sell daily necessities, but the difference is in bulk stores, they sell without packaging. So if we want to buy something from a similar concept store we have to bring our container from home or buy the container provided at the store. Surely one can use the container again for further purchases. Usually, the container is shaped like a jar of glass jar for jam.
The advantages of bulk stores in addition to being a shop without waste, we can buy goods in quantities according to needs. That is because the bulk store usually sell these items according to their specific gravity. If the item is in the form of solid objects such as chili powder, turmeric powder, seeds, cereals, and many others, they will sell it according to gram weight, if the object is a liquid such as a shampoo, soap, oil, honey, etc. Then they will sell it according to the count lite volume. Jakarta has several bulk stores containing environmentally friendly items that you can use daily or as a hobby. In this article, we provide 5 Best Bulk Stores in Jakarta so you don't miss it. Check this out!
What Are The Advantages of Shopping at a Bulk Store?
As explained in the beginning of this article, a bulk store or a zero waste store is an environmentally friendly store. The main advantage of shopping at bulk stores is protecting our environment from packaging waste. In addition, shopping at a bulk store can also encourage us not to over-spend, which means reducing food waste. When shopping at a store like this, customers have to bring their own shopping bag by using a reusable shopping bag. So, with this step we can also reduce plastic waste in our environment. Finally, shopping at zero waste stores can also familiarize us with starting an environmentally friendly lifestyle.
People also read ways to start an enviromentally friendly lifestyle
1. Naked Inc
Located in South Jakarta, Naked Inc. is the newest to join the increasing number of waste-free stores in Jakarta. Presented in containers, the company aims to eliminate the use of plastic bags by offering daily pantry necessities in bulk. Customers must apply the scoop-and-weigh style and head out using their boxes filled with the ingredients in the amounts they need to make sure that none goes to waste. This idea makes shoppers rethink their consumption patterns and food wastage caused by one-time use and prepackaged goods. Everything in Naked Inc. is no chemical, fair-trade, environmentally friendly, and plastic-free. Despite using a self-service system, Naked Inc staff is ready to help.
Before visiting Naked Inc, don't forget to prepare an empty container from home. Also prepare a list of needs you will buy, along with an estimated amount. Arriving at Naked Inc., you can immediately choose the items needed. Naked Inc staff will weigh the weight of the container you carry and will be filled with the items you want. After that, the container will be weighed again. The weight of the container after being filled will be reduced by the weight of the container before it is filled with your chosen item. The results show the weight of the item you bought and will be multiplied by the price per gram. As per the zero waste concept, all materials sold at Naked Inc. are sold on a per gram basis.
Address: Como Park, Jl. Kemang Timur, Jakarta Selatan
Social Media: @nakedincjkt on Instagram
Phone Number: +62812-9081-9850
Opening Hours:
8.00 – 20.00 (Monday – Sunday)
2. Saruga Pack Free Store
Saruga is a package-free shopping store located in Bintaro that sells daily pantry and healthcare demands in bulk, making it more efficient than shopping at a supermarket. The store has the same principle as Naked Inc., where guests are allowed to buy ingredients in the required amounts and these are then weighed and measured as price per gram. To further increase a sustainable future, Saruga also sells lifestyle products such as stainless-steel straws and healthcare products that are made from Indonesia's natural herbs and spices. Shopping at Saruga Pack Free Store is also more efficient because the store sells in bulk. Visitors can take as much or as little ingredients as they need.
Visitors can guess for themselves how many grams of seasoning they need so that no excess seasoning at home. After selecting the desired spices and ingredients, the shopkeeper will help to weigh and calculate the price per gram. Not only providing food, but Saruga is also equipped with healthy care made from natural ingredients, such as shampoo, soap, aromatherapy, and many more. They also sell some environmentally friendly items, such as stainless steel straws that are suitable for you who are reducing the use of plastic straws.
Address: Jl. Taman Bintaro #1, Sektor 1, Jakarta Selatan
Social Media: @sarugapackfreestore on Instagram
Phone Number: +628121058563 | +6281280365566 |+62859-4647-2520
Opening Hours:
9.00 – 21.00 Everyday
3. The Bulk Store & Co.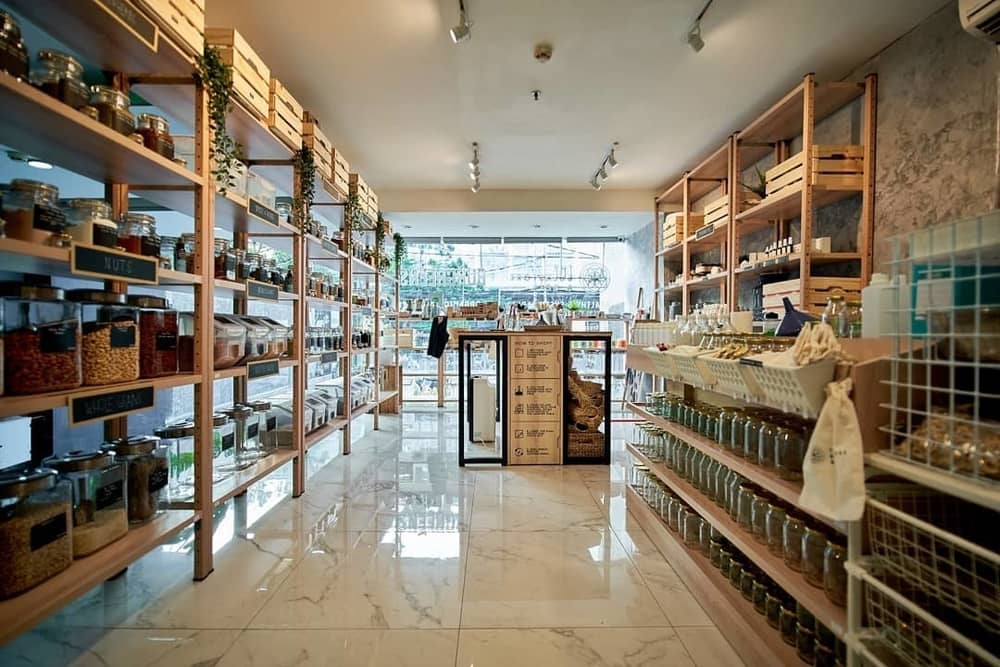 Bulk stores tackle the city's issue of single-use pre-packaged foods. As such, shoppers can purchase consistent with what proportion they have and not waste the remainder of the ingredients because of expiration dates and alternative problems. Shoppers can find organic native ingredients like seeds, spices, grains, coffees, teas, superfood powders, and organic fruit wines that square measure all directly sourced from native farmers and producers, and similar to the opposite stores listed here, The Bulk Store & Co. uses the scoop-and-weigh method—so don't forget to bring your containers!
Address: Jl. KH Wahid Hasyim No 47, Menteng, Jakarta
Social Media: @thebulkstorenco on Instagram
Phone Number: +62811-1112-1816
Opening Hours:
8.30 – 21.30 (Monday – Sunday)
4. Farmers Market 99
Founded in 2009. Currently, Farmers Market already has 13 outlets in Indonesia. Has several branches in Indonesia, mainly in Jakarta and Surabaya. These outlets generally sell a variety of food products, beverages, and other necessities. More than 200 food products and other necessities of life are available at competitive prices, meeting the daily needs of consumers.
Farmers market also cares about eco-friendly lifestyle, by providing a Bulk Food Dispenser so that buyers can buy necessities by ranging from 100 grams to kilos. This corner sells cereal, granola, dried fruit, sweet, beans, and complete tea and coffee here.
Address: Jl. Raya Citra No.6, RT.3/RW.5, Tegal Alur, Kec. Kalideres, Kota Jakarta Barat, Daerah Khusus Ibukota Jakarta 11820
Social Media:-
Phone Number: (021) 29030222
Opening Hours:
08.00-22.00 (Monday-Sunday)
5. Toko Curah Selama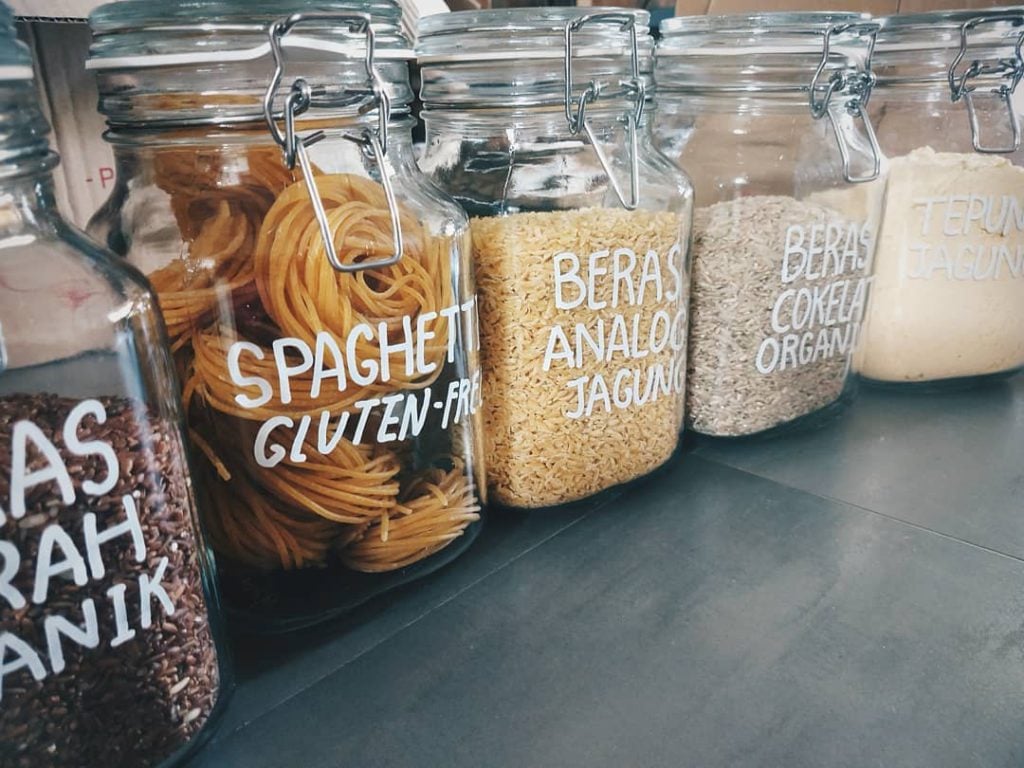 This zero waste shop is also similar to the previous zero waste shop. This shop is open in 2019 and is located in Tebet and Bogor. Bulk stores sell a variety of cooking ingredients, such as rice, flour, spices, and seeds. Apart from cooking ingredients, they also sell various natural bar soaps, lerak, alum, and eco-friendly items such as bamboo toothbrushes too.

What makes this zero waste store different from others is that they also sell fresh vegetables. So, besides buying cooking ingredients and cleaning products, you can also buy organic vegetables for your needs.
Address Jalan Tebet Utara IV A No. 2
Phone Number: 081384827955
Opening Hours:
10.00 – 18.00 (Tuesday-Sunday)
So there you have it 5 bulk store in Jakarta! There are much more bulk stores to explore but we hope this helps you. Also don't forget to check out our other recommendations on our blog!