From the crowded streets of Jakarta, you will find out fairly quickly that Jakarta has many working people. Some are residents, but some may be travelers that come here for business trips as well, getting the Jakarta business experience. There are several areas in Jakarta that are considered Central Business Districts, in which many of the big companies and start-up companies have their offices. The area of these business districts is usually packed with many facilities and entertainment surrounding it, making the area very strategic because you can find everything you might need.
Read also: Best Apartments in SCBD
Best Restaurants in SCBD
A part of this facility is business hotels, that target businessmen and businesswomen as customers. Usually, a good business hotel equips customers with a good large room for one person, with fast and free wi-fi. There are also meeting rooms available, along with the many luxurious services that you can find in any hotel, like swimming pools, spa, room service, and more. We've picked 5 hotels that we think will cater to your needs for a business hotel and corporate accommodation, hopefully giving you a good picture of what you can have.
Mandarin Oriental is a hotel located in Thamrin, a place very close to the Sudirman CBD. With a beautiful view overlooking the streets of Jakarta, Mandarin is a good place for you to enjoy comfort with a little bit of luxury infused in it. You can directly see the "Patung Selamat Datang" in front of the hotel, reminding you that Jakarta will always welcome you with open arms. You can find about anything in Thamrin, and make sure to check out the closest shopping malls. Get a taste of local entertainment and food, so you can enjoy a little bit of leisure time like a local.
When you get to the hotel, they will offer several choices of rooms, from regular rooms to a deluxe suite. Some rooms come with lounge access, so you can have a relaxing time as well as a productive time with your colleagues. The hotel also gives you a generous package for group offers and business meetings. This way, you can find the best way to enjoy the benefits of this hotel worth every penny that you spend for their service.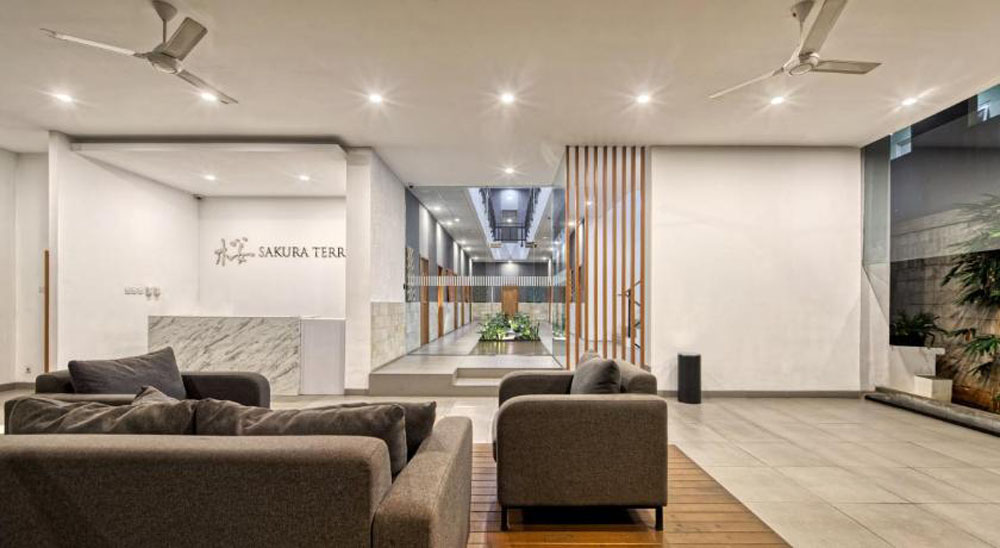 Sakura Terrace is a hotel located in Setiabudi, Kuningan. This area is close to the CBD in Setiabudi, where many businesses are located. It is also very close to Jalan Rasuna Said, so you can arrive in SCBD in no time. Looking for a taste of how locals get around? The nearest MRT Station from this hotel is the one from Setiabudi Astra, and you can find one in Bendungan Hilir or Dukuh Atas. The Kuningan area is a real home for great living in Jakarta. You can find great restaurants, great entertainment, and definitely great hotels.
Sakura Terrace aims to give you a taste of Japan for your business trips, with minimalistic but beautifully interesting designs. The unique thing about this hotel is that they have a package for renting monthly instead of just daily, so you can enjoy a longer stay in this hotel. The choices of rooms that the hotel offers are completed with a kitchen set and a very cozy interior, so you can have home-like comfort (even when you're away from home) but elevated with room service available. These choices were made so you can get the best room of your liking, that fits all of your needs while in Jakarta.
3. Mercure Hotel, BSD City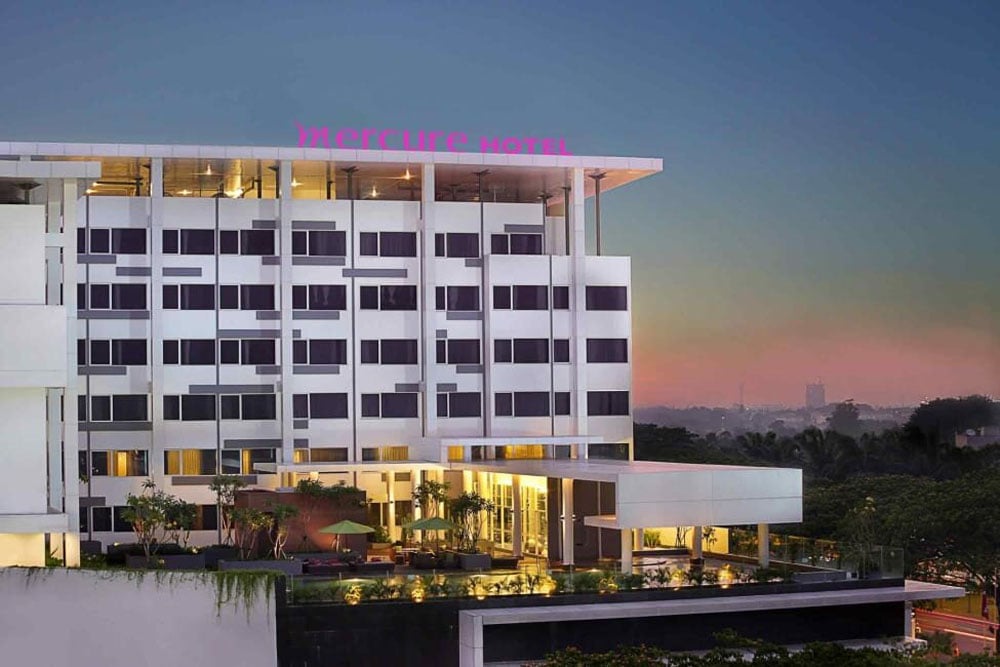 The CBD in BSD City might be one of the new business districts in the Jabodetabek area. With "BSD Smart City" as their slogan, they really prove that living comes easy in BSD. The BSD area is very self-sufficient, providing a variety of services for your every need. It may be a little far from the heart of Jakarta, but BSD's offer is also second to none. the area has proven to be one of the most beloved areas with all of their modern design and infrastructure, making the area have positive energy full of bright workers welcoming their future. 
Mercure Hotel hopes to tend to the needs of the workers and business travelers, providing the utmost impeccable service and gorgeous design. Mercure offers the choice of different rooms for you, all containing the best quality in facilities and services. The hotel also gives services for pickups and dropoffs to and from the airport, which makes getting to the hotel easier for you.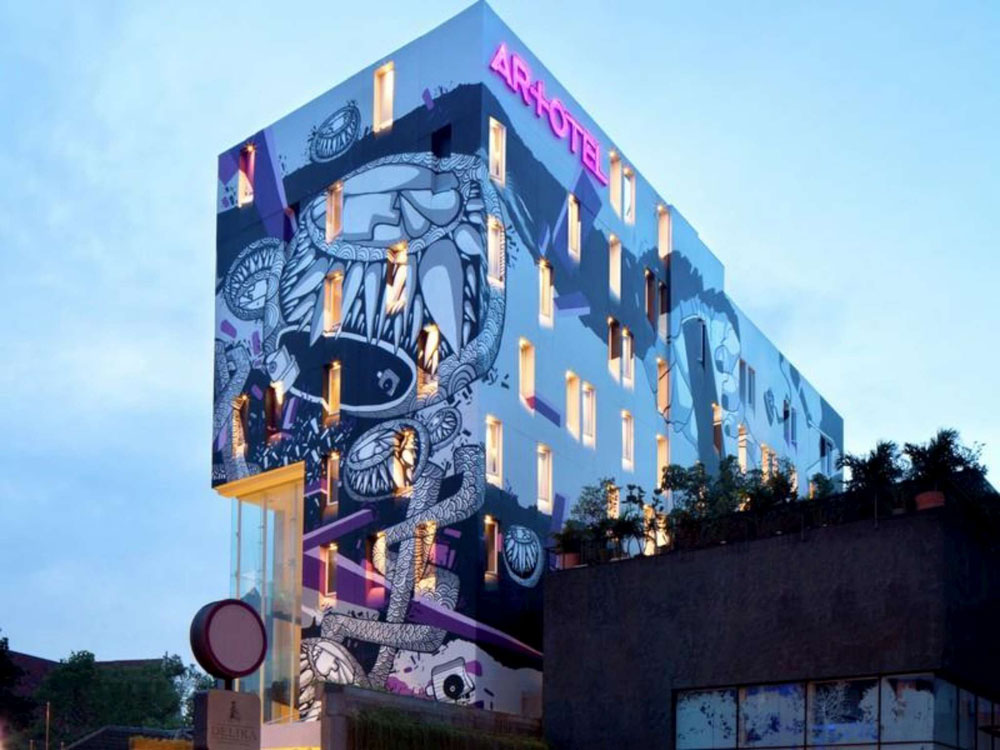 The Gondangdia area is considered very nostalgic for some locals because there are many landmarks that you can find here, all the way to Menteng. You can definitely feel the history coming through, along with Jakarta's culture that is represented by the people. One of the best ways to get a sense of local culture is through art, and Artotel has plenty of art to go around. This hotel is ideal for you if you're looking for a place that can give you something new, something you haven't seen before. You get double the benefit if you work in the art & creative business, so you can have a comparison study right in your hotel.
Other than the fabulous facilities such as a dining hall and meeting rooms, the hotel always has an art exhibition installed, curated by Jakarta's best. Even the exterior of the hotel looks like a mural, so you get the hang of what's waiting for you inside. Other than the amazing facilities, Artotel is also home for Double Chin, a great bar on the rooftop of the hotel. With business, art, and a good form of entertainment, what else can you ask for?
Traveling to another city for business may not be the most enjoyable thing in the world, especially if your schedule is very busy. With the list of hotels that we've chosen, we hope to make you feel better about it, as you can sneak in a little pleasure from the culture and entertainment that is available for you. We hope that you thoroughly enjoy your stay in Jakarta's business hotels, and we hope you come again!