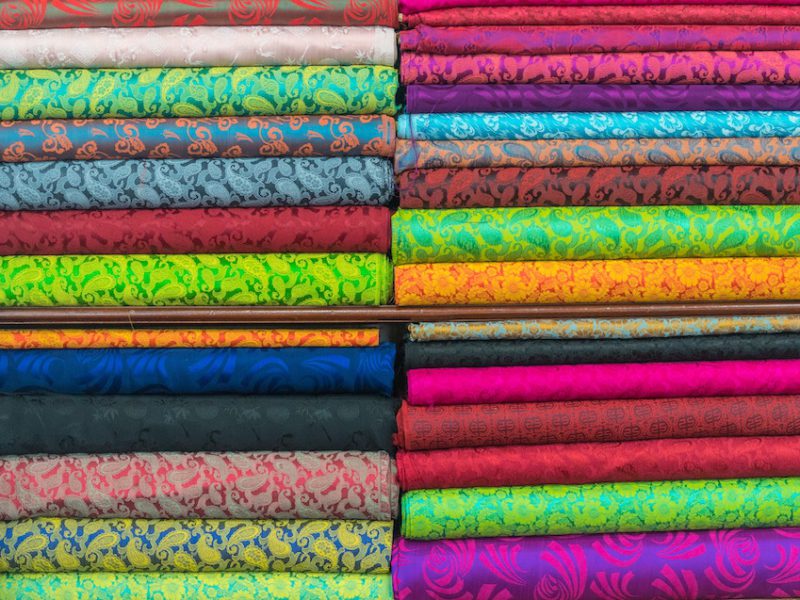 Living in celebrations and festivities is a part of Jakarta's culture. Many events will have you wearing costumes or party dresses, whether it be in a local Indonesian theme or other fun themes. With these in mind, from weddings to office parties and many more, you'll find many benefits by looking for your fabrics. The process might be longer than buying clothes right from a store, but you can put on your twist in the designs.
If you're wondering where to find beautiful fabrics to make your designs come true, we're here to give you some options. Jakarta owns many street markets that sell fabrics to cater to toitsyone's need for festive fabrics, giving you unlimited access to any fabric you want. From transparent to any color of the rainbow, from silk to vibrant-patterned designs. All options are there for you to choose from. If there's a place that catches your attention, give them a call or come directly to the place! They'll be happy to free you from your worries and confusion. 
1. Pasar Mayestik
Pasar Mayestik is truly the no.1 destination for Jakarta residents to find the perfect fabric. Like many street markets in Jakarta, Pasar Mayestik is just lined with stores selling fabrics. Each store has its unique collection that might fit your designs, so you might have to spend a whole day searching for your perfect fabric.
Knowing that Indonesia has many cultures and subcultures, the store makes sure to stock on many patterns, colors, and types of fabrics. You can find fabrics for kebaya and kain batik for formal settings, like weddings or anniversaries. You can also make the fabric into something more modern to be made into a dress or a dress shirt. Purchases are usually made in meters, and each fabric differs, from the length, the technique of creating, and patterns. So make sure that you know what you need to prevent over-buying (the mistake we here have made).
Address: Jl. Tebah III No.14, RT.14/RW.3, Gunung, Kec. Kby. Baru, Kota Jakarta Selatan, Daerah Khusus Ibukota Jakarta 12120
Opening Hour: 9 AM – 6 PM
2. Passer Baroe (Pasar Baru)
Pasar Baru is a street market that has been in Jakarta since it was colonized by the Netherlands. It was made into its administrative village in Jakarta, so believe us when we tell you that this is a huge street market. With its historical presence and authentic design, Pasar Baru has also become a cultural landmark, inviting tourists to taste old-time Jakarta.
They have many stores that sell fabrics by the meter to complete your need to make the perfect clothes for the event of your choice, but they also sell other things. You can even find delicious local food vendors: kerak telor, ketoprak, bakso, mie ayam, and many more! While searching for your fabric, you can take a break and eat good food you can't find anywhere else. Pasar Baru truly makes shopping fun for you.
Address: Kota Jakarta Barat, Daerah Khusus Ibukota Jakarta 10710
Opening Hour: 9 AM – 6 PM
Read also : Best Street Market in Jakarta
3. Pasar Tanah Abang
Pasar Tanah Abang is another choice for you to wander around and find your favorite fabrics. The system of the purchase is the same: you pick which you want and buy them by the meter. There is no saying which street market serves the best quality because it does depend on your budget and needs. The whole fabric stores are very much subjective.
However, we will say that Pasar Tanah Abang is highly popular for tailors. This way, you can complete the fabric-buying part and the making of your dress in one place. Keep in mind that it is a street market, so there are many to choose from. Usually, the stores are open for tailoring jobs, even ones where you have to make uninformed products for an event.
Address: Jl. Ps. Tanah Abang Kp. Bali, Tanahabang, Kota Jakarta Pusat, Daerah Khusus Ibukota Jakarta 10250
Opening Hour: 9 AM – 6 PM
4. Pasar Cipadu
The street markets that sell fabrics in Jakarta have expanded their territory to Tangerang. Pasar Cipadu describes themselves as one of the best textile street markets in the Jabodetabek area. This street market has as many options of fabrics for you, ensuring that you can find the perfect fabric wherever you may be. Pasar Cipadu is popular for the unique purchases where they offer because they include a particular kind of fabric.
While a lot of other stores stock up on new fabrics that are sold by the meter, Pasar Cipadu also sells leftover fabrics that are still in great condition. You can buy these kinds of fabrics for a cheaper price, creating a put-together product that is more interesting and unique.
Address: Jl. KH. Wahid Hasyim No.7, RT.003/RW.006, Cipadu Jaya, Kec. Larangan, Kota Tangerang, Banten 15155
Opening Hour: 9 AM – 5 PM
5. Thamrin City
The last street market on the list is not exactly a street market. Thamrin City is a shopping mall, located next to Grand Indonesia. They make it easy for you to find your needs as they are easily found in the heart of the city. As a more modern street market, Thamrin City may not have a complete collection of fabrics in its stores. However, Thamrin City is highly popular for selling traditional clothes in Jakarta, like already-made kebaya and kain batik. Kain batik can be made into a sarong to be worn with kebaya, a scarf, or another form of interesting dress-clothes. 
Address: Jl. K.H. Mas Mansyur, Kb. Melati, Kecamatan Tanah Abang, Kota Jakarta Pusat, Daerah Khusus Ibukota Jakarta 10230
Opening Hour: 9 AM – 10 PM
Street markets are still a good place to find what you need in Jakarta with good prices. With impeccable quality and choice, we doubt you'd want to find another place to buy your goods other than these street markets. Fabrics of every color, pattern, and size, these street markets are truly your best choices to see your best design come true before your very eyes.