Others
7 Casual Working Outfit Ideas for Women, Simple yet Elegant!
It is no secret that women often feel confused about what should they wear before going to work. Even when you have dozens of clothes in your wardrobe along with many accessories to grace your appearance. However, we can understand that. Especially, if your workplace has no rules about the work attire and you are free to wear whatever you want. Of course, it's only natural that you want to show up with the best working outfit while still feeling comfortable. And ladies, this is why we have chosen some casual working outfit ideas that are simple yet elegant for you to wear!
Read also: The Big 5 Cities: Where to Rent Apartment Monthly Jakarta
Let's check out all these 7 outfit ideas that might inspire your day-to-day casual working style!
1. The mix of warm earth tone color with black could never go wrong!
Going to work in casual attire but still managing to look professional at the same time? Then you can try to mix the beaver brown V neck knit top with an oversized knit cardigan in wheat color. The next item that can definitely match your warm look is black straight pants. Last but not least, you can use a pair of black pointed loafer heels to complete your final look. And you are more than ready to start your day working in simple yet comfortable clothing!
2. Culottes are never too old for your casual yet elegant working look!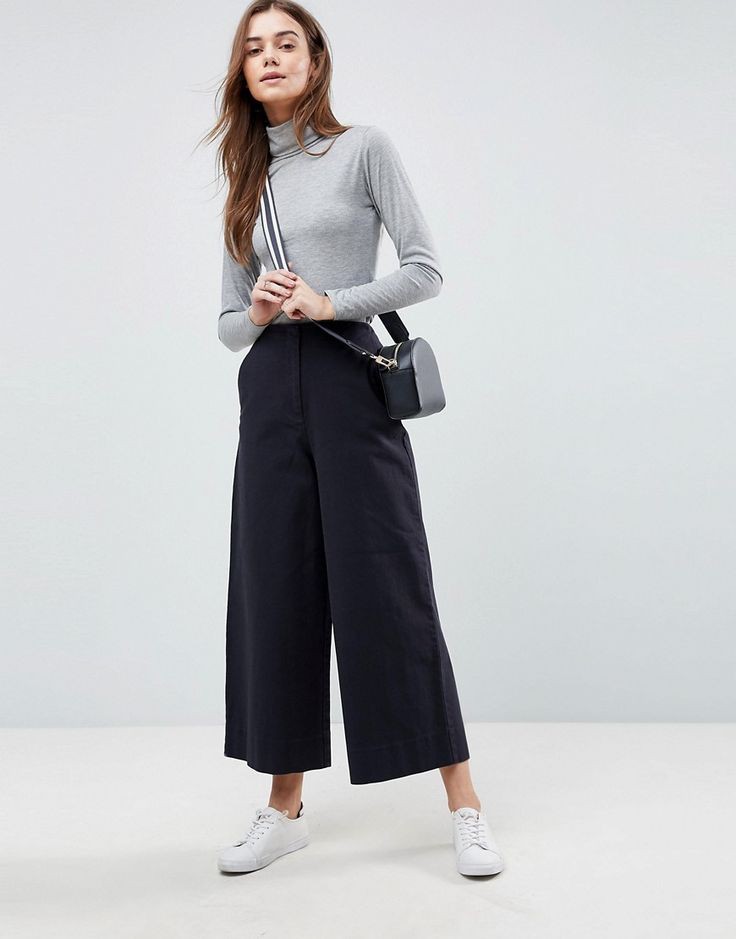 All these casual working outfit ideas wouldn't feel complete without the touch of culotte pants as an item of clothing worn on the lower part of the body. If you love calming and monochromatic colors, then it wouldn't hurt to try matching your black culottes with a gray long sleeve turtleneck top. Furthermore, you can use a pair of white sneakers to strengthen the impression of your casual look. And bring along a crossbody bag as a final touch of your style before going to work!
3. Denim jacket never goes out of style when it comes to a casual look!
Loving the idea of going to work in a casual style yet still having a little vintage touch? Later, you can try to mix your clothes likewise the picture above. First, wear a black and white striped tee then add a denim jacket as outerwear. After that, pull out a black midi skirt from your wardrobe and put it on. And for the shoes themselves, you can choose a pair of light brown peep-toe heels. If you have a brown bucket bag, it would definitely match well with your shoes!
4. Blazer and jeans never failed to create a semi-formal and casual look!
Of course, it's a must to include a blazer and jeans when we talk about casual working outfit ideas. If you have to attend a meeting and you wish to still look professional yet effortlessly stylish, then go try putting on this look! For the apparel, you can wear a plain white tee then cover it with a black blazer. Following this, you can choose regular-fit jeans to make your look fresh yet still acceptable. If you would like the final result to have a semi-formal look, then pick up stilettos as your shoes and bring your clutch bag to make it more elegant!
5. Denim skirt and shirt could also be a perfect match for casual outfits
Do you dislike the idea of wearing layers of clothes to go to work? Well, then you can try putting on a more simple working attire like the inserted picture above. You only need a plain light blue shirt, then combine it with a button-front longline denim skirt. Use a pair of white sneakers if you want to look more sporty and youthful. In addition, you can add a brown leather belt and bring along a small sling bag to finalize your simple yet trendy working style.
6. Casual working outfits but in a more feminine style? It's possible!
If you prefer to go to work by wearing a skirt or simply adore feminine styles but don't want to complicate yourself, then try wearing this outfit! The combination of a sepia turtleneck sweater and a tortilla pleated midi skirt creates a sweet, casual, and elegant look. For the shoes, you can simply pick a pair of ankle strap heels in similar color shades. Also, if you have any, a pastel-colored handbag would definitely accentuate this style more.
7. Monochromatic styles are indeed never boring!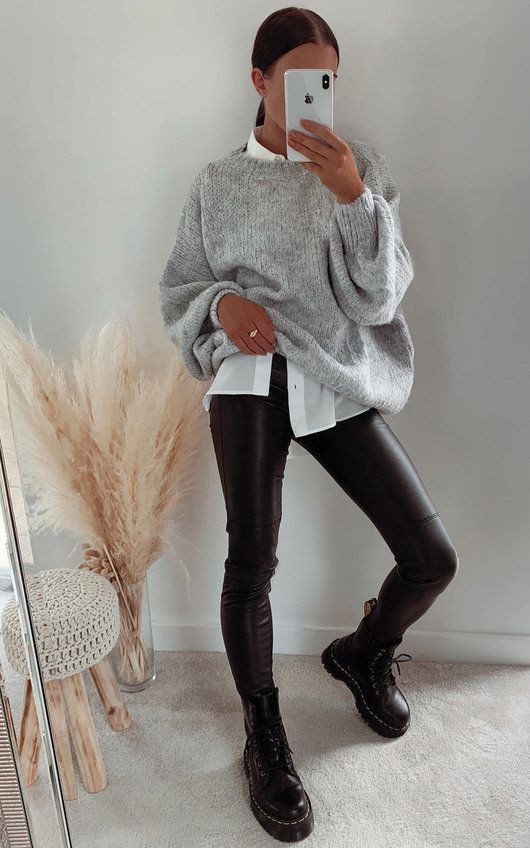 If you work in a place where fashion is perceived as important, this casual outfit may give you some inspiration. Especially, if you don't like getting headaches due to combining clothes until they look stylish enough before going to work. Try wearing a plain white shirt, then add an oversized knit grey sweater on top of it. Next, put on a pair of black faux leather leggings as an item of clothing worn on the lower part of your body. Finalize your casual yet classy look with a pair of black chunky boots and you're ready to start your day off right!
So, that's all the 7 casual working outfit ideas for women that we hope would inspire you! Out of those outfit ideas that you have seen, which one suits your style the most?