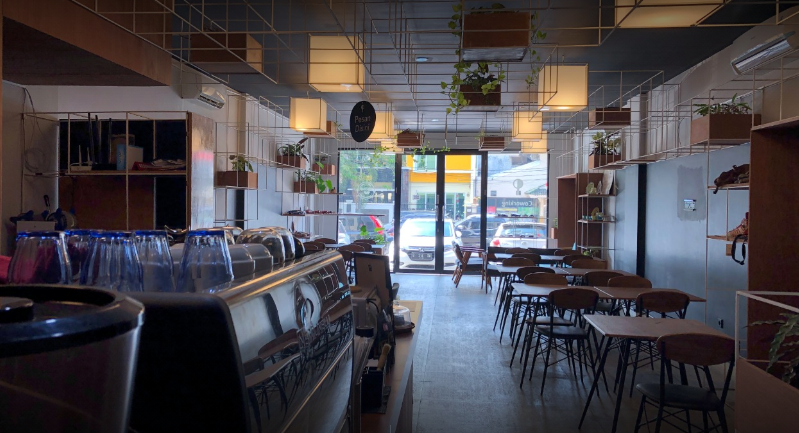 Bintaro is a planned and well-known township full of various shopping malls, entertainment places, and educational institutions. You can find literally everything and have fun in Bintaro all at once. First established in South Jakarta, Bintaro now has extended to South Tangerang and divided into 9 sectors. You can imagine how huge it is! Eventually, Bintaro has turned into one of the important business districts. If you happen to look for a coworking space where you can focus on your work all by yourself or for your team as well, you're currently reading the right article as we're about to tell you about several coworking spaces that you can check out in Bintaro!
read also: Best Kos-Kosan in Bintaro
or Is Co–living Suitable for Students in Jakarta?
1. CoHive Nissi
If you fancy working in a space where you can look at arts and relaxing views of sceneries, CoHive Nissi is the perfect answer for you as their coworking space is full of arts and tall windows that allow you to experience it all. You can reach Bintaro Jaya Xchange Mall simply by walking since it's pretty close, so getting lunch or a break won't be that much of a problem for you. They offer different plans for different numbers of people and locations that give you the chance to be flexible with what you need.
Address: Nissi Bintaro Ground Floor, Jl. Tegal Rotan Raya No. 78, Sawah Baru, Ciputat, Tangerang Selatan, Banten
WhatsApp: +62 878 7612 1444
Phone Number: +62 21 5082 0840
Price:
Private Office: Start from Rp. 1.443.750/pax/month
Coworking Dedicated Desk: Start from Rp. 1.100.000/pax/month
Coworking Team Desk: Start from Rp. 4.000.000/4 pax/month
Coworking Flexi Desk: Start from Rp. 800.000/pax/month
Daily Pass: Start from Rp. 50.000/day
Meeting Room: Start from Rp. 220.000/hour
Website: https://cohive.space/buildings/nissi
2. Workplay
This is a coworking space dedicated only for women. If you need a women-friendly working area, this is the right place for you. Not only that, Workplay also gives a chance for women who work and they still need to take care of their children. They provide play and nursing areas with child supervision, so that women won't get worried about their children as they focus on work. They also have pantry which makes it look like an ideal place for women to do everything. Indeed, being a mom shouldn't be a limitation to do something. Acting as a supporter for working mothers and "mompreneurs," they're also open for membership. They offer different plans based on duration and the number of kids to be accompanied. They list every detail of it in their price list.
Address: Ruko Kebayoran Square Blok C-18 Jalan Boulevard Bintaro Jaya, Parigi, Pondok Aren, Pondok Jaya, Pondok Aren, South Tangerang City, Banten 15227
Phone Number: 021 2221 4725
Price:
Walk-In: Rp. 40.000/2 hours
1-day Pass: Rp. 100.000
Meeting Room: Rp. 250.000/2 hours, Rp. 450.000/4 hours
Price can be different for members and packages of children companion
Website: https://www.workplayid.com/
3. Koloni Bintaro
If you're looking for a simple and conducive coworking space with important facilities, you can add Koloni Bintaro to your list! It can also be the perfect choice for you especially when you're a student as they provide affordable plans. Their working space can fit up to 20 people, full with a meeting room, printing station, musholla, and free flow of drinks. What's more, you can also meet a lot of creative entrepreneurs and freelancers here. Sounds like a good place to gain more insights, right? 
Address: Ruko Emerald Avenue 1 Blok EA 09 – A 09, Boulevard Bintaro Jaya, Parigi, Kec. Pd. Aren, Kota Tangerang Selatan, Banten 15227
Phone Number: 0817-9900-855
Operational Hours: Monday-Friday (10.00-17.00)
Price:
Rp. 15.000/hour (Weekdays)
Rp. 25.000/hour (Weekend)
Rp. 80.000/day (Weekdays)
Rp. 125.000/day (Weekend)
Rp. 1.000.000/month
4. Peopole
One more option if you're looking for a simple and cozy coworking space to get your work done. As you notice, they have an interesting design which can please your eyes, a good sight aside from your laptop screen. They have enough parking space in case you bring your vehicle. Interestingly, they also have a rooftop that you can enjoy if you want to take a break from your work. You know, inhaling fresh air away from your responsibility. That way, it's very unlikely for you to get stuck or feel bored while doing all of your work. Judging from the review, they also make good coffee and snacks for you to enjoy. If you're a big fan of coffee or simply munching something as you focus on your work, this is the right place for you.
Address: Jl. Bintaro Utama Blok HJ1, Bintaro sektor 9 No.1E, Pd. Pucung, Kota Tangerang Selatan, Banten
Phone Number: 0888-5007-707
Working Hours:
Monday-Thursday (08.00-21.00)
Friday (08.00-23.00)
Saturday (08.00-12.00)
Sunday (07.00-21.00)
Website: https://peopole.business.site/
That's all from Flokq! How's it? Did it help you to decide which coworking space that you want to try in Bintaro? Make sure that the coworking space that you choose is suitable for the number of people that you're working with, whether you work by yourself or you bring your whole team, and your budget. Don't forget to check out other recommendations of coworking spaces in other areas that you can find in this blog. You can also find other tips, life hacks, and other interesting information which definitely will be useful for you. Share this information to people that you think need to know this! 
read also other recommended coworking spaces in another area