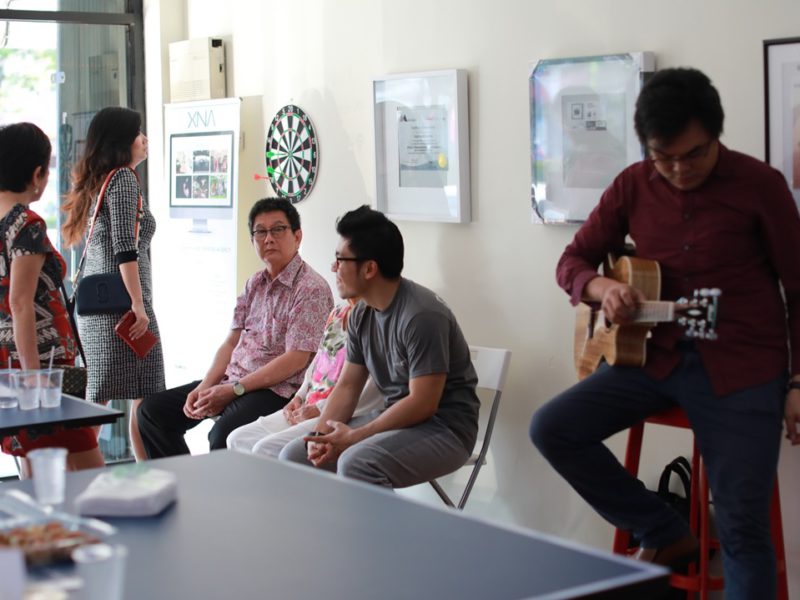 You might have seen or heard about coworking space. You can find many coworking spaces in big cities, especially in Jakarta as a center of economy. In case you don't have any idea about what's coworking space and its functions, you're coming to the right blog, because we're going to tell you what it actually is. This article is also a good reference if you're currently looking for the best and right coworking space for your work with your colleagues specifically in the Kelapa Gading area. Kelapa Gading is known as a populated area and one of the busiest business districts in North Jakarta, thus it won't be that much of a hassle to find a coworking space that fits your needs.
read also: tips to stay productive with many deadlines
What's a coworking space?
It's not a strange thing for people in a city like Jakarta to work at 9 in the morning to 5 in the evening in a fixed corporate office. It's a normal working space in general, but what makes it different is the fact that you can share your workspace with other people, not only people in the same company. That also means that you can also enlarge your social network by meeting different people from different companies everytime you go to work. This sounds like an ideal place if you love to make friends here and there. Not only that, a lot of startups also tend to choose coworking space as their main office. When your business is a brand-new one, having a lot of connections is surely something that you need and you don't want to miss out.
How does it work?
To put it simply, coworking companies provide coworking spaces for rent. Be it the private offices or the coworking area or even both. Sometimes, they also provide meeting rooms and event spaces for various occasions. Truth to be told, it is more expensive to rent an office space in a usual corporate office. With coworking space, not only is it more affordable, but it is also more pleasing to the eyes as it often comes with different office designs. So, does it sound like a good choice already? Probably, the biggest advantage in coworking space is its flexibility. You can do your work literally anywhere around it, this is good if you can't stand staying still for a long time. Many coworking spaces are also located in malls, so it's easy to get something to eat or to walk around to get fresh air.
After knowing what's coworking space in general, without further ado, here are coworking spaces in Kelapa Gading that you can see and choose!
1. UnionSPACE (Branch Citi Hub) 
Located in a dynamic area like Kelapa Gading, UnionSPACE is close to big malls like Mall Artha Gading, Mall of Indonesia, and Sports Mall Kelapa Gading. It's also in close proximity with various restaurants, pubs, and hotels. UnionSPACE also provides an event dedicated for women entrepreneurs. They have many features that they have in their coworking space, such as serviced office, meeting and discussion room, coworking and event space, business grade printer, premium coffee, on site center manager, private work pods, projectors, company digital signage, high speed WiFi, and backup internet. It looks like a full package, right?
Address: Harton Tower, 3rd floor Jl Sentra Bisnis, Jl. Artha Gading Sel. No.3, RT.18/RW.8, Klp. Gading Bar., Kec. Klp. Gading, Kota Jkt Utara, Daerah Khusus Ibukota Jakarta 14240
Operating Hours: Monday – Friday (09.00-16.00)
WhatsApp: +62 812-9578-4299
Website: https://unionspace.id/citihub.php
2. HUB2U 
HUB2U provides a meeting room, coworking space, and office with several benefits that you can experience, such as locker, free WiFi, free flow of mineral water and coffee, pantry, workspace access and event space. With their motto, "We work, we play, we enjoy," HUB2U is a good choice for startups, freelancers, communities, and active entrepreneurs. In case you want to learn more about HUB2U, they provide a brochure that you can download on their website. It comes pretty handy, right?
Address: Jl. Boulevard Raya Blok TT2 No. 17 Kelapa Gading – Jakarta Utara 13930 DKI Jakarta – Indonesia
Instagram: @newtonteknologi
Phone Number: 021 – 4587 8111
Website: https://hub2u.space/
Price: Rp. 30,000/hour or Rp. 150,000/hour
3. Dspace-X
Be prepared to "share, learn, and grow" if you choose Dspace-X as your coworking space. Not only providing coworking space and meeting rooms, they also have community gathering, casual meetup, talkshow, workshops, gallery and seminar. You can easily book your event or fill in your reservation through their website!
Address: Jl. Kelapa Hybrida Raya PE 10 / 11 Kelapa Gading, Jakarta Utara
Operating Hours: Monday – Friday (09.00-18.00)
Phone Number: +62(822)99778838 / +62(815)13038052
E-mail:info@dspacex.id
Website: https://www.dspacex.id/
Besides the options above, you can also look for coworking spaces in websites like XWork, FlySpaces, CoHive. You can simply access those websites and select Kelapa Gading as the location, then you'll find different options and types of coworking spaces there with different range of prices as well. You can adjust it as much as you need.
Those are several coworking spaces in Kelapa Gading that we can recommend to you. Don't forget to check other recommendations of coworking spaces in this blog, in case you also need to look for it in other locations! You can also find tips or hacks of life as well as other recommendations of things that you need in Jakarta made by Flokq.
read also: best budget apartments in Kelapa Gading