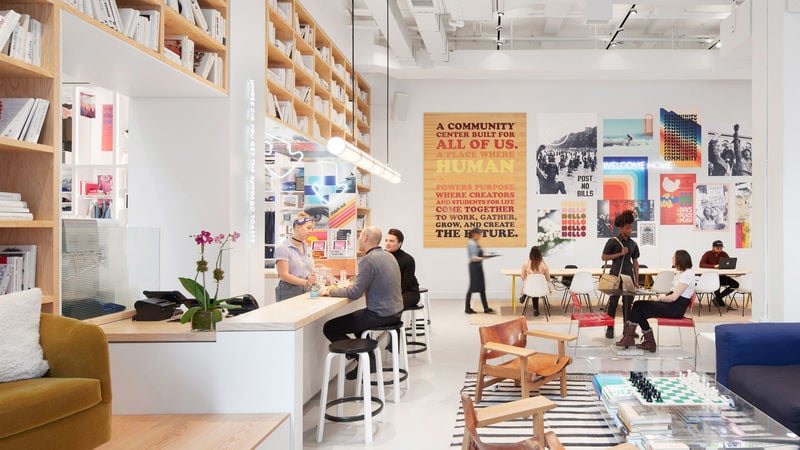 Others
Working in Coworking Space: Pros and Cons
Coworking space becomes a global and trendy option in the business world. In big cities, it's not a rare thing to see coworking space everywhere. It becomes a handy and preferred option compared to traditional or usual corporate offices, mainly for small businesses, young entrepreneurs, new startups, freelancers, you name it! However, like many other things in general, coworking space also has its own pros and cons. In other words, although coworking space is a preferable option as a place to work, it doesn't mean that coworking space is a perfect solution for all. You want to know more about coworking space beforehand or you're preparing to work there soon? Well, this is the perfect article for you! We are going to explain some advantages and disadvantages of working in coworking space.
PROS
1. Increase your sense of community
If you work in the coworking space, the chances are you will meet people who think pretty much similar to you. That being said, it's also possible for you to meet people with certain important or valuable skills that you can learn from. In which, will be helpful for your company goals. You can also create a new list of clients by being someone important to them. In addition to that, it's very unlikely of you to feel isolated when you work in a coworking space. There are many events, sessions, or gatherings to help you get to know more of the people around you that will keep you accompanied. That way, not only you'll gain more connections, but you'll also gain lots of fun!
2. Amenities and services
When you work in coworking space, you don't have to worry about the internet, water or coffee, electricity, or any administrative and operational necessities. Coworking spaces often come with amenities and services that you can use. Even more, they also offer kitchens and break rooms! In case you want to make your own small lunch. Likewise, if you want to take a short break from your responsibility away from your desk.
3. Motivation, collaboration, and creativity
When you find a coworking space that fits your vibe and your working style, it will also somehow stimulate you with more motivation. Then, eventually become a source of inspiration as you're surrounded with people who basically have the same purpose or goals like you in the working field. In the end, it generates an environment of creativity and hard work altogether. You can make such an occurrence as the basic of your working culture. That is also essential for your personal growth in case you have a plan towards something bigger than you already have.
4. Structured work
Lack of structure is something that you can experience if you work at home. You can plan a productive day doing this and that, but it will eventually mean nothing if you get distracted by sleeping or watching your favorite movies instead. Thus, working in a place like coworking space will surely help you to get everything done. In here, you can meet like-minded people and focus on work without any distraction. It keeps you on track about the work that you need to do. In other words, it also keeps you accountable and focused on your responsibility.
CONS
1. You have to sacrifice your privacy
As you work in a shared working place like coworking space, you eventually have to sacrifice the level of your privacy that you can get. With that in mind, you might also have to get used to hearing other people's phone calls, talks, or discussions which can distract you in the end. Some coworking spaces use glass dividers or acoustic furniture as a solution, but some also don't. So, if you're the type of person who gets easily distracted, it's better to be careful about this situation.
2. Distractions
Working in coworking space doesn't guarantee you to be free from any distractions that you normally get at home. Distractions will still be there, but in a different form. Noises that you hear from other people, like the ones that have been mentioned before, are one of a few examples. If you own your business space, of course you have full control over things that shouldn't be crossed. However, since you work in a sharing space, there are things which might turn into potential distractions that you can't control either.
3. Limited space and possible restrictions
As coworking space is a furnished and equipped working environment, you also need to keep things around you in check or far from damage. It is possible that you can't customize or decorate your desk according to your liking either, as some coworking spaces have certain rules in regard to such matters. That being said, you also need to get used to several restrictions that your coworking space has, since you also deal with other people. Together with the said restrictions, there also could be limitations that you need to follow, depending on the coworking space that you're in.
That's it! It's important to know the pros and cons of coworking space to decide whether it suits your working style and culture. Some other options, other than coworking space, definitely offer more privacy, security, and space. But, if you're new to business or you just start working, coworking space can be a good start for you. There's no hurt in trying, right? Don't forget to check other articles in this blog! You can find tips, recommendations, and other valuable information that you can try to put in practice for real. Don't forget to share it with people that you think need this!
check out the best coworking spaces in your area nearby on our blog!
read also about sustainable local skincare and fashion brand