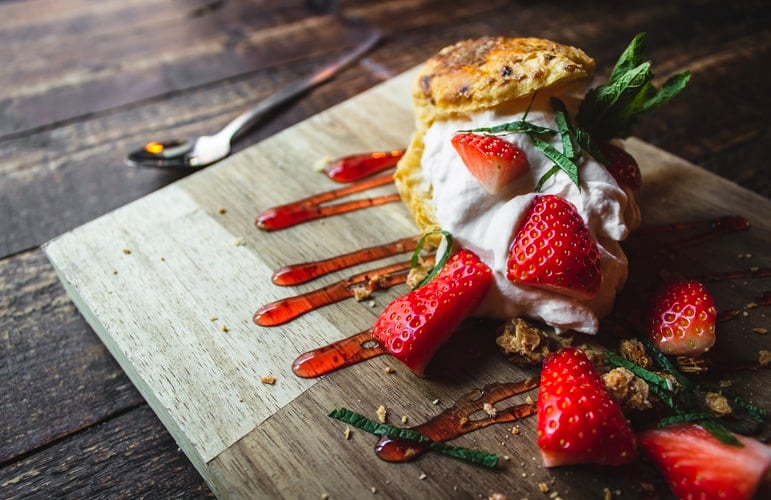 Local Guide
Best Dessert Places: Satisfy Your Cravings in Central Jakarta
Dessert has been everyone's favorite menu, with various and types of beverages, whether it's something sweet like Red Velvet Cheesecake rich with cream cheese and the softness of the cake to Chicken Brioche filled with delicate savory chicken-fluffy outside, you wouldn't want to miss out on anything! Central Jakarta, the heart of Jakarta, offers these vast options of desserts. Their taste and delicacy are the last things you should worry about.
Central Jakarta, located in the heart of Jakarta, is the main and umbilical area of Jakarta. The area is brimming with tons of sky-scraper buildings standstill, huge shopping destinations, landmarks of the city, and of course, numerous premium quality restaurants. To get around Central Jakarta, there are local MRTs and the TransJakarta bus. So, commuting around the area is fairly easy. Both of these public transportations are budget-friendly and convenient. So, make sure to stop by one of the best dessert places in Central Jakarta!
Zone Guide: Central Jakarta read more
1. Union
Famous for its classical old-fashioned cafes and signature Red Velvet Cheesecake with chilled cream cheese in between the four even layers, topped with caramel nut crumbles. Union is a well-managed premium restaurant by The Union Group, one of the most prestigious restaurant chains in Jakarta. Union is where Jakarta's residents visit when they want quality bistro fare, well-made cocktails, and the best cakes the city offers. Scattered throughout some of the city's most dynamic areas, you can always expect to see the brand's signature interiors, yet there is always detailed touched distinguished by every location. The kitchen, led by Head Chef Adhika Maxi, turns out the finest food with a twist, while Pastry Chef Karen Carlotta creates the famous cakes, bread, and pastries. The bar, which gains ranked #39 in Asia's 50 Best Bars 2019, serves classic cocktails and concoctions with local ingredients, developed by its award-winning Head Mixologist, Kiki Moka.
Apart from their Red Velvet cake, Union entails other flavors like:
Bolu Pandan-Indonesian local ingredient with a sweet and fresh taste. Nastar Crumble-a four even layers cake filled with pineapple jam and cheese cream and coated with Nastar cake crumble,.
Old Fashioned Chocolate Cake-a must-try chocolate cake in town, rich with fine-quality chocolate, and a creamy coat mixed of dark and white chocolate outside.
Address: Grand Indonesia East Mall Lobby Shinta Level GF, Jl. MH.Thamrin No.1, Tanah Abang, Menteng, RT.1/RW.5, Menteng, Kec. Menteng, Kota Jakarta Pusat, Daerah Khusus Ibukota Jakarta 10230
Phone: +62 21 2358 0476
Social Media: @unionjkt on Instagram
Website: https://new.uniongroupjakarta.com/restaurant/union
Price Range: Rp55,000.00 – Rp75,000.00/serving
Opening hours: 10.00 AM – 10.00 PM (Every day)
2. DORÉ by LeTAO
One fine dessert restaurant specialized in Fromage delicacy. The restaurant is a subsidiary brand directly from Hokkaido, Japan, LeTAO. Their Fromage is a kind of cheesecake with moist melty texture. The richness and the melty cheese are some of the best parts of the cake. Available in three flavors, Original, Chocolate, and Matcha Green Tea. The cake consists of a cream cheese layer with a layer of flavor base and topped with mascarpone cheese mousse and crumb. The texture of the cheesecake is very light yet smooth with a delicious creamy bittersweet mix, slightly reminds you of ice cream cake texture.
Other than their house specialty Fromage cake, DORÉ spoils you with various options of tasty cookies. You can opt to try their:
Lé Choco Noir-a crunchy chocolate flavor cookies, Earl Grey-generally come from a tea flavor, DORÉ transforms the flavor into buttery cookies. Cheddar & Gouda- a savory-sweet taste and strong cheese flavor.
Basil & Gorgonzola-premium cookies made with gorgonzola cheese and basil leaves which are famous as the king of spices.
Lé Choco Blonde & Choco Tea-crispy cookies with premium vanilla scent and Belgian white chocolate chip along with fragrant earl gray with dark chocolate chip.
Choco Oatmeal-100% handmade cookies with oatmeal, chocolate chip, cinnamon scents, and brown sugar.
Serving you with a minimalist yet classical pink-blue colored dessert place, DORÉ also provides a takeaway service. Not only offering premium quality cake, but the restaurant also offers a warm and welcoming service. They apprehend to serve the best for their loyal customers.
Address: @Plaza Indonesia, Level 3, Jl. MH. Thamrin, Thamrin, Jakarta Pusat
Phone: +62 21 2992 4358
Social Media: @dorebyletao on Instagram
Website: https://dorebyletao.com/
Price: Rp40,000.00 – Rp250,000.00/serving
Opening hours: 10.00 AM – 10.00 PM (Every day)
3. Gram Café & Pancakes
Another high-quality Japanese restaurant located in Jakarta, Indonesia. Coming all the way from Osaka, Japan, the restaurant offers a wide variety of desserts. Ranging from something savory and tasteful dessert to a snazzy-sweet taste. Gram is well-known for its specialty Premium Pancake. The fluffy pancake is like a masterpiece with a jiggly-thick texture and strong characteristic. Uniquely, The Premium Pancake is available at a limited stock. By only serving 20 requests on each session (11 AM, 3 PM, and 6 PM) every day, Gram's driving you crazy to try their house signature.
Other must-try menus for you:
Mixed Fruit Pancake-served with dense pancakes with the finest cream which is cold-light and not overly sweet, typical Japanese kind of cream, on top, you will find several chopped fruits like strawberries, blueberries, lemons, and kiwi, sprinkled with white sugar.
Caramelized Banana Pancake-fluffy pancakes with Japanese style cream, served with caramelized banana, caramel nuts crumble, and white sugar sprinkled on top.
French Toast: Choco Banana or Mixed Berry, Salmon & Avocado Pancake-fresh pink salmon and riped avocado on top, along with a simple salad as a side dish.
Bacon & Scramble Eggs Pancake-dense pancake with house specialty sauce on the side and bacon and scrambled eggs as the star of the dish served with a cinch salad
BLT Sandwich-Bacon, Lettuce, Tomato inside two slices of bread with Gram's Special Sauce and mayonnaise, along with a simple salad and roasted potato beside.
Address: Plaza Indonesia, Level 2, Jl. M.H. Thamrin, Thamrin, Jakarta Pusat
Phone: +62 878 7540 4131
Social Media: @grampancakes.id on Instagram
Website: http://www.cafe-gram.id/
Price: Rp89,000.00 – Rp140,000.00/serving
Opening hours: 10.00 AM – 10.00 PM (Every day)
4. Amausaan Uji Matcha
The best traditional Japanese dessert parlor in town. Serving the best Matcha all over Jakarta, Amausaan Uji Matcha doesn't forget to give you the Japanese living ambiance inside the restaurant. The place is designed like Kyoto's traditional houses, decorated with Japanese accents, from the cafe layout to the ornaments. Eating inside the cafe surely gives you the feeling of eating directly in Japan.
Every food and beverage they offer is premium quality and tasty matcha-based. Their delicious menu to try:
Matcha Mille Crepes Cake-serves delicate texture from the thin layers of crepe with a yummy matcha cream in the center, rich in cream yet not too overpowering.
Uji Matcha Iced Bamboo Tube-the house signature ice matcha gelato consists of glutinous rice balls, rice puff, whipped cream, shaved ice and red bean at the bottom for a fun icy wander.
Senmaida Gradient Cheesecake-homemade biscuit at the bottom with a mixture of matcha and Italian fresh cheese to give you a tasty mousse five layers cake.
Hiroshima-Nagasaki Daifuku-white crystal Japanese rice skin stuffed with rich matcha cream and coated with Uji Matcha powder on the surface.
Uji Matcha Soft Serve-house signature's ice cream with fresh pure milk and Uji Matcha powder carefully chosen straight from Kyoto, Japan, flourish with its soft and light texture.
Address: Grand Indonesia Mall, West Mall, Level Lower Ground, Jl. M.H. Thamrin No. 1, Thamrin, Jakarta Pusat
Phone: +62 21 3152 018
Price: Rp33,000.00 – Rp59,000.00/serving
Opening hours: 10.00 AM – 10.00 PM (Every day)
There you have your best dessert places in Central Jakarta, overall, Central Jakarta offers a wide range of dessert places. Ranging from Asian fusion style to a mixture of the Western sweet delicacy. The privilege is always yours to choose which one to try. We hope this helps you!