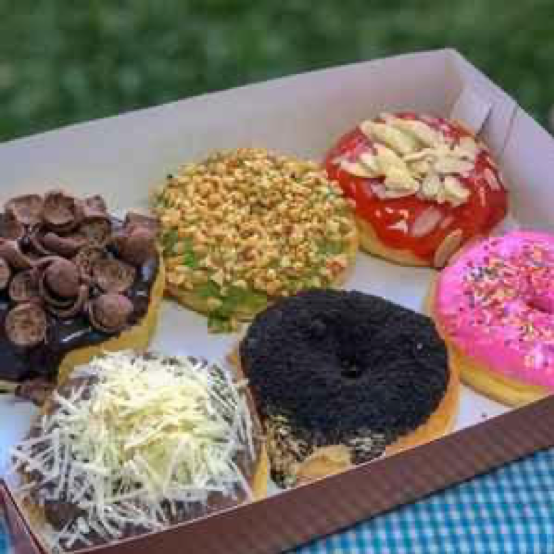 Hello, a dessert lover! Your day wouldn't be great if there is no dessert at all in a day, right? Well, you should probably be considering which food that you want to eat as a dessert. Ice cream, chocolate, or maybe a donut? Yes, a donut would be a great idea to satisfy your tooth. If you stay in Bali, you are glad because there are many donut shops in Bali that are located everywhere and anywhere. We will give you some recommendations for the most famous donut shops in Bali that you should try for the first place. So, here are the recommendations.
People also read: 15 Bali Dessert: Must-try Fancy and Traditional Sweets
1. Dough Darlings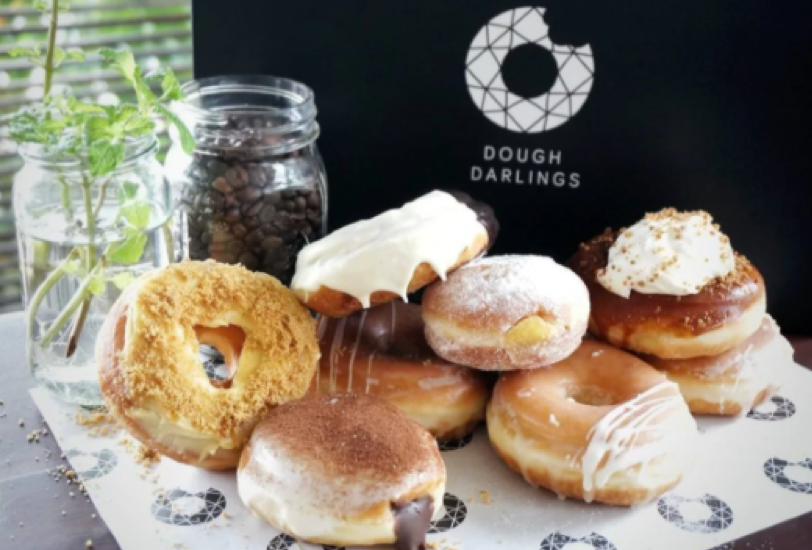 The first donut shop that you can count on is Dough Darlings. They are located in Jakarta and Bali, but they have 2 branches in Bali that are located in Seminyak and Jimbaran. So if you want to try the donuts here, you can visit the nearest store from your staying place. They are using ingredients from local and international. The donuts that they provide are having a soft yet chewy texture that is made from whole milk, European style butter, cane sugar, and they also added real fruits. You will taste how soft the dough is and combine it with the topping on top of it.
Address: Jl. Petitenget No.22, Seminyak, Kec. Kuta Utara, Kabupaten Badung, Bali 80361
Opening hours: 8 AM – 8 PM
Contact: +62 878 6279 0904
2. Tarabelle Donuts
Located in Uluwatu, Tarabelle Donuts is another famous store that sells delicious donuts in Bali. It was established in 2018 and they have a lot of loyal customers until now. Their donuts are made every day based on high-quality ingredients and there are no preservatives in them. They always use the freshest and real food ingredients only to meet the customer's satisfaction. That is why when you try a bite, you can't just stop right there because you will enjoy every bite and be amazed at the taste.
Address: Uluwatu St No.77, Ungasan, South Kuta, Badung Regency, Bali 80361
Opening hours: 8 AM – 4 PM
Contact: +62 819 2022 018
3. Donut House Bali
Donut House Bali is another fresh hand-made donut in Bali. There are several topping variations in Donut House Bali. You can try the glazed sugar icing, nuts, cheese, melted chocolate, sprinkles, and many more. This is really fit for you who likes to eat a donut and sip a cup of coffee or tea, while you can enjoy reading a book or listening to music. It is good to start a day, right?
Address: Jl. Kutat Lestari Gg. 6 Gang Umasarana No.7, Sanur Kauh, Kec. Denpasar Sel., Kota Denpasar, Bali 80228
Opening hours: 8 AM – 5 PM
Contact: +62 812 3696 5342
4. Dreamwave Donuts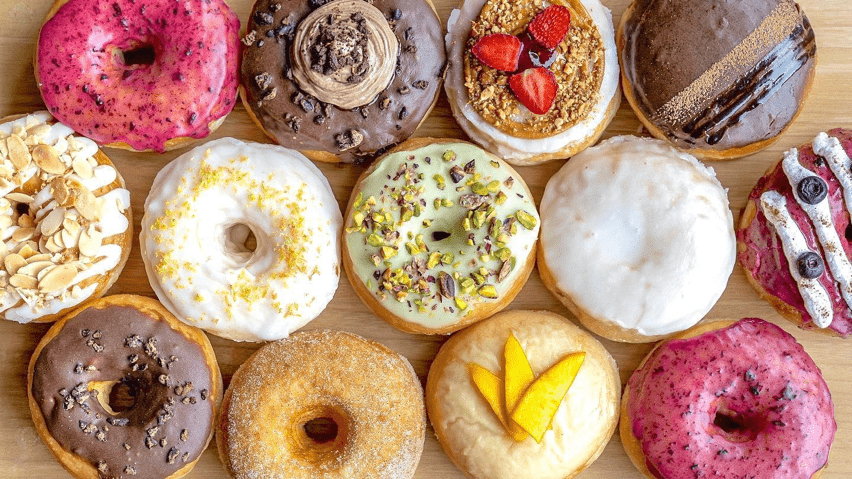 Dreamwave Donuts was opened in February 2020 back then. They are made fresh daily with 11 delicious flavors that you can choose. The flavors are peanut butter & jelly, blueberries & cream, triple chocolate, mango & vanilla, toasted almond, kemangi & pistachio, tiramisu, strawberry jam, lemon drop, klepon, and cinnamon sugar. Those are the combination of traditional Indonesian and International flavors that you will never regret.
Address: Jl. Tanah Barak, Canggu, Kec. Kuta Utara, Kabupaten Badung, Bali 80351
Opening hours: 9 AM – 8 PM
Contact: +62 877 5025 1868
5. Gulali Donuts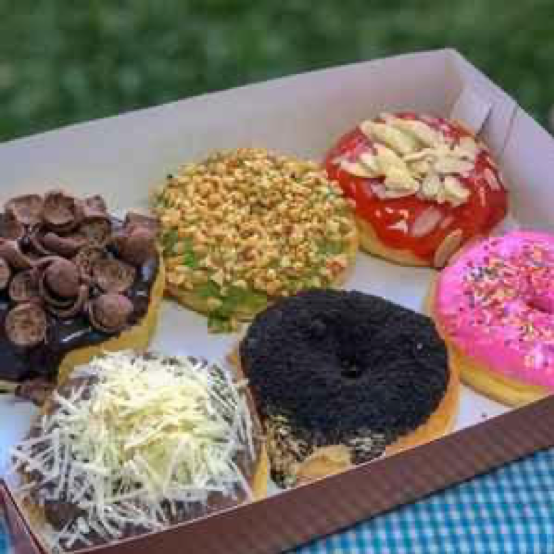 The next Bali donut, you can consider tasting Gulali Donuts. They have several branches that are located in Denpasar, Ubud, and Gianyar. Those are the strategic places that are easy to reach for everyone. They provide 1 box of 6 donuts inside it, and they sell it at a very affordable price. So, what are you waiting for? Affordable donut with a delicious taste is near you. Go grab it!
Address: Jl. Buana Raya No.88, Padangsambian, Kec. Denpasar Bar., Kota Denpasar, Bali 80119
Opening hours: 8 AM – 10 PM
Contact: +62 857 3732 2855
6. Dunkin Donuts
Who doesn't know Dunkin Donuts? It is a well-known brand from the U.S that was established in 1950. They have thousands of branches almost all around the world. In Bali, they have around 7 branches that you can find easily wherever you go. Besides that, you can find a lot of discounts and packages when you shop here. Don't worry about the taste, because Dunkin Donuts never fail their customer's satisfaction, especially in Bali.
Address: Jl. Teuku Umar, Dauh Puri Kauh, Kec. Denpasar Bar., Kota Denpasar, Bali 20112
Opening hours: 5.30 AM – 12 AM
Contact: +62 361 4745867
7. J.Co Donuts
Another well-known donut brand originally made in Indonesia in 2005 is J.Co. They have a lot of branches serving donuts in every town of Indonesia, including Bali. In Bali itself, they have around 12 branches that are located in every strategic place so that you can find J.Co easily. You will taste the perfect balance of texture that is fresh, soft, fluffy, and the combination of artisanal toppings on top of it. You will never regret your decision when you taste how delicious those donuts from J.Co are.
Address: Jl. Gatot Subroto Barat No.11-15, Dauh Puri Kaja, Kec. Denpasar Utara, Kota Denpasar, Bali 80239
Opening hours: 9 AM – 10 PM
Contact: +62 361 9009208
8. Pepito Baker's Corner
And last but not least, Pepito Baker's Corner which has started in 2001 and has around three outlets located in Bali's Canggu, Tanjung Benoa, and Hayam Wuruk serve fantastic donuts. You can choose a wide selection of donuts here with the authentic and fresh ingredients that they offer. Above all that, you can enjoy the donuts from Pepito Baker's Corner with your friends, or take it as your breakfast menu.
Address: Jl. Kediri No.36a, Tuban, Kuta, Kabupaten Badung, Bali 80361
Opening hours: 7 AM – 11 PM
Contact: +62 361 759112
There you have it! All of the donut stores above are perfectly delicious and it is perfect for you who likes dessert. So, which donut stores interest you most of all?
Want to explore more rental options in Bali before the next trip there? Flokq has several listings for a more affordable option from their offers. Head up to Flokq to find out more!
CLICK HERE TO EXPLORE RENTAL OPTIONS IN BALI