Moving to a new city is no longer a hassle in this digital era. With the emergence of apartment-finding apps on the iOS and Android markets, everyone everywhere can look for now homes in faraway cities and even countries without having a hard time!
However, to even the most budding developers in the Indonesia apartment-hunting scene, expanding to the foreign market still proves to be a challenge as they still struggle with language options. Luckily, we have scouted the Apple App Store and Google Play Store (and even downloaded) the best apartment-hunting apps in Indonesia that are available in English!
read more: 10 Top Ranking Marketplace Websites in Indonesia
1. Flokq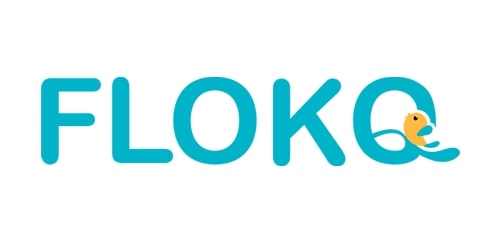 If you want to find an apartment with a coliving concept then Flokq is the right app for you. Flokq offers you a wide range of premium apartments spread throughout the business centers of Jakarta such as Sudirman, Senayan, Kuningan, Senopati, Semanggi, and many others.
Their app offers you private apartment units with ready-to-move-in furnishing, wi-fi, cleaning, laundry, periodic maintenance, and essentials by paying an all-inclusive monthly rate. The monthly rate includes services such as electricity, internet, water, cleaning, laundry, and basic amenities such as drinking water and cooking gas, amongst others. Their rooms come in several types; you can get a Master room, a Queen room, or a Common room.
Other than finding an apartment through their app, you can also connect with other Flokq members across Jakarta. Which is a nice way of meeting new people with like-minded interests. If you are interested in renting an apartment with them, you can download their app or visit their website by clicking the button below.
Their app is available for download on iOS and Android.
CLICK HERE TO RENT AN APARTMENT WITH FLOKQ
2. Travelio Apartment App
Travelio is an apartment-hunting app that offers furnished apartments and other types of accommodations (such as villa and houses). Prospective tenants are free to browse spaces for daily, monthly, and yearly rent among various highly coveted apartments in popular areas.
As its name suggests, this apartment app serves its guests as a hotel would accommodate their guests regardless of their length of stay. Their rented spaces always come with free amenities and weekly room services. Travelio also manages some of the properties on their own, with listings divided into categories according to cleanliness levels (which are admittedly always up to standard) and the number of facilities.
Alright, so there are two things we like about Travelio. First is its monthly payment option, which allows you to pay without a credit card. Undoubtedly, that's life-saving for us college students and fresh graduates who don't have (or just not allowed) credit cards. Next is the Travelio-managed accommodations. Those looking for budget apartments can still expect to find hotel-like services in apartments usually priced highly elsewhere.
The app is available for download on iOS and Android.
3. Roomster Apartment App
Roomster isn't just a marketplace for renting homes and apartments, its also a place to look for roommates and tenants, all in one community. To be precise, you can either sign yourself up as either prospective tenant or landowner, set up your profile and length of stay, and let the community do its magic.
Kind of like Airbnb, Roomster aims for a personal experience for both landowners and tenants. You won't have to feel nervous about having to talk to real estate agents because they're just like you: possibly inexperienced hosts who are casually looking for tenants. While we can't say the same for its roommate-hunting, we recommend this app for beginners in apartment-hunting who'd feel safer being in a community where they can get to know landowners as well.
Roomster has a Megaphone feature that enables you to broadcast yourself to prospective landowners. Therefore, unlike any other marketplaces, there is no need for compulsively looking at listings and compare them to your checklist. All you need to do is wait for someone to reach out to you and negotiate.
The app version is available for download on iOS and Android.
4. Airbnb
When people think of Airbnb, they usually think of retreats for holidays or staycation. Little do they know that Airbnb can also help those who want to look for longer rent terms, usually six months and no more than a year. The best part is that you can expect all of them to be fully furnished or even creatively designed.
Airbnb is acclaimed for its ability to connect prospective tenants with respected hosts who offer hotel-standard rooms in strategically-located apartments. Tenants can also enjoy a more familiar relationship with their landowners as well as the chance to negotiate with them on payment terms and options.
The Superhost feature may not be pocket-friendly for prospective tenants looking for long-term rent spaces on a budget, but it's perfect for digital nomads who need a short-term retreat for a better work from home environment. Using the Superhost filter, remote workers can choose among the most beautifully designed spaces and trustworthy tenants approved by Airbnb and previous tenants, if the price is right for you.
The app is available for download on iOS and Android.
5. Lamudi
The original Lamudi website is Indonesia's most famous property-hunting marketplace. It has an enormous library of listings available for monthly and yearly rentals at different prices, which you all can sort using an extensive, yet detailed filters.
Unlike other websites we've covered, Lamudi helps its prospective tenants to connect with certified agents from real estate agencies as well as independent ones. Apartment hunters can also visit Lamudi's approved partnered sites for further reference. Interestingly, Lamudi also partners with co-living sites to help their visitors find spaces where they can share rent with housemates.
Thankfully, you can get by using this apartment app without minimal knowledge of Indonesian. Lamudi provides agent contact details on every listing so you can gather more detailed information from landowners in case the facilities written in the listing are Indonesian.
The app is available for download on iOS and Android
Note: The Android App is region-locked and is currently only available in Indonesian. Future builds, however, may implement different language options.
read more: Tips for finding an apartment in Jakarta
6. Orento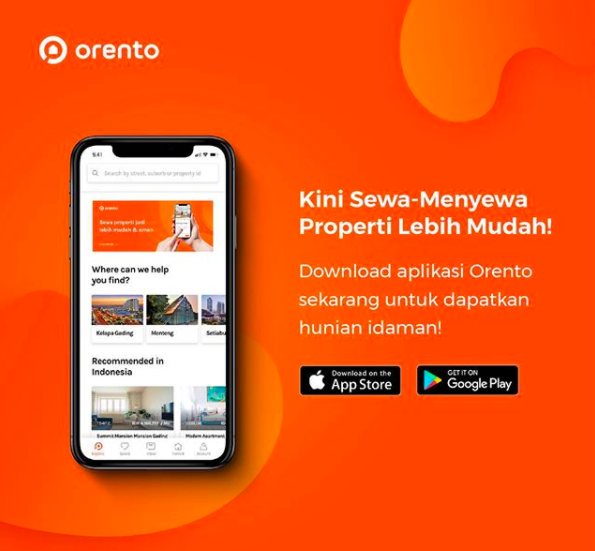 Orento is a hidden gem among the many apartment-hunting apps on the iOS and Android markets. Available in both Bahasa Indonesia and English, this app allows you to browse for furnished apartments in the Jakarta Metropolitan Area.
Orento is a sleek apartment app with the essential features for apartment-hunters. For starters, you can pay monthly using your preferred paying method (after you verify your ID, that is). Then, there are the filters, which are on par for most apartment-hunting apps. But unlike those apps, you can choose to have an entire place to yourself or have common spaces with other tenants for a cheaper rent price. Sadly, Orento can't guarantee about matching you up with suitable housemates as it wasn't built with co-living in mind.
The best thing about Orento is that you can browse accommodations by distance from important landmarks such as shopping malls, universities, and even office buildings. That's why we can't recommend this app enough for newcomers to the Jakarta Metropolitan Area.
The app is available for download on iOS and Android.
Note: Just like with Lamudi, some of the apartment facilities are written in Indonesia. We suggest contacting the hosts directly for further information just in case.
So there you have the top mobile applications for hunting apartments. Of course, there are many other mobile applications to help you with this but we hope this could cover them up. Don't forget to check out our other recommendations! Good luck with finding the perfect apartment!
find out more about best websites to find apartments in Jakarta