Known as a vacation paradise, Bali is gaining increasing popularity among digital nomads and remote workers as the it-place to reside and work. The increasing popularity has then surged the demand for long-term accommodation. If you're one of those digital nomads or remote workers who are looking to stay in Bali for quite some time to get your life and work balanced, you might want to look for a handy guide in finding long term dwelling in Bali. Look no further! Flokq has prepared a list of Bali long term rental options just for you.
Types of Long Term Rental in Bali
In Bali, there are a few housing options available for long-term accommodation. If you've lived your life in Europe, Australia, or North America, you can find that the long-term rental options in Bali are generally cheap. However, even if you've never spent your life in those continents, you can still find lodging that you would still consider as budget housing. There are many types of accommodation for rent available in Bali, here are some you should consider along with the price range.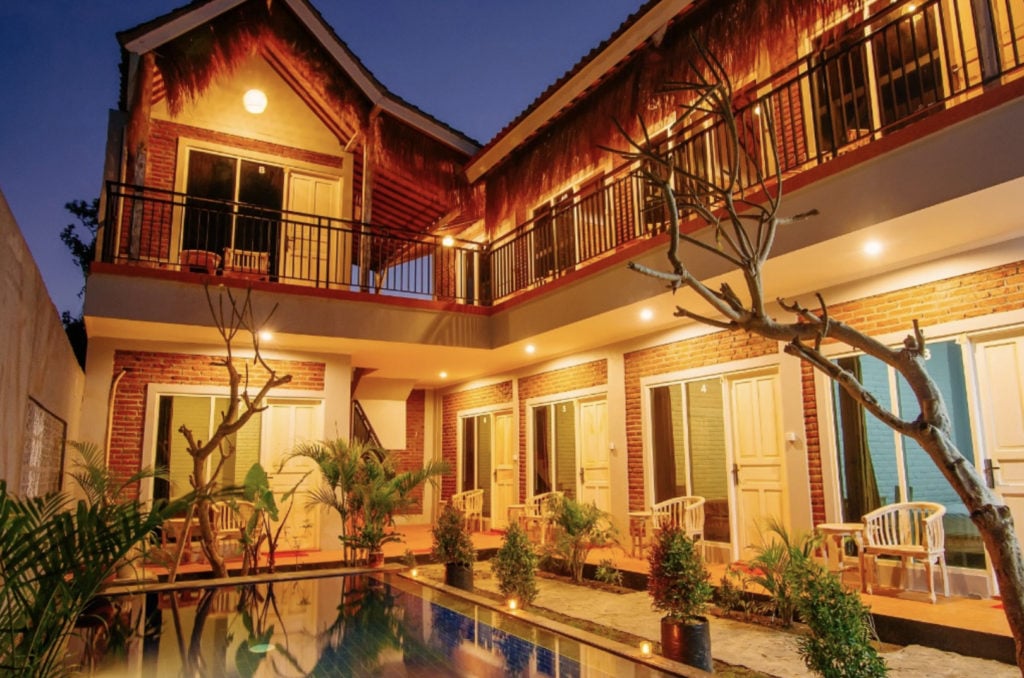 1. Guesthouse
A guesthouse, or sometimes called as homestay, is a type of housing that's usually started out as a residential home that's been converted into a hotel-like lodging. The owner of the house typically lives nearby in a separated area, while guests get to stay in rooms and areas designated for them. This type of housing is particularly popular for being inexpensive, homey, quiet, and providing personalized service. Moreover, as guests get to live together in a home-like environment, you can expect it to be easier to meet locals or other travelers and make new friends. Although guesthouses are homes in nature, they are typically located in tourist hotspots, hence they mainly cater to short-term travelers rather than long-term dwellers, although they also serve as a famous option for long term accommodation.
Facilities in Bali Guesthouse:
Guesthouse typically serves you a private room with a private bathroom. The rooms are typically designed for short-term travelers. Hence, you might not have enough room to store your items if you're looking to stay for longer than a month. Moreover, a guesthouse typically doesn't come with a desk for you to work. Some guesthouses come with a small swimming pool, while some do not. A guesthouse typically has a communal kitchen where staffs prepare breakfast for daily guests that you can also use to prepare or eat your meals. A guesthouse typically also has a living room where you can meet other guests or read books.
Lease Term and Price Range of Bali Guesthouse:
Guesthouse can be rented daily, weekly, or monthly. You can rent a room in a guest house for as low as IDR80,000/night. You would get a better deal if you rent the guesthouse for long term for as low as IDR2,000,000/month. However, a more premium guesthouse might cost you around IDR150,000/night or around IDR4,000,000/month.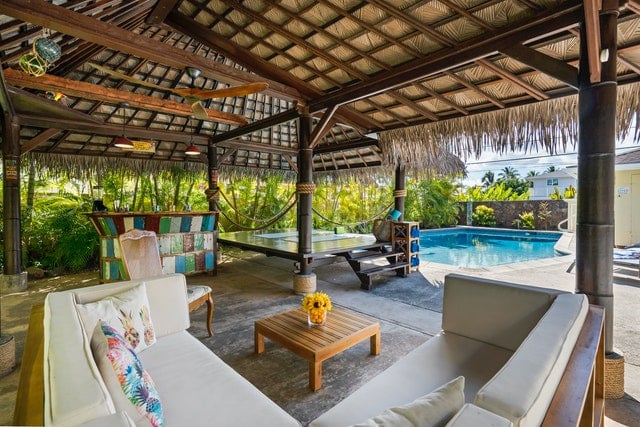 2. Villa
Villa is a private home with premium facilities that can host a group of more than four people. Villas in Bali have gained prominent popularity lately as digital nomads coming in groups are looking for a private and spacious place to live and work. With the recent trend of remote working, many people also look to rent a whole villa where the whole team at work can stay and work together for a length of stay. With its size, villas in Bali typically are not located right in the tourist hotspots, but fairly hidden among houses where locals reside while still being in close proximity to beaches.
Facilities in Bali Villa:
Many villas in Bali are newly renovated and come with a swimming pool and garden, a spacious living room and dining room, a kitchen, and several rooms for the guests – although some villas might only have one room. Villas typically comes with wi-fi and utilities. However, as the villas are typically rented out for longer periods of time, the villas don't come with breakfast or daily amenities that hotels or guesthouses provide.
Lease Term and Price Range of Bali Villa:
Some villas in Bali are available for daily rental. However, it's more common that the villas are available for weekly or monthly rental. You can rent a villa with one bedroom for as low as IDR500,000/night. However, you can get a better rate if your rent long term of around IDR6,000,000/month. The prices depend on the facilities, design, and location of the villa. Some villas with a renovated interior and high-end facilities that can fit up to six people might cost you around IDR8,000,000/month. The price tag might be high but it's an economical choice if you travel in a group.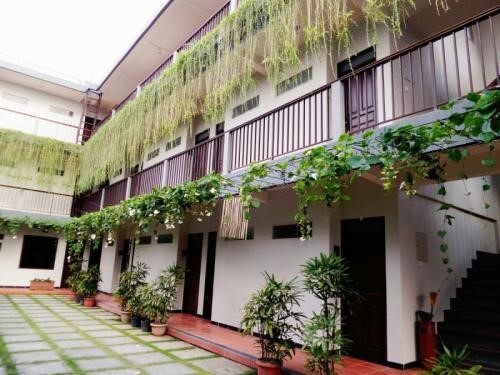 3. Kost
The third option is kost. Kost is an Indonesian term for boarding-house like lodging. Kost typically comes as a rented room in a 2-5 floors building. In big cities such as Jakarta or Yogyakarta, kost is the go-to long-term accommodation for students and workers coming from out of town. In Bali, kost is also more famous among those coming to the city to study or work – it's not very popular among travelers or digital nomads. Catering to those markets, most kost are located in Denpasar with close proximity to offices and universities.
Facilities in Bali Kost:
Most kost provides a private room with a private bathroom with fairly big cabinets to store your items and a desk to work, although the cheaper ones might not offer private bathroom. Like kost in other big cities in Indonesia, kost in Bali doesn't come with luxuries that most travelers look for such as big gardens or swimming pools. However, they do provide basic necessities for long term stay. As for kitchen, most kost comes with a communal kitchen. Some kost come with wi-fi and utilities. However, some others require guests to buy their own electricity tokens.
Lease Term and Price Range in Bali Kost:
Some kost in Bali are available for daily or weekly rental. However, kost is traditionally a long term rental option that's more suitable for monthly or yearly rental. You can rent a room in a kost for as low as IDR900,000/month. However, a fancier one might cost you IDR2,500,000/month.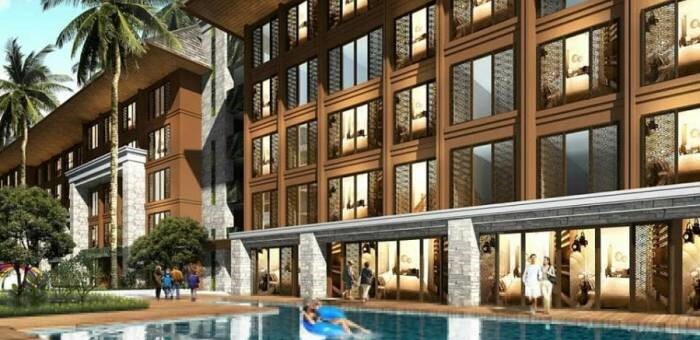 4. Apartment
Apartments typically refer to multi-level residential buildings with units in a studio or multi-bedroom type. In Bali, there are no high-rise apartment buildings. Most multi-level buildings typically have two to five floors. Hence, you might find apartment buildings looking similar to guesthouses and kosts from the outside. The difference lies in the types of units offered and locations. Although most apartments in Bali come in Studio or 1BR type that makes it very similar to guesthouses and kosts, there are some apartments that have 2BR or 3BR. Aside from that, apartments in Bali are typically in crowded parts of the city. Hence, it would be a perfect choice who wants to live amid the bustling part of Bali with ample space and sky-level view.
Facilities in Bali Apartment:
Bali apartments typically have facilities like those in other housing options: a private bedroom with a private bathroom. Most apartments come furnished with modern design. It's common to have swimming pool in the building as well. Depending on the type of apartment you get, the bigger ones might equip you with a private kitchen and living room, while the smaller ones like a studio might not.
Lease Term and Price Range in Bali Apartment:
Just like in Jakarta, apartments in Bali are meant for long-term stay. Their lease is typically a minimum of 12-month with upfront payment required. On top of that, you need to pay your own maintenance and utilities bills. The rental can start from IDR5,500,000/month or IDR70,000,000 per year. Some of these high-rise accommodation are actually guesthouses or kosts marketed as apartments, for which you can get daily or weekly deals.
Read more about renting an apartment in Bali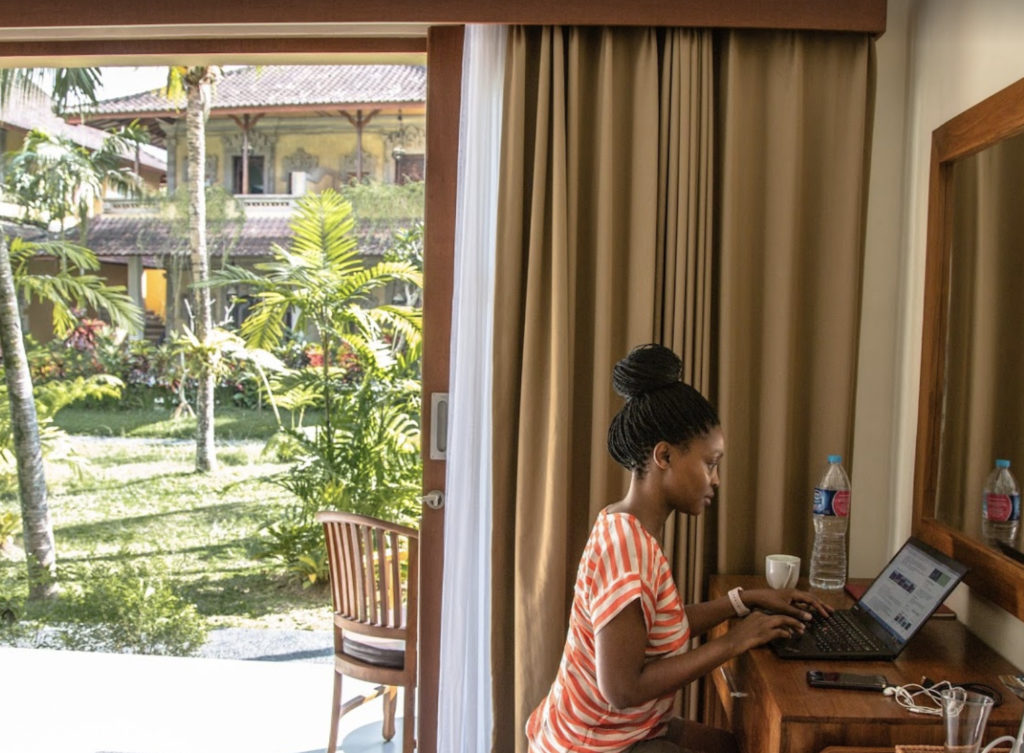 5. Coliving Space
Coliving has gained prominent attention in the past few years among digital nomads who are looking for a space to live and work. From the outside, coliving spaces look like any guesthouses or kosts or apartments. However, coliving spaces are known for their flexibility, convenience, and community that makes it perfect for digital nomads who are always moving and working. The convenience of coliving spaces comes from the all-inclusive services they offer which may include wi-fi, coworking space, laundry meal plan, visa services, and more. Coliving space is also famous for their collaborative community. It's because they often provide a coworking space for its residents to network and collaborate while adding events on top for residents to meet further.
Facilities in Bali Coliving:
Coliving space in Bali is the most convenient long-term rental option. It provides all the things residents require to live and work in ultimate comfort. This housing option provides a private room and a private bathroom like most of the other accommodation options. Most coliving spaces in Bali have a coworking area that is fit for residents to work from. Think of swimming pools surrounded by beanbags so residents can hang out with each other, a communal kitchen, and a communal dining area.
Coliving spaces in Bali also comes with many amenities. It is a serviced accommodation suited for remote workers after all. These coliving spaces typically come with free wi-fi, cleaning, community events, and meal plan. Moreover, coliving spaces in Bali can also cater to corporate teams looking to retreat and plan their work ahead. For that purpose, the team of coliving operators might provide packages of travel and excursion planning, logistics (from SIM to airport transfers), and designated networking events.
Read more about coliving in Bali
Lease Term and Price Range in Bali Coliving:
You can rent coliving spaces daily, weekly, or monthly. The daily rental may start from IDR300,000/night while monthly rental cost around IDR5,000,000 to IDR7,000,000. The rent includes all the facilities and services. The all-inclusive billing is one of the perks that coliving providers give.
How to find long term rental in Bali?
When looking for long term accommodation in Bali, it's best to look online as there are so many deals available. Long-term lodging options come in many forms and they're not always visible if you browse them on the roads. You can find your long term dwelling in Bali through local listing sites. It's also easy to find in booking sites, or sites of coliving operators such as Flokq.
Where can you find long term rental in Bali?
Long term rentals are spread throughout the island of Bali. However, there are hotspots for tourists and locals where most of the island's population reside and have their activities. Here we list a few of the neighborhoods where you can find long term rental in the island.
Kuta
Kuta is perhaps the most crowded spot in Bali as the neighborhood has been a tourist hotspot for decades. The area has various residential buildings, restaurants, malls, markets, and more. Residential option in this area is abundant as there are apartments, hotels, and guesthouses that cater to all sorts of people. You can easily find both short term and long term accommodation in this neighborhood. However, mind that the area might not be ideal if you're looking to work in peace as the neighborhood is famous for its bustle and hustle.
Canggu
Canggu was famous as a sleepy surf area but has grown in popularity in the past few years for its hip cafe and lodgings. You can easily find long term accommodation in this area as the area is famous among digital nomads. Guesthouses and villas are easy to find in this area and you can also find coliving spaces.
Ubud
Ubud is another famous hotspot that is famous for its cultural significance and lush green paddy field and forests. The area is full with tourists yet serve many serene spots. This neighborhood is home to many guesthouses, villas, and coliving spaces, hence you can easily fulfill your long-term lodging needs in this area.
Denpasar
Last but not least is Denpasar. Being the capital of the island province, Denpasar is home to many offices and universities. It is home to many locals as they mainly work in the neighborhood. Denpasar is where many kost is located. It's because newcomers from other parts of Indonesia come to work and study in Denpasar. If you're a digital nomad or long term traveler searching for cheap long-term rental, Denpasar is not a famous choice. However, it can be a good one as it's also still located with close proximity to the beaches and attractions of Bali.
Click here for more neighborhoods of Bali!
There you have it! Our list of long term rental options in Bali along with how and where to find them. We hope you get to find the best space for you to start your work and life adventure in the island of paradise!