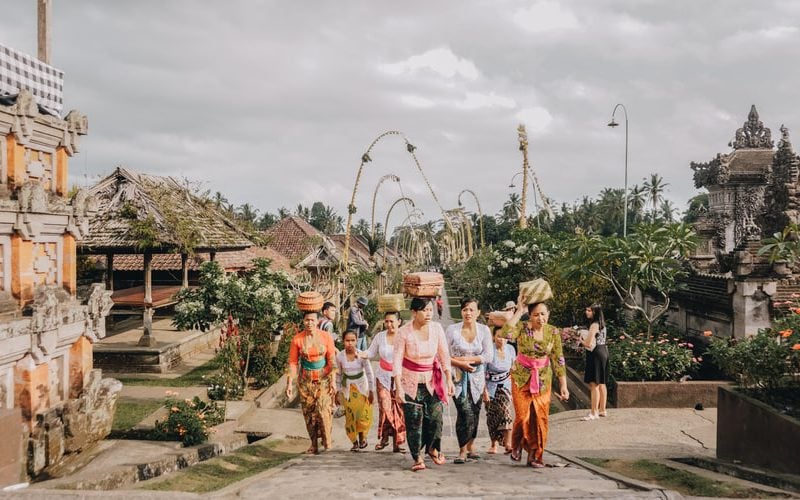 The island of Bali is not only famous for its natural beauty that can amaze anyone who comes. But the island which has been nicknamed the Island of the Gods is also famous for its rich culture and customs which are still upheld today – especially in Balinese villages.
If you want to see firsthand how rich Balinese culture and customs are, you can visit these 6 traditional villages. They will amaze you because these traditional villages in Bali are very special.
Traditional Villages in Bali
1. Penglipuran Village
This most popular traditional village in Bali is a must-visit, read more to know why! Penglipuran Village is located in Kubu, Bangli Regency, which is about 45 kilometers from downtown Denpasar.
The name of Penglipuran Village comes from the words Lengeling and Pura which means remembering a sacred place (ancestral temple). The inhabitants of this village are people of Bali Mula who originally came from the Village of Bayung Gede, Kintamani. They then migrated to the Village of Kubu Bayung which is now Penglipuran Village. People in this traditional Bali village are still maintaining the nobility of their cultural philosophy.
The atmosphere offered by Penglipuran Village is very calm and beautiful because it is located in the highlands. This village has a uniqueness that you cannot find in any other villages, such as the houses of the residents that look identical on the front. This village also has a neat, clean, and beautiful alley where you can walk down while occasionally taking pictures.
Another unique thing about this Bali traditional village is the prohibition of motorized vehicles from entering this village area. So, those of you who want to visit here have to walk because the vehicle must be parked outside the village. Because of this regulation, this village is very green and the air is cool, free of pollution!
2. Tenganan Pegringsingan Village
Second on the list is Tenganan Pegringsingan Village or commonly known as Tenganan Village. This village is located in Karangasem Regency, which is about 60 kilometers from downtown Denpasar.
The village covering an area of ​​917.2 hectares is inhabited by residents of Bali Mula who up to now still adhere to the customary rules of their ancestors. People of Tenganan Village have a regulation that is commonly referred to as Awig-Awig. Some examples are prohibited from polygamy or divorce. Apart from that, there are also rules to regulate the government system, natural resource rights, land rights, education, marriage and traditional ceremonies.
Although they still adhere to the rules of their ancestors, this village community is very open to new things or modernization such as electricity, motorized transportation, and communication tools. Also, children in Tenganan Village are encouraged to get higher education.
The indigenous villagers in Bali also have extraordinary talents, one of which is being used to weaving their own gringsing cloth, where this cloth is only produced in this village. Not only woven fabrics, but you can also see carving or painting palm leaves.
While visiting, make sure you have time to chat with the residents there and listen to a little of their stories. Not only that, but you can also see traditional ceremonies that are usually held in January, February, June, and December.
3. Nyuh Kuning Village
Nyuh Kuning Village is also one of the traditional villages in Bali that you shouldn't miss. This beautiful Nyuh Kuning Village is located in Jalan Raya Nyuh Kuning, Ubud District, Gianyar Regency.
Tourists are attracted to this village because of the culture and customs of the people who are still traditional and untouched by modernization. Nyuh Kuning Village was built using the Tri Hita Karana concept, which is to maintain harmony and harmony in the relationship between humans and nature, humans and fellow humans, and also between humans and God.
The tourism that is served by this village tends to adopt local and natural culture without a touch of modernization. So when you visit here, you can enjoy nature and typical rural culture at one time. Usually, activities that tourists often do in this village are cycling or walking around the village. The green nature and the cool air in this village are certainly able to get rid of the saturation of your daily routine.
You can stay at residents' houses to mingle with local people and get to know more about their culture. Not only that, at night you will be treated to a very interesting traditional dance performance. After being satisfied watching traditional dance activities, you can also taste the typical dishes of this village which are cooked traditionally.
4. Trunyan Village
Trunyan or Terunyan Village is indeed one of the traditional villages in Bali which is quite global. You can visit this village on the shores of Lake Batur, Kintamani District, Bangli Regency by riding a boat across Lake Batur.
Trunyan Village is very famous for its unique funeral processions, thus attracting the attention of local and foreign tourists. This tradition is quite unique because the people of Trunyan Village do not bury their bodies but only lay their bodies on the ground under the Taru Menyan tree. For this reason, this village is called Trunyan Village.
This cemetery is often referred to as Sema Wayah, where there are only 11 graves around, so the bodies must be placed alternately. The people of Trunyan Village do not increase the number of graves because their ancestors gave a rule that if you are a new body, eat an old body or one that has become a skeleton must be removed.
Even though the bodies in this village are not buried, you will not smell a foul smell when you visit here. The local community believes that the Taru Menyan tree has its own aroma so that it can neutralize the rotten smell around it.
5. Kapal Village
The next traditional village in Bali is Kapal Village, which is located in Mengwi District, Badung Regency. This village is also the target of tourists because it is full of culture and also has its own uniqueness.
Various traditions are still preserved and upheld by the villagers. For this reason, chances are you can see one of the traditions that are being held by its residents. One of which is the Aci Rah Pengangon tradition or the Tipat – Bantal war tradition.
The Tipat – Bantal or Aci Tabuh Rah Pengangon war tradition is usually held around September to October every full moon of kapat or the fourth full moon in the Balinese calendar.
In addition to the variety of traditions that attract attention, this traditional village in Bali also has a temple that is quite famous, namely Pura Sada. This temple is located in the vicinity of residential areas and is believed to be one of the oldest temples which are said to have been built around the year 830 AD.
Not only that, but you will also be treated to a very beautiful rural view that can refresh your eyes. This is because the Kapal Village area is not as crowded as the city, so it presents a calm and peaceful atmosphere.
Also read: 7 Must-Follow Rules (and Whys) When Visiting Temples in Bali
6. Cempaga Village
Last but not least, Cempaga Village in Banjar District, Buleleng Regency is one of the old villages that has a history, culture, traditions, and sacred dances.
Some of the dances that can be seen there are the Jangkang dance, the Baris dance, the Pendet dance, and the Rejang dance. Usually, a sacred dance will be performed at the Cempaga Village Temple. Tourists can see it when visiting there at certain times.
Furthermore, there is also a Mecacar Ceremony which is held at the temple at around 01:00 WITA at the Galungan Ceremony, Kuningan Ceremony, and Karya Agung Muayon.
Besides the culture, Cempaga Village has a beautiful and clean nature. The air is cool because the village is located in a highland. While enjoying the view, you can visit the Sunset Hill Restaurant which is managed by the Cempaga Village Owned Enterprise.
Also read: 10 Magnificent Bali Traditional Dance Performances You Must Watch
Common Rules In & Around Balinese Traditional Villages
1. Use Your Right Hand When Giving and Receiving
In Indonesia, Bali included, using your left hand when passing something to somebody (for example, money) is generally considered disrespectful. It is preferred that you use your right hand or, even better, both hands. It sounds easy enough, but this is a simple gesture many Westerners forget. Indonesians are very aware of this custom and will notice – and appreciate – if you abide by it.
2. Be Careful What You Step
As you walk down the Balinese streets you'll notice tiny fragrant parcels made from palm leaves everywhere, those are called sajen. The streets will smell of them, especially in the morning. Sajen are gifts designed to appease the Gods and are often adorned with flowers and incense. Sajen are normally placed in front of doorways and often directly on the pavement. Be careful where you tread: there's nothing more disrespectful than stepping on something meant for the Gods.
3. Leave Your Shoes Outside
When entering people's homes or even cafes, it is considered impolite to keep your shoes on in Indonesia, Bali included. While roaming the streets, you will even notice that some cafes have a whole host of shoes sat on their doorstep. Try to wear footwear that you can easily slip on and off, as it's likely you will be expected to remove it regularly.
4. Dress Properly
It is expected that visitors dress and act modestly when entering the traditional villages. Since they are still very obedient to their traditions and customary laws. This includes covering up for both men and women, and a sarong or scarf is the ideal way to do this.
---
Those are all the 6 traditional villages in Bali that you should visit. Each of the villages has its unique traditions and customs. Always have respect for the locals and their culture, or as they say – when in Bali, do as the Balinese do! Hope you enjoy your vacation in one of those villages, and see you in Bali, Flokqers!
Check out these 10 Amazing Activities to Do at Night in Bali!
---
Want to find a coliving option for your stay in Bali? Flokq has several well-facilitated homes in Bali at an affordable price! Click the button below to find out more.
Check Out Other Flokq's Units in Bali