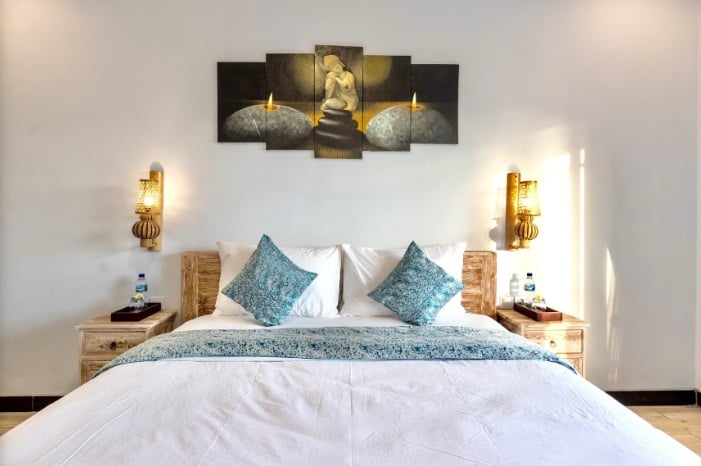 Bali is a paradise for everyone, both local and foreign citizens. With natural beauty surrounded by a beautiful and wide sea, Bali is always everyone's go-to when it comes to spending time on holiday. One of the favorite locations in Bali for foreign tourists is Badung. This Badung area includes Kuta and Nusa Dua, two well-known favorite spots that are always crowded with visitors. The attractions also vary, ranging from Uluwatu, Kuta Beach, or the great monument Garuda Wisnu Kencana, all are located in this area. Including numerous options to stay in, from hotels, resorts, to hidden gem of Bali coliving spaces,
But, sometimes it is also hard to find an affordable place in Bali that offers the experience of coliving. So, we have prepared a list of coliving Bali for you so that you don't have to worry about your stay in this area and focus on your holidays instead!
1. Indah Bali Guesthouse, Mengwi
The first place that we recommend you to stay is Indah Bali Guesthouse. Other than the cozy rooms, this place offers you a calming swimming pool so you can take a dip first thing in the morning. Another great point of this coliving Bali place is the comfortable communal area, highly recommended for you who likes to meet new people and expand your circle!
Address: Jl. Raya Tumbakbayuh No.42B, Tumbak Bayuh, Kec. Mengwi, Kabupaten Badung, Bali 80351
Price: Starts from IDR 4.5 million per month
2. The Sampan, Tibuneneng
Another cozy homestay that we recommend is The Sampan, which is located in Canggu, southern coastal area of Badung. With modern rooms, this homestay would offer you a great privacy measure, while at the same time allocating the communal area in an intimate space which can elevate your bonding time with your new friends in Bali! A great swimming pool is also available in this homestay.
Address: Jl. Bantan Kangin No.20, Tibubeneng, Kec. Kuta Utara, Kabupaten Badung, Bali 80361
Price: Starts from IDR 3.5 million per month
3. Bamboo Ethnic Canggu, Canggu
As the name is quite self-explanatory, this homestay is mostly made of bamboo, from the bedframe, your bathroom, and other furnitures that would fascinate you. The experience in this place would bring you to another place as it would feel like you're one with nature. Other than that, you can also experience the soft breeze that this area offers, considering everything is made from bamboo. Like the previous homestay that we have recommended, we always make sure that the place consists of a swimming pool and a relaxing communal area for coliving bali, so that your needs of socialization are always accommodated!
Address: Gg. Mangga VIII, Tibubeneng, Kec. Kuta Utara, Kabupaten Badung, Bali 80361
Price: Starts from IDR 5.5 million per month
4. Kubu Kutus Homestay, Canggu
The next on our list is Kubu Kutus, a contemporary modern coliving space, with a cozy and relaxing ambience for you to rest after a long fun day in the beaches of Canggu, Bali. Similar to the previous places, this homestay is located in Canggu, which is convenient if you like to surf the ocean. Other than the cozy rooms, swimming pool and intimate communal area are also available for coliving Bali. Make sure you stay in this place when you're in Canggu!
Address: Jalan Babadan, Canggu, Kuta Utara, Bali, Indonesia, 80365
Price: Starts from IDR 3.2 million per month
---
Also read: Rent Room Bali in Seminyak: Cheap Price, Maximal Comfort!
---
5. TIS Homestay, Mengwi
Another great place to stay in is the TIS homestay, known for its authenticity with the Balinese nuance that can be seen from the local accents of the building. Coliving bali in this homestay offers open area for you to have a good time with your friends is available alongside a swimming pool that can be used for your new connection with your new friends.
Address: Jl. Dalem Penataran No., 21, Pererenan, Kec. Mengwi, Kabupaten Badung, Bali 80351
Price: Starts from IDR 3.5 million per month
6. La Sari Village, Canggu
The La Sari Village will feel like you are staying in a top-notch hotel. Other than the modern rooms with a little Balinese touch of ambience, this homestay is estimated to start from IDR 3 million, which is exceptionally affordable considering the location is still in Canggu. A convenient communal area and a relaxing swimming pool are also provided in this homestay. When else can you enjoy such a full-packaged place with a low price in this coliving Bali?
Address: Jalan Pantai Batu Bolong, No 117C, Canggu, Badung, Bali, Canggu, Kuta Utara, Bali, Indonesia, 80361
Price: Starts from IDR 3 million per month
7. Wangsa Canggu
When you stay in Wangsa Canggu, we believe you can have a new experience to meet your new friends in this homestay. The open area is very relaxing for you to hang out with your co-living friends, making the ambiance more intimate and comfortable which can elevate your connection. Other than the cozy swimming pool, the open area of this coliving Bali also provides a hangout place, so that you can have your chit-chat until midnight! Make sure you check this place out!
Address: Jalan Pemelisan Agung gang Anggrek, 80361 Canggu, Indonesia
Price: Starts from IDR 3.2 million per month
---
That is all of our list of comfortable coliving Bali spaces that you can consider for your new options when you stay in Badung Regency. Make sure to always check other rooms on our website. See you in Bali, Flokqers!
Click Here to Find Your Bali Home